You know how much a well-executed event can benefit your business, but it starts with getting people in the door.
By following email marketing best practices as part of your promotion strategy, you can pack the house.
And, once your event is over, you can use email to follow up with attendees to get the lowdown on what worked and what didn't.
Here's how you can use email to help ensure that your events are successful every time.
What is email marketing for events?
Event email marketing is a process of sending multiple marketing emails with the singular goal of promoting an event.
And while you may wonder if email is the best way to promote an event, know that even with multiple digital marketing resources, email marketing is still the most effective platform for getting the word out to those who are already interested in your business.
After all, the average email open rate across industries is nearly 30%, and it's even higher for certain industries, including restaurants and childcare.
But event-related emails aren't limited to promotion. Post-event email marketing lets you build on the momentum, giving you valuable information to improve your next event.
How do you market an event through email?
No matter how much effort you put into planning and organizing your event, it won't be successful if people don't show up. Email marketing offers you the chance to connect with people who are already interested in your brand. So how do you do it well?
To begin with, email marketing for events isn't limited to a single email sent to your list. You need to announce it early and keep people engaged through a series of emails.
Announce the event
The first step in a killer event is to let people know it's happening.
Hopefully, you've been following email marketing best practices, and you already have your email list segmented (or grouped) into different categories.
Don't fret if everyone is on one big list. That's okay. You can start by sending personalized announcement emails to everyone on your list, telling them about the event and inviting them to register.
While you may think you need to have everything in place before selling tickets, you don't. While you're busy booking guests and planning the logistics behind the scenes, send out save-the-dates. Include the event's name, date, and location, and add a message telling your readers to stay tuned for more information.
Build excitement
Following your initial save-the-date, stagger various details of the event through a series of event promotion emails.
While you want to send out some information early, like registration deadlines, venue and lodging information, and other logistics, you can keep some big details close to the vest until the event date nears, trickling out more and more details as you get closer to the date of the event.
Share teaser videos for cross-channel marketing
Send out short teaser videos before your event with links to its landing page and your social media feeds. Including a whole video makes your email big, increasing its chances of ending in spam, so keep these teasers short — just enough to make someone want to click through and see more.
Add a CTA encouraging people on your email list to share the video with their network, and include buttons to make it easier for them to guide others to your event landing page or your social media feeds. This type of cross-promotion can boost your overall event marketing strategy.
Send out event reminders and updates that tease recipients
Reminders are a great way to build excitement for your event.
As your event draws nearer, send out reminders that will excite readers by including great images, and interesting details like presenter bios, band highlights, catering and menu options, silent auction prizes, and other tidbits that will pique interest.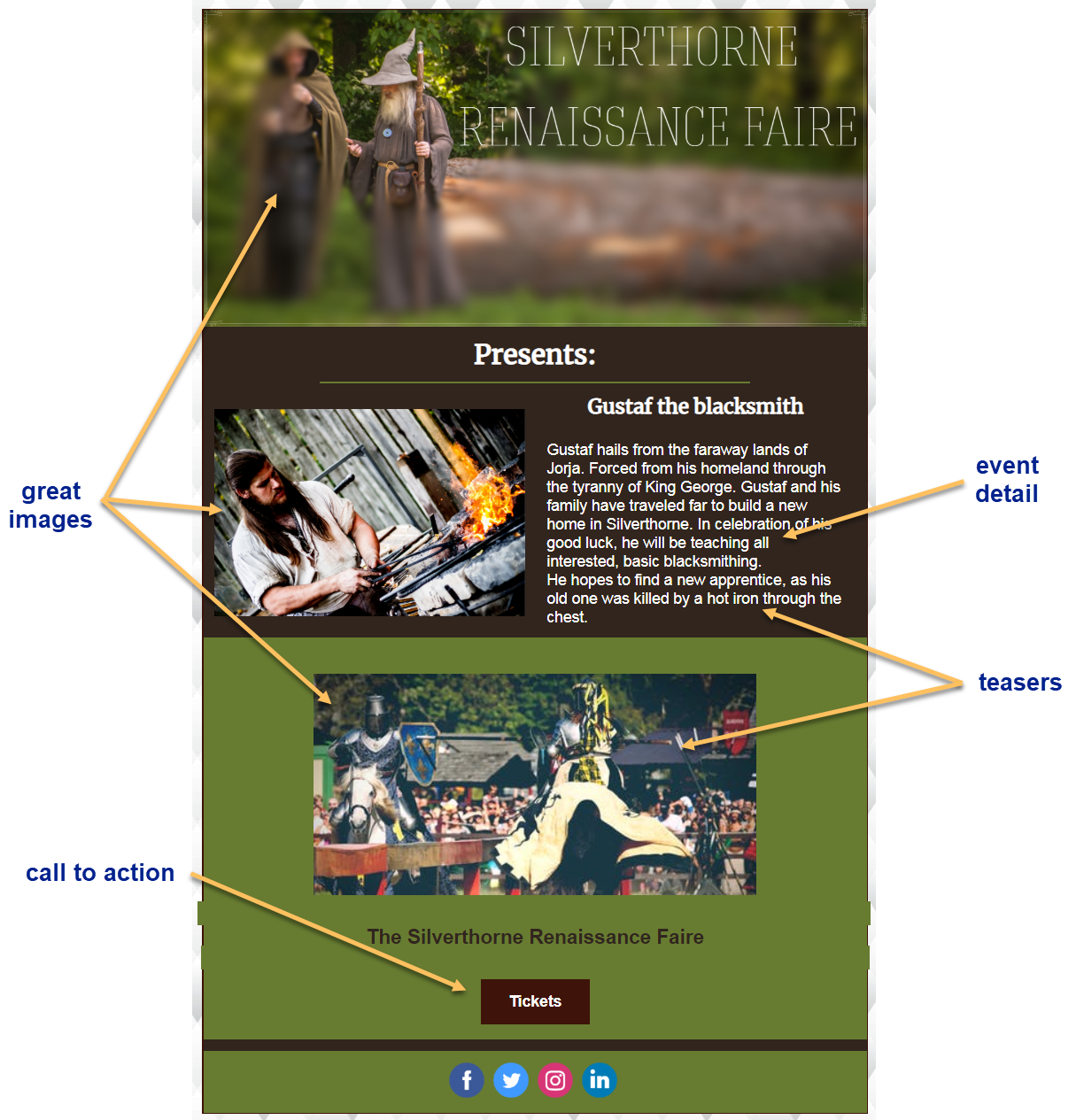 Always include a CTA and a link to buy tickets or register. And when the event gets closer, remind your email contacts that time is running out to sign up.
Add value for your VIPs
Most events offer different registration tiers. If you're offering a VIP level, use event email marketing to make it worth someone's while to pay more. Appeal to people who've attended your events in the past by offering them a limited-time discount on VIP access.
Automate VIP-specific emails with information about special events and perks they can access for being VIP. If you're hosting a silent auction, show off some of the valuable prizes and mention that VIPs get early access to the bidding.
Answer the right questions
Since you're planning the event and all its details are fresh in your mind, you might not consider what people need to know before they register. In your initial email invitation and early follow-up announcements, include a contact form and invite people to submit questions.
Also, pay attention to what people are asking on your social media feeds when you post about your event. Use these questions to eliminate potential objections people might have before they register.
Use Automation
Designing automated messages as part of your event marketing strategy will help you attract more potential attendees without spending a lot of extra time writing and sending emails. It can also bring serious oomph to your efforts and delivery.
Here's a bird's-eye view of the different ways you can use email automation to promote your next event:
Click segmentation — This email marketing feature divvies people into different groups based on how they interact with your email. Your email marketing platform lets you see who's opening your emails and which links they click.
Autoresponders — As the name implies, these programs automate email replies. They're particularly useful for responding to actions your email recipients take further up the drip campaign. You can set up an autoresponder thanking people for signing up for your event and others based on various actions.
Drip campaigns — Executing drip campaigns through your email automation can help keep your event fresh in people's minds as it nears. This involves a series of emails based on how your contacts interact with your initial email.
The greatest part of all this? You can use these tools together to maximize your efforts.
Here's an example of how to use email automation as part of your event marketing strategy
Start with the event invitation. Include two calls to action (CTAs). One to register and another to request more information.
Use these CTAs to click-segment your readers. Those who followed through and registered will go on the "registered" list, and those who requested more information will go on an "interested" list.
Then, set up two separate autoresponders.
The first autoresponder is for those on the "registered" list, and it will start building excitement for the event by including a registration confirmation that provides the "what," "when," and "where" of the event. And it should let them know that you'll be sending further event details and updates in the future.
The second autoresponder will be for those who clicked on the CTA to request more information. This email should provide more information about the event and be packed with engaging copy (text) and enticing visuals.
Of course, it should also have CTAs that encourage readers to register.
Following the autoresponder emails should be a drip campaign for those who have registered.
This campaign should be a series of excitement-building emails that contain messages like "we can't wait to see you" and "you're going to love…" With CTAs that encourage sharing the email with friends and coworkers so they can also register to attend the event.
For everyone else on your list, you can still entice them to register by sending out one-off emails that provide more information about the event and include messages like "You won't want to miss this" and "We'd love to see you." And of course, these CTAs should encourage the recipient to register and share the email with friends and coworkers so they can attend together.
TIP: Use SMS text message marketing to notify your attendees of any last-minute information such as day-of-event reminders or event security and weather updates.
Best practices for event email marketing
You can boost your chances of a great turnout by following these best practices for marketing your event.
Write engaging emails
Sure, it's faster to rattle off a list of facts about your event and then hit "send." But you probably won't lure many people into buying tickets with that tactic.
Write engaging emails with actionable language that inspires people to sign up for your event.
The key is knowing your audience and tailoring your message to them. This is one of the main reasons to segment your email list. Each segment will likely be motivated by different messages. For example, people who attend your events every year may respond to recaps with photos of previous events and a message reminding them how much they can get out of the event.
People who've never attended your event may respond better to an email showing them what to expect with a short video testimonial from people who have already attended.
Before writing your emails, think about who you're writing to and what they care about. This will help you decide how to focus your message.
Pay attention to the design
While your copy should be well-written and engaging, don't neglect your design.
Use an email template with good design elements to create an email that's visually appealing. But don't overdesign. Your email should be simple enough that a reader can determine what your event is all about and easily click through to a landing page or ticket site.
Write compelling subject lines
When it comes to email subject lines, less is more. Keep your subject lines short and steer clear of promotional language.
Most email services sort emails into categories and your invitees may not even see your email if it ends up in junk mail or on the promotional email list.
Focus on how you can add value to the reader. Use an open-ended question to pique your reader's interest and entice them to open your message.
Since you're limited on space, include any important deadlines in the subject line. Remind your readers about registration deadlines and other key dates.
Test your messages
Like all email marketing campaigns, getting event emails right the first time is tricky. Play with various messages by conducting A/B tests on different segments of your email list. Send an email with one subject line to one group and change the subject line for the next group.
Once you've sent your messages, check the analytics to see which messages have the highest open rates and click-through rates. After a few tests, you should start seeing patterns that will help you perfect your subject lines and email content.
Event follow-up
We've spent a lot of time on pre-event email marketing, but it's also important to engage your audience once your event is over. Use these post-event email marketing tools to stay at the top of your attendees' minds and get insights into your event.
Thank you emails
Send a thank-you email to everyone who attended. Without them, your event wouldn't have happened at all, so it's polite to acknowledge everyone who took time out of their schedule to attend. And a thank you email serves as a great way to build a relationship with current and potential customers who attended your event.
State why you're thanking them, and detail why it was important to you. Next, include some language regarding how you want to keep building the relationship. Do you want them to come to your store and see your inventory? Would you like them to come to your next event? Whatever it is, close your thank you email with this information.
Post-event surveys
The best way to make your events better is to learn what you did well and what you could improve.
Following each event, send out a survey to everyone who gave you their email when they checked in.
Keep it short and sweet. Ask simple, open-ended questions like what you did well and what you could improve upon
Ask attendees to rate your event and share whether or not they would come again. If they say no, have them elaborate. Perhaps they were expecting something different. Use this information to tweak your events and your promotional strategies for the next event.
Send out a reminder for your next event
It's never too early to build momentum for your next event and there's no better way than engaging people who have already attended.
In your follow-up emails, remind attendees about your next event or series of events. If you know the date, include a save-the-date at the end of your message.
Inspire your attendees to act by giving them a special offer like early access to registration or discounted VIP tickets for the next event.
Add value to your event with special perks
Even if you're not hosting another event, you can add value to your attendees by offering them something special as a thank you. Send out a limited-time promo code on white papers, store merchandise, or other interesting items.
Set up a special report, video, or another piece of content that's only accessible to people who've attended your event.
Use event email marketing to improve your events
Hosting events is a great way to build rapport with current and potential new customers. Events offer unique experiences, and they give people a chance to interact with your brand.
Start early by sending out an email invitation or a save-the-date.
Stagger your emails to build excitement and send teaser videos to drive people to a landing page, and social media feeds.
As the event approaches, use emails to answer questions and offer more information to people who are attending.
Use automated responders to follow up with people based on their actions.
Reach out to people after the event and thank them for coming.
Lastly, send out a survey and use what you've learned to improve your next event.
With event email marketing at the heart of your event marketing efforts, you can be sure that attendees will be excited all the way through your venue doors.

Build even more excitement and engagement at your next event. Learn how to create an event hashtag.

Share with your network