Most of your customers own a smartphone and they probably check it for messages as soon as they wake up. Don't you?
That's why text message marketing is so important for small businesses. With an open rate of 82%, SMS text messaging can help you reach your target audience when and where they spend their time — on their phones.
Tap into this affordable resource by using text message marketing for small business to reach your captive audience of customers.
What is text message marketing?
Text message marketing is a form of communication in which you contact your customers using text messages. You use a short message service (SMS) to write various messages to your customers and send them out as texts which are sent directly to their phones.
Not only does SMS marketing let you reach your customers more quickly, but they're also more likely to read your message. That in itself warrants using it as your main communication strategy. You can also use SMS alongside your email marketing for an omnichannel approach.
Is it legal to send marketing text messages?
The short answer is yes, it is legal to send marketing text messages, but only with the expressed consent of the recipient and by following strict rules outlined in the Telephone Consumer Protection Act (TCPA), as created by the Federal Communications Commission (FCC).
Marketing text messages must comply with the following rules:
Expressed consent — consumers must opt-in to receive text message marketing and every text sent by a company organization must include information to opt-out of receiving marketing text messages.
Marketing text messages can only be sent between the hours of 8 a.m. and 9 p.m. in the time zone specified by the recipient.
Each marketing text message must include data rates (no message is free!), disclaimers, and privacy policies.
Is text message marketing worth it for a small business?
In 2022, 75% of customers indicated that they want to receive texts from businesses. In fact, 30% of customers will make a purchase in response to text messages.
Using SMS messaging to text your clients can help give you an advantage over other businesses in your industry. You can also appeal to customers who want to receive news, coupons, promotions, appointment reminders, and other messages via text.
Text message marketing can help you grow your email list by providing customers instant access to coupons and other deals, adding value to anyone who opts in. Once you've built a solid contact list, you can start sending promotional texts to draw in more business.
SMS marketing for small businesses also makes it easier for you to engage with your customers. Personalized texts help you build trust by letting customers know you appreciate their business. And, 54% of customers want to receive text messages from your brand. If you're not already sending them, you could be missing out on a big portion of your market.
Adding text message marketing to your communication approach can also improve your ability to sell. Marketers who use an omnichannel approach can improve a customer's lifetime value by 30%.
Text message marketing can help small business by:
Building relationships with customers
On average, people check their phones once every four minutes. SMS marketing capitalizes on this huge window of opportunity, keeping your brand front and center and giving you the chance to create personalized messages they'll see when they're checking their phone.
Boosting customer engagement
You can use text messages to send customers to your website, drive them to your social media feeds, and much more. In fact, SMS marketing text messages have open rates as high as 98%. This type of interaction helps boost engagement with your brand and with other customers.
Offering immediate customer service
Use real-time, live communication or a chatbot as part of your SMS marketing service. By using a chatbot with canned responses you can be available to answer customer questions when they arise — not just during business hours. This high level of service helps you build a solid relationship with your clients.
Enabling personalized and targeted messaging
People's phones are personal, so the messages they receive on them should feel personal, too. Take the time to craft personalized, targeted marketing text messages. Use the name of the recipient and use relevant data to segment your message across audience interests, time zones, and other important distinctions. Only send content that is relevant and useful to text message marketing subscribers to maintain trust and a thoughtful connection between them and your business.
Sharing promotional campaigns and offers
Everyone loves a freebie or a coupon code from a business they frequent. Use text message marketing to send information about promotions and offers on products and services. Include links to product pages and exclusive codes to redeem at checkout.
Offering opt-in information for email marketing
Use text message features, like text-to-join, to collect consent for your SMS text message and email marketing campaigns. Provide a phone number for potential subscribers to use to opt-in to your business' email marketing communications.
Sending appointment reminders and notifications
Businesses that provide appointment-based services can benefit from giving patients and service purchasers the option to receive reminders about upcoming appointments and notifications, including important information like service charges and additional requirements/information.
Collecting feedback and surveys
Use text messages to send feedback requests and surveys to event participants and product/service purchasers. Write an encouraging message, consider offering an incentive, and provide a link to the mobile version of your comment box or survey.
Can I use text message marketing for my industry?
Text message marketing is an excellent tool in many industries. Anyone can use it to connect with customers — retail businesses, restaurants, real estate professionals, nonprofits, and service-oriented businesses are all noteworthy examples.
Here's how business SMS marketing can be used to engage your customers.
Restaurants
Many restaurants use text messaging for customers to manage reservations or takeout and delivery orders directly on their phones. And this is due to the simple fact that texts can seriously simplify these processes — customers don't have to search through thousands of emails to find a reservation or order confirmation.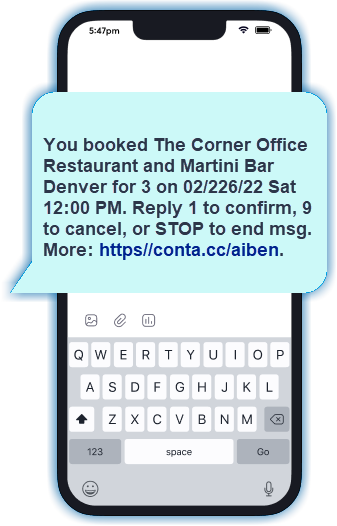 Curious as to what else SMS can do for food service? You can use it to build a text-messaging relationship with current and future diners by sending these kinds of messages:
Abandon cart messages
Special offers
Discount codes
Giveaway notifications
Personalized offers for customers who have been away for a while
Special event notifications
Retail
Retail is one of the strongest industries for SMS marketing is in retail. Nearly 50% of customers feel that their smartphones are essential for shopping. As a customer, you can use retail apps to store coupons, search inventory, and find stores in your area.
It's safe to assume that many of your customers will be on their phones as they're shopping. Send these customers coupons if you operate a physical location — they can redeem in-store and special sale notifications that inspire them to visit you while they're out and about.
Online retailers can also use text message marketing for small businesses. You can use it to automate abandon cart messages and send out daily messages informing your customers of new inventory, discounts, and special events.
Get people excited about visiting your online store or physical retail location by:
Nurturing relationships with people when they visit your site but don't buy
Sending personalized promotions like birthday and anniversary gifts
Interacting with members of your loyalty program
Real estate professionals
How can real estate professionals use text messaging? One of several best practices is to schedule and manage showings without waiting for email replies.
Many text messaging services integrate with scheduling apps. Your clients can easily manage their showings by clicking through a text message, helping you manage your schedule. Use text messages to send reminders to your clients before their showing, so they're not leaving you high and dry on the day of.
If you're working with clients to buy a new home or commercial space, use SMS messaging to share new listings as they come up. Your clients will likely open a text message faster than an email. Plus, you can jump on offers faster than you would if you were waiting for them to respond to an email or a voicemail message.
Here's how to build your real estate practice with SMS marketing:
Send open house notifications to potential buyers
Follow up with website leads
Share photos of available properties to your buyers
Invite previous customers to events
Generate leads during an open house
Nonprofits
When you're running a nonprofit, your business thrives on donations. Keeping supporters motivated throughout the year can be tricky, but SMS marketing can help. It allows you to keep in touch with your most supportive patrons and casual fans of your organization.
As far as donations go, use SMS text message marketing for small businesses to send out requests for donations. All you have to do is include a link to your donation portal or landing page so supporters can make donations quickly and easily.
To be clear, text message marketing for nonprofits isn't just about securing donations. You should also make sure you're using it to stay in touch with your volunteers and remind them when they've signed up for an event.
From current to potential donors, text messaging builds better relationships with everyone on your list. The same goes for people who have expressed interest in your mission. Get more people on board with your mission by using SMS messaging to:
Growing your contact list
Generating enthusiasm for your mission
Organizing and managing volunteer lists
Keeping your supporters motivated between big fundraising efforts
Text message marketing for small business is well worth your while. You're reaching more people where they want to be found and it's cost-effective to boot.
Choosing the right text message marketing platform
As you begin the process of selecting the right text message marketing platform for your business, make sure you answer the following questions and consider the following features.
How do you plan to use it?
There are different text message platforms for various businesses like health and wellness, restaurants, and nonprofits. If you think your company will use the platform for specific reasons like fundraising, find one with the right features for this task.
You might plan on sending weekly text messages to every customer on your list with new inventory, weekly specials, and other notifications that encourage them to visit your website.
If you're running a restaurant, you might use text messaging to manage reservations and online orders. But you could also use it to send out special offers during traditionally slow periods or to send coupons to your most loyal customers.
Find a platform with all the features you need for your specific SMS marketing goals.
How often do you plan to use it?
Many platforms structure their pricing around your total number of contacts and how many messages you send per month. If you're sending a lot of messages to a big list, you may want a more robust platform with multiple pricing tiers.
You would also benefit from a platform with a variety of templates for automated messages, landing pages, and more. If you're only using a platform to manage appointments and send personalized messages, you might consider one with fewer features to save money.
Can you get help if and when you need it?
SMS is for sending out timely communication, so you don't want to have to email in for support, then wait 24 hours or more before receiving a response. When timing is everything, you need support now.
Be certain that you can get the help you need quickly and in more than one way. A good SMS text messaging platform should at least offer:
Chat support
Phone support
What are the most important features of a text message marketing platform?
There are plenty of platforms on the market to consider. Your needs will of course vary depending on your industry but make sure that you're getting these features from the platform you decide to use.
Compliance and consent management
Will the platform ensure that you will be in compliance without you having to think about it?
Make sure that the SMS text marketing platform you're looking at does the following:
Requires recipients to opt in
Has automatic quiet hours
Requires an easy opt-out option with every text
Easy-to-use editor
Text message marketing is desirable because it's fast. If you're having trouble figuring out the editor, you're losing time writing texts that resonate with your audience. Your editor should give you the options to personalize messages and easily create an opt-out phrase.
If you're planning to send bulk messages to multiple customers at once, find a platform that makes it easy to manage your customer database. It should give you the option to create lists and market segments.
A good editor will have a dashboard that's easy to navigate with clear headings for each section. Use a program that offers templates for various message types so that you can write your texts quickly with language that's more likely to convert. These templates are also great for writing automated responses.
Mobile keywords and shortcodes
Dedicated keywords or shortcodes like "YES" to opt-in and "STOP" to opt-out are examples of mobile keywords that can trigger automated actions like customer opt-ins and follow-up messages.
Personalization options
You want your business' marketing messages to feel safe and trustworthy to the individual receiving them. Personalization options, like including a dynamic field to feature the name of the recipient, will help make your subscribers feel comfortable and special to your business.
Text-to-join and lead generation landing page
Investing in a platform that includes a text-to-join feature will help business' to easily opt-in subscribers to their marketing text messages. Provide potential subscribers with a phone number to text in order to be added to your business' SMS marketing list. Invite customers who are subscribed to your business' text message marketing to join your email list by sending a link to a lead generation landing page.
Dedicated phone number
To save time and money, you may be tempted to use your personal or business cell phone number to send and receive SMS messages. But this makes it harder to manage once you start sending out messages in bulk.
Look for a text message marketing service that provides dedicated toll-free and local phone numbers. With these services, you can manage your messages in one spot — the same dashboard you use to compose your texts.
Contact management
A contact management tool makes it easier for you to send bulk messages, segment your contacts, and personalize your messages. For example, if you want to send an automated happy birthday coupon to members of your loyalty program through SMS messages, you can program each member's birthday into the system and generate an automated message.
If you've segmented your list, a contact management tool offers reports that can help you see your most valuable segments. When you've identified your MVPs, you can engage them with special offers. Or you can switch up your messages to underperforming segments and see what gets them to engage.
Automation
Speaking of automated messages, any good text messaging service will let you create and send automated messages.
At the very least, set up an automated welcome series of messages thanking customers for subscribing to your text messages. These messages would be triggered by anyone who opts in to receive texts from you.
Add value to your list immediately by including a one-time discount or offer to people who sign up for your texts.
Other automated text messages include personalized promotions that send around birthdays, anniversaries, and holidays.
Use the automated message feature to create abandoned cart texts to notify customers who have been shopping on your site without completing their purchase. If you're managing a restaurant, you can also use the abandon cart principle when a customer doesn't finish booking a reservation or making a takeout order.
Integrations
Depending on your business, your SMS marketing platform will offer different integrations. If you're running a nonprofit, you may integrate your SMS with your donation software, so people can click a link or text a code to make a simple donation.
SMS platforms can integrate with scheduling and conferencing apps, updating your calendar in real-time whenever someone texts you to make an appointment. This keeps you from accidentally double-booking and makes it easy for your clients to choose a time that works for them.
Find a tool that integrates with your preferred customer relationship management (CRM) software to track different interactions with each customer.
Reporting
Measure the analytics of each communication channel to gauge its effectiveness. Look for a tool that generates reports on how many people opened your text and for how long they engaged with your landing page if they clicked on the link.
You can also look at other reports like how many people opted out after each campaign, how many new customers signed up in a given period, and how your subscribers found you. Some platforms let you measure a campaign's success in dollars, tracking revenue attributed to promotional offers using a specific landing page.
Scalability and reliability
You want your list to text message marketing subscriber list to grow over time, make sure the platform you select can grow with your business. Take note of platforms subscriber thresholds and reliability. You do not want to invest in a platform your business will outgrow to quickly or one that cannot successfully deliver messages to your subscribers.
Integrate text message marketing into your communication strategy
Text message marketing is a cost-effective and easy way to keep in touch with your customers. Over 50% of customers said that a text message would make them consider doing business with a company. If you're still sleeping on SMS marketing, you could be missing a large sector of potential customers.

Businesses in multiple industries can benefit from SMS marketing. You can use it to set appointments and reservations, personalize coupons and other messages to your customers, get them on board with your nonprofit mission, manage volunteers, and much more.

If you're ready to take the plunge, invest in your business by implementing a text messaging marketing strategy. Constant Contact is your source for all of your business' text message marketing needs. With features like an easy to use editor, dedicated phone number, compliance features, AI-generated text options, and opt-in features like text-to-join and customizable landing pages, your business will have everything it needs to engage your customers on mobile. SMS text message marketing has open rates as high as 98% to get your business closer to clicks and product purchases.

Share with your network