Text message marketing, also known as SMS (short message system) marketing, is an opt-in form of marketing that reaches out to customers directly on their phones. And, 68% of customers say that texting is the most engaging activity they do with their phones throughout the day. 
This means that if you want to reach customers where they are, you need to master text message marketing for real estate.
We make it easy for you to have a growing and connected client base with all the marketing tools you need, synced to the tools you're already using.
What are the benefits of text message marketing? ‌
In today's society, most people keep their phones with them everywhere. When you reach out via text message, you can get your message to your clients nearly instantly. But that's not the only benefit to this type of marketing.
Legally, per Telephone Consumer Protection Act regulations, you can only message clients if you have their consent. The benefit of this is that the clients you have on your SMS marketing list will have already said that they want to hear from you via text message. That makes SMS marketing incredibly effective, with SMS open rates as high as 98%.
In fact, more than 80% of people say they open every text message they receive, regardless of who it comes from.
SMS marketing is also fast and relies more on text than on images. This means it's easy to produce — and even mass-produce — so you can contact your clients even if your technological know-how is limited.
You can even automate text messaging through online services. This means that you can set up your text messages once and have them go out automatically with minimal — if any — extra work on your part.
How can you use text message marketing for real estate? ‌
Some of the worst parts of working in real estate involve the mountains of paperwork you have to regularly complete, clients who forget appointments or ghost you completely, and the constant need to be on the clock and ready to work. Text message marketing simplifies many of these pain points, keeping conversations with clients brief and to the point.
Reduce no-call no-shows
One way text message marketing can help you manage your real estate business is by sending appointment reminders to your clients. You can remind them the day before a showing or another appointment with you and then send a follow-up reminder an hour or two ahead of time.
This won't prevent all clients from missing appointments, but it will reduce the frequency with which it happens. It may also prompt clients to tell you ahead of time if they're going to be a no-show, which allows you to schedule other appointments during that time slot instead.
Notifying clients of new availabilities
Using text messages to let your clients know that a new property has come on the market is a great way to not only build momentum for a new property but it also lets your clients know that you're working for them even when you're not in front of them.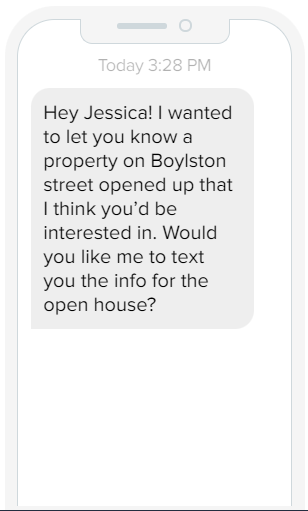 Follow up communications
After any exchange with a client, a quick follow-up text message is a great way to touch base. Whether it's to see what they're thinking about a property they just saw or to say "Congratulations, again!" on their new purchase.
Increase attendance at real estate events
You can also use text message marketing for real estate to let potentially interested clients know when you're hosting an open house or auction. You can put together one message and send it out to everyone at the same time, saving you time while ensuring that people know about these events, even when they've been scheduled at the last minute.
Expedite back-and-forth negotiations
Finally, SMS marketing can allow you to reach out to clients quickly.
Even clients over the age of 60 admit to checking their phone up to three times an hour, which may be much more often than they check emails or voicemails. In real estate, when time can mean the difference between securing a sale or being out of luck, this can be a game-changer for both you and your clients.
How can you get started with SMS marketing for real estate?
Before you do anything else, you want to get permission to access your clients' cell phone numbers and contact them via text message. You can include a permission form asking for this information in the welcome packet you give to new clients. This is also a great place to ask clients for their preferred method to receive appointment reminders, information about open houses, and more.
Once you have phone numbers and a client has indicated that they're open to receiving SMS messages, you can sign up for an SMS automation tool.
The easiest step to start with is SMS appointment reminders. Sync reminders to your calendar, automate how often reminders should go out, and give customers the opportunity to reply to text messages and either confirm or cancel their appointment.
When your clients are accustomed to receiving appointment reminders from you — and you're used to sending them — you can begin to test more advanced forms of SMS marketing, including sending out short newsletter-style tips and information about activities in the area.
What are some text message marketing tips?
If you're hoping to master SMS marketing, it's important to know how to get this nuanced form of communication right.
1. Allow clients to text you back‌
About 60% of customers would like the option to reply to business text messages, but only 13% of businesses provide that option. This means that if you allow customers to text you back, you are going above and beyond the service provided by most other businesses, which your clients may find attractive.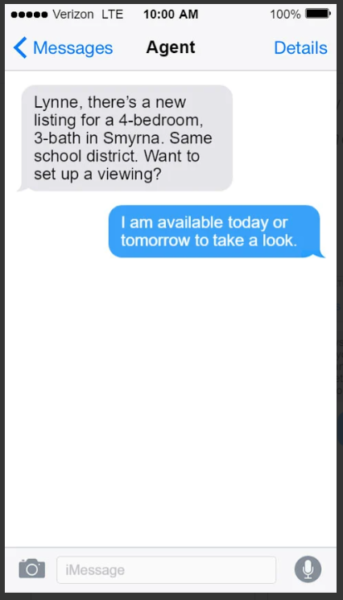 2. Have a clear call to action‌
Another important aspect of sending successful texts is creating a clear call to action (CTA) with a simple way for clients to perform that action.
For example, if you want clients to reply and let you know if they're keeping their upcoming appointment, don't just remind them when the appointment is. You should also encourage them to text Y to confirm the appointment or N to cancel. Or, if you want clients to attend an open house, include the address and time in your text message, as well as a direct link to the location's listing.
The clearer and more efficient you make your CTA, the more likely clients are to follow through.
3. Avoid common texting faux pas
Several unspoken rules come with texting. For example, sending just the word "okay" or (worse) "k" as a response to a text message is often interpreted to mean that you're angry with the situation or don't want to have the conversation.
Brush up on your texting faux pas, and remember that businesses can't get away with the same short-hands you might use with your friends. Avoid jargon or shorthands (like ttyl) and write in full sentences to avoid confusion. And remember, unlike when you're texting a friend, texting real estate clients is still a business exchange. Using letters and numbers in place of words can make you seem unprofessional, which is the last impression you want to give.
What are some other ways to communicate with real estate clients?‌
Real estate is an extremely competitive business. That's why you want to stay ahead of the game when it comes to reaching out to your clients and providing the information they need. Understanding the ins and outs of real estate marketing can help.
There are many different marketing types you can use to nurture leads and build loyalty in the real estate industry. In addition to SMS messages, you can use a number of modern marketing tools to reach your clients on a broad scale. These include:
Email marketing
Mailing birthday or holiday cards
Creating a business blog with regular content updates
Providing virtual tours and virtual meetings for clients who can't meet in person
Although many customers prefer text message updates, not all do. Instead of offering a one-size-fits-most option, ask clients directly how they prefer to be contacted and then follow through on what they say. If a client prefers phone calls or emails over texts, having those alternative options in place makes your brand seem simultaneously professional and respectful. 
How can you modernize your text message marketing for real estate today?
SMS marketing for real estate is one of the best ways to modernize your business, reach clients more quickly, and improve your communication turn-around times without adding more work to your already busy schedule. 
Start by asking clients to give you their phone number and tell you their preferred communication method. From there, you can look into real estate texting scripts and slowly improve your SMS marketing game over time.