A good real estate agent has all the strategies for generating leads in person. Whether by networking and building partnerships with local businesses, frequenting open houses, or reaching out to those with expired listings, an ambitious realtor is always working to keep business booming. Real estate landing pages can take that work to the next level.
Because the world is so enthralled by the internet, it isn't enough to go out and pound the pavement for leads every day. Sooner rather than later, a real estate professional will need to turn to the web to drum up the business they need.
If you're a real estate agent who's been accustomed to finding leads in person, you might be asking: How do you effectively and efficiently generate leads online?
One of the best ways is to use a website landing page. In this article, we'll give a bit of insight into what makes real estate landing pages effective, and we'll take a closer look at some examples.
But first…
We make it easy for you to have a growing and connected client base with all the marketing tools you need, synced to the tools you're already using.
What exactly are real estate landing pages, and how do they work?
In simple terms, real estate landing pages are the sites that visitors arrive at after clicking on an advertisement for your business or organization.
This is different from your homepage, as the landing page's sole purpose is to turn web traffic into customers by convincing people to take some form of action. Maybe you want them to buy a product or add their email address to your mailing list. Whatever the call to action may be, a landing page is the most ideal place to encourage potential customers to do it.
Though landing pages prove helpful for a wide variety of organizations and individuals, someone in the real estate business would especially benefit from having one of these pages on their website. With a good real estate landing page, you provide the opportunity to turn that random click on your ad into an actual lead.
Why are real estate landing pages important for generating leads?
Landing pages are important for one simple reason: People have short attention spans.
According to Behaviour & Information Technology, internet surfers form an opinion of a website based on its design in about half a second. Once the user has decided the site is aesthetically pleasing enough to stay on, you've got less than a minute to capture their attention and earn a second click.
In some situations, 60 seconds takes forever to tick by, but when you're trying to attract clients to build your real estate business? A minute may as well be the blink of an eye.
The whole purpose of a landing page is to capture your target audience's attention — it's a great way to be sure you make the most of the few seconds you have to make an impression.
What should be included on a real estate landing page?
What kinds of things should a potential client find when a link directs them to your landing page?
Headline
Chances are, the headline will be the very first thing someone sees on your page, so be sure the copy serves its intended purpose: to capture a visitor's attention by letting them know exactly what you offer and to make them want to stay on the page.
Be sure the headline is clear, getting straight to the point without being vague or wordy. Remember, you have only a few seconds to pique enough interest to get a second click.
It should also relate to the advertisement that directed the visitor to your site. If your ad mentioned something like a homebuyer's guide, the headline should mention it too. Otherwise, anyone who found their way to your landing page likely won't stick around too long.
Image
Consider the kinds of things that draw your eye when you're surfing the web yourself. What makes a webpage visually appealing enough for you to spend a bit of time on it?
If you said pictures or video, it shouldn't surprise you that many other web users feel the same way. Adding photos to your landing page is a great way to break up text and enhance readers' experience. Bonus points if the images you use are interactive.
The key to selecting effective imagery for your landing page is relevance. You don't want to just throw any old photo on the webpage and call it a day. You want to include something that relates to your business and what you have to offer.
If you're a realtor in a specific town or city, for example, it's a great idea to include a picture or two of that area — think attractive streets, local businesses, easily distinguishable skylines, or anything else that communicates your location to site visitors.
Just be sure you don't crowd your landing page with photos. Too many can be overwhelming and take attention away from the copy, which is the most important part.
Sign-up form
Since the sole purpose of a landing page is to generate leads and build your client base, it's a great idea to create a sign-up form so that site visitors can enter their information.
You don't need all their information right away — you'll get a more thorough, detailed account of your webpage visitor should they decide to officially enlist your help in the hunt for the perfect space to purchase. Keep it relatively simple on the landing page, only collecting smaller details like name and email address. From there, you can send out email updates and newsletters that go into a bit more detail.
Motivate potential clients to enter their contact information by offering some sort of useful incentive, like a free home evaluation or a guide to a local market. This way, you both benefit from them sharing their information. They get a reward, and you generate more interest in your services.
You may even consider leaving a message box for potential clients to communicate with you directly if they have any questions about your services.
Client testimonials
You know customer testimonials are important, but you may be wondering why they're worth including on your landing page. The reason is simple: The presence of positive reviews makes a consumer more inclined to trust you.
According to Invesp, a whopping 88% of consumers trust online reviews as much as personal recommendations, and 72% of consumers will take action only if they've read a positive review.
Because of those rather high percentages, you'll want to consider sharing some of the positive feedback you've received from past clients on your landing page. It's a simple way to build trust with your site visitors, and a few good reviews may be just the thing needed to nudge someone off the fence.
Just be sure any client testimonials you include are placed strategically on the page as you design the site, making sure they don't overshadow or draw attention away from any calls to action you've included. After all, the point of a landing page is to encourage a site visitor to do something, so it's crucial that your calls to action are the priority here.
A short introduction
Sometimes, however, a client testimonial is not the only thing a consumer uses to gauge whether your services can be trusted. They'll want to know a bit more about you and exactly how you can help them buy or sell a home.
That's why you should consider including a short introduction about yourself and your services on the landing page, highlighting what sets you apart as a real estate professional and letting people know why they should trust you.
Be honest as you introduce yourself, and try not to oversell your services. Consumers can often tell immediately if someone is being disingenuous, and that's likely to turn them off to the idea of hiring you.
Be inspired by 6 of the best real estate landing pages
Now that you have a better idea of what landing pages are and what should be included on them, here's a look at a few effective real estate landing page examples.
1. Blair Marble Real Estate
Our first example, Blair Marble Real Estate, is a great example of using an eye-catching image that directly relates to customers' interests: buying and selling land for hunting, farming, and timber.
Above the fold of the page is a brief introduction that lets viewers know why Blair Marble's expertise could be of value, plus two calls to action that urge potential clients to get in touch or view listings.
As you scroll down the page, you'll see options for those who are looking for or selling property, plus the real estate agent's contact information.
The Takeaway
Make your brand and services as clearly known as possible on your landing page. Not only is it explicitly written in the agent's short introduction, but the images also quickly make it clear that this page is meant to appeal specifically to those who are looking for land.
2. Monarch Realty Co.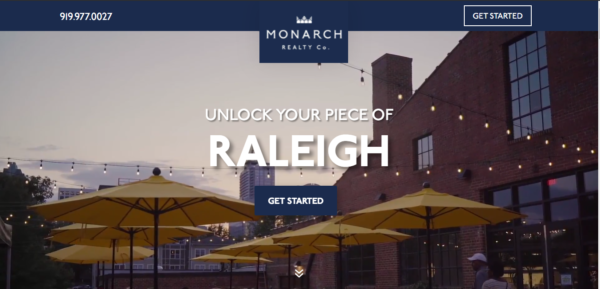 Above the fold, the landing page for Monarch Realty Co. looks a lot like many others you'll see. There's a slideshow of relevant images for the area the company services that rolls in the background, and there's a "Get Started" button that leads site visitors to the company's contact information.
Scroll down a bit, and you'll find an explanation of what Monarch Realty is and what makes it stand out from the rest, which helps potential clients build trust in the brand. Keep scrolling, and you'll find two featured properties in areas where Monarch Realty has already established a strong client base.
The Takeaway
Use your landing page to appeal to a familiar crowd. Monarch Realty displays two featured properties in areas where the agency has already found success, likely under the notion that what has worked before will work again.
Though the goal of your landing page is to generate new leads, you don't necessarily have to attract a different kind of person. If you know your services appeal to a very specific crowd, be sure you're using your webpage to offer something enticing to them.
3. Liza King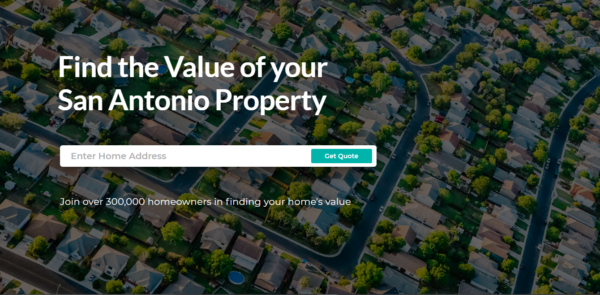 While some real estate landing pages focus on both buying and selling, this Liza King Team page uses the marketing tool to appeal specifically to sellers.
Site visitors are immediately prompted to enter their address for a quote on their home's value. If you scroll down a bit farther, there's a call to connect and sell, which redirects you to an introduction to the realtor and testimonials from those who have sold with her.
The Takeaway
Focus on one specific service. Of course, you as a realtor are adept at helping clients sell and buy, but if you're specifically looking to reach more sellers, gearing a landing page toward them is a great idea. Take a cue from Liza King, and offer sellers a place to start like a home value estimator or a seller's checklist.
4. Montecito Medical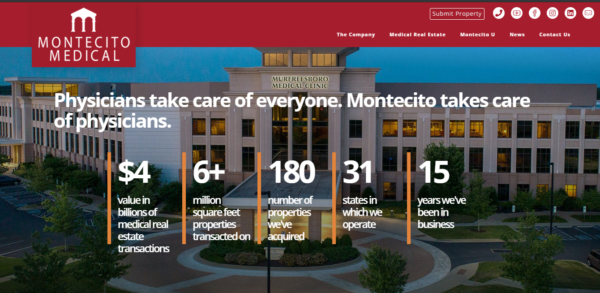 Montecito Medical's landing page stands out from the rest at first glance. Rather than sticking a call to action above the fold, the company uses empathy to attract clients by boldly declaring, "Physicians take care of everyone. Montecito takes care of physicians."
The Takeaway
Appeal to clients' emotions. If you were a physician looking to buy or sell a medical property, chances are you'd be so attracted to the idea of being taken care of, it would be difficult for you to resist spending a bit more time on the site to find out how Montecito intended to do that.
Sure, offering an incentive of sorts is an effective means of reeling clients in, but when done correctly and followed through, using your page's copy to speak to their emotions can work just as well.
5. Ramsey Solutions
Above the fold of the Ramsey Solutions landing page is a simple call to action, urging site visitors to use the company's realtor-finder tool. Scroll on, and you'll see statistics defending the call to action, which is an effective way to convince a visitor to become an actual customer. The statistical information is listed in short, easy-to-read bullets, which keeps potential clients from feeling overwhelmed or bogged down by information.
At the bottom of the landing page, you'll see testimonials that highlight clients' experience with Ramsey Solutions, which further validates the call to action at the top of the site.
The Takeaway
Make sure your design choices can help you reach your goals. It would've been easy for the Ramsey Solutions landing page to give potential clients all the information right away, tossing out listings and buyers guides left and right.
However, the page begins with a call to action — find a real estate agent through Ramsey Solutions — and the rest of the design centers on explaining why a potential buyer or seller would want to do that.
More skeptical site visitors may not be easily swayed, and convincing them to utilize your services may take a bit of work. Use your landing page to share important information and explain the "why" behind your call to action, but be sure to do so in a way that's both concise and aesthetically pleasing, as done on this page.
6. Larry Roorda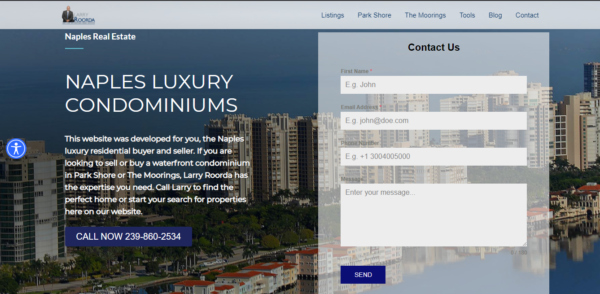 Last but certainly not least, this real estate landing page example comes from Larry Roorda Realtor. The page has a fairly basic design, but it manages to include each of these aforementioned attributes: concise headlines, non-distracting images, a sign-up form, client testimonials, and a short introduction to the realtor. Scroll to the bottom of the page, and you'll see another ever-so-crucial call to action — a prompt to sign up for the e-newsletter.
The Takeaway
You don't have to reinvent the wheel when creating your site. There's nothing wrong with sticking to a pretty basic design or using a template for your landing page, especially if it helps you generate new leads. In fact, there's a reason many landing pages look similar: The design accomplishes the goal.
What to do with a real estate landing page
Now you know the elements of a landing page and have seen a few examples of what works. Maybe you've even begun brainstorming an idea of what your own realtor landing page will look like.
Understanding what a landing page is and what should go on it is just step one of the process. And while the first step is important, the one that follows could potentially be even more significant: deciding what to do with your landing page.
Once the page is created, you need to make sure people will see it. And not just anyone, but the right people — your target audience. You can't skip this step, because let's face it: Having a well-designed, thoroughly thought-out landing page is pointless if the right eyes never catch a glimpse of it. No views equals no new leads.
Advertisement
Creating an advertising campaign on a social networking site or Google is one of the most popular ways to promote and share your landing page.
Paying for a Google ad means that your link will show up when someone searches for a product or service like yours. So if a potential client is typing "real estate agents near me" into the search engine, chances are they'll find your landing page among the rest of the results.
A social media ad campaign is a bit tricky, as you really need to know and understand your target audience for the advertisements to be effective. Facebook and Instagram allow you to target users based on details like age and interests. You can even tailor your ads to reach the people who have already visited your site.
Email
Just because someone has subscribed to your mailing list doesn't mean they've enlisted your expertise to help buy or sell a property, and it's for that reason that you should share the link to your landing page with the people on your mailing list. Plus, your e-newsletter recipients likely know and trust you already, so there's a good chance the call to action on your landing page is just the push they need to finally give you a call.
Be certain the email you send is clear and straightforward with a call to action and a link that leads right to your landing page.
Social media
We already mentioned investing in an advertisement on social networks. But if you want to go the free route, you can post a link to your landing page on your own social media profile and in real estate-related groups for your target audience and potential clients to see. This method of promotion is a good way to encourage people who are already familiar with you to take advantage of the services you offer.
If your current followers like what they see on your real estate landing page, they may share your linked post on their own profiles, which can expand your business's reach and generate new leads.
URL
However you choose to share your landing page with the public — whether through social media, an email list, or Google advertisements — you should be sure the page's URL is relevant and makes sense.
When you share the URL — which should include the protocol identifier (http:// or https://), the domain name, and the slug — you'll want people to remember it, so be sure it's short, on brand, and easy to spell.
Create a real estate landing page today
Drumming up new business can be a daunting task that requires a lot of strategy, but making use of a real estate landing page is a great place to start. Just be sure your page has information that's concise enough to grab a visitor's attention quickly — remember, you have only a few seconds to make a good impression. With client testimonials and a call to action such as adding an email address to a mailing list, you'll be generating new leads in no time.
What if you've never made a webpage before? Not to worry. With no web development experience, you can easily create effective landing pages directly within Constant Contact using simple-to-use, drag-and-drop tools. You'll also find plenty of tips in The Download, a guide to online marketing for real estate.
Take a cue from the examples above, plus the tips for creating a webpage that works, and set up your real estate landing page today. Who knows how many of those clicks will turn into clients? Happy landings!