Real estate agents should understand that email marketing is one of the best ways to attract leads, engage clients, close sales, and get repeat business. If you want to streamline the process using tried and true methods, use real estate email templates. In this piece, you'll learn more about them and see the 14 top email templates for real estate that can help you.
We make it easy for you to have a growing and connected client base with all the marketing tools you need, synced to the tools you're already using.
How real estate email templates can help
A real estate email template has been designed by a professional in the industry. It ensures that the email sticks to the point, has the right verbiage, and is easy to fill in and send.
Most templates will have large text indicating what should go in the different fields. It's as easy as filling in some blanks and sending the email. Professional email templates will save you time and help you make more money.
14 top real estate email templates
If you want some help from the pros, check out these real estate email templates. Pick and choose your favorites and see which works best for your clients. Rest assured, all of these have been tested over time and really work.
1. Latest property listings/updates
Send your subscribers an email that outlines the newest properties that you have listed. If there are updates to previous listings, you can put them on this list too. Make sure you include pertinent information like the location, number of bedrooms and baths, and the square footage.
You can also add links that direct the client to your site to explore the property in greater detail.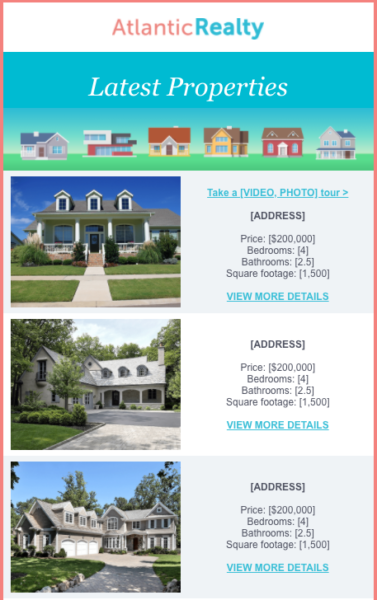 2. Newsletter
You can never go wrong with a newsletter. A real estate newsletter can help you sell more, and doing so with a professional email template with help dramatically.
A newsletter can highlight market trends, provide property tips, mention the latest news, and showcase what's new in your company. A monthly or bi-weekly newsletter helps your clients stay in the loop. At the same time, it keeps your name fresh in their minds.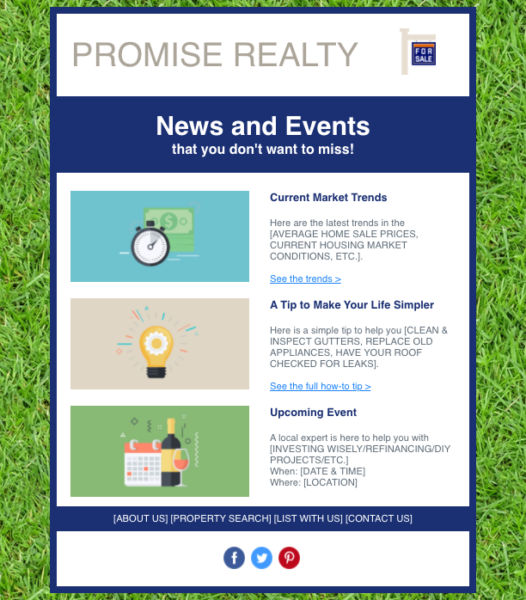 3. Open house email invitation
An invite to an open house will feel a lot more personal when it's done through an invitation template. This is a quick way to maximize the turnout for your open house. The more eyes you get on the property, the higher chance you have of making the sale.
Make sure you highlight the location, the hours of the open house, and the listing price of the property.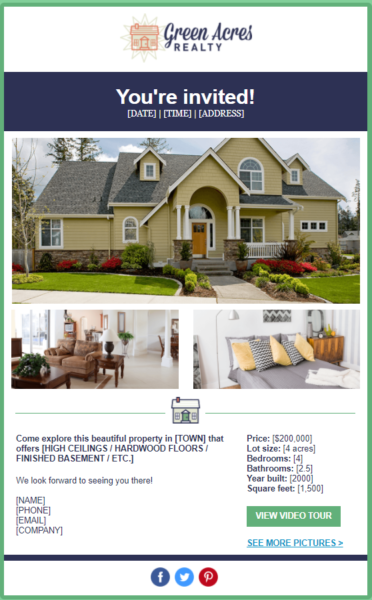 4. Open house followup
After someone visits an open house, it's always a good idea to follow up with them. Give them more details about the property and let them know what the next steps are.
For some clients, this could be the first house they're buying. They'll need some additional information in this follow-up email. Above all else, show your gratitude and remind them that this property won't be on the market forever.
It can also link to your Instagram profile, which should announce upcoming open houses.
5. Post-close thank you and review request
There's a lot to celebrate after closing on a house. After the signing, make sure you express your appreciation to the client.
You can use an email template to thank the client and ask them to review you on Facebook, Google, and Zillow. Remember that a strong online presence is a must-have today.
6. Happy Holidays
Clients respond well when businesses send personalized messages. In this email template, you'll be wishing your clients a happy holiday. This could apply to any holiday during the year.
Try to keep it themed for the best engagement with the recipient. This is a fun way to remind your clients that you're still around and making deals. Themed email templates are one of many ways to market your real estate business during the holidays.
7. Anniversary greeting
Another time that people like to celebrate is during an anniversary. This could be a year marker of how long the client has been with you, how long your company has been open, or how long it has been since the client gave their email to you.
In any case, you can take this opportunity to show them what's new this year and speak to any highlights in the past year.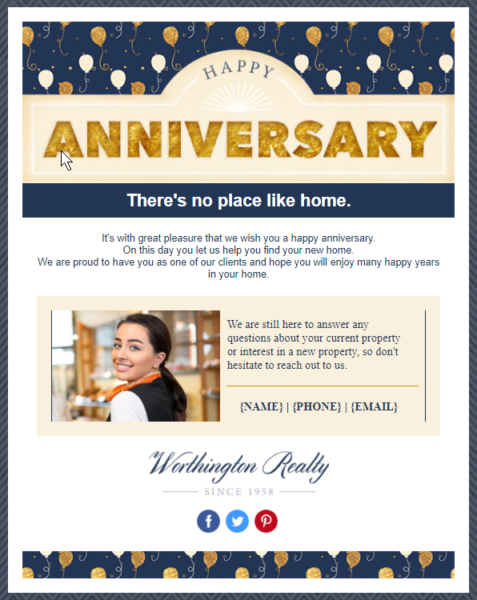 8. Single listing spotlight
If you want to spotlight a single home, an email template would be perfect for that. With eye-catching photos and important details, you can capture a client. Who knows? It might be exactly what someone is looking for.
This is really useful because it allows you to show a client a home even if they aren't actively looking. Show images, write descriptions, and don't forget to provide the property's address.
9. Email series designed to qualify and segment leads
You can put together an email series that progresses clients through the sales sequence. A good idea would be to send three emails in sequence. Start with an agent intro and end with listings that might appeal to the client.
This is a good way to introduce someone to the home-buying process.
10. Client appreciation event invitation
Another great tactic for real estate online marketing is throwing a client appreciation event. This is a way to network in a low-stress environment. It lets you meet people who might only know you by a voice and an email address.
The invitation email template should show your gratitude, outline the event, and highlight any key features.
11. Client appreciation event save the date
After sending the invite, you should send a save the date a few weeks later. This is another way to remind your mailing list that the event is coming up. Add some information about your real estate company on the save the date. This way, if anyone prints it out, you're getting free publicity.
12. Client appreciation event thank you
After the client appreciation event, don't forget to thank everyone. This email should talk about the successes of the event and thank everyone.
13. Birthday greeting
When a client's birthday comes up, a great way to celebrate is with an email template. Make sure you include their name and age in your warm wishes. You can get creative with the theme and have fun with the images you include.
14. Welcome email
When someone first signs up for your email service, they should get a welcome email. This should give them a broad overview of who you are, what you do, and why they should choose you. It's too early to show them listings, but it's not too early to connect and start building a relationship.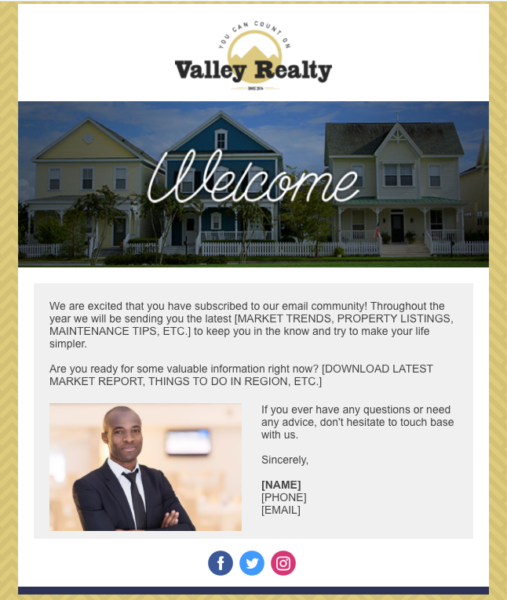 Making the most of email templates
Now that you know how these 14 top real estate templates can help you, why not give them a try? Check out a guide to real estate marketing and see results today.

Share with your network