Email subject lines are arguably the most important component of your emails. After all, the subject line is what subscribers see in their inbox, and is what determines if they even open your email or not
So without good email subject lines, your email marketing campaign could go to waste! But don't worry — you've come to the right place.
In this article, I'll help you understand what a subject line is and why it's important. Then, we'll dive into how to create the best email subject lines (that get people to actually open your emails!) and some great email subject line examples.
What is the subject in an email?
The subject line of an email is the single line of text people see when they receive your email. This one line of text can often determine whether an email is opened or sent straight to the trash, so make sure it's optimized for your audience.

What is an email preheader?
An email preheader is another element of your email that a subscriber will see in their email inbox. It's the text that follows the email subject and previews the content of your email.
Using the same example above, the preheader is the text that says "Get a discount on skating lessons when you enroll before May 1st."
Now you can see how an email preheader is different from a subject line but related. The two work together to convince a recipient of your email to actually open. While in this article, we'll focus on tips for creating the best email subject lines, it's good to keep email preheaders in mind too. You want your email preheader to compliment your subject line nicely, and not simply repeat the same information.
Why the subject line of an email is so important
At first, your email subject line and preheader are the only things email recipients can see when they receive your email in their inbox. Since email inboxes are inundated with hundreds, maybe even thousands, of emails per day, catchy and clear email subject lines are more important than ever. This one line of text can often determine whether an email is opened or sent straight to the trash (or worse, to spam).
Good email subject lines can make a powerful impact on your readers. The words you choose for your email subject lines can have a big impact on whether or not the hard work you've put into your email will pay off. No matter how sophisticated or well-crafted your email campaigns are, they are worthless if your target audience doesn't open the email.
Spending a little extra time on your email subject lines will help you get more customers to open your emails, avoid emails going to the spam folder, and get your message in front of the right people. Plus, good email subject lines help lead subscribers to take the action that generates the most value for your business: click-through rate.
Best Practices for Email Subject Lines
The following are best practices to help you craft compelling email subject lines for your business' marketing emails.
Grab attention
Your email subject line should act as a mini advertisement for your content. In order to stand out in the inbox you want to instantly grab the attention of your audience — this could be through using a catchy piece of copy, including the name of the recipient in the subject line, and using pictorial additions like emojis to help separate your business' subject line from the rest of the inbox.
Convey relevance
Email subject lines should offer information that is relevant to the recipient and give them a hint as to what content they can expect to find if they open your email. Emails meant to drive customers to a product should use subject lines that speak to the value or relevance of the product, like the usefulness of a deluxe hair dryer or a sale on cargo shorts in the summer.
Create curiosity
Email subject lines should pique the interest of your audience. As previously stated, you want to grad the attention of your audience, but you also want to make them curious. Email subject lines are short by design, you want to give the reader a taste and make them decide whether they want to invest their time in reading further.
Drive action
Think about the main goal and call to action of your email campaign. What action do you want your audience to take once they have finished reading what you have provided them? Do you want your audience to buy a product or service? Do you want them to sign up for an event? Make sure your subject line is clear about the desired action of your business.
Personalize when possible
People respond best when they feel that communication is personal and they are likely to take pause when they notice something familiar, like their own name, in the inbox. Use dynamic fields to auto-populate your subject lines with the name of the recipient.
Keep it concise and compelling
Make sure you remember to keep your subject line concise to avoid it getting cut off in the inbox. Your subject line should be able to convey urgency, excitement, intrigue, feelings of welcomeness, or whatever the goal of your email message is in a few short words.
Use a familiar sender name
In the same vein as why people pause when they see their own name, your audience is likely to open emails that have a sender name that is familiar to them. Selecting a regularly occurring sender name to represent your business will help build trust with your audience, increasing their likelihood of opening.
Create a sense of urgency or exclusivity
Generate urgency in your subject line to capture the attention of your audience and encourage them not to wait to open your business' email. Craft an exclusive air in your subject line to promote feelings of specialty.
Don't use all caps
All caps can trigger a reader's instinct that the email they are looking at could be spam. Avoid using all caps when possible, and if you do decide to use all caps in your subject line keep it to one or two words.
A/B test your subject lines
In order to figure out what your audience responds to positively, consider A/B testing your subject lines. Perhaps you will write subject line A to stress urgency and subject line B to express exclusivity. Send each email test to a small group of your audience (10-20% of your total audience for each group is a good rule of thumb), determine a timeframe and analyze your results once the timeframe has passed. Whichever subject group has the highest open rate will determine which subject line you will use for the rest of your audience.
Remember to tweak
As you work on email marketing ideas for your business remember that you're playing a long game. Besides A/B testing your subject lines, remember to try new styles to see what works and what can be improved.
12 tips to create good email subject lines
Think of the 12 tips below as tweaks you can make when creating your subject lines. Each of these subject line tips is designed to get people to notice and open your email.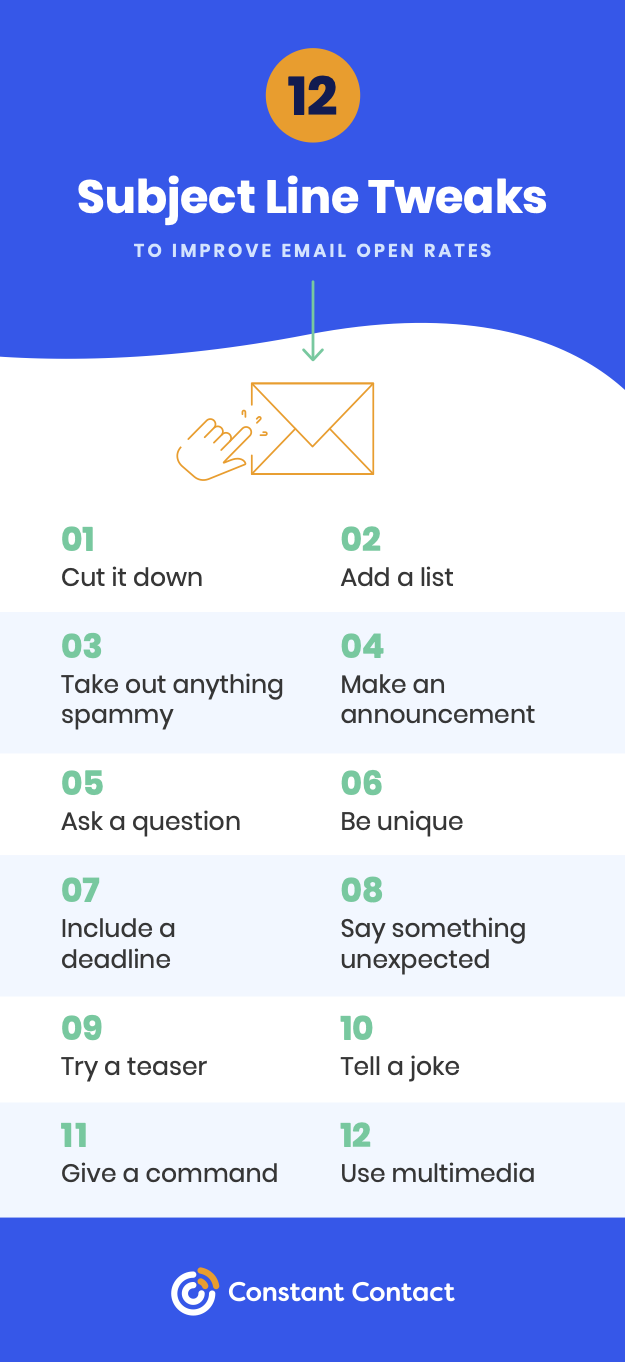 1. Shorten your subject lines
What good is your subject line if people can't read it? Oftentimes, people check emails from mobile devices, swiping right through emails that don't prompt a sense of urgency. Make sure your subject line doesn't get cut short by keeping it under 40 characters or about five to seven words.
Your readers want to scan through their inbox quickly. Sometimes subject lines that use only a word or two can stand out and get the most engagement.
Example of a short email subject line
In the example below, Bisque Imports kept their subject line short and sweet, as simply "TGIF!"
2. Avoid spam words in your email subject lines
Subject lines that are aggressively salesy are often the most likely to be marked as spam. That means you should avoid loud punctuation like all caps and multiple exclamation points, as well as overtly promotional language like "Buy now" or "Free." These are surefire ways to have your marketing emails sent straight to the spam folder.
Instead of focusing on promotion, try offering your expertise and sharing information your audience will find useful.
Example subject line focusing on the email's value, not spam
Mother Earth Pillows let their subject line focus on what the subscriber can get out of reading their email with "Essential Oils…Learn what they do!"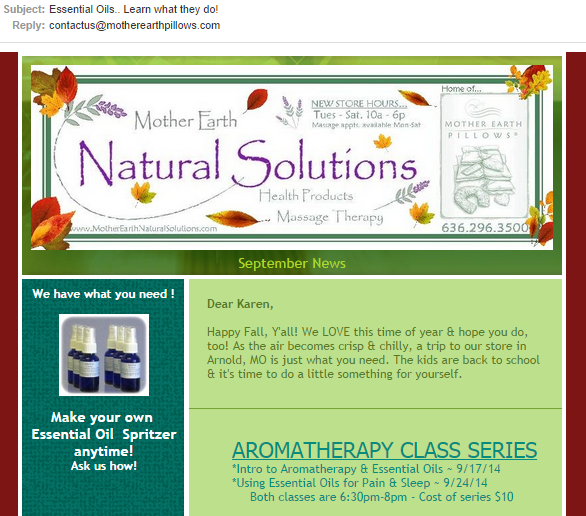 3. Ask open-ended questions in the subject line
Why should you use questions in your subject lines? Questions are a great way to focus your readers' attention and pique their curiosity.
Questions also feel incomplete on their own. Using a question will inspire readers to open the email in search of an answer.
Example email subject line using an open-ended question
Strong Women, Strong Girls nailed it with their simple subject line, "Who was Wonder Woman's Role Model?"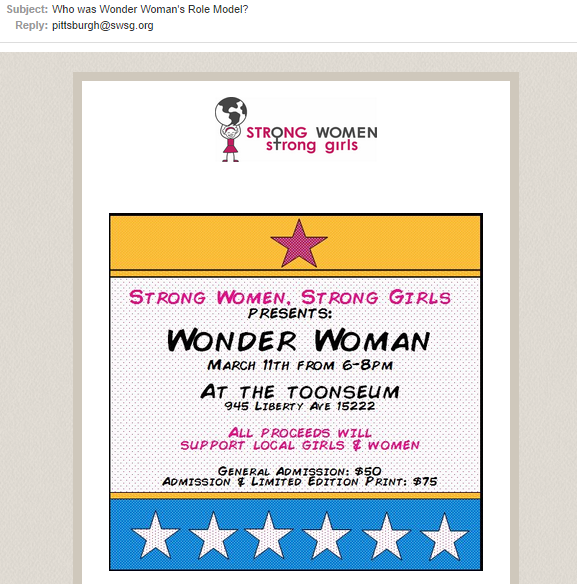 4. Include a deadline in the subject line
Considering there's no shortage of distractions standing between you and your readers. The deadline tactic creates a sense of urgency that can encourage readers to prioritize your email.
A successful promotional strategy, for an event or a special offer, will likely include a series of emails. You can send out an initial announcement, letting people know about an upcoming date. As the deadline approaches, remind users of the promotion in a "last chance" follow-up email.
Don't be afraid to make the turnaround time as short as 24 hours. "Now or never" phrases are often the most successful.
Example subject line using a deadline
Manchester Animal Shelter used a deadline to motivate subscribers to open with their subject line, "Cruisin' 4 Critters is August 2nd Register Today!"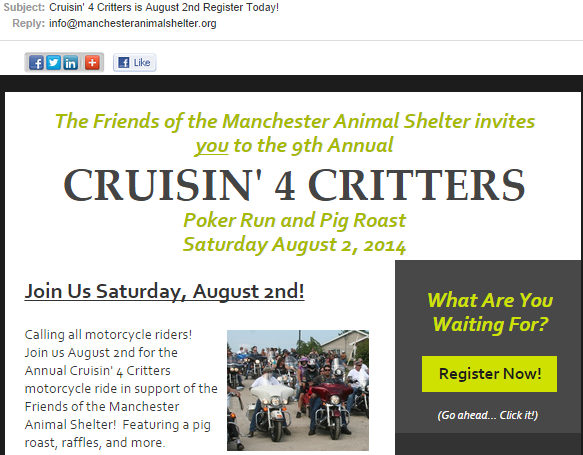 5. Try a teaser subject line to get people to open your email
Think about why people love movie trailers but hate commercials. There's power in drawing people in with a preview, rather than giving away the punchline right at the start. Great subject lines do just that.
Try to think of something that will hook your readers and spark their interest.
Example email subject line using a teaser
The Tropical Travelers teased the content of their email with the subject line, "Destination Weddings…Want Rock Star Treatment?"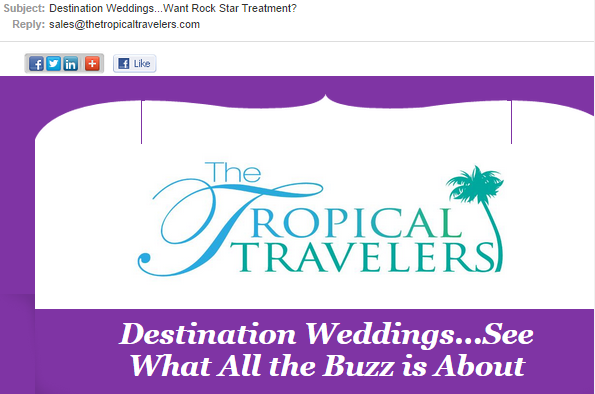 6. Give a clear command in your subject
On the other hand, some people respond best to direct instructions. If your email has a direct call to action, like encouraging people to buy tickets for an event, don't be afraid to let your subject line reflect that.
Example of using a command in an email subject line
United Way of Massachusetts Bay and Merrimack Valley used a clear call to action as their subject line: "Join us at the MLH Scholars Luncheon!"
7. Share something valuable in your subject line
You might already know that sharing something of value for your audience is a central part of a good content marketing strategy.
Think about what your subscribers need right now, and tease a solution to that right in your subject line.
Example email subject line focusing on sharing something valuable
We used a value-based subject line in our own Hints & Tips email with, "Create Your Holiday Plan"
8. Make an announcement right in the subject
If you have something new and exciting to share about your business or organization, channel that enthusiasm into your subject line.
Although it's hard to craft personalized emails to a long marketing email list, sharing announcements with email subscribers is a great way to boost that sense of personalization, as readers will feel like they're amongst the first to know about this offer.
Example subject line leveraging an exciting announcement
Fluent City used an announcement teaser in their subject line, "The winners of the postcard contest are…"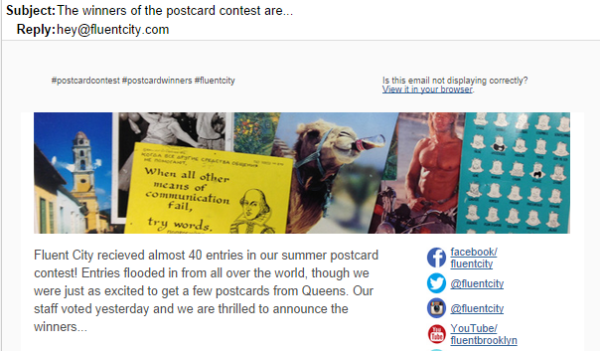 9. Be unique in the email inbox
To craft great subject lines you need to understand two things:
Who your audience is
What your business can offer them that they can't get anywhere else.
Think about what your business is specifically known for and highlight that in your subject line.
Don't be afraid to put your business's name right in the subject line, especially if your company is well known. Many people will open emails simply based on the sender alone, so don't miss the chance to reinforce your specific brand.
Unique subject line example
Here's how Taza Chocolate does it: "Taza Hot Fudge And A Cherry On Top!"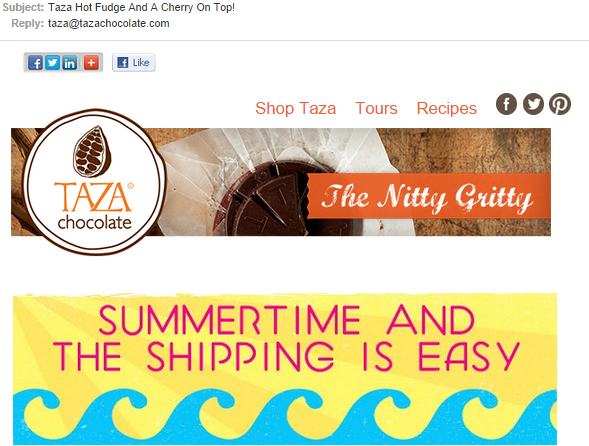 10. Tell a joke with your email subject
Most people aren't bursting into laughter while going through their email inbox. That means if you can write a funny subject line, you're going to get a lot of attention.
Ok, so maybe you won't have your audience busting up in laughter, but you might just be able to convince them to open the email by at least making them smile with a joke that isn't completely cringe-worthy.
Depending on the tone your business is going for, you can test out some puns or wordplay to get some laughs and engagement out of your contacts.
Joke subject line example
Boloco made subscribers chuckle with their subject line, "real baseball fans eat burritos"
More funny email subject line examples:
"Shocking News: This Email is Mildly Interesting."
"Don't open this email… Just kidding, you totally should!"
"Oops, We Found Your Secret Dancing Video!"
"Puppies, Kittens, and Pizza. Need we say more?"
"Free Pizza: The Dream is Real!"
"Aliens Invaded Our Office. Here's Proof!"
"Your Boss Approved Extra Nap Time!"
11. Say something unexpected or intriguing
If funny isn't really your thing, why not give surprising a try? This could be anything from a little-known fact about your industry, an eyebrow-raising statistic, or just something people aren't used to hearing from a sales email.
Sharing something unexpected encourages your subscribers to open your email.
Example of an intriguing email subject line
How The Basketry does it: "Join us for a Bling-ing good time"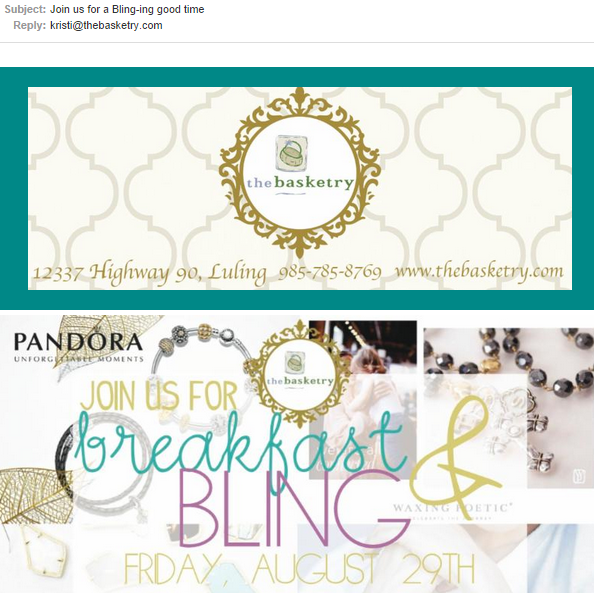 12. Highlight video and other multimedia in your email subject
Did you know that even just including the word "video" in your email subject line has been shown to increase opens by as much as double?
Adding a video, linking to a presentation or podcast, or including a helpful guide are all great ways to make your email content varied and more engaging.
So, if you're putting in the effort and going beyond plain text emails, make sure you're telling your contacts right from the subject line, so they don't miss out!
Example subject line highlighting video
How Reel Works does it: "Reel Works Kickstarter – New Video!"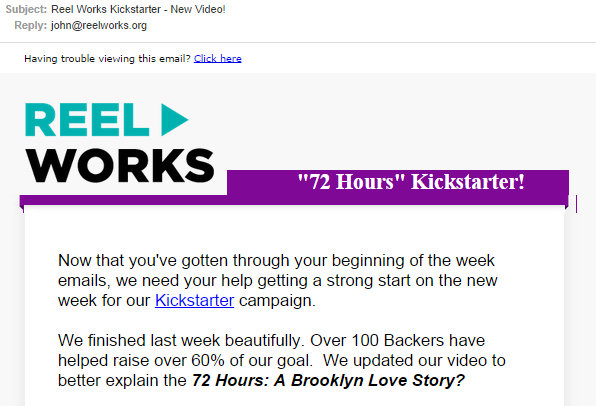 Take inspiration from these great examples of email subject lines.
Question subject line examples
Using a question in your subject line is a great way to make a more personal connection with the people viewing your emails. Here's how to use the question effectively:
There are questions designed to intrigue readers:
1. Do you really have the perfect gift for your [wife/husband]?
Or questions that point out a common problem:
2. Struggling to find the perfect gift for [mom/dad]?
Or even questions that inspire people to take action right away:
3. Have you seen our perfect holiday [offer/collection/gift ideas]?
Bottom Line: Rather than telling people what you have or how you're able to help them, ask a question that gets their attention and entices them to learn more.
Command subject line examples
Questions aren't the only way to catch your readers' attention. Sometimes it pays off to be more direct with your audience as a way to get them to act now.
In some cases, you may want people to take advantage of an offer:
4. Don't wait. Save % [percent off] this week at [your business].
Or register for an event:
5. Reserve your spot for [name of your event].
Or just read your latest news or updates:
6. Find out what we have planned for [month/holiday/shopping day].
Bottom Line: While you don't want to be pushy or overly promotional in your subject line, you shouldn't be afraid to be direct either. Your customers will appreciate it, especially during this busy time of year!
Teaser subject line examples
Believe it or not, people love cliffhangers. And if crafted correctly, the teaser tactic will work really well.
Whether you're teasing gift ideas:
7. 3 gift ideas for your [brother/sister/uncle/cousin] that you didn't think of.
Or a new piece of content:
8. Learn how to [do something] this holiday season.
Or just teasing people with a way to have a stress-free holiday:
9. Stress-free holiday shopping is possible at [your business].
Bottom Line: Think about your target audience. Who are they? What are they interested in? What are the challenges they are facing this holiday season? Use this information to craft a subject line that teases their interests and gets them to want to read on.
List subject line examples
Lists make it easier for people to consume the information you're sending out. They also give you the chance to demonstrate your points in a more compelling way.
Lists work for gift ideas:
10. [#] gifts under $[amount of money].
Events:
11. 5 reasons to attend [name of your event].
Or even for educational content:
12. 10 holiday time-saving tips from [your business].
Bottom Line: Remember, lists should simplify not complicate your message. Don't mistake using a list in the subject line as an indication that you need to pack your emails with too much content. Instead, look for opportunities to link out to your website or other online assets from your email.
Announcement subject line examples
Subject lines don't have to be complicated, especially if the goal of your email is to simply announce something new.
You may be announcing new hours:
13. We're open late! New hours for the holidays.
Or letting people know that you're participating in Black Friday, Small Business Saturday, or Cyber Monday:
14. Come celebrate [shopping day] at [your business].
Or just letting people in on what you have planned for the end of 2013:
15. Don't miss our December [specials/offers/events].
Bottom Line: Save announcements for when you really have something important to tell people about. Not every subject line is going to offer breaking news.
Video: Get More Opens with Great Email Subject Lines
You'll learn:
The basics of a good email subject line
Trends for writing great subject lines
Tips for getting creative with your subject lines
Even more tips for standout email subject lines
Still looking for more inspiration? We got you. Here are more ways to create subject lines that stand out in the inbox.
Use the buddy system
Before you publish something, you want a second pair of eyes on your work, right?
Subject lines require the same treatment. Sit down with your favorite beverage of choice (did someone say Subject Line Sangria?) and an employee, co-worker, or even your spouse and throw around ideas.
You'll toss those ideas back and forth until, eventually, the right one will stand out.
Alliteration is alluring
Alliteration is when the same letter or sound appears at the beginning of consecutive or closely connected words.
This technique draws the reader in and can be a fun way to come up with a creative subject line.
Example: The Shoes Of The Season
Try allusions
Who doesn't love a clever reference to something everyone knows? Allusions create common ground between you and the reader and make your readers smile.
Consider this allusion to the 1983 hit by the Eurythmics used by a cheese shop to announce a special sale:
Example: Sweet dreams are made of cheese.
(Good luck getting that chorus out of your head now!)
Harness the 'FOMO'
If you don't know, FOMO means 'fear of missing out.'
This tactic works great for creating urgency around an event, sale, or item. Give it a try!
Example: Hurry! Last Chance to Save 20% OFF
More examples of FOMO-inducing email subject lines:
"Last Chance: Limited Time Offer Ends Today!"
"Exclusive Access: Be the First to Experience [Product/Event]!"
"Don't Miss Out: Save [Percentage/Amount] on Your Favorite [Product/Service]!"
"Hurry, Limited Stock Available! Get [Product] Before It's Gone!"
"Breaking News: Special Announcement Inside – You Won't Want to Miss This!"
Take time to rhyme
See what I did there? Rhyming subject lines tend to stick out amongst a sea of subject lines because we're attracted to rhythmic sounds.
Give it a try in your next subject line. You never know, you might be a poet and you didn't even know it!
Example: Splish Splash oh the prices we've slashed!
Ta-Da! It's onomatopoeia
Never thought you'd see this word after high school English class, did you?
Well, I hope you were paying attention because onomatopoeia is a word that phonetically imitates, resembles, or suggests the source of the sound that it describes.
There are so many ways you can use sounds to get someone's attention, so embrace your inner child and use some onomatopoeia in your next subject line for a playful effect.
Example: Saving is a Boo-tiful Thing
Entertain, warn, inform: email subject lines to reinforce your marketing goals
Each email your business sends should have a specific goal in mind. Whether you are creating marketing emails to advertise a product, provide information, entertain your audience, or send a reminder/warning about necessary or desired actions, your email subject lines should serve as a clue to the intent of your email send.
CTA: How to write a marketing email that's effective
Retargeting Email Subject Lines
Retargeting subject lines attempt to direct the subscriber to return to complete an action (like returning to an abandoned cart) or to reengage with a business.
"We Miss You! Come Back for More."
"Ready for Round 2? Let's Reconnect!"
"Special Surprise: We Saved Something Just for You!"
"Did You Forget Something? Your deal awaits"
"You're One Step Away from Unlocking Exclusive Benefits"
Sales Email Subject Lines
Sales subject lines are upfront and direct, they let the reader know the email is product/service focused.
"Limited-Time Offer: Save 50% on Our Best-Selling Product!"
"Last Chance: Don't Miss Out on Our Biggest Sale of the Year!"
"Act Now and Receive a Complimentary Gift with Your Purchase"
"Limited Quantity Alert: Grab Your Favorite [product] Before It's Gone!"
"Just For You: Enjoy a Personalized [offer]"
Newsletter Email Subject Lines
Newsletter subject lines serve to intrigue readers with interesting news/valuable information
"Breaking News: Exciting Updates from [company/industry]"
"Your [company name] Newsletter: Packed with Insider Tips and Trends"
"Get Inspired: Learn from the Success Stories of [industry expert/customer]"
"Just Released: Our Ultimate [resource/guide] to [topic]"
"Your [month] Roundup: Top [industry] Insights"
Catchy email subject lines
Catchy subject lines attempt to bring the reader in with offers of incentives, exclusive deals, etc.
"Exclusive Offer Inside: Don't Miss Out!"
"Introducing Our Newest Product: Get Yours Now"
"Last Chance to Upgrade: Don't Settle for Less"
"Double Your Rewards: Earn More with Every Purchase"
"Limited Time Opportunity: Save Big Today"
Cold email subject lines
Cold subject lines give the information to the reader directly, no fills.
"Discover the secret to [desired outcome]"
"Boost your [goal] with [offered solution]"
"Your [product/service] success starts here"
"New insights on [relevant topic] inside"
"Get ahead of the curve: [prospect's industry] trends"
Event email subject lines
Event email subject lines let your audience know that your business is hosting an event and encourages them to RSVP.
"Join us for an unforgettable evening: [event name] is almost here!"
"Limited spots available. Register quickly for [event name]"
"Last chance to secure your spot at [event name]—Register today"
"Unlock new possibilities at [event name]—get your tickets now"
"Polish your skills at [event name]: It's an opportunity you can't miss"
Follow-up email subject lines
Follow-up email subject lines reinform your audience about something they are already aware of – like offers, sales, and product and service information.
"Your [offer] is about to expire"
"We thought you'd love this resource"
"Thank you! We've added something extra for you"
"Still interested in [product/service]
"Guess what? You made our VIP list"
Holiday email subject lines
Holiday email subject lines should be festive and represent the spirit of whatever holiday your business is sending happy tidings for.
"Unwrap the Savings: Our Biggest Holiday Sale is Here"
"Tis the Season for Unbeatable Savings and Cheer"
"Last-Minute Gift Ideas That Will Wow Everyone on Your List"
"Treat Yourself this Holiday Season with Our Exclusive Offer"
"Wrap Up Your Holiday Shopping Stress-Free with Us"
Introduction email subject lines
Introduction email subject lines should invite the recipient into conversation with your business. Let them know what value your business is going to provide the reader.
"Introducing [company name]: Your solution to [recipient's needs]"
"Get Acquainted with [company name]—Your Newest Partner in [industry]"
"Introducing [company name]. Here's How We Can Help You"
"[company name]: Your Guide to [recipient's desired outcome]"
"[recipient's name], Meet [company name]: Your Key to [industry] Success"
Reminder email subject lines
Reminder email subject lines should create an air of urgency, they should jolt the reader awake to something they might have forgotten.
"Don't miss out! Your [event/deadline] is almost here!"
"Last chance! Get your spot before it's gone"
"Time is running out! Don't forget to [action] by [deadline]"
"Final reminder: Only [time period] left to [action]"
"It's almost time! We don't want you to miss out on [event]"
"Hey [Name], you're invited! Don't forget about [event] tomorrow"
Example below: YES! Claim Tax Deductions from Your Summer Vacation
Survey email subject lines
Survey email subject lines ask recipients to provide their feedback. Make sure your audience knows you value their opinion of your business.
"Help us serve you better! Complete our survey for a chance at [reward]"
"Your opinion matters! Take our quick survey and help us improve"
"Your feedback matters. Share your thoughts and shape our future"
"We're listening! Take our survey and let your opinions be heard"
"Your satisfaction is important to us. Share your feedback and help us excel"
Thank you email subject lines
Thank you email subject lines show gratitude, they remind your subscribers that their time, attention, and loyalty are important to a business.
"A sincere thank you from our team"
"Your support means the world to us"
"A special thank you for your continued partnership"
"Appreciating your awesomeness, [name]"
"You're amazing! Thank you!"
Welcome email subject lines
Similar to introduction email subject lines, welcome email subject lines invite subscribers into contact with your business. Welcome email subject lines should help solidify a bond between subscriber and business.
"Thank you for joining [company name]! Here's what we have in store for you."
"Welcome to [company name] – Let's make great things happen together."
"Welcome [name]! Your success story begins here."
"Unlock endless possibilities with [company name]. Welcome aboard!"
"You're in! Here's a little something from [company name] to help you get started."
Fundraising email subject lines
Fundraising email subject lines ask the subscriber to donate their time or money to an organization or cause. Use emotions and ethics to craft subject lines aimed at generating charitable donations.
"Help Us Change Lives: Donate Now"
"Your Gift Transforms Lives"
"Unlock Hope: Donate Today"
"Together, We Can Make a Difference"
"Making a Difference Starts With You"
"Empower the Future: Support Our Cause"
"Every Dollar Counts: Help Our Mission"
"Your Generosity Can Change The World"
"Become a Hero for Our Cause"
"Changing Lives, One Donation at a Time"
Email open, click, and bounce rate by industry
Crafting good email subject lines serves to increase value metrics and help your business achieve marketing goals. Open rates, click-through rates, and bounce rates are all influenced by the quality of your email subject lines.
Email open rate: Measurement of how many times an email has been opened by subscribers versus how many times the email has been sent.
Email click-through rate: The measurement of how many people have click a link located within an email versus the number of opens. Clicks can be counted through hyperlinked content, linked images/graphics, or linked buttons. Using a call to action (CTA), which is a line of text that directs the reader to take the business' desired action, will help improve click-through rate.
Bounce rate: The measurement of the number of emails sent versus the number of emails delivered.
Industry averages
Want to know how your business' emails measure against industry averages? The chart below showcases open, click, and bounce rates for five top industries. See the full list on our KnowledgeBase.
| | | | |
| --- | --- | --- | --- |
| Business type | Open rate | Click rate | Bounce rate |
| All industries | 34.46% | 1.33% | 10.09% |
| Consulting Services | 27.48% | 1.18% | 9.83% |
| Dining and Food Services | 36.50% | 0.66% | 9.26% |
| Health and wellness | 34.87% | 0.91% | 10.12% |
| Real Estate | 32.79% | 0.84% | 13.00% |
Final thoughts on email subject lines
With these tips in mind, you're ready to write good email subject lines that will get your emails the attention they deserve.

But don't rely on our advice alone.

Take a look at your own inbox and see which emails you've been opening. Putting yourself in your contacts' shoes is one of the best ways to write a subject line that will get you noticed and boost your business.

To see which subject lines grab your audience's attention, try A/B testing.

Share with your network