When I co-launched a t-shirt business in 2008, I had no idea how to create a successful email marketing campaign. Truth be told, I thought I could just "CC" everyone from my Gmail account and thoughtfully place photos of our products throughout the text like I did in Microsoft Word. I'll never forget finishing that first email after what seemed like hours of proofreading and placing. I pressed send and sat back, waiting for the order confirmations to pile into our inbox.
The wait was excruciating! It felt like days had passed until I received a reply. It was from my Mom, and she wanted me to know how much she loved the photos I'd attached to the email. (Thanks Mom!) I instantly slunk back in defeat. Needless to say, I'd failed miserably at creating my first email, but that didn't stop me. I began to read, watch, and listen to experts to learn how they created effective email marketing campaigns and soon found myself working for an email marketing startup because of the knowledge I'd acquired.
Fast forward to today, nearly 12 years later, and I get to share some of the tips, tricks, and takeaways I've gained throughout my time at the helm of Bryan Caplan Marketing to help you create a successful email campaign for your small business.
Check out the email marketing resources page my team and I built for marketers like you. It's filled with video tips and resources to help you build a successful email marketing campaign.
In theory, building a successful email marketing campaign seems simple. You just have to write the text, sprinkle in some images, find your email list, and hit send.
In reality, a successful email campaign requires a more thorough approach to increase your conversions and grow your business.
If you've struggled to successfully engage your target audience and you're left wondering how to make an email campaign successful, you're not alone. But once you break down successful email marketing campaigns into smaller pieces, things get simpler and much easier.
How to Create a Successful Email Marketing Campaign
Whether you're creating automated drip campaigns or an email newsletter, Constant Contact makes it easy to create beautiful emails that drive real business results. You can create a master email template with all the essential elements, then copy your template, so you don't have to start from scratch each time you want to email your customers or subscribers.
Let's take a look at some tips for creating a successful email marketing campaign.
Structure of a Successful Email Marketing Campaign
The beauty of building email marketing campaigns is that you have control over their look and feel. Sometimes, a short, simple email with just a few lines of text and a link is all you need to drum up business. Other times, you may put together a robust email campaign with a preview of your latest blog post, some product images, a link to your new giveaway, and a video testimonial from a recent customer. Whether you opt for simple or complex, there are certain elements of an email marketing campaign that you'll want to include:
The Header
The Body
The Footer
Below we go through each of these elements in depth, so you have an understanding of why they're important and how to use them to your benefit.
The Header:
In email marketing, your header describes everything your audience sees before they open your email. The goal here is to entice your recipients to open the email and read your message. Think about it: do you open emails from senders you don't recognize? Probably not, and neither will your email subscribers, so it's important to double-check the header for accuracy.
Here are some tips for your email header:
From Name: It's easy to dismiss the sender of the email as nonessential. But it actually plays a crucial part in getting your reader's attention and gaining their trust. Sending from a recognizable name, instead of an anonymous account, will increase your open and click-through rates.
Some people may remember your name while others may only remember the business name. To ensure you're recognized in the inbox, use both in the 'From Name.'
Subject Line: Think of your subject line like a newspaper headline. Your job is to attract the reader's attention in just a few words and convince them that your content is worth their time. Your subject line should be personal, action-oriented, and honest. It also needs to be short; in fact, a study by Return Path found that subject lines below 50 characters increased open rates by 12.5 percent and click-through rates by 75 percent. Remember KISS: Keep it short and sweet!
Consider tools like Google Trends to identify keywords related to your business that will excite your subscribers. Check out my Free Keyword Research Course to learn how.
Preheader: Most email clients allow users to see a short preview of the email in addition to the subject line. If you don't specify this preheader text, the software will simply pull in the start of your email, which could result in confusion for your subscribers. Instead, customize it with six to eleven words that describe succinctly why your message is valuable to the people you're trying to reach.
Don't copy and paste your Subject Line as your Preheader. Although it saves you time, you're missing a vital opportunity to really convince your subscriber to open your email and consume your content.
Here's an example of what a finished header looks like for The Depend on Dakota Team of Keller Williams Realty:
The Body
Assuming you've crafted a compelling header that got your recipient to open your email, you face the next challenge of convincing them that what you're saying is interesting and valuable enough to take action. The body is where you can let your creative juices flow by mixing and matching different elements. Think of it like your favorite recipe with each element (or widget) being an ingredient. Mix the ingredients just right, and you get to enjoy the fruits of your labor. Similarly, if you place your email body elements in a certain order, you can walk your reader through a decision-making process to help you achieve your goal.
Design your emails for success with these body elements:
Company Logo
Add your logo at the top of your email and make it clickable, so it leads back to your website. The company logo should have the same color scheme in each of your email campaigns to a consistent brand identity, which helps your readers quickly identify that your company is sending the email.
If you upload a .gif file of your logo with a transparent background, you can place it on a white, black, or any color background you prefer. Whichever background color you choose, be sure your logo stands out.
Body Text
Don't just think of text as long, drawn-out paragraphs of marketing fluff to occupy your readers' time. Instead, you want to be deliberate with how you present your messaging. You may choose to write short paragraphs, bullet lists, question and answers, or simple text links.
This is your chance to convince your audience about the value of your message. A trick I learned a long time ago is to use a buyer persona, so you can envision your reader and think through what content would appeal to them. The more defined your buyer persona, the better equipped you are to write body text that will interest and engage the reader enough to make them take action.
Try to tell a story to your readers. Small business storytelling is an effective way to capture their attention and walk them through the decision-making process of buying your product or service.
Call to Action: The perfect spot for a call to action button is at the point when your audience has read enough to be intrigued but doesn't yet need to scroll. Typically, placing it right after the intro paragraph leads to click-through success.
Try to add your call to action above the scroll line, meaning recipients can see the button without having to scroll down the page. Because your call to action is front and center, you increase your chances of clickthrough.
Your email body might look something like this:
The Footer
The end of your body content does not mean the end of your email. Your footer is vital, both for compliance and maximum impact. Here's what it should include:
Social Media Links: Allow your audience to keep their engagement going and connect with you through other avenues like Facebook, Twitter, LinkedIn and more. Include links to all your active social media channels at the end of your email.
Address and Contact Information: Always make it easy for your audience to respond to the email or contact you in a different way. Similarly, your email should always include your company's physical address to comply with CAN-SPAM.
Unsubscribe Option: CAN-SPAM compliance requires that you offer your subscribers an easy way to opt-out of future communication. An easily visible unsubscribe link accomplishes the trick. This comes standard with every email campaign you send through Constant Contact.
Here's a look at a well-designed email footer for Robert Natale with Luxury Mortgage: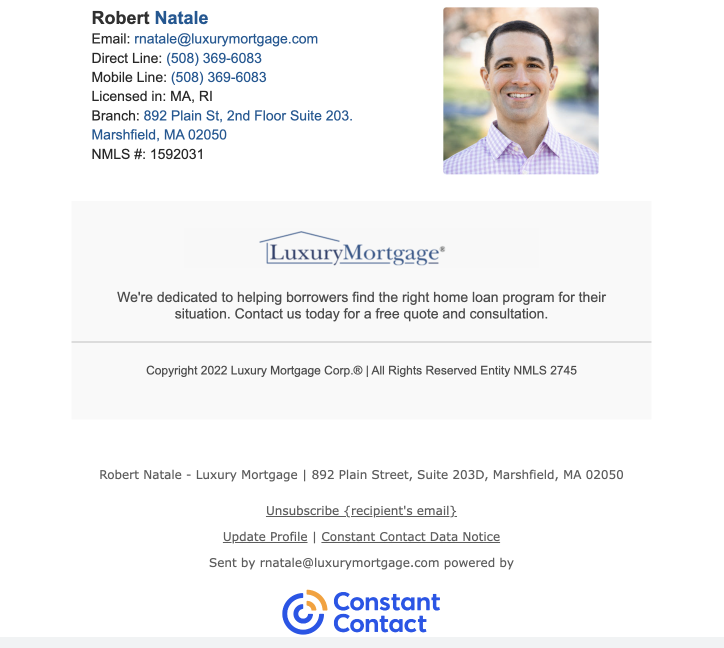 For More Success, Set A Goal for Each Campaign
Have you ever heard the old adage, "Failing to plan is planning to fail?" It's more true than you could imagine, especially when it comes to running your own business. It's been found that people who write down their goals are nearly 20 percent more likely to actually accomplish them. Moreover, those who set actionable tasks and monitor their progress towards the goals increase their chances of accomplishment by an additional 40 percent.
If you're just starting out with goal setting, you may want to consider using the SMART goal framework.
What are SMART goals?
SMART goals provide you with an easy-to-follow framework based upon the following five criteria:
Specific (Can you drill down and hyperfocus on one area or task?)
Measurable (Can you assign a number or percentage to measure your progress?)
Attainable (Can you reasonably achieve this goal, so you don't lose confidence?)
Relevant (Can you actually benefit from achieving this goal?)
Time Sensitive (Can you create a deadline or due date to hold yourself accountable?)
When it comes to creating successful email campaigns, your SMART goals may include:
I want to drive 20 clicks to my latest blog post in the next week through my new email campaign.
I want to increase my email marketing list size by 50 subscribers through forwarded emails in the next quarter.
I want to decrease my unsubscribes by 25% over the next month.
By setting a SMART goal, you'll focus on the structure of your email and add focal elements like buttons or images that help you to achieve that goal.
Save Time with Email Templates
As I mentioned above, you can save an extraordinary amount of time by working from an email template. To give you an idea, our marketing agency designs, sends, and manages hundreds of email marketing campaigns for our clients each month. After our initial strategy session with a client, we design a template based on their marketing goals. Each time we create a new campaign, we work from a template because it is a significant time saver and ensures brand consistency in the inbox.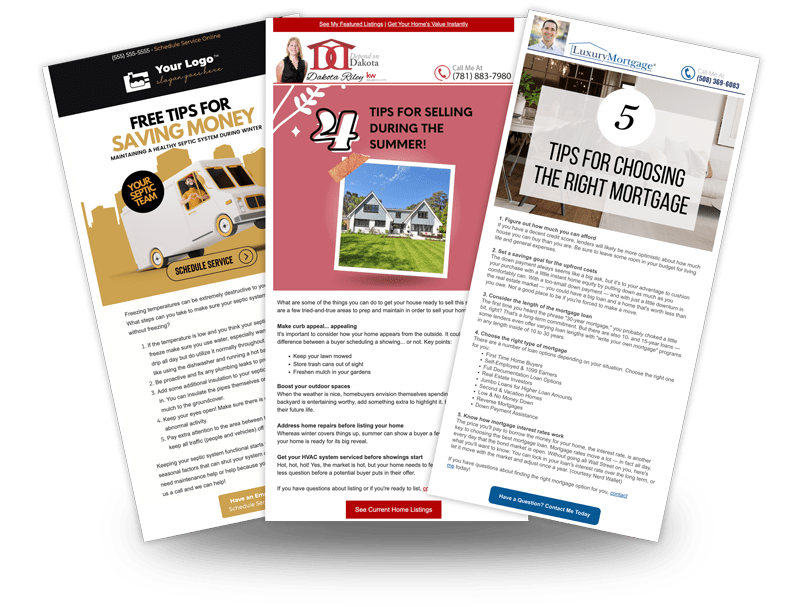 Most clients start with a single email template, but we have small business clients with five or six templates for different "sending occasions" including:
General newsletter template
Flash sale template
Holiday promotion template
Private note template
VIP event template and more
Each time a client asks us to create a specific type of email campaign, we build out the template, so they can re-use when and if they need it. If they are a retail client and see a slowdown in sales on a Tuesday afternoon, they may opt to use the flash sale template. Perhaps they want to send a note to reconnect with previous clients, so they choose the private note template.
The added benefit of templates is that they are not set in stone, especially when you build your email campaigns in Constant Contact. Instead, you can add or remove sections of content on the fly to make it your own.
Try The Kitchen Sink Template
Try creating what I call a Kitchen Sink Template. This is where you throw in absolutely every element (aka the kitchen sink) into a single email campaign. Your template may include:
Branded header image
Personal note or greeting
Product/service overview
Video highlight
Social share links
An article or blog post
For example, take a look at this Kitchen Sink Template for Boston-based energy startup, Onics Energy Solutions. Every time Chris LoPilato and the team at Onics Energy decide to create a new email campaign to their subscribers, they can copy this template and add or remove sections as they see fit, saving a substantial amount of time and ensuring brand consistency with every send.
Ready to build your successful email marketing campaign?
If you want to succeed in email marketing, then your first step is to design a custom-branded, professional email campaign in Constant Contact. Be sure to follow the best practices when it comes to developing your header, body, and footer, and don't forget the bonus tips to help you truly stand out in the inbox.

Set SMART Goals for each campaign, so you can focus on content that helps you drive the engagement you desire.

To save time, create a Kitchen Sink Template and add or remove elements as needed. And definitely familiarize yourself with the next-level drag-and-drop email editor in Constant Contact, which lets you create a professional, mobile-responsive email template in minutes.

Share with your network