You're not just a small business owner; you're also the chief cook, operating engineer, and marketing genius behind the small business you run.
Your time and energy are precious commodities. And while you've learned the basics of email marketing, it's time to do it faster and easier while being more effective.
Now you can do more in less time by implementing these email marketing best practices into your email marketing strategy.
Use a professional email marketing platform
The first "best practice" for a successful email marketing strategy is the platform you use.
While email providers like Gmail or Outlook are cheap and easy at first, they're not going to provide you with the tools you need to build and grow your business.
A best-in-class email marketing platform will help you:
Stay compliant with both national and international anti-spam laws and regulations
Maintain a professional, branded appearance
Collect data that will help you optimize your efforts
Compliance with anti-spam laws and regulations
Laws and regulations for email marketing vary around the world. Each country has specifics on who you can and can't email, what needs to be included in your email's footer, rules for opt-outs, etc.
A professional email marketing platform makes sure you stay in compliance — so you don't have to worry about all that legal stuff.
For example, email marketing platforms ensure that every email includes the needed footer information and that you're only emailing opted-in subscribers. In short, they've got your back now and in the future, even when new laws or changes come into play.
All you need to do is get permission from your subscribers and be honest in your emails.
A professional, branded appearance
We don't know about you, but we like to look good. Especially in the inbox.
When you use a professional email platform, looking good comes easy.
Select a mobile-responsive template, customize it with your brand, and add your content.
This part is simple and fun!
Analytics to track your success
A professional email marketing platform provides you with accurate and timely data on every email sent.
You'll be able to see opens, clicks, bounces, opt-out information, and more. Not to mention, you'll be able to glean information on subscribers' interests in certain products or topics based on their actions or inactions.
Making it easy to identify areas for testing and improvement over time.
Get permission before sending
Email is a permission-based marketing channel. In one way or another, people need to say "yes" to receiving emails from your business or organization — either verbally or by filling out a form.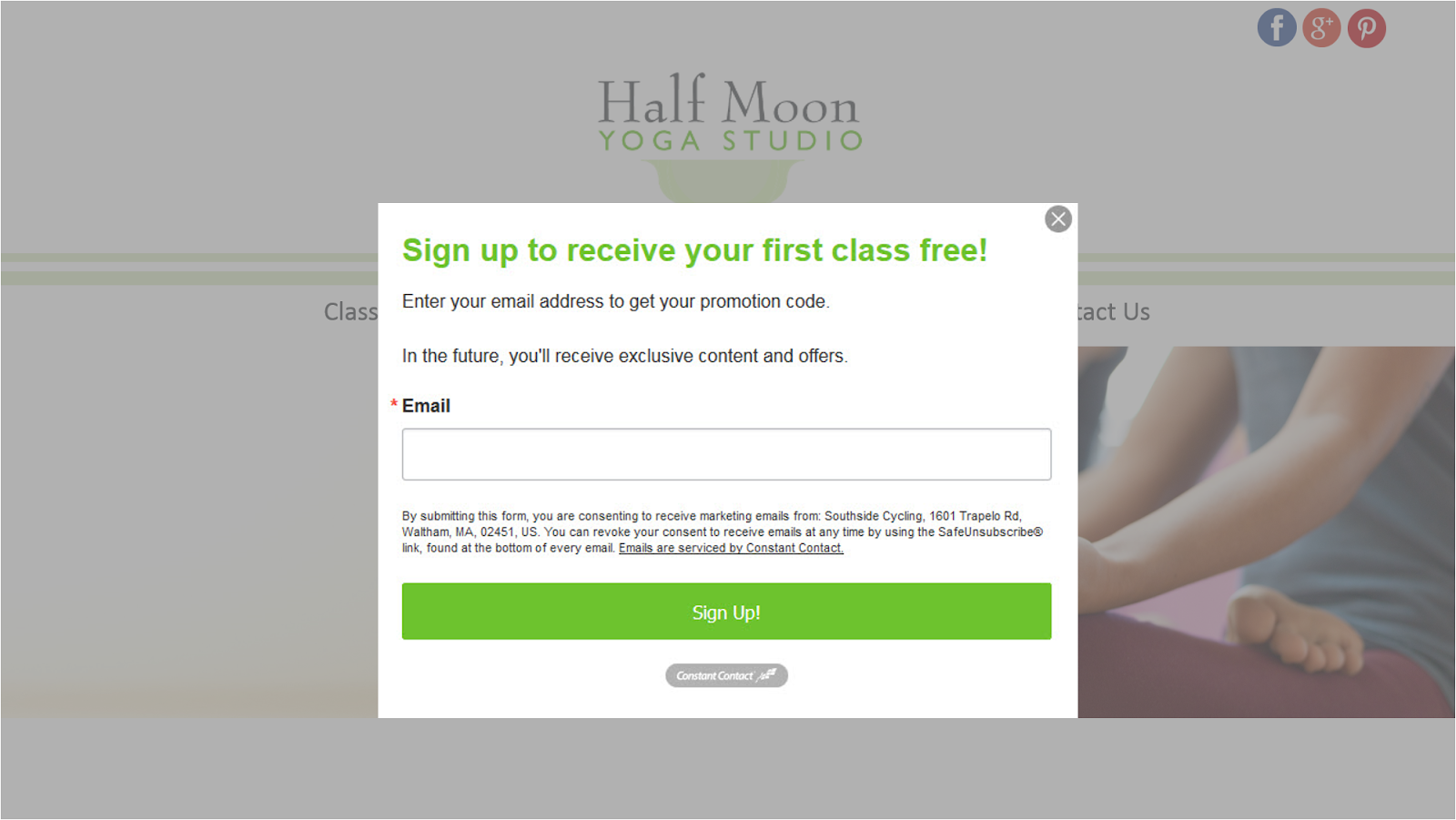 Getting permission from your subscribers is not just a recommendation; it is a requirement. And it will help you remain compliant with the anti-spam laws we mentioned earlier.
More importantly, you'll be connecting with people who want to hear from you.
Keep your email list neat and tidy
An outdated email list can cost you money.
Over time, it's typical for people to change email addresses, move to new locations, or change companies. It's even possible for bots to join your email list.
When these things happen, and old — useless — email addresses fill up your email lists, not only does it lead to inaccurate data, but you're likely paying to send out emails that will never reach the intended recipient.
Save yourself time and money. Regularly clean your email list — so it's operating at its best.
Know your risks before your email ends up in the spam folder
Be sure your email will get delivered to your subscribers' inboxes instead of landing in their spam folders.
Knowing your spam risks and how to avoid them will help you maximize your email marketing efforts and limit any spam filtering.
Spam risk: A bad reputation
Online, bad reputations aren't always about what you do or don't do as an individual or a company.
If you use an unreliable email platform with less than a stellar deliverability rate or questionable anti-spam policies, your emails may be filtered out due to "guilt by association."
In this case, you may not have done anything wrong, but others have.
Don't pay for others' mistakes. Always use a reputable email service provider with a best-in-class deliverability rate.
Spam risk: Breaking the law
Different areas of the world have different rules and regulations.
If you're sending marketing emails from a personal account, you could break the law without even knowing that you're doing it.
Be certain that you're always in compliance without the worry. Use a professional email platform with a good reputation and deliverability rates to back it up.
Spam risk: Sending irrelevant content
It won't matter if you've done everything technically right if you're sending content about dogs to a cat owner.
If you're sending content that doesn't resonate with your audience or is different than what they expected when they signed up to receive your emails, then one of two things will likely happen:
Recipients will delete your emails so often that their email program automatically moves you into the spam folder or
They'll be so annoyed that they'll mark you as spam themselves rather than take the time to unsubscribe.
To avoid being moved to the spam folder, segment your email lists and tailor your messaging to fit each audience.
Spam risk: Not asking permission
While this was mentioned above, it's worth mentioning again here.
Not asking for permission before sending a marketing email to someone will not only land your email in a spam folder but will damage your reputation and that of your email provider. That's why reputable email service providers will cancel your account if everyone on your email list doesn't opt-in.
To avoid sullying reputations, and to keep your email account intact, always get permission before sending a marketing email.
Spam risk: Neglecting your email list
Yes, it's important to regularly clean out your email list in order to save yourself some time and money, but it's also important for deliverability.
If you regularly send emails to derelict email addresses, it harms your deliverability rate and email programs like Google view low-deliverability rates as "unreliable sources."
Avoid becoming an unreliable source by regularly cleaning out your email list.
Take spam prevention efforts one step further. Periodically review your email reports to identify any issues that may arise from one campaign to another. In particular, pay attention to your number sent versus delivered and reach out to your service provider for additional help if you need it.
Design your email for mobile devices
Seventy-five percent of subscribers admit they will delete an email if they can't read it on a mobile device.
With so many people with devices in hand, design your emails with mobile in mind. Make sure someone can easily read it and take action.
Use a mobile-responsive email template and your email will adapt and look great on any device.
In addition to using a mobile-responsive template, to be truly mobile-friendly:
Use short sentences and paragraphs
Use an image that supports your message
Use a button for your call to action
To keep your email concise and inviting to read, Think: Picture — Paragraph — and Call to Action.
Brand your template
When it comes to email marketing, branding is a must.
Your brand is an essential element of your business or organization. It's how people recognize you and what you do.
When a recipient opens your email, they should recognize your brand at a glance.
To make that happen, include your logo at the top, and use your brand colors throughout — at a minimum.
To fully brand your email template, implement your brand voice in your content, be consistent with your imagery style, logo placement, and brand colors and have a customized footer to bring it all together.
Use automation to save time and get timely results
Send timely, relevant emails in less time with email automation.
Start your email marketing by automating the welcome emails you send to new contacts; it will help you start the relationship off on the right foot.
Then, think about date-based birthday and anniversary emails and set those up to go out automatically as well. These emails are great for building loyalty with your subscribers.
Lastly, look at the actions subscribers or how you interact with customers and think about how you can further nurture the relationship.
This is where a series of emails can help you communicate evergreen content over a period of time to help you meet various goals such as:
Nurturing prospects
Onboarding customers
Encouraging further action
Building anticipation
Educating with your best content
Remember, automated emails help you save time while sending relevant information at the right time.
Personalize your content
Lower your unsubscribe rate and improve your email marketing results by sending targeted, personalized content.
Personalized content for a subscriber could relate to the stage in the buyer's journey, the products or services they have purchased or have shown interest in, and even the links or topics they click on within an email.
Personalization starts by segmenting your list into smaller groups of like contacts.
Segment your lists for more targeted emails
Segmentation is the process of dividing your contact list into smaller groups in order to send more relevant, personalized information and offers, as mentioned above.
Start by thinking about what makes sense for you and your audience, such as smaller lists based on interests, demographics, or preferences on products or services.
You can even segment contacts automatically based on actions they take in your email. We offer a click segmentation feature that automatically adds contacts to a segmented list when someone clicks a link in your email.
Have a clear focus for your content
To keep your emails concise, know what your goal is and what you want the reader to do.
For best results, choose one topic per email. This allows you to keep your email content free from distractions and drive people to take a specific action.
If your organization needs to send a newsletter with multiple topics, pick no more than three.
Don't be too wordy
Keep your content on track by answering three questions:
What are you offering? — Headline
How will it help the reader? — Message body
What should they do next? — Call to action
Keep your answers to those questions simple. Provide just enough information and detail to encourage readers to take action. And then, include links to additional or more detailed information.
Use your authentic brand voice
Brand voice is the distinct personality your brand takes on in all of your communications. It helps you relate to your target audience.
The brand voice in your emails should sound like it's coming from you and reflect the type of product or service you offer.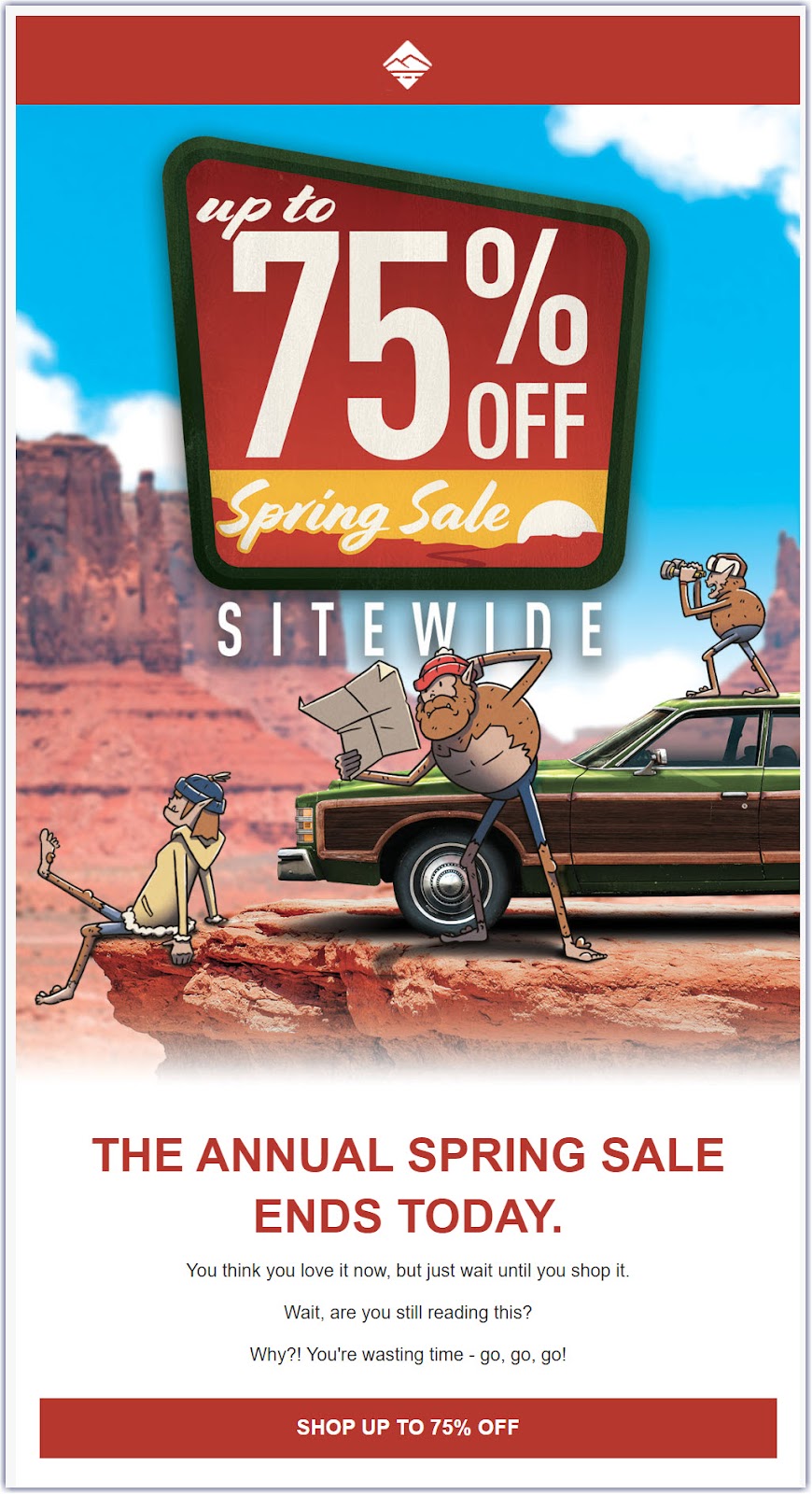 With a clear and consistent brand voice, you'll be able to better connect with your readers and strengthen your overall brand.
Include impactful images
Including imagery that draws people in and connects readers to your message can help drive results.
Impactful imagery invokes an emotional response from readers.
Avoid images that look too staged or unnatural by using authentic photos from your day-to-day operations.
To create impact, capture behind-the-scenes action shots, genuine moments between employees and clients, and show products in use.
If you have to fill in gaps, use stock imagery sparingly. You can find great visuals on many stock image sites. While some require payment, many offer great quality images for free.
To avoid legal copyright issues, only use royalty-free images — don't use imagery found by a search engine.
Give more than you ask for
No one likes to be sold to all the time.
For maximum effectiveness, your email strategy should include a variety of emails that help you build relationships and stay top of mind with your audience.
Think about the 80/20 principle.
Build relationships, show your expertise, and build trust by providing valuable information 80% of the time.
Make sales, receive donations, and get readers to take action with promotional emails the other 20%.
This winning combination ensures you are providing value to your readers.
Use call to action buttons that drive traffic
Good call to action (CTA) buttons drive traffic. Great call to action buttons drive more traffic.
Include a call to action button in every email you send.
Great call to action buttons:
Use a contrasting brand color to stand out from the rest of your email content
Are short, punchy, and clear
Collect data for marketing analytics and better list segmentation
Lead directly to what the reader is expecting
This last one is important.
Readers aren't going to search around on your website to figure out how to do what it is you want.
Use your CTA button to drive readers directly to the page where they can:
Get the information you promised
Purchase the product or service you highlighted
Register for the event you mentioned
Make the requested donation
Remember, every email should include a call to action.
Catch them with a crafty subject line
You only have three seconds to convince someone to open up your email.
Your email's subject line is only one line of text, but it can mean the difference between your email being opened and being trashed.
A short, straightforward subject line that accurately reflects what's in it for your subscriber can be very effective.
However, depending on your brand voice, you may want to use personalization, emojis, numbers, or even include a sense of urgency — when applicable. In which case, use A/B testing to see what works best with your audience.
Conduct A/B testing
Optimize your email strategy over time.
Every business and organization's audience is different and different audiences respond to different things.
Use A/B testing in your email marketing strategy to learn what your audience responds to best.
A/B testing (also known as split testing) is an experiment that involves creating two versions of your emails (option A and option B) and sending them to subsequent groups within your list to see which performs better.
With strategic use of A/B testing, you'll discover what content, design, subject lines, and even CTAs work best for your audience.
Don't use a "no-reply" sender address
Show subscribers you care about their experience by using an email address that someone is monitoring.
After viewing your email, subscribers may have questions and it should be easy to get answers.
What's easier than simply clicking the "reply" button at the top of their email?
This is an opportunity to engage with your subscribers when they're ready. Use an email address that makes you look approachable and tells people that someone at your company will reply.
Instead of using a "no-reply" sender address, use a reply email address of an employee or a customer service inbox such as "hello@yourdomain.com," info@yourdomain.com" or "questions@yourdomain.com."
Review, edit, and repeat
Look like the professional you are.
Minimize errors and typos by listening to that inner high school teacher that bloodied your paper when you didn't recheck your work before turning it in.
Read through your message a few times, looking for errors.
Ensure your message is clear and focused, easy to understand, and your readers can complete the action you want them to.
In Constant Contact, you can use the "Check & Preview" feature to scan for common mistakes. The system will scan your subject line and preheader text, look at your from name and email address, check your hyperlinks and buttons for missing website links, and even check your content for missing & default images and text — brand voice is up to you.
Preview and test your campaign
Preview and test your campaign to ensure there are no hiccups in the reader experience.
Various email programs and devices may render the design of your email a bit differently. If possible, send a test email to a few different email programs and devices to see how the email design renders in the different formats.
Get a fresh set of eyes on it. Use the test send feature to send a colleague or friend a copy of your email. Ask them to channel their inner high school teacher and check it for errors and typos.
Get it right the first time. Every time. Ensure the images display properly, test all of the links, check personalization features that pull in subscribers' names or other details, and pay attention to the subject line on each device. You don't want your email's subject line to get cut off in the wrong spot, causing an embarrassing situation with your readers.
Check your reports to see how you're doing
Save time by getting familiar with your email marketing reports.
Know what types of things are working and which ones may not be worth your time in the future.
After you send an email, you'll see a wealth of metrics that will tell you how your email performed.
Over time, you'll be able to look for trends, see who's engaging or clicking in your messages, and even use the data to segment your list to send more personalized content in your emails.
You'll see reports for:
Opens
Spam reports
Unsubscribes/opt-outs
Note on open rates: Apple's Mail Privacy Protection feature, released on September 20th, 2021, has made email open rates less reliable. While historical open rate data can still provide valuable insights, we recommend marketers focus on other email marketing metrics, like clicks and conversions, going forward.
Get ready to see results!
We realize that can be a lot to keep track of. So we've made it easy for you to follow email marketing best practices with an easy-to-follow checklist.
Just download the checklist and use it to double-check your email campaigns before sending them out. Soon you'll be creating email campaigns that are more effective and efficient than ever before! You can also read up on email marketing terms you need to know to improve your results.
Share with your network