You've got a good-looking website that functions well. You publish engaging and entertaining emails to targeted audiences. You even have catchy social ads. But are all of your potential customers clicking and converting?
If not, you may need better call to action ideas. A call to action, also known as a CTA, is a practical online marketing tool that relies on a direct ask.
Tell your customer exactly what you want them to do, and then make it easy for them to accomplish the task you are asking of them.
Calls to action are critical elements of digital marketing campaigns.
A recent study by the Baymard Institute found that 1 out of 6 potential customers went so far as to fill a shopping cart online and clicked away without purchasing because the checkout process was "too long/complicated."
They gave up because there wasn't a simple button to point them to the next steps. And the business owner lost the sale.
A call to action may seem straightforward: Add a button, linked text, or another style of direction to your online marketing and watch the clicks add up. To achieve a sale, this creation of effective call to action ideas is slightly more complex. There is a strategy to follow.
What is a call to action in online marketing?
A call to action encourages people to do specific actions designed to start or continue the customer journey. And here are a few typical kinds of calls to action.
The call to action button
Have you noticed the orange call to action buttons in the upper right-hand corner of this article that says, "Sign up free"? That is Constant Contact's call to action button.
Buttons are small, often brightly colored hyperlink images that resemble actual buttons, which explains the name.
These buttons may have rounded or straight edges depending on the design style. A button could be in the shape of a heart or any other image a designer creates. On top of the button is a short, direct command. "Buy now" is popular, but again, creative writers can come up with all kinds of phrases. Potential customers click on the button and will be led to another page.
Text hyperlink calls to action
A text hyperlink is a grouping of a few words programmed to link to another digital location. It's usually seen digitally with text in a different color and underlining. A text hyperlink could send you to a video, another website, or anywhere online. In digital content marketing, readers often see these kinds of call to action ideas sprinkled throughout a blog article.
Plain text calls to action
Although the most effective content marketing call to action includes a direct action leading potential customers to click and be led elsewhere online, call to actions don't necessarily require it. A call to action could be as simple as encouraging people to visit a local store or contact an agent through a phone number.
Any call to action for business can be considered a gentle push to get a potential customer to stay engaged in your sales process. When used strategically, this digital tool can increase conversations and create urgency to strengthen relationships between your target audience and your brand.
What are the benefits of a call to action?
A call to action makes it easy for your customers to do what they want.
Consider the experience of a customer visiting a website to buy a shirt. On the site, they'll discover 20 different buttons to click on. Each button is a different color, encouraging them to do something different: They could sign up for a newsletter, go to the sales page, download a free report on various fabrics, or connect directly with the customer service team. Which one do they choose?
When there are too many choices, most people choose none.
Decision overload is real, and it's one reason so many potential customers skip the call to action ideas altogether.
Consider your reaction if the site had just one designed call to action that read, "Click here to browse our most popular shirts." You'd know your next step without even having to make a decision. You almost have no other option but to continue down a predetermined path. You'd organically begin the customer journey.
As a small business owner, you can integrate these tools into your online marketing plans by learning how and when call to action ideas work. You'll attract more customers with the best practices marketing professionals use daily.
The psychology of the click
There are endless ways to craft a call to action. What's most important is that you do it — and do it well. Call to action ideas are most effective when you strongly understand your target audience. You'll attract more enthusiastic buyers when you suggest a specific action to a potential customer while speaking their language.
Telling people what to do is tricky because you don't want to sound pushy. Psychology is subtle stuff. Sometimes, people need that extra push to follow through to the next connection with your business.
It's the concept of friction: You have to smooth the way by making an offer that's worth a click.
The best way to make it easier for someone is to know what they're looking for. An in-depth understanding of your target audience allows you to understand their pain points and how to help meet their needs. Plus, you'll be able to create a design that's attractive to the eyes of your potential customers.
For example, look at Constant Contact's homepage. You'll notice a few places you're encouraged to click: Two are the same color and offer a free trial offer, while others are more subtle and provide options to contact them, log in, or buy now. With all of those calls to action on the page, notice what your eye is most attracted to. You probably couldn't help but hone in on the big orange button near the center of the page.
But if a customer has already checked out the trial or is ready to go straight to purchase, there's another link option to "Buy Now." That one is slightly less obvious, but it saves time when you know you're ready to sign up. Creating colorful buttons is just one way to make a call to action stand out.
10 tips for writing good calls to action
While calls to action will vary with the medium — a content marketing CTA should be different from a call to action in a social media ad, for example — there are some standard best practices to follow. Here are ten universal tips worth considering when planning your call to action ideas.
1. Make sure your call to action fits your brand identity.
Whether your business is fun, flirty, serious, or stodgy, your call to action ideas should mirror your other marketing efforts. You should strongly understand your target audience and how they prefer their communication. If you're too casual or formal, your potential customers won't click when you want them to.
2. Be clear with your message
If your call to action button reads, "Ready for action?" You may think this encourages people to take the next step, but it's confusing. It's tempting to be clever, but it's better to be precise. If you aren't sure if the message of your call to action idea is easily understood, at least get a second opinion.
3. Make the call to action easy to spot
If you want someone to visit your website or open an email to do something, don't be shy about it. Make it obvious. That means the call to action should stand out visually so that your future customers don't have to search for the next step of the buying process. Graphic design with converting customers in mind can help with this.
4. Don't offer too many options
A common mistake with online marketing is offering too many places to click. Often, business owners think there must be a call to action for every possible service. But you must go back to the psychology of the call to action process. The fewer options people have, the more likely they'll make the one you want them to make.
5. Keep forms short and focused
If you want to encourage people to sign up for your email newsletter, your call to action may send people to a sign-up template. Be careful about asking for too much information at this stage in the process. When forms are too long, they're more likely to be abandoned.
6. Optimize your call to action for mobile devices
You've lost a sales conversation opportunity if the button doesn't work or the link is broken. Double-check that all your calls to action work on desktops and mobile devices. This is known in the industry as mobile optimization. You want your digital marketing to look great and function as designed.
7. Make it look good
Neon pink will certainly get attention, but that doesn't mean it will be visually appealing — especially if the rest of your website clashes with the color. There's a fine line between using color to make your call to action stand out and ruining your aesthetics. Don't presume that bright, crazy colors are necessary to get attention.
8. Send customers where they want to go
If your target audience wants to purchase a shirt, don't waste your call to action leading them to a chat about sizing with your customer service team. Do the research in advance to know what your potential customers are looking for so that you can provide a shortcut to meet their needs.
9. Track your results
How will you know if your call to action button ideas are working? You must track them. Use metrics to determine how many people click where you want them to. If you're not getting the traffic you desire, you may want to try two wording options and see which works better. This is known as A/B testing.
10. Cover your bases
If your business has more than one income stream, consider offering calls to action that work for each customer journey. Instead of just one button leading to a sales page, consider breaking it up into different categories such as men's and women's fashion.
Effective call to action examples for every medium
Universal best practices are essential, but you still must shape your digital call to action depending on which platform you are setting them up. You can find online call to action examples in one of three places online: direct email campaigns, social ads, and websites.
Let's look at some compelling call to action examples that can inspire you as you create your own.
Email
Viori's "Visit site"
What makes this CTA example effective
Sometimes, it's best to get straight to the point. This small business sells solid bars of hair shampoo, conditioner, and a few other specialty beauty products. They used a bright blue to make it clear where they want you to click, and you know what to expect, too.
How to use it in your marketing
While it's sometimes appropriate to skip the homepage and go straight to a specific product, you can simply introduce your company's digital presence with this call to action idea. Use color for the button that matches your logo.
PayPal's "Learn more"

What makes this CTA effective
Some products, such as PayPal's" financial services, can be complicated and involve legal disclosures. When this is the case, it's a more thoughtful customer journey to encourage learning more before having them sign up. It's as if they are inviting potential customers to do their due diligence, which helps gain trust.
How to use it in your marketing
Content marketing strategies particularly benefit from call to action ideas that encourage readers to learn more about any topic. While you should be direct with a call to action, you don't always have to go for the hard sell. Sometimes encouraging your customers to educate themselves will lead them to an educated decision to do business with you.
True Green's "Get a free quote"
What makes this call to action effective
TruGreen uses two different calls to action within one email, but it's done well. There's plain text with a phone number for customers who may be more likely to want to pick up the phone and talk to a customer service representative. For those who would prefer to click, there's a button.
How to use it in your marketing
If your target audience is a wide demographic, consider this double-call to action method. Instead of a phone number, you could offer an email address — if that makes more sense for your business.
Lyft's "Refer a friend"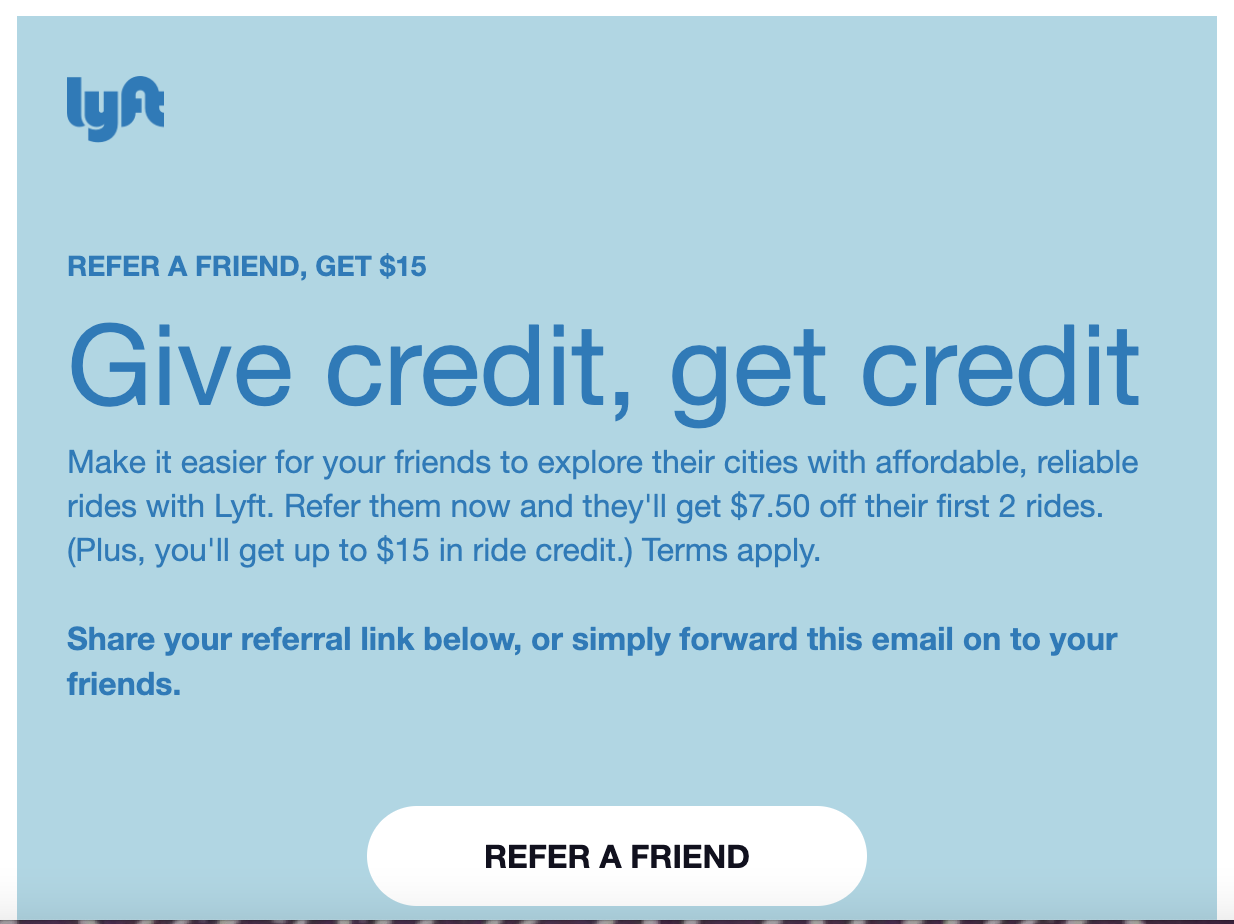 What makes this call to action effective
No one will hail a ride share when they receive an email, so Lyft's call to action certainly can't be a direct request for the viewer to use their app immediately. A loyalty program that encourages customers to get their friends to join is an effective way to strengthen relationships.
How to use it in your marketing
Integrate a similar incentive into the "Refer a friend" program and have the button directed right to the sign-up form. Remember, don't make it too long, or you'll risk annoying whoever is signing up.
Third Eye Pinecones' "72 hours only — shop new designs"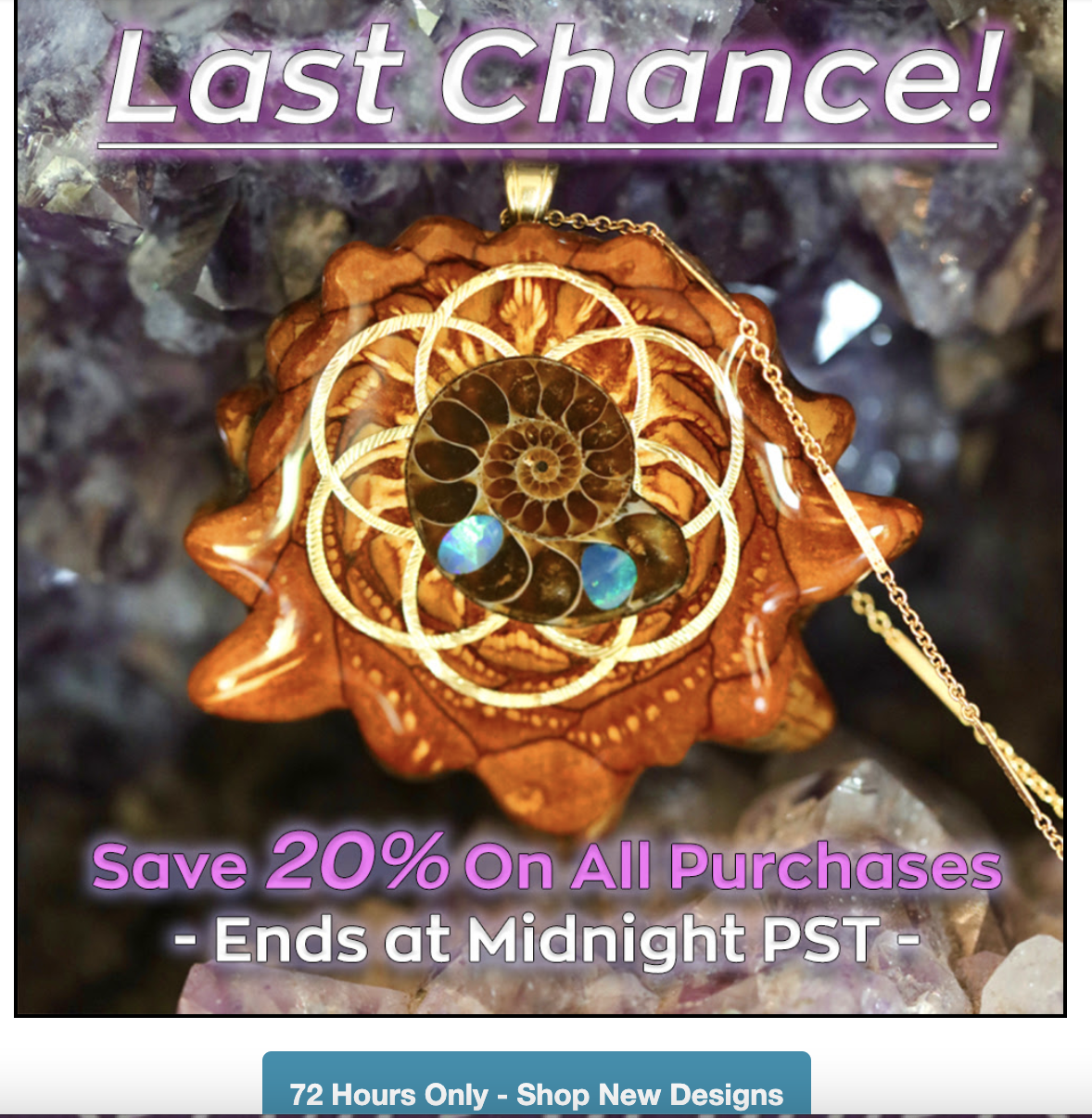 What makes this call to action effective
This small handmade jewelry company creates a sense of urgency by adding a limited-time offer for the sale. Since their market is primarily the Millennial and Generation X demographic, this works better than the more straightforward "sale."
How to use it in your marketing
Combine the sale dates with a direct call to action to "shop." They also added another incentive by mentioning that the sale includes designs customers haven't yet seen. Sweeten the offer however you can.
Social Ads
Icy Hot Pro's "Learn more"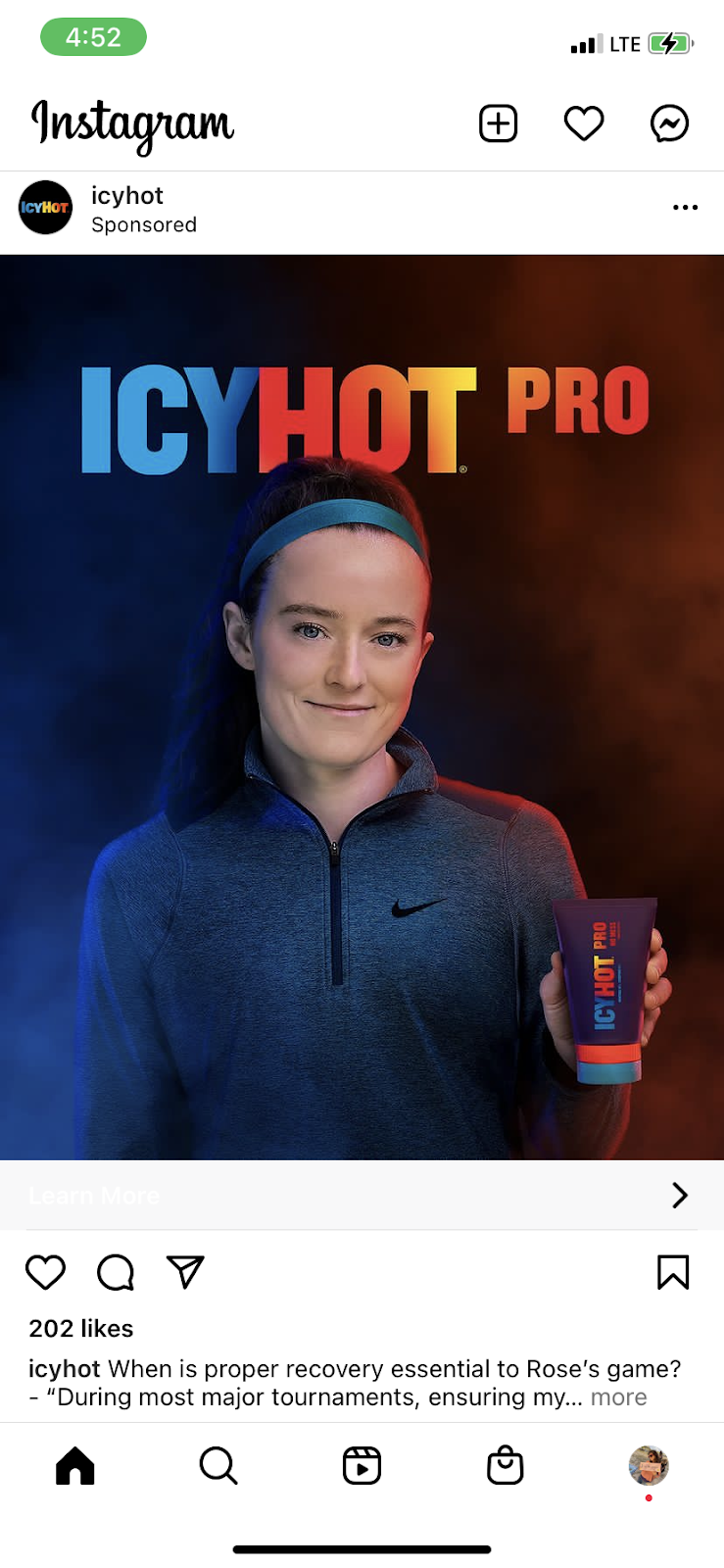 What makes this call to action effective
At first, Instagram users won't be able to see the "Learn more" call to action. This works because sponsored ads are designed to look like any other social post that's part of a news feed. Only when a person's brain considers the product does the subtle call to action appear as a banner at the bottom of the photo.
How to use it in your marketing
Use educational opportunities as easy ways to share your products without demanding that customers "Buy now." If the need is clear — here, the model looks sporty and may mirror the intended demographic — you can simply offer additional information.
Orangetheory Fitness of Belmar's "Get offer"
What makes this call to action effective
The ad combines a photo of the workout experience at Orangetheory Fitness gym and information about a specific offer. The call to action in the caption creates a sense of urgency and shows a viewer how to get the deal immediately.
How to use it in your marketing
Instead of getting wordy with your call to action, try using graphic design text overlays to explain the offer. Notice that the caption includes emojis that underscore the limited time the offer will be available, creating urgency.
Inkkas's "Shop now"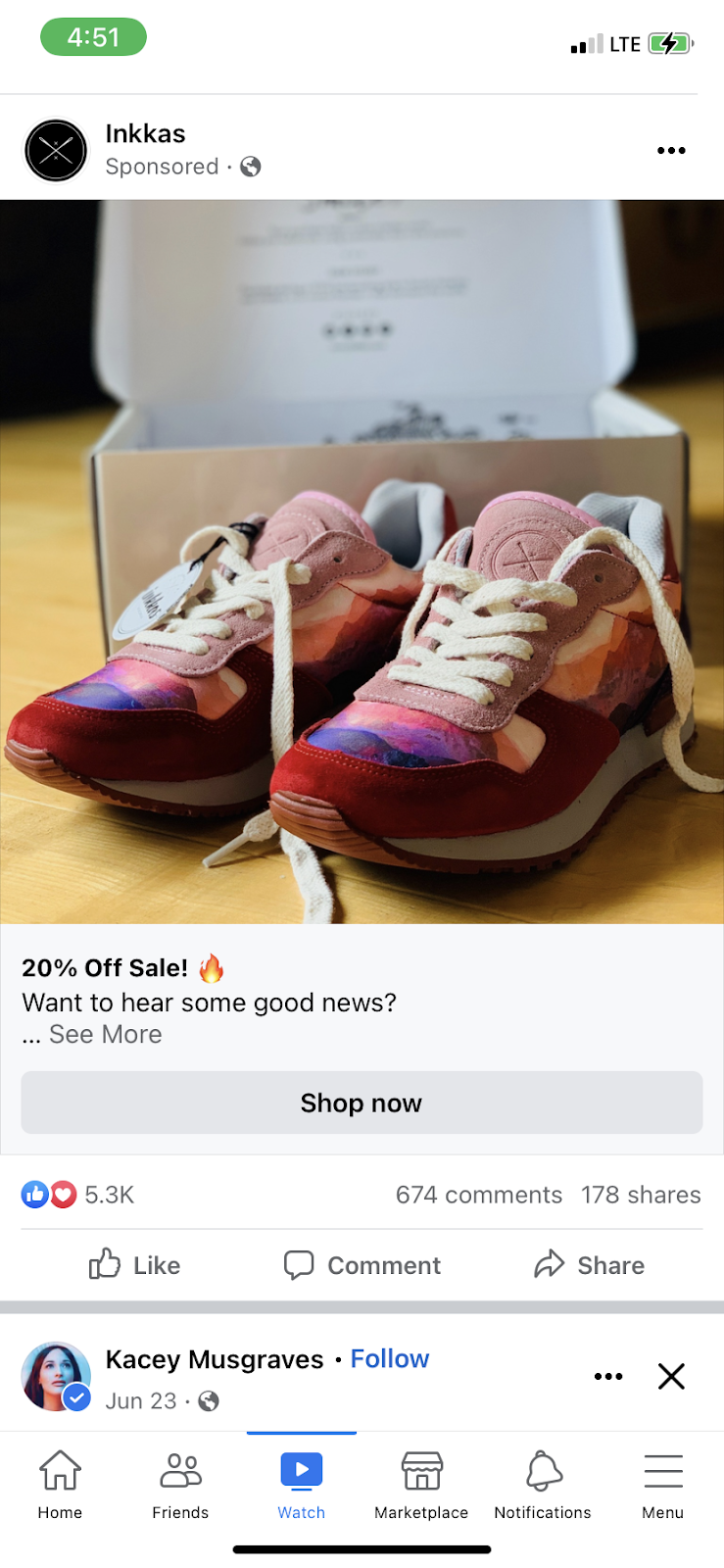 What makes this call to action effective
The person viewing this picture of fashion sneakers may not want to buy that exact pair. It's more likely they'll want to browse the other styles first. That's why "Shop now" speaks directly to the behavior of their targeted audience.
How to use it in your marketing
Research your target audience to know how they prefer to interact. Then, design your call to action to address that exact interest or desire.
Immersive Van Gogh Exhibit Denver's "Book now"
What makes this call to action effective
Compare this call to action button, in gray, located underneath the featured artwork on Instagram with a similar art advertisement on Facebook below. Does one make you want to click more than the other? The "Book now" clarifies exactly what activity you'll do next on the customer journey.
How to use it in your marketing
Look at different design options available for social ads to integrate call to action ideas in a way that will be most visually appealing. Sometimes a professional graphic designer can help.
Meow Wolf's "Tickets for Convergence Station"
What makes this call to action effective
Meow Wolf is an interactive, immersive art exhibit in Denver, CO. Their ad relies heavily on photos and name recognition. Their strong branding makes it possible for them to simply link directly to the page on their website to purchase tickets rather than use a button.
How to use it in your marketing
Meow Wolf has more than one location, but this call to action social ad is locally targeted to people in the Denver area who enjoy art. You can use the same targeted approach by identifying your geographic demographic and creating a landing page for them.
Websites
Constant Contact's "Sign up free"
What makes this call to action effective
This risk-free offer is hard to pass up if you're a small or medium-sized business owner considering an email marketing software solution. The orange color pops on the light gray background, and the surrounding text further explains the deal.
How to use it in your marketing
Think about the concerns of your potential customers. Perhaps they fear your service may be too expensive. Help to ease their concerns with the text used in your call to action.
Cervantes Masterpiece's "Subscribe"
What makes this call to action effective
A pop-up ad immediately appears when a visitor logs on to the website for the musical venue Cervantes Masterpiece in Denver. It's a short and segmented email sign-up form. It takes just a minute, and music lovers will feel in the know about their favorite live acts coming to town.
in How to use it in your marketing
Email segmentation is a powerful way to organize your email list so that people will only receive relevant emails from you. This strengthens relationships and creates loyal customers excited to read what you send.
Moe's Southwest Grill's "Order now"
What makes this call to action effective
Although there is a robust menu ribbon along the top of Moe's Southwest Grill's homepage, the call to action ideas are clear. They want you to order online, and Mexican food lovers can decide whether they are more attracted to the green button or the dark red one.
How to use it in your marketing
If you're unsure what color is the most attractive to your target audience for a call to action button, try doing this kind of A/B testing. Track how many people click on each so you can eventually simplify your homepage with the most popular color.
Pour & Polish Nail & Wine Bar's "Schedule an appointment"
What makes this call to action effective
This small nail salon in Boca Raton, Florida, knows what its customers want by having the menu and price list on the homepage. There's no other place to click except to make an appointment. This simple design reduces all friction and pushes the viewer straight toward conversion.
How to use it in your marketing
If you have a simple business, don't feel you have to have a complex website. If you only have one option for visitors to your site, you'll be more likely to see more of the action you seek.
KOA's reservation call to action ideas
What makes these calls to action effective
KOA has considered the natural customer journey when crafting its call to action ideas. Future travelers will want to see if a KOA is near their destination and whether there is space during their trip. When they click the red "FIND A KOA," they're just a click away from a reservation.
How to use it in your marketing
Consider using forms as calls to action that allow your customers to skip a few clicks. It's just as easy for the website visitor to include their travel dates and destination right at the beginning; the process will save time. Every customer appreciates saving time.
Get creative with your call to action ideas
The way calls to action look can vary. The trick is to integrate graphic design with best marketing practices, so the images and text of your calls to action will work within the specific platform.

Remember, the most important thing about calls to action is to inspire action. Always use direct and clear language to encourage your potential customers to move forward in their journey. Don't worry about whether or not you're polite. You'll notice that none of the examples used their "pleases" and "thank yous." Likely, you weren't offended, either.

To know what your potential customers will respond to best, start by thinking more about your target audience. Different ad campaigns can target other people, so don't feel you must address everyone at once. Create a strategy and a timeline and track your results. If something's not working, experiment until it does.

Share with your network