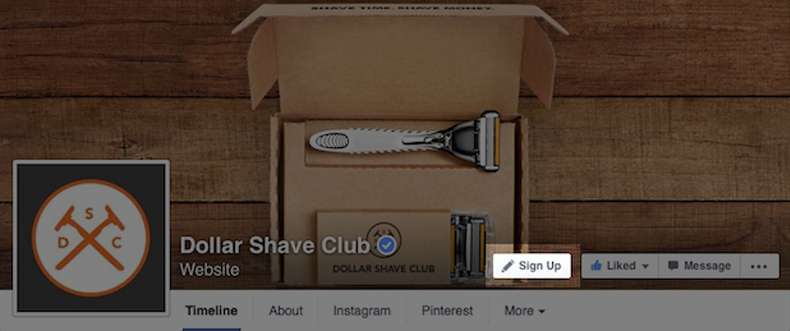 Facebook closed out 2014 with the announcement of a new call-to-action button for Facebook Pages.
How it works
With the new feature, admins can choose from a selection of call-to-action buttons which will be added next to the "Like" button at the top of your Facebook Page.
The seven call-to-actions available include:
Book Now
Contact Us
Use App
Play Game
Shop Now
Sign Up
Watch Video
Admins can edit the call-to-action button to link to a page on or outside of Facebook, where visitors can then take an additional action.
Facebook explains:
Today, we're announcing a new call-to-action feature that will help Pages drive business objectives… Designed to bring a business's most important objective to the forefront of its Facebook presence, call-to-action buttons link to any destination on or off Facebook that aligns with a business's goals.
How to use Facebook's call-to-action button on your Facebook Page
If you're already on Facebook, you've probably already seen the value of using Facebook to build an audience for your business.
Your audience on Facebook can include current customers who Like your page to stay up-to-date with your latest news and announcements or new customers who are discovering your business for the first time.
The new call-to-action button gives you the opportunity to connect with all of these different audiences in a brand new way.
Here are a few examples of how to use the call-to-action button to your advantage:
Book Now: Do you give clients the option to schedule appointments or make reservations online? Add a link for visitors to check your availability and book appointments. This button can also be used to promote an upcoming event with a link to your event registration page.
Contact Us: Add a link to your "Contact Us" page on your website where visitors can find directions, send you an email, or call your business.
Shop Now: Include a link to your e-commerce website and let visitors browse new products and shop online. Or, include a link to a featured product or sale item from your Facebook Page.
Sign Up: Make it easy for new visitors and existing fans to join your email list by including a link to your website sign-up form. After people sign up, follow up with a special offer or create an automated email series to introduce them to your business.
Watch Video: Use an existing video or create a new one just for your Facebook Page to introduce new visitors and fans to your business.
Think about the different audiences you want to connect with on Facebook.
Experiment with different buttons and see how your audience responds.
Facebook will show you how many people click on your call-to-action button under the weekly metrics on the right side of your Facebook Page.
Keep in mind that most of the interactions existing fans have with you on Facebook will be in the News Feed, when they comment, like, or share one of your posts.
This means that if you want people to visit your page to book an appointment, watch a video, or join your email list — you'll need to think of the different ways to get people there.
Many of those visits will happen organically — when people are searching on Facebook or see a friend check in or interact with your business. But there are also steps you can take to promote your Facebook Page.
Depending on how you decide to use the call-to-action button, for example, if you plan on adding a non-profit call-to-action button to expand fundraising, you can design a custom Facebook Cover Photo to encourage visitors to take the action.
(Check out this example from author Peg Fitzpatrick who uses her cover photo to promote her book, The Art of Social Media.)
The call-to-action button began rolling out in the US in December and will be available on all Facebook Pages in the coming weeks.
We'll have to wait and see how Facebook users respond to the new button, but this is certainly a feature smart business owners can experiment with in 2015.

Not sure about how the new call-to-action button can work for your Facebook Page? Post your questions in the comments below.

(Image courtesy of Facebook.)

Share with your network