I believe in the value of email marketing. With a worldwide average return of $36 for every $1 spent, it's the most profitable channel a business can invest in. And there are several promotions and deals that I want to appear in my inbox.
But none of that stops me from being annoyed at irrelevant emails or overwhelmed by the daily flood of messaging. I've unsubscribed from many lists because I got too much content that didn't interest me. I even have a system where I put businesses "on notice" in my inbox. They've loaded me up with too much straw, and we're approaching the final one — the one that breaks the camel's back.
The average person receives more than 100 emails a day. Yes, they want communication from your brand, but that doesn't mean they're indiscriminately invested in everything you do. It isn't personal — they just want their content personalized.
That's where email list segmentation comes in. Of the many list-building tools available, this one can help you keep your straw to a minimum by sending your customers only the messages they want.
What is email list segmentation?
Email list segmentation is the practice of dividing your email subscribers into smaller groups based on set criteria. For example, you could segment them by demographic information, such as age or location, or behavioral data, such as purchase history or email engagement.
By segmenting your list, you can send more relevant messages to each group and ensure you provide the best possible customer experience with your emails.
How does email segmentation work?
At its heart, email segmentation is a three-step process:
Collect information about your subscribers.
Use it to assign them to different groups.
But let's break that down a bit more.
1. Collect information about your subscribers
I'll talk more about what information to collect in a minute. Right now, let's talk about how you collect data for email list segmentation.
The good news is that you're probably already gathering a lot of data on customer behavior and demographics. Your records contain a treasure trove of information you can use for email segmentation. In addition, small businesses often have a leg up on customer insight due to the local or long-term nature of customer relationships.
Other pieces of information can be collected automatically. For example, many email services track engagement to help you answer questions like, "How often does a customer open my marketing emails?"
Then there are surveys, customer feedback forms, click segmentation, etc. In short, you have many ways to learn about your community.
2. Assign them to groups
Professional email services allow you to create multiple lists in the platform or tag contacts with different labels.
Subscribers can land in a particular segment in a few different ways. You can manually sort them, or they can assign themselves to a group, for example, by signing up for a specific list or clicking on certain links in your email.
Some marketing and customer-relationship management (CRM) tools can also sort customers automatically based on their online behavior.
3. Email them the right content
In addition to emailing entire segments, you can also target or exclude customers based on the intersection of groups. For example, a pet store might want to only offer a certain deal to nearby cat owners, or a nonprofit could message repeat donors who aren't yet monthly givers.
Don't forget to make good use of email automation.
Automatically target specific behaviors, such as new signups or abandoned carts, instead of manually sending out the respective email.
What are the benefits of email segmentation?
Email list segmentation is vital to nonprofits and businesses. Benefits include:
Increased engagement. By sending more relevant emails to each group, you can increase overall engagement with your campaigns.
Improved targeting. With segmented lists, you can target specific audiences with tailored messages that will resonate better with them.
Better ROI. With increased engagement and enhanced targeting comes an improved return on investment (ROI). You'll be able to get more out of each campaign by reaching the right people with the right message at the right time.
Retain subscribers. Relevant content is more likely to convince individuals on your email to stay subscribed.
Boost customer loyalty. Segmented campaigns help customers feel seen, and the right promotions can inspire brand loyalty.
You've worked hard to grow your email list.
With email marketing segmentation, you can make sure that the right message gets to the right person.
How to segment your list
First, a caution: Don't feel like you need to do everything simultaneously. You can slowly refine your email list segmentation, adding new categories. This will also help you avoid alienating prospects by demanding too much information all at once.
Also note that, as long as this list is, it isn't all-inclusive. You want to collect the information most relevant to your business. For example, a gourmet food shop could want to know dietary preferences, figuring that vegetarians wouldn't be the most receptive audience for meat-focused announcements.
Demographics
To what groups do your subscribers belong? Ask demographic survey questions to segment your lists according to any of the following categories.
Location. A local business might want to alert different areas of the community to neighborhood happenings, or an online clothing store could send out offers based on different climates.
Job title. People with different business roles may be interested in services or products that help them perform their job more effectively. Or they may be tasked with making purchasing decisions for an organization.
Industry. The same thing applies to people who work in different industries. They may be subject to different hours or dress codes. While freelance writers can work in yoga pants (a definite perk of the job), construction workers require special safety equipment and clothes that can stand up to tough environments.
If you cater to both business-to-consumer (B2C) and business-to-business (B2B) customers, use email list segmentation to distinguish between the two.
Age. Age can influence the promotions and the content most likely to appeal to your clientele. Depending on their health and stage of life, they may have varying needs or tastes. Their cultural references also change, and unfamiliar content can alienate customers.
Household size. How many people belong to their household? The answer affects how much space they need and the quantities they will likely buy. A large family may be more receptive to promotions on bulk products than a college student living in a studio apartment.
Household ages. Do they have kids? Older parents? If so, they may be interested in your brand's offerings for children or seniors.
Sex/gender. While you don't want to be narrow-minded or essentialist, some products are sex-specific. Men have very little need for tampons. Moreover, if your email includes any pronouns, you want to respect your subscribers by using the pronoun they prefer.
Homeownership. Do they rent or own? The information is relevant to more than realtors. Owners are responsible for home maintenance, making them a better audience for home improvement promotions.
Pet ownership. Another realtor-relevant option but also potentially pertinent to pet products and services or cleaning and landscaping.
Income. How much can they spend or donate? Do they have ample disposable income, or are they more likely to desire value options?
Education level. Do they need further training or credentials? At what level? List segmentation in email marketing can keep instructors from sending prospective students material that is either too basic or too advanced for the individual.
Associations. Do you have a large contingent of former Girl Scouts or alumni from a particular school in your audience? You might be able to build a campaign around it.
Customer Behavior
While demographics can be a valuable source of information, the best predictor of your customer's future behavior is the past. What have they purchased previously? How long have they been customers? And so on. Build campaigns based on list segmentation strategies that use everything you know from their history with your brand.
Length and status of their relationship with your brand. You could develop lists for new prospects, i.e., the subscribers who have indicated their curiosity about your business or organization but who haven't yet committed. Or segment lapsed customers into their own group, away from current customers. That way, you can send out offers designed to reengage old friends.
Amount donated or spent. You may love all your customers or donors equally, but chances are that some are more valuable to you than others. Consider creating a VIP section for those individuals most crucial to your organization's success.
Social media accounts. Where else are they interacting with your brand? What accounts do they follow? You can craft a multichannel message across platforms if you know where your audience is present.
Device type. Are they accessing your emails from mobile device or a desktop? Many email editors naturally adjust your layout to look good across devices. Still, if you want more control over your campaign's appearance, you can create segments based on the device type on which subscribers read your message. Then compose different emails for each.
Frequency of purchases or donations. Are they regular customers or donors? Or just one-time buyers?
Launch an automated email series to turn the occasional transaction into a steady stream.
Engagement level. How often do they open emails or click on links? Tailor campaigns based on email engagement. You can ask inactive subscribers to indicate their continued interest in your content, helping you to prune your list of poor prospects.
Products or services purchased. What products or services have they purchased in the past? What have they put in their carts or researched? They'll probably be interested in offerings that complement previous interests or are similar. Service providers might use email list segmentation to suggest upgrades or renewals.
Referral sources. How did they find out about your business/nonprofit? Noting referrals will allow you to track your most profitable sources and offer rewards programs.
Email preferences. How often would they like to hear from you, and what topics interest them? Let them direct your marketing efforts.
Abandoned forms or carts. You can set abandoned form or abandoned cart emails to send automatically. Or you can collect them across a week or a month and then nudge the newly created group.
Level of brand satisfaction. If you have one set of mega-fans and a few detractors, you might want to keep the two groups separate. That way, you can solicit reviews from one group or suggestions for improvements from the other.
Customers who've left you a review. Creating a tag for the customers who have left reviews lets you target only those who have yet to do so — or reward reviewers with a special discount.
Brick-and-mortar clients vs. e-business. Some offers may only be relevant to customers who can reach your physical location(s). If you're a salon with an e-store selling beauty products, you could separate clients interested in your in-person services from your online shoppers.
Associates. What about your affiliates/brand representatives? Partner-specific lists can let you push targeted promotions to the people responsible for distributing them more broadly.
Employees, volunteers, and past community members. With email list segmentation, you can have internal lists for your organization as well as customer-focused ones. And nonprofits should create distinct lists for volunteers and donors.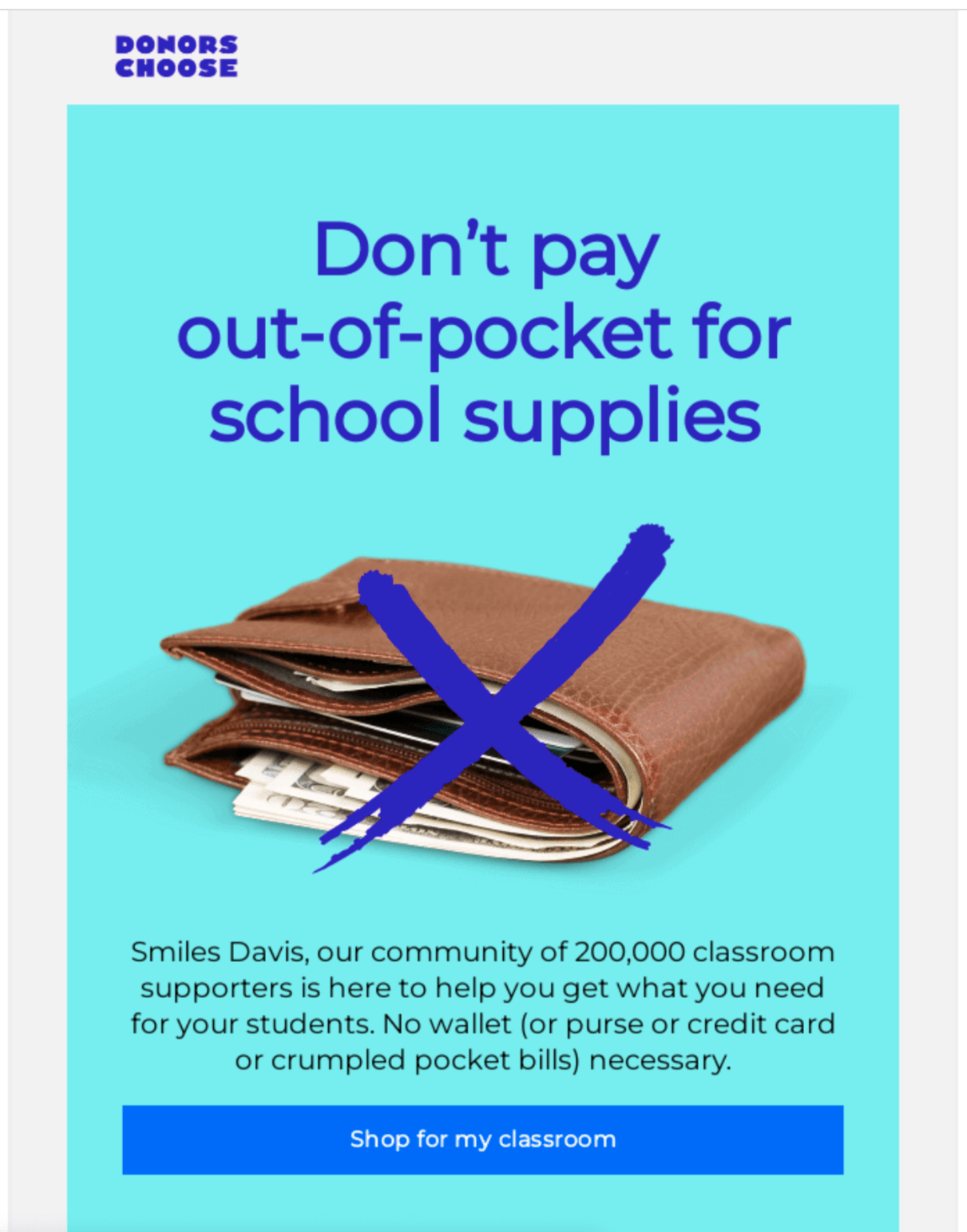 Psychographics
Psychographics is the science of understanding people's attitudes, interests, and values. This field of study can help you answer questions like, "How can I best intrigue and motivate my customers?"
And while you may not need — or want — a detailed psychological profile for every client, your content might benefit from a solid grasp on potential ways to connect. Plus, it never hurts to know what has convinced them to buy your product (or similar ones) in the past.
Interests. What are their hobbies? What topics interest them? What trends are they likely to track? Know what makes them sit up and pay attention to your brand.
Values. What are their priorities and beliefs? Are they ardent recyclers who keep up with news and science reports on global warming? Do they frequent forums on free speech, politics, or finance? The answers to these questions may help you make business decisions on whether to switch to pre-cycled or recycled packaging, start participating in a specific online forum to show your industry expertise or change up your social media targeted ads campaigns.
Lifestyle. Are they adventurous travelers, gourmands living the high life, scrappy college students, etc.? Tailor your marketing messages accordingly.
Best practices for email list segmentation
Now that you're ready to start segmenting email lists, be sure to follow these best practices to ensure you get the most out of your email list segmentation efforts.
Start simple
Be precise
Use customer avatars
Implement self-segmentation
Start simple
This is one of those email marketing best practices that applies to so many topics. Don't overcomplicate things.
Start by grouping people according to broad topics, such as location and email preferences, and create segments based on these commonalities. As mentioned, you can always break groups into smaller categories or add new ones later.
Be precise
No segment is too small — to an extent.
The more precise your target, the greater your success in engaging and converting the segment. It's fantastic if your data allows you to make and communicate with super-specific groups. Just make sure to consider your labor when calculating ROI.
Frequency also matters. If your segments are so specific that clients only hear from you once in a blue moon, they may forget about you altogether.
Use customer avatars
Effective campaigns require a solid understanding of your products or services and who uses them. What are the defining attributes of your customer avatars? What information about a subscriber is most essential to differentiating between avatars? When you categorize your audience accordingly, you can create content that speaks directly to those individuals.
Implement self-segmentation
Let them do the work for you. Self-segmentation saves you time and improves your accuracy. After all, your customers will always know themselves better than you know them. Here are some ways to leverage the strategy in your email list segmentation.
Add more questions to your sign-up forms
Take advantage of your email list sign-up tools. Gather valuable information about your subscribers — such as their location, industry, or age range — at the very beginning of your relationship.
However, it's important not to go overboard with the amount of information you demand in the form, as too much can be off-putting for potential subscribers. Limit yourself to one or two extra details, and make these additions optional rather than required for form submission.
Use a welcome email series to let customers choose their own adventures
Another good idea is to send out an automated welcome email series that allows new customers to choose what content they want from you. For example, if your store sells men's and women's clothing, you could include links in the welcome email series that allow subscribers to choose whether they would like emails about men's or women's clothing (or both).
This is known as click segmentation. In click segmentation, people sort themselves by clicking on the material that interests them. When tracked, those clicks offer actionable information about the marketing they'll be receptive to.
Send out surveys
No need to worry if you don't get all the information you need at the beginning of the customer relationship. Periodic surveys (via email or other channels) let you gain additional details and valuable insights into how existing and lapsed customers feel about your brand.
But keep your information-hunger in check. If you ask too many questions, people bounce before completing and submitting their surveys.
The best length for a survey is five to 10 questions, so keep things short and sweet. The bulk of a survey should be multiple-choice questions, which are easy to answer quickly. If you have fields requiring a bit of writing, compensate with fewer total questions.
Use prior purchases as a guide
Purchasing behavior is the strongest indicator of interest you have. If you integrate your CRM system with your email marketing platform, you can set it up to update segments with each new transaction.
Add the ability to save searches or wishlists
Maybe they haven't purchased yet, or your offerings are distinctive enough to defy easy generalization. By allowing people to create an online account and save a search or wishlist, you gain a new source of information.
Send them related promotions. Often, they only need a tiny nudge or incentive to buy.
Start launching segmented email campaigns
At its heart, the most successful marketing is a form of customer service. It's about getting subscribers the information or content they want when they want it. Email list segmentation enables you to do just that, more precisely targeting your audience by their demographics, behavior, or psychographics.

So make the most of your audience's time and attention by limiting the number of campaigns you include them in. And make the most of your own time by automatically collecting essential information and letting people self-segment to indicate their interests.

Start with one or two segments. What's one relevant distinction that separates some of your customers from others? If you're already collecting that data, you can start segmenting immediately. If not, you may need to tweak your intake forms or survey your clientele.

Once set up, use these groups for your next email marketing campaign, tailoring your message to each, and see how your open and click rates improve.

Share with your network