No one likes wasting time.
And writing an email just to write an email is exactly that.
But creating an email that greatly benefits your readers and your business? Farthest thing from a time waster.
So how can you sit down to write useful email content with complete confidence?
Focus on the Content Cluster.
Use the Email Content Cluster Cheatsheet to write your email content in minutes
No matter what type of email you're sending, you can write your email quickly and effectively by focusing on five key elements that make up the Content Cluster: your email subject line, preheader text, image, message body, and call-to-action.
Let's take a look at all five elements of your email content:
Subject Line
Your audience is bombarded by emails, receiving an average of eighty-eight emails a day.
The subject line is your best chance at standing out in this sea of email. Keep it short (4 to 7 words) and eye-catching.
Tip: Try one of the techniques below for writing standout subject lines: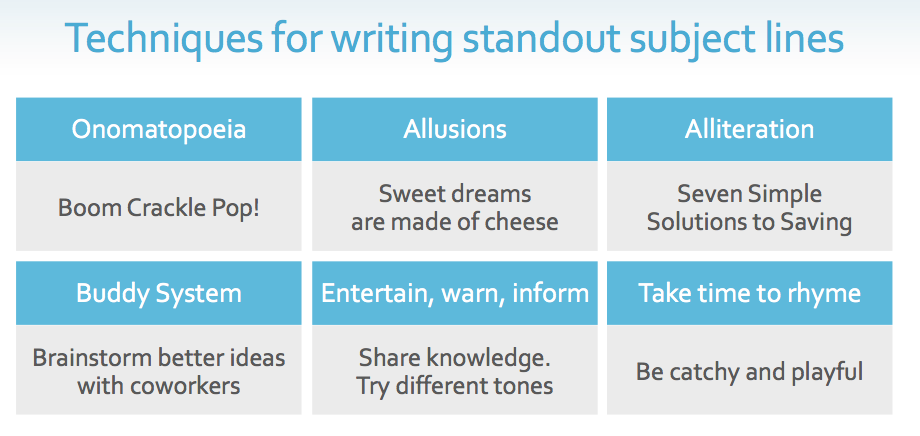 Preheader text
All the great movies have taglines.
Alien; "In space, no one can hear you scream."
Lord of the Rings; "One ring to rule them all."
Forrest Gump; "Life is like a box of chocolate. You never know what you're going to get."
Great emails are exactly the same.
Your preheader is an extension of your subject line and should further tease the content of your email.
Like taglines for movies, your preheader should give readers a better understanding of what your email is about in a memorable, attention-grabbing way.
Most mobile inboxes display 75–100 characters, so limit yourself to 6-11 words to catch your reader's attention.
Image
What are your eyes drawn to when you first open an email?
Is it the big block of text? Or the colorful, fun, interesting picture that pulls you in?
If you're like most people, you notice visuals first.
Using an image that supports your message is a powerful way to get your email read remembered. And with a large number of image resources available, you don't need to be a photographer to have access to great pictures.  
If you have a Constant Contact account, you already have access to free and buyable stock photos. Using these photos will help you avoid potential fines from pulling images off the internet that you don't have a license to use.
When using stock photos, make sure you choose an image that doesn't look staged. If you feature your product, show people happily and successfully using it.
Tip: Keeping your images 600 pixels wide ensures maximum visibility on desktop and mobile.
Text
Everyone seems to have different advice on how long an email should be.
While we typically recommend 20 lines of text or fewer for best engagement, the reality is less exact. How long should your email be? As long as it needs to be to achieve your goal.
Answer these three questions to keep your emails focused and persuasive:
What are you offering? — Headline

How will it help the reader? — Message body

What should they do next? — Call to action
Don't beat around the bush. Start by telling readers exactly what you're offering. The headline should succinctly promote your offer.
Next, explain how it will help the reader. What's in it for them? The message body should explain the offer, generate interest, and guide readers down towards the CTA button.
Finally, let readers know what they should do next. Include a call-to-action below your message body that makes it easy for readers to know how to take action.
Tip: Take advantage of the content blocks available in Constant Contact. These include the Read More block, Poll block, and RSVP block. Use them to save time and drive action.
Call-to-action
Every email should include a compelling call to action. Include a link, button, or clear next step.   
For your call-to-action, resist vague wording like "click here." Instead, say something specific like "Get Your Free Ebook!"
When someone clicks a link, make sure they are directed to where they are expecting to go (in this example, to a landing page where they can download your ebook).
Hint: The most effective CTAs are 1-5 words long.
Still not sure what to say? Use this handy phrase chart for inspiration:
Can you really create engaging email content?
Whether you're a published novelist or an amateur blogger, you've experienced writer's block.
You've stared at a blank screen, unable to type a single word.
While this might seem like a necessary part of writing, there are proven methods to combat writer's block.
Keep an ongoing list of content ideas based on questions your customers ask every day.
And when it comes to physically writing your email, keep it short and simple; a Picture, Paragraph, and Call-to-Action is all you need.
Finally, listen to feedback. Send a Poll to ask customers what they want to receive or check your email reports to see which topics are getting the most opens and clicks.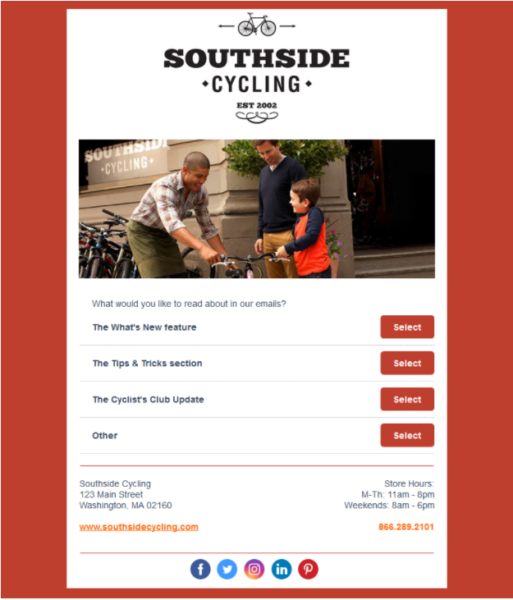 Still need help coming up with ideas?
This worksheet on 20 Writing Prompts for Quick and Creative Emails should help!
Creating an email shouldn't be a source of stress
Writing email content is much easier when you break it up into five simple elements.
Use the Email Content Cluster Cheatsheet the next time you're tasked with creating an email. By following these simple tips, you can be creating stress-free emails in no time that drive business.

Want to send business-generating emails in no time? Our 5-step Approach to Successful Email Marketing guide will show you how!

Ready to give email marketing a try? Sign up for a free, 60-day email marketing trial!