It's safe to say that everyone loves a good shindig. Humans are social creatures. We love to party, gather together, mingle, and meet and greet — even if it's just for a short while. Hosting company-centric events is a great way to bring a social aspect to your business and promote your products and services along the way.
Event marketing is about more than having a sale or prize giveaway. Planning and event management are no small feats, but with the right strategy and tools, any event you plan is sure to go off without a hitch.
As you begin to think about how to successfully plan, market, and execute your own events, take some time to think about the events you've attended for other companies and organizations. Think about the types of events that engage you the most. Think about an event you attended that left you feeling good. Think about events that made you rave to your friends and family about a company.
What is event marketing?
Event marketing is the type of marketing a company uses to promote its products, services, or brand either through hosting or attending in-person or virtual events. Encompassing a whole range of event styles, event marketing can include everything from product launches to end-of-year events to classes and demos and can happen in-person or online.
Why is event marketing important for small businesses and nonprofits?
Event marketing is a great way to get the word out about your products and services as well as increase engagement with your current customers and potential customers.
Event marketing can help you to:
Grow your email list
Events are a great way to get people interested in your business. When people sign up for your event or give their name and email on a sign-in sheet, you have concrete knowledge that they want to know more and that they have given their consent for you to communicate with them.
Generate sales and fundraising dollars
Fundraisers are definitely the most common and include a whole host of events and activities that drive donations. Runs, galas, phone-a-thons, etc.
Build customer relationships through one-on-one engagement
Friend-makers don't focus on funds. They're about exposure and forming connections, they're about keeping people engaged. Examples of friend-making events include mixers, lectures, and info-sessions and giveaways.
Build brand awareness
Small businesses in other industries also benefit from hosting events. Think about it: when people sign up for your event or give their name and email on a sign-in sheet, they are letting you know that they are interested in your product or service. This means you know who to target your email and social media marketing to, and can receive instant feedback from customers.
As a small business or organization that wants to have an edge over the competition, it's important to be creative when promoting your products and services.
Different types of event marketing
When it comes to the different types of event marketing, the ideas are endless.
There are a variety of event types that can be used in different industries to help you meet your
goals:
Events for building awareness and loyalty
Educational seminars, workshops, and events
Conferences and trade shows
Nonprofit events
Pop-up shop events
Keep in mind any of these events could be held in person, virtually, or a hybrid of the two in order to accommodate the preferences of all of your registrants.
Events for building awareness and loyalty
Events are a great way to gain awareness with prospective customers and to build loyalty among your existing customers.
For example, if you're in the food or beverage industry you could hold a tasting to allow people to sample your food. This can be great if you're launching a new line of items or testing a new menu.
Tastings and trials are great no matter what industry you're in. Think about partnering with a local brewery or restaurant to sample their products. Provide a fun evening for networking, raising flash funds for a local cause, or celebrating a holiday.
Another option is to host a lunch or dinner event to show gratitude to your customers, clients, or supporters. Consider putting together an end-of-year event. Reflect on what the year has taught you about building your business and give customers a chance to feel involved in your story. Personal connection drives engagement…and so does free food.
Some other event ideas to build awareness and drive loyalty are launch parties for new products or services or even celebrations to commemorate milestones. These could also include branded prizes or goodie bags and are a great way to engage with your audience.
This next idea is great for the whole family — a movie night. Let's say you're a real estate agent, and you want to end the summer with all of your recent clients. You can host a movie in partnership with a theater or set up a screening in a local park. This idea could be great for other types of businesses or organizations as well.
Educational seminars, workshops, and events
Educational events are another great opportunity to provide value. Advise your audience while building loyalty and bringing in new clients.
You could consider some sort of class, workshop, lunch and learn, or webinar that people can attend virtually.
For example, if you're in the business-to-business world (B2B), you could host a training or webinar on your area of expertise. If you offer marketing services, you could run your event to educate your audience on a specific tool or strategy.
If you're a bakery or a restaurant that focuses on a specific type of food, you could host a class where people can learn to cook or bake something specific. For example, a bakery could host a holiday cookie decorating class, a distillery could host a class teaching the audience how to mix a few drinks, or a barbeque restaurant could host a class on making homemade BBQ sauce.
If you're an artist, you could host a workshop that teaches the audience how to do something specific. You could even host a workshop just for kids to get them interested in the arts.
Another idea is if you're in real estate, you could host some sort of class to get people together and teach them how to do something in association with their home. It could be a wreath-making class around the holidays, a gardening class, or even a home maintenance class for your first-time home buyers.
Truth be told, there are endless opportunities to educate your audience, no matter your industry.
Conference and event marketing
Conferences, events, and trade shows are another great way to build brand awareness.
Hosting a conference allows you to get your name out there and educate your audience with an agenda full of educational experiences with relevant speakers and networking opportunities. Conferences are great for many types of businesses, whether you market to consumers or to other businesses.
Trade shows are another great way to show off your product alongside other businesses. Tradeshows are typically organized around a specific industry or a type of product. They also allow you to get in front of qualified buyers and other companies who can help you sell your product.
Consider hosting your own trade show or attending one that is relevant to your industry.
Nonprofit events
In the nonprofit world, event marketing is the bread and butter of your fundraising efforts.
The events could be in the form of auctions or raffles, a gala with special performances, a fundraising concert, a 5K run or walk, some sort of walk or runathon, or even a competition.
One of my favorite animal shelters here in Colorado, Animal Friends Alliance, hosts all sorts of adoption events in addition to fun events that allow them to continue to raise money throughout the year. In addition, they partner with many local businesses to host and run events.
For the holiday season, they hosted a Pet Photos with Santa event to raise funds for the cause.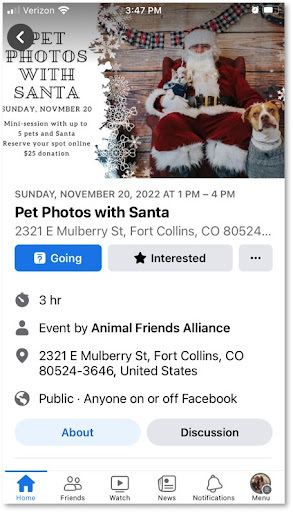 Events are a great way to support your cause by educating people about the issues surrounding your cause and the importance of what you do.
For help funding nonprofit events, check out this blog to learn more about how to get sponsors for an event.
Pop-up shop events
If your main goal is to sell your products, pop-up shop events are a great way to get in front of more people. With their permission, you can set up your pop-up shop in a public space to sell your items. This option is great, especially if you're selling online. It allows people to hold and see your products in person. Don't forget to let your existing customers know about your event and promote it online as well.
Event marketing planning (aka "how to do event marketing")
Now that you understand the ins and outs of events marketing and all the different types of events you can host to support your business, it's time to get planning. We've got a complete breakdown of all the things to think about before, during, and after your event.
For some extra help, check out these blog articles on resources for planning events and 8 event marketing examples. Happy planning!
Before the event
This is the time when you decide on a goal for your event. Use the SMART goal framework to develop an event goal that's:
Specific: what are you trying to achieve?
Measurable: what data will you collect to measure your success?
Achievable: Is your goal possible?
Relevant: Does your event goal align with your broader marketing goals?
Time-bound: What's your timeline to achieve your goal?
Focus on what you want to achieve with your event. A couple of goals could be to increase revenue, get people to sign up for a consultation, or to educate the community on what you do and how your services can benefit them.
Once you have formulated your goal you can dig into planning your event. Think about the kinds of activities that will serve you and your audience. Create an event-specific marketing plan to keep you on track to achieving your goals and how you will promote your event.
Consider the following methods to promote your event:
1. Share your event with the media
A press release is a great way to get the attention of the people who can help you further your event goals. With a formal press release, you invite local media to be a part of your event. You can also spark the attention of influencers, new supporters, and brand ambassadors. This is especially great when the goal of your event is to spread awareness and invite influential people.
2. Socialize
Connect with local influencers, live stream, and publicize your event on social media.
Influence: Influencers hold a lot of power when it comes to directing attendees toward your event. Pairing with an influencer can make a huge impact by bringing in new followers and lending credibility to your business and events.
Live stream: This tactic allows you to have a direct interaction with your target audience and invite them in. Use this opportunity to give your audience a peek into what lies ahead and make a compelling pitch about why attending the actual event is something they don't want to miss.
Publicity: Wield your Instagram (and all your other social networks) wisely! Use your social channels to promote your event with images, videos, and graphics that evoke the feeling of your event. Share important details about location, ticketing, product sales, featured guests, and activities.
4. Create a landing page or dedicate pop-ups
Create a landing page or dedicate a pop-up form on your website so visitors can sign up to get more information. Make sure to craft a call to action (CTA) that grabs the attention of your audience and makes them want to attend your event. Reference this blog on how to build an event website to learn about all the event details to include.
5. Market your event using email
Create an email drip campaign for your event. Start with an announcement email to interest potential attendees and to direct them to your registration page. Follow-up emails should include an email to generate excitement in your audience segment that has signed up for your event and an email that seeks to interest the remainder of your general list that has yet to sign up.
6. Spark FOMO (Fear Of Missing Out)
Create the "Fear Of Missing Out" among your audience. Use content like video or imagery to show them how they will be at a loss if they do not attend. Contrary to popular belief, people are more interested in an event when they feel they will lose out on something valuable. "You do not want to miss this event" is a simple but effective email marketing subject line, social media campaign, or blog post to generate curiosity about your event.
7. Promise a good time (and deliver!)
Use multiple mediums and channels to show people what a great time they'll have at your event. A promotional video, images, user-generated content, and other details that will immediately spark interest are all great resources to excite your audience. It's like any movie; when the trailer comes out, people start talking about it and can't wait to go see the full movie. A sneak peek–visual or text–will show them that you have taken all the efforts to make this a memorable, fun, and rewarding event for all your attendees. It's an incentive you offer in exchange for their attendance.
Each of these event marketing ideas is tried, tested, and highly recommended to use as part of your event marketing campaign when promoting your next event.
During the event:
Once your event is in the swing of things you are going to need to make sure to do a couple of things. Besides general management, you'll want to make sure you are documenting your event for social media as well as other marketing materials, like an email newsletter.
Ask guests to sign a guest book as they make their way into the event or as they leave — have them leave comments and their emails to subscribe to your email marketing.
Consider live streaming/documenting part or all of your event through Twitter, Facebook, Instagram or another social media service. Doing so could encourage late attendees, encourage engagement and subscriptions, and create hype for your next event.
After the event:
So the party's over. Guests have left, and all you've got to do is wrap up the leftovers and sweep the shop. Well — maybe that's not all you have to do. It's important to remember that just because the party's over it doesn't mean the work has stopped.
Post-event activities to prioritize:
If you hosted a virtual demo, it's a good idea to send along a recording to everyone who signed up, even if they didn't attend your event.
Post photos and videos to social media to show off your event and encourage people to share.
Thank you messages
Sharing the event story
Sending out surveys
Measuring your event's success
After your event is over, it's time to look at your data to analyze your success and determine how you will adjust your event marketing plan moving forward.
Use KPIs to evaluate SMART goals
Look toward your SMART goals and key performance indicators (KPIs) and see how well your event served the goals you were trying to achieve.
Here are the analysis methods and KPIs to use to determine the success of your event:
Post-event surveys
Evaluate attendance rate and engagement
Social media engagement
Purchases and donations
Post-event surveys
Surveys are an important part of the event marketing process. With a simple survey, you can get a good understanding of what people thought of your event and gather ideas for improving future events.
Attendee satisfaction
By having people rate your event on a scale, you'll gain insight into attendee satisfaction. Ask how they would rate their event experience on a scale of 1 to 5. You'll be able to find an average and use that as a benchmark for future events.
Ask why they gave their score. This allows you to glean valuable comments so you can understand why they gave the score they did.
Net promoter score
Make sure to include a net promoter score section of your survey. To calculate net promoter score (NPS) you need to include a question on your survey asking respondents to rate the likelihood that they would promote your company, product or service.
Opportunities for improvement
Lastly, ask them specifically about their ideas for the improvement of future events. There is nothing more valuable than the feedback your audience can give you. Use a survey or suggestion box to gather feedback. As you craft your feedback tool, remember to keep your survey short to encourage more people to complete it.
Evaluate attendance and engagement rate
Not everyone who registers for your event is going to attend. That's why it's important to calculate your attendance rate. When attendees arrive at your event make sure to take note of that number and compare it to the number of registrants. To calculate your attendance rate, take your number of attendees and divide it by the number of registrants.
It is also important to note the differences in the types of tickets, packages, or experiences you offered for your event. You'll want to evaluate the number of people who purchased each to determine popularity.
When using multiple channels to promote your event, analyze the ones that were most successful and those that were not as successful so you can be more efficient in your efforts moving forward.
If your event is virtual, with a webinar or other online event platform, you may also be able to track things like the level of engagement and the level of attention given to your event. You'll want to know if the event was successful in capturing and keeping their attention online.
Additionally, if you recorded the event, you may want to look at engagement and views of your video(s). In my experience, many people will register with the expectation that the event is recorded so they can view it later, and you'll want to ensure that people are engaging with the material.
Social media engagements
Encourage event attendees to share their experiences on their social media accounts to gain exposure for your business. Ask them to tag your business, share the venue/business location and use the hashtag you've set up for your event. During and after your event, you can easily engage with current followers and see if you've gained any new activity/followers.
Purchases and donations
If the goal of your event is to increase revenue or funding for your business or organization, keep track of how many purchases and donations are made before, during, and after your event. Consider the time threshold for post-event purchases and donations (perhaps include a checkbox, comment box, or other information capture tool to assess whether your event influenced the buyer/benefactor).
Create benchmarks for future events
Once you've measured the success of your event and know what worked as well as what could be improved upon, you'll be ready to set some standards. Creating benchmarks is a good way to maintain consistency and improve events over time.
If you have already started hosting events for your company, take a look at the data you've gathered to create a benchmark for your future events. If you're just starting out, pay close attention to how your event impacts your customers and your business.
When feedback surveys are returned to you, make note of what attendees say their favorite parts were. See what they took notice of, photographed, and raved about.
When you're planning, take note of which events had the highest attendance. Notice which days of the week, what times, venues, and activities yield the most interest.
Unlock new opportunities
Now that you know the ins and outs of putting on the perfect event, it's time to start planning your own mixers and meet and greets, sales and special tastings. Get creative and think about what kinds of activities are going to be the most engaging for your clients and potential customers.

Craft company events to engage your audience and harness invaluable feedback about your business, products, and services.

Share with your network