I'll never forget the first party I ever threw.
Only two people came
I was completely deflated.
When I recovered from the blow to my ego, I asked a few people why they didn't come, and it turned out that they had simply forgotten.
So what should I have done differently?
I should have sent an announcement email. And not just a save-the-date announcement, but an invitation and reminders too.
Announcement emails are all about what excites you!
I had always thought of "save-the-dates" and "announcements" as formal things that were only sent out on very special occasions, like weddings and births. But announcements are for anything new in our lives, or our businesses, that excites us!
Announcements are perfect for getting the word out about a new partner, a new product, a renovation, an acquisition, a special event, a fundraiser . . . even the delivery of a large wheel of cheese! (Think I'm kidding? The Concord Cheese Shop in Concord Massachusetts has an annual parade for a wheel of Italian cheese). It's all about what excites you, and getting the word out so others can get excited too!
How to write an announcement email
No matter what's being announced, besides telling your readers when it's happening, it's imperative that you answer three additional questions for your email subscribers:
What's going on?
Why should the reader care (or what's in it for them)?
What do you want them to do about it (call-to-action)?
Here's an announcement email example…
Let's say you're a real estate agent or broker, and you're working with a contractor who is renovating a historic building in prime downtown territory. This is a big win, not only for your agency but also for the local community because it's helping to revitalize the area, as well as open up new, highly-sought-after, office space. It's exciting! So, where do you start?
1. The first step is to announce the upcoming opportunity. Let people know what's coming, even before they can start leasing office space. Start to build the excitement the moment it becomes exciting to you. And don't forget to catch your reader's attention.
Here's an example of a catchy announcement for real estate: "We'd like to announce the best thing that's happened to LoDo since the Rockies! XYZ Real Estate, in partnership with Zabba Dabba Constructors, is pleased to announce the renovation of the Biltmore Building at 1234 1st Avenue, Denver, Colorado."
2. The next question to answer is why your subscribers should care. Maybe this is the first time that new office spaces have been available in LoDo since the Nixon era and you know that some of them have been looking for a new space almost as long. So, why should they care? Because it's their one chance to get what they've been looking for.
Example: "If you've been looking for a new space where you can grow, but don't want to leave the area, this is your chance."
3. Lastly, you want to make sure to tell them what they can do about it. Give them clear, and easy directions as to what they need to do.
Example: "Call us today, #907-606-3333, to make an appointment to see available floor plans, and lease your new space, before they're all gone!"
Not a real estate agent?
Here's another example of how to write an announcement email…
Maybe you're a Cheese Monger in Wisconsin and last year you almost ran out of the most popular Christmas cheese in town. But this year, you've ordered a giant wheel of this one particular cheese from Holland and you want everyone to know that your shop is the place to get their cheese for Christmas. In a flash of creative genius you think, hey, it's a 400lb wheel of cheese from Holland! It's a big deal! Let's have a parade! Now how do you announce that? Easy!
Again, think about the three primary questions that have to be answered; what, why, and now what?
1. In this case, you start with the parade. The cheese is why, but the parade answers the question concerning 'what' is going on.
Example: "The Big Cheese is coming to town, and we're having a parade!"
2. When answering the question as to why your subscribers should care, think about why you're excited about it, and most of the time you'll have your answer, right there.
Example: "When's the last time you saw a 400lb wheel of cheese from Holland being rolled down a red carpet? Never? Well, you're missing out!"
3. Always remember to let them know what they need to do to join in on the fun. If all they need to do is show up, then make sure to tell them exactly where and at what time.
Example: "Join us at 9:00 am on Tuesday, December 1st, at the corner of 1st St. and Warren Ave. for the cheesiest parade you've ever seen!"
What if you're not selling anything in your announcement email?
Your business is a nonprofit dedicated to giving shelter to animals that are displaced due to national disasters and hurricane season always comes too soon. You need to raise money, all year long, so you and your team can be ready when the time comes. Spring is coming and you need to do another push to raise funds, as your coffers are running dangerously low.
During a brainstorming session with your team, you decide to have a dog walk. But not just any dog walk. A dog-walk-a-thon! You're going to invite both dog owners, and non-owners to walk dogs. Lots of dogs. Their own dogs, their friend's dogs, and even dogs that are up for adoption at local shelters . . . all dogs and all people. It's going to practically be a dog-a-palooza!
After you've nailed down the date, it's time to send out the save-the-date announcements.
1. Right away, you want to let your subscribers know what's going to take place. And while you might have a catchy name for the event, like "The BIG dog-walk-a-thon", you have to make sure and let them know exactly what that is.
Try something like this:
Don't worry about how long it is, just make sure that when it's a unique event there's enough of a description to really let your subscribers know what it is.
2. For me, the easiest part of writing an announcement for a nonprofit event is answering the question of why your subscribers should care. This is where you want to share your driving force. Why do you do what you do? This is also why they would care about what you're doing, and why you're hosting the event.
Maybe include some statistics that not everyone would immediately be aware of, while you're pulling on the heartstrings.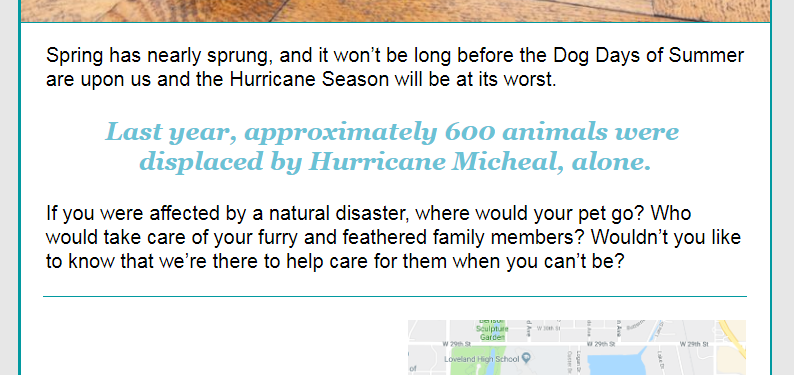 3. With everything else, always be very clear about what you want your subscribers to do in order to be involved with this event. Whether you're asking for volunteers or participants.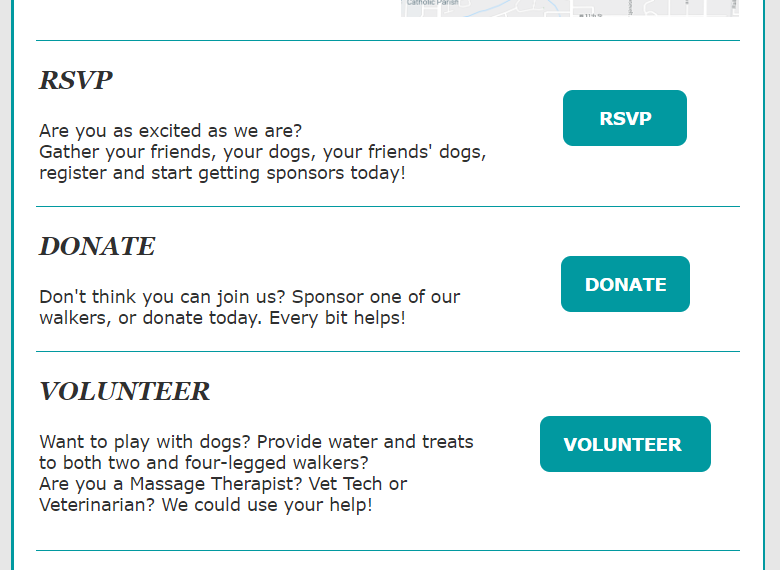 How to send an announcement email
Now, we have an idea of what to say, and maybe how to say it, but when is the best time to announce something, and is one announcement enough?
As I mentioned before, the best time to announce something is when it becomes exciting to you. In other words; when you have a date and you can begin to plan and get excited about it is when you want to send out your "save-the-date" announcement.
If you're renovating a building, you want people to start leasing the new offices as soon as the ground is broken and a projected opening date is named. You'll also want to send out a reminder when the offices are starting to get leased out, depending on your goal, this may be at 25-75 percent leased.
The point is to let people know that their window of opportunity is closing. Within a few weeks of the grand opening is when you'll want to send out the invitations, with a note on what percentage of the space is still available (if there are any spaces still available).
And don't forget the reminder, a few days before the Grand Opening, with a personal note on whether or not they can still secure a space for their business.
If you're planning a parade, and you just want people to show, then you'll want a save-the-date announcement to go out that gives people plenty of time to make arrangements to attend. A few months in advance should do the trick. And make sure to include a personal note about the background and history of the event. Follow up with a reminder within a few weeks of the event and a third within a few days of the event. Don't forget to include tips for parking, dressing for the weather, what to bring and what to expect.
If you're planning an event where people need to volunteer, rsvp, or gather donations and sponsorships, you'll want the save-the-date to go out as soon as you have the date locked down. This could be as much as a year in advance, in some cases. Send out invitations and registration forms two weeks later and make sure to include a personal note about why this cause is important to you; this helps make it important to your potential attendees as well.
Reminders should be sent out when the event is about a week away, and another a few days before the event takes place, for last-minute registrants and to gather donations from those who can not attend.
Let's recap the rules of announcement emails…
So, how do I make sure that people show up for my parties? I follow the rules of announcements:
1. I send out "save-the-date" announcements as soon as the date of the event is locked down, and I make sure to answer the following questions when I create my announcement email (I have a few favorite announcement email templates that I like to rotate, depending on the occasion):
What's going on?
Why should the reader care (or what's in it for them)?
What do you want them to do about it (call to action)?
2. Depending on the event, I send out the invitations out as early as two weeks after the "save-the-date" announcement and as late as three to four weeks before the event.
3. I always send out reminders:
The first, one week prior to the event
The second, a few days before the event
Ready to plan your next announcement? Check out our announcement email templates.