Hosting an event can serve as the perfect marketing tool to attract attention to your company. And successful event management can help build your customer list, establish connections, and create buzz for your brand.
Now more than ever, events are a great way for you to be creative in the way you build engagement with your brand. Even better, events are flexible and can be tailored to meet your needs. You can develop an event marketing strategy to cater to the size, budget, and needs of your brand or cause.
While hosting events can have huge payoffs, it's important to provide prospective attendees with the right event details. This article will cover how to get started posting must-have information on your event website.
Getting started
Before building your event website, you have to hammer out the details. Think about what you hope to achieve with your event. Based on your goals, develop strategies for marketing your event.
If you're not sure where to start, use Constant Contact's event management tools to ensure your event runs smoothly from beginning to end. This marketing tool can help with everything from keeping track of registrations to processing customer payments, so you can focus on your business and hosting your greatest event yet.
If you're not sure how to build a website, consider using an easy-to-use website builder to create an aesthetically-pleasing and accessible website.
1. Virtual event details
In the age of COVID-19, many businesses have moved online. In fact, virtual events are up 1000% this year! Take a step into the future of marketing and move your next event online.
Online events offer a wealth of opportunities to share resources and experiences with your customers. You can:
Host a webinar or class
Live stream milestone events
Launch a new product or demo
Host a Q&A session
Interact with a live audience
Host a conference
Hosting an online event offers a safe and budget-friendly way to stay connected with clients, donors, and more. You can also record your live stream to share in the future — use your recording as content for your next email marketing campaign or social media updates.
If you decide to host a virtual event, don't forget to send out the appropriate link to your event in your invites! Make sure to list the correct information and properly adjust your security settings.
2. Impactful landing page
Your landing page should tell prospective attendees everything they need to know about your event. For the best results, create a mobile-responsive and user-friendly page.
Make sure the landing page of your website is visually pleasing and compelling to visitors. Once you've hooked them in, make it easy to find the event details, register for your event, and follow your social media accounts.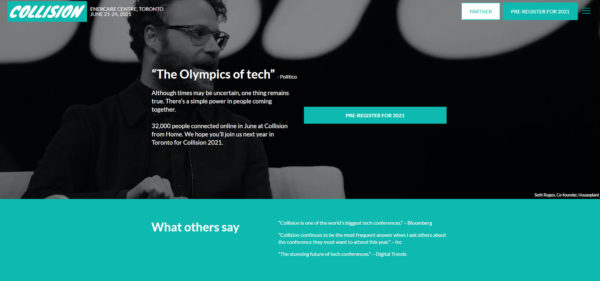 3. Event schedule
It's easy to miss this one: Make sure to clearly state the date and time on your event website! With virtual events, make sure to include:
Accurate time zone information
Where customers can find appropriate links
If you're hosting an in-person event, remember to show:
The venue location and address.
Any driving or parking details
Any restrictions or safety guidelines customers should know about
For both virtual and in-person events, be sure to include a simple add-to-calendar button to get clients clicking!
4. Great event descriptions
One of the most important parts of your event website is the event description! Focus on making your description informative and succinct! Every description should include a compelling call to action that persuades attendees to RSVP or buy a ticket.
When crafting an event description, be sure to highlight:
The purpose of your event
Why attendees won't want to miss it
A list of speakers or guests of honor
Agendas, breakout groups, and planned activities
Any promotions or offers available to attendees
5. Your company story
A compelling part of any business event is the history and spirit of the organization. Be sure to include a concise description of your company's values and activities.
Don't forget to include basic contact information as well. Make it easy for prospective guests to contact you and ask questions.
6. Social media links
Social media is a great way to create buzz around your event and provide updates to potential attendees. A new event can be an exciting part of your social media strategy — fueling your upcoming social media posts and boosting customer engagement.
Don't forget to link to Facebook, Instagram, Twitter, and other social media platforms on your event page and in your emails to subscribers. Your social media platforms are a great place to keep attendees updated and engaged with your upcoming event.
7. Easy-to-access registration
Collecting RSVP information is a vital part of planning an event. RSVP information will let you know how many people to expect at your in-person or virtual event.
To make this happen, make it quick and easy to register for your event by including:
An obvious RSVP button
A confirmation email that reiterates important event details
A share button for easy posting — expanding your reach to other prospective guests
8. Ticket purchase information
If your event requires ticket reservations, make sure to clearly outline:
Steps to purchase tickets
Accepted forms of payment
A straightforward refund policy
Contact information for customer support
Make it easy for prospective attendees to buy the tickets they need to attend your events.
9. Eye-catching content
The first thing prospective attendees will notice about your event website is the visual elements. Include promotional images and video content when possible.
10. Clear call to action
Your event website should always include a clear and compelling call to action (CTA). Your CTA should encourage people to:
Sign up
RSVP if necessary
Invite friends
Share your event info
Keep your CTA concise, straightforward, and clear. Your attendees should understand what you're asking of them without confusion.
11. Testimonials and attendee photos
A great way to encourage attendance at your event is to use attendee testimonials. Testimonials and uplifting photos or videos from past gatherings will help build anticipation for your next event.
12. Sponsors
Including sponsor logos on your event website can help draw loyal allies or customers from your sponsor companies. It will also help create buzz around your event and satisfy your sponsors with meaningful exposure.
13. Event news and updates
Include a news feed on your event website to keep it fresh and up to date. Use your news feed alongside your social media platforms to generate excitement around your event and remind attendees of the upcoming date.
14. Subscribe button
Events offer a valuable opportunity to create visibility for your brand. Make it easy for prospective attendees to subscribe to your mailing list so you can keep them informed as well as capitalize on new leads.
You can include new subscribers in your next email marketing campaign and invite a wider following to future events.
15. FAQs
Prospective attendees will undoubtedly have questions about any event you plan. To save you time and effort, create a Frequently Asked Questions section or web page to address any pressing concerns or potential confusion about event details.
Next steps
Now that you've learned about the benefits of event marketing, how to get started, and the essential details to include on your website, you're ready to get started creating your exciting event website!

Events can help you grow your customer list, build connections, and generate buzz for your brand. Creating a vibrant event website landing page is key to hosting an effective event.

Share with your network