The coronavirus (COVID-19) situation developed rapidly at the onset of 2020, leaving many small business owners uncertain about their future. Those we've spoken with expect the coronavirus to have a significant impact on their revenue.
Unfortunately, these concerns were justified, but there are some actions you can take to protect your small business while at the same time, protecting yourself, your employees, and your customers.
In this article, I'll lay out what we know about how coronavirus is impacting small businesses, how you can minimize losses, and some steps you can take to protect your business. These suggestions are by no means exhaustive, as there is much we still don't know about how this situation will play out. But we hope they will be a good starting point for business owners who are overwhelmed and unsure of what actions to take.
TIP: Are you considering reopening as coronavirus restrictions begin to ease? Check out our Marketing Guide for Businesses Reopening After Coronavirus.
First, I want to make clear that your number one priority should be to stay safe and take care of yourself.
Take care of yourself
Situations like this are stressful enough on their own, and managing a small business in the midst of the chaos can amplify that stress. Before you rush into action, if you're struggling with excessive stress and anxiety, look for some ways to alleviate that. I know that when you're overwhelmed and concerned about your small business, it can seem like you don't have time for things like self-care. But this situation is a marathon — not a sprint – and it's important to take care of yourself throughout.
Resources for managing stress and anxiety
There are many resources on the internet for how to manage anxiety related to the coronavirus outbreak for you to explore. To start, here are three things you can try to get some relief:
And here is a GIF of a baby elephant, which has been very effective for me personally: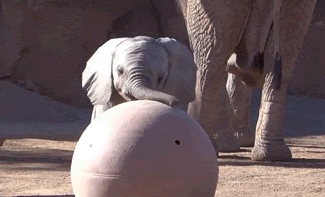 Actions you can take to protect your business, your employees, and your customers during the coronavirus outbreak
Here are some simple, short-term actions you can take immediately to address some of the most-pressing small business concerns caused by the coronavirus outbreak.
TIP: We've released our Small Business Support Kits in response to this crisis. Check them out for the tools and guidance you need to get through this challenging situation.
Prioritize safety
Again, safety is the number one priority. Take extra efforts to implement CDC-recommended precautions in your business as soon as possible. Among the most important recommendations are:
Adapt and use digital tools to continue to serve customers
As people across the globe are being asked — or required — to stay home as much as possible, your business will likely experience a dip in customers. One way you might be able to curb the dip in revenue is to offer your goods and services online.
Ready to do more business with email marketing?
If you're selling items and you aren't already selling online, look into setting up a basic online store. Some store owners are also offering pick-up services, where customers can call or email ahead of time with the items they are looking for, and pick up a wrapped/sealed order without entering the store. Many restaurants are offering "non-contact" food delivery.
Depending on your type of business, there might be other ways you can continue to offer services and keep your business going during a crisis. For example, my local fitness center is continuing to offer personal training via video conference, and many yoga studios are doing the same.
Get the right message out to customers and potential customers
Once you've implemented CDC recommendations for operating your business safely, ease your customers' minds and possible concerns by telling them about it. Tell them you're taking this situation seriously and share what policies and processes you're following to keep them safe as they engage in business with you.
If you need help with communicating with your customers at this time, check out our tips for communicating sensitively during a crisis.
And of course, be sure to include in these messages any important updates you might have about your business hours or product availability.
Once you have your most important messages and updates written out, here's how to share them:
Finally, if you have a physical location, put up signage in your storefront with the same information on the precautions you're taking.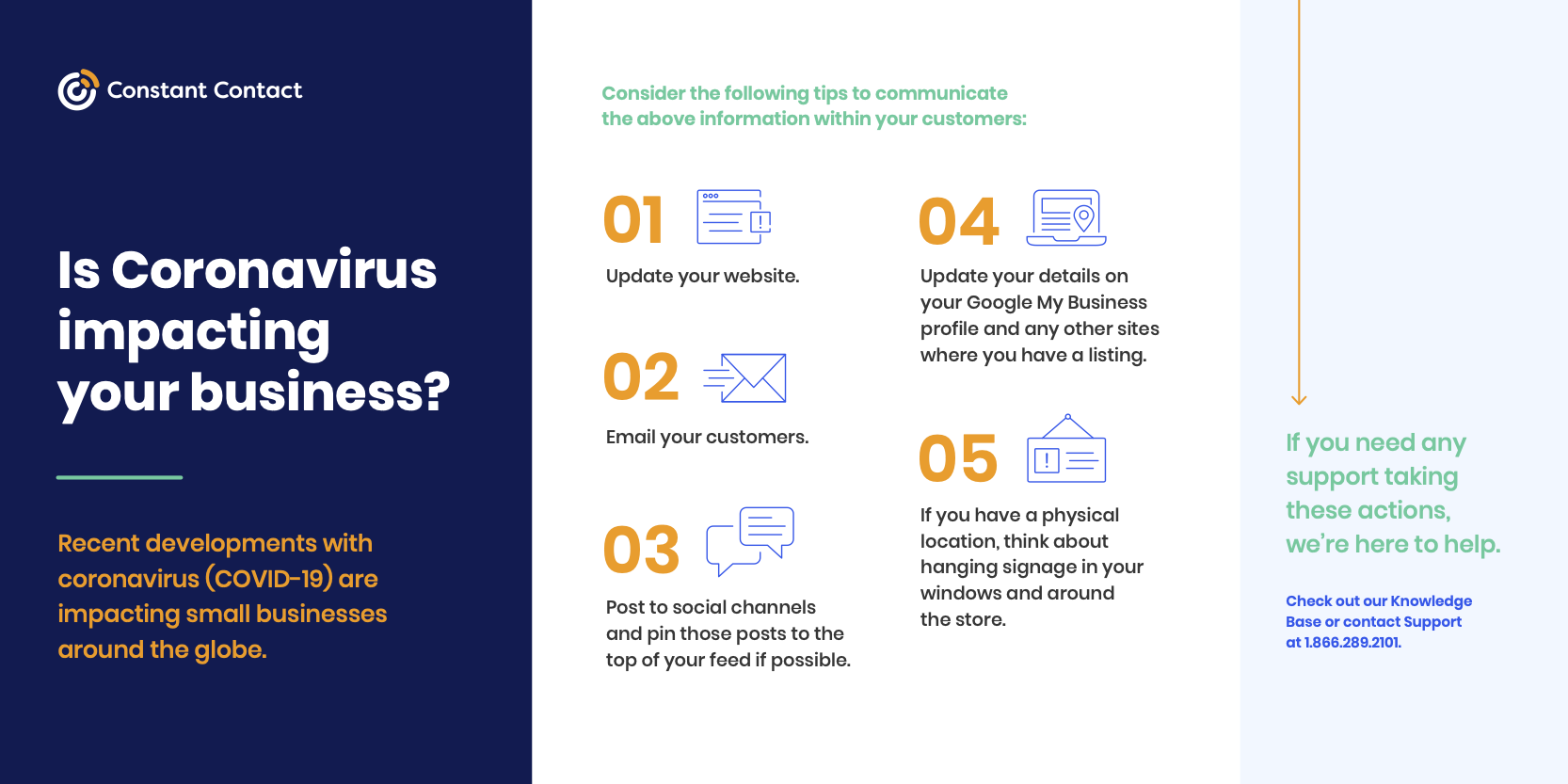 Additional resources available for small business owners and entrepreneurs affected by the coronavirus outbreak
As this situation unfolds, and coronavirus changes the way we do small business marketing, we'll be working to gather and share additional guidance for small business owners.
As mentioned above, in response to this crisis, we have created Small Business Support Kits (there's one for nonprofits too!) with tools, resources, and support to help you navigate these challenging times.
You can also check our official Disaster Response and Recovery Resources for Small Businesses. We'll be updating this page continuously as we develop additional guidance for small businesses dealing with this situation.
Other resources
CDC Guidance for businesses
Chamber of Commerce COVID-19 Response Toolkit
Economic Injury Disaster Loan Program
Local Assistance Directory from the Small Business Association
Ways You Can Help Other Small Businesses Impacted by This Crisis
Crisis Communication Tips for Nonprofits
Get more tools, guidance, and inspiration with the Power On Portal
Find the support and resources your business needs to power on through some of the challenging days ahead with Constant Contact's Power On Portal, including:
Introducing Our Power On Portal for Small Businesses
Find the tools, resources, and support you need to help your business power on through the challenging days ahead.

Share with your network