Whether you're promoting an online business convention or a nonprofit fundraising challenge, an event website is a powerful online marketing tool for building buzz and getting people to participate in your special activity.
With 60% of business leaders believing events are the most critical marketing channel for reaching company goals, knowing how to market your event properly is incredibly important.
People use event websites to learn about the activities they plan to participate in. Effective event website design promotes your business brand and makes it easy for visitors to buy tickets. And while you may have a business website to promote your events, creating an immersive event website gives you a competitive edge over sites that limit their event marketing to a single page.
To create an event website that truly engages your target audience, it's useful to study the best sites and see how you can incorporate their event marketing strategies into your own site. In this article, we'll examine 10 different types of event websites and analyze how their design connects with their target audience.
1. Conference
Not all big events happen in person. Web Summit builds buzz for its online technology conference by giving it all the hype usually reserved for giant conventions. The homepage features a scrolling parade of statistics, advertising more than 100,000 attendees from more than 150 countries listening to more than 800 speakers. The celebrity speakers are pictured in colorful, iconic headshots along with their names and industries.
Events come with a built-in deadline, and Web Summit capitalizes on this by including a countdown clock that counts the days, hours, minutes, and seconds until the conference begins. This creates a sense of urgency in visitors — and a desire to buy tickets, aided by the helpful "Book Tickets" call-to-action (CTA) button that conveniently scrolls down the page (and is also included next to the countdown clock).
2. Music festival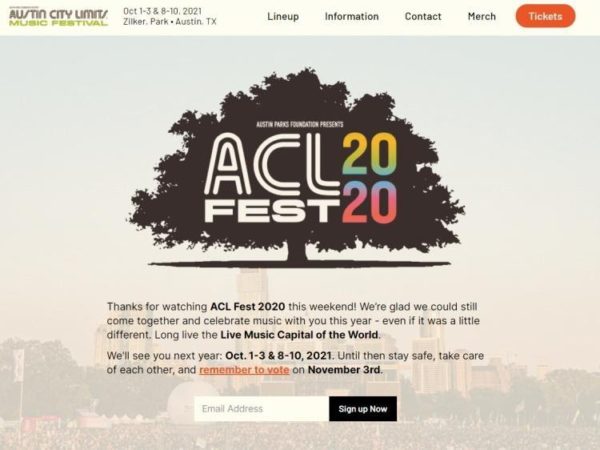 Sometimes the best event marketing tool is the event itself. The Austin City Limits Music Festival website recognizes this by including a video full of edited moments from past festivals, creating a trailer that builds up hype for next year's event. Site visitors are also encouraged to sign up for an email list, enabling the festival to continue promoting through email campaigns.
Beyond that, visitors can continue buying Austin City Limits Festival 2020 merchandise by clicking on the "Buy Now" button marked prominently on the homepage, helping to promote the festival while raising money for the next event. With all these event marketing strategies on a single website, it's no wonder the Austin City Limits Festival manages to stay in the public consciousness year-round.
3. Haunted house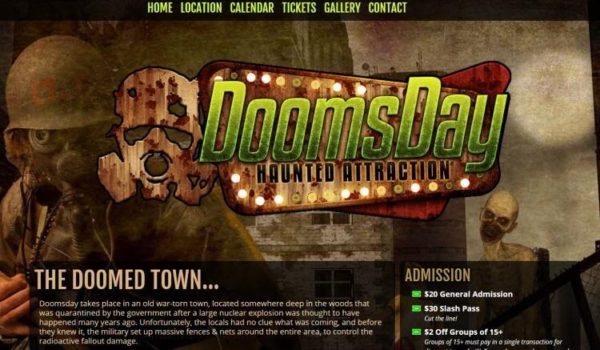 Effective event websites build brand awareness by telling your story. The Doomsday Haunted Attraction website does this creatively by offering a fictional backstory for the haunted house on its homepage, creating the type of content marketing horror enthusiasts devour.
The homepage also includes clearly marked admission prices (with links for purchasing tickets), information on location and scheduling, and a gallery of eerie images from previous events designed to entice visitors to check out the attraction.
4. Nonprofit fundraising event
The gorgeous image of elephants in their natural environment immediately catches the visitor's eye on the Humane Journeys event website. Supporting text clarifies that these trips, linked to Humane Society International, raise money for the organization by taking travelers to destinations around the world to witness the work of The Humane Society of the United States and Humane Society International.
A professionally produced video of some of these exotic destinations encourages visitors to keep studying the program. People who can't afford the travel fees can still donate to the Humane Society by clicking on the "Donate" button clearly marked at the top of the page.
5. Virtual event
The top menu bar for the Aiga Design Conference virtual event website stays at the top of the screen as the visitor scrolls down, making the website easily navigable. The site favors sparse copy with easy-to-read headlines (such as "We're Going Virtual!" and "Join us from anywhere"), making it simple to glean the selling points of this event with a glance.
A "Buy Tickets" button and "Register Now" link are placed in prominent, strategic areas, increasing the likelihood of registering for the virtual conference.
6. Art festival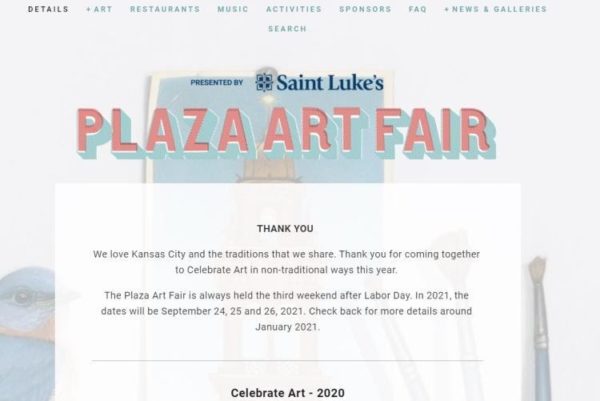 The website menu bar for Saint Luke's Plaza Art Fair is very user-friendly. While the fair's art events are the main focus, visitors can easily learn about the restaurants and concerts at the fair, allowing the site to promote all of its attractions. Art fairs offer plenty of promotable images, and this website takes advantage of that by not only displaying the works of participating artists but also linking to their websites.
7. Benefit concert
This Love the Land virtual benefit concert for local farms favors imagery over words for its event website. The simple picture of the state of Washington surrounded by sheaves of wheat, which represent harvest and fertility, effectively communicates its support for farmers while the large "Donate" button on the top menu makes it clear what it wants visitors to do.
The rest of the page contains pertinent information about the time and date of the concert as well as social media links that enable visitors to share the information easily.
8. Wedding
Not all event websites need to draw a lot of traffic — but they do need to clearly convey their purpose to visitors. Planners who build wedding sites need to offer clean, elegant designs to publicize the event. Users should easily be able to find directions to the wedding, as well as links to RSVP and to the wedding registry. Plus all wedding sites should showcase plenty of engagement photos featuring the happy couple.
9. Speaker
Professional speakers are a huge draw on event websites. Conferences that book a celebrity guest speaker should prominently display the speaker's photo on their homepage, along with relevant fast-loading video clips of that celebrity's past speeches.
In other cases, a professional speaker may want to create an event website of their own, which should include the same images along with ticket-buying options for upcoming speaking engagements.
10. Online class
These days, online classes can teach everything from a new language to computer skills to yoga poses. Effective event websites that promote an online class need to communicate how your virtual class or workshop will be held. Many Zoom online classes promoted through Eventbrite, for instance, must inform students how and when they will receive a link to attend the class. These sites also emphasize the instructor's credentials as well as key benefits of the class.
Marketing the best event websites
While websites often provide the initial exposure to an upcoming event, in order to sustain interest, event marketing plans need to remind visitors of your event. One of the best ways to do this is by collecting email addresses from site visitors and using them in targeted email marketing campaigns.

Constant Contact offers an email marketing tool that automates this process, working in tandem with websites to give your special event the maximum exposure it needs for success.

Share with your network