Have you ever received an email that looked so bad and unprofessional that you just didn't bother reading it?
Why do you think that happens? Sometimes, even if the email message is relevant to a reader, it may get ignored entirely because it didn't make that perfect first impression.
Emails may get ignored and fail to make an impression for many reasons. Illegible fonts, glaring color schemes, chaotic presentation of content, low-quality images, and many more elements can make an email look unprofessional.
As a small business or nonprofit, you likely understand that you don't get a lot of chances to make a positive impression in someone's inbox. With emails pouring in and cluttering inboxes, people make quick decisions about which emails get their attention, and which get ignored, junked, or worse—sent to spam.
Emails that look professional and have a clear message make your customers want to take action.
So what's the best way to get noticed in a busy inbox and make the best first impression?
Use email templates that highlight important information, and present each piece of content professionally and powerfully.
A professional email template can be easily customized to highlight your message and brand personality. It dictates the look and feel, presents information to the reader, and draws attention to all the valuable pieces of content it contains. Professional email templates are designed for maximize engagement amongst your email list subscribers.
Using a professional email template allow you to:
Easily create professional-looking emails
Organize your email content
Draw focus to important questions or calls to actions (CTAs)
What are the different types of professional email templates?
Most email service providers offer you a wide range of customizable pre-designed templates to help you get started. For example, if you're a Constant Contact customer, you have the option to pick a professionally built template for almost every kind of email you may want to send. You can usually enter search terms to find the type of template you that you want to use.
One way to search is by theme—Birthdays, holidays, anniversaries, back to school, etc.
Let's assume you plan to send an automated email campaign to each of your email subscribers on their birthday. In the template picker, type "birthday," into the search bar and this is what will you see—several different birthday-themed templates that you can customize for your campaign.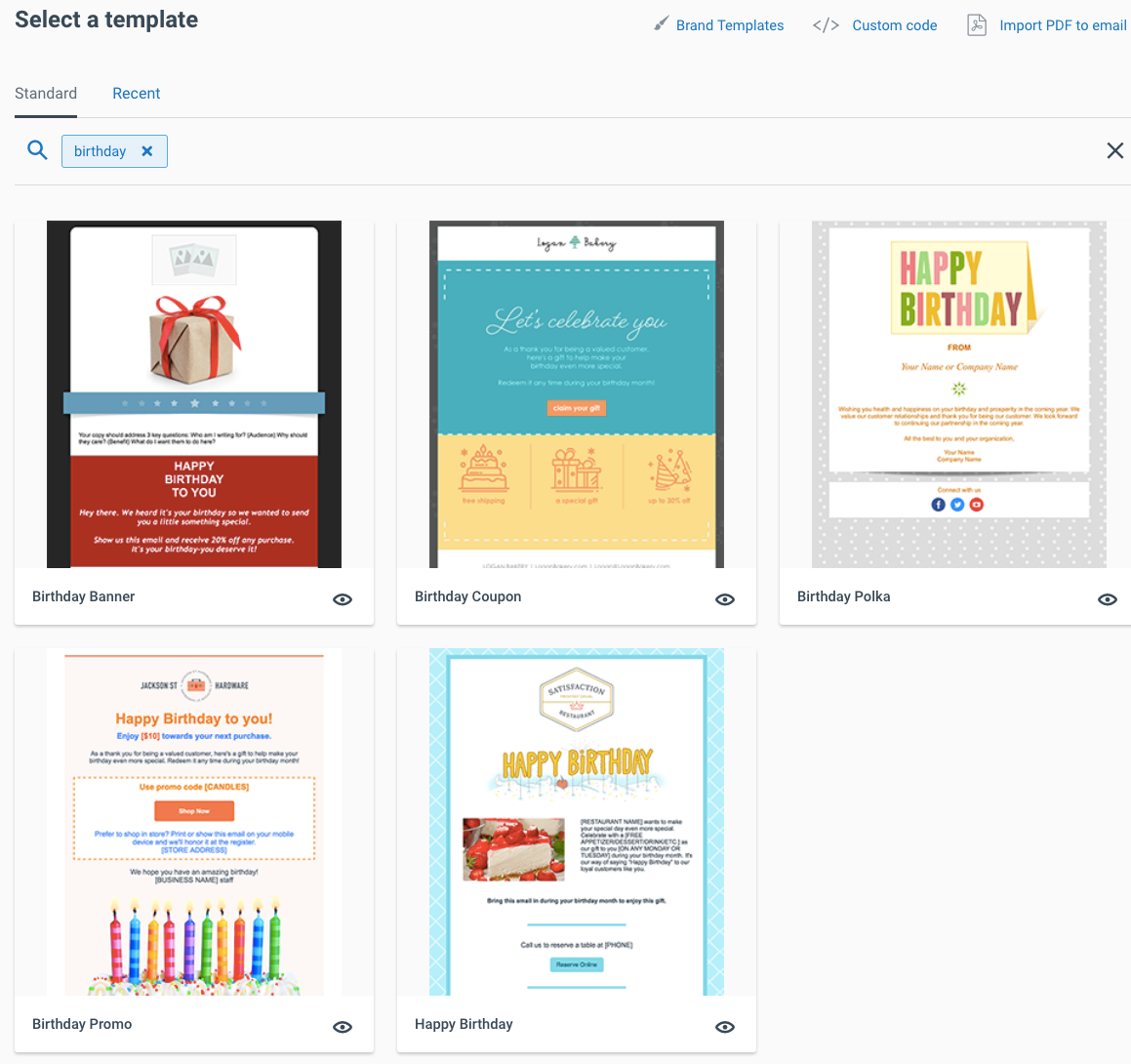 Alternatively, you can search by function—meaning, what you want the email to do. Examples of these include newsletters, announcements, event invitations, solicitation of feedback, contests, donation requests, etc.
For instance, if you wanted to use an email campaign to inform your subscribers of all milestones your nonprofit has achieved, you might search "announcements" in the template picker.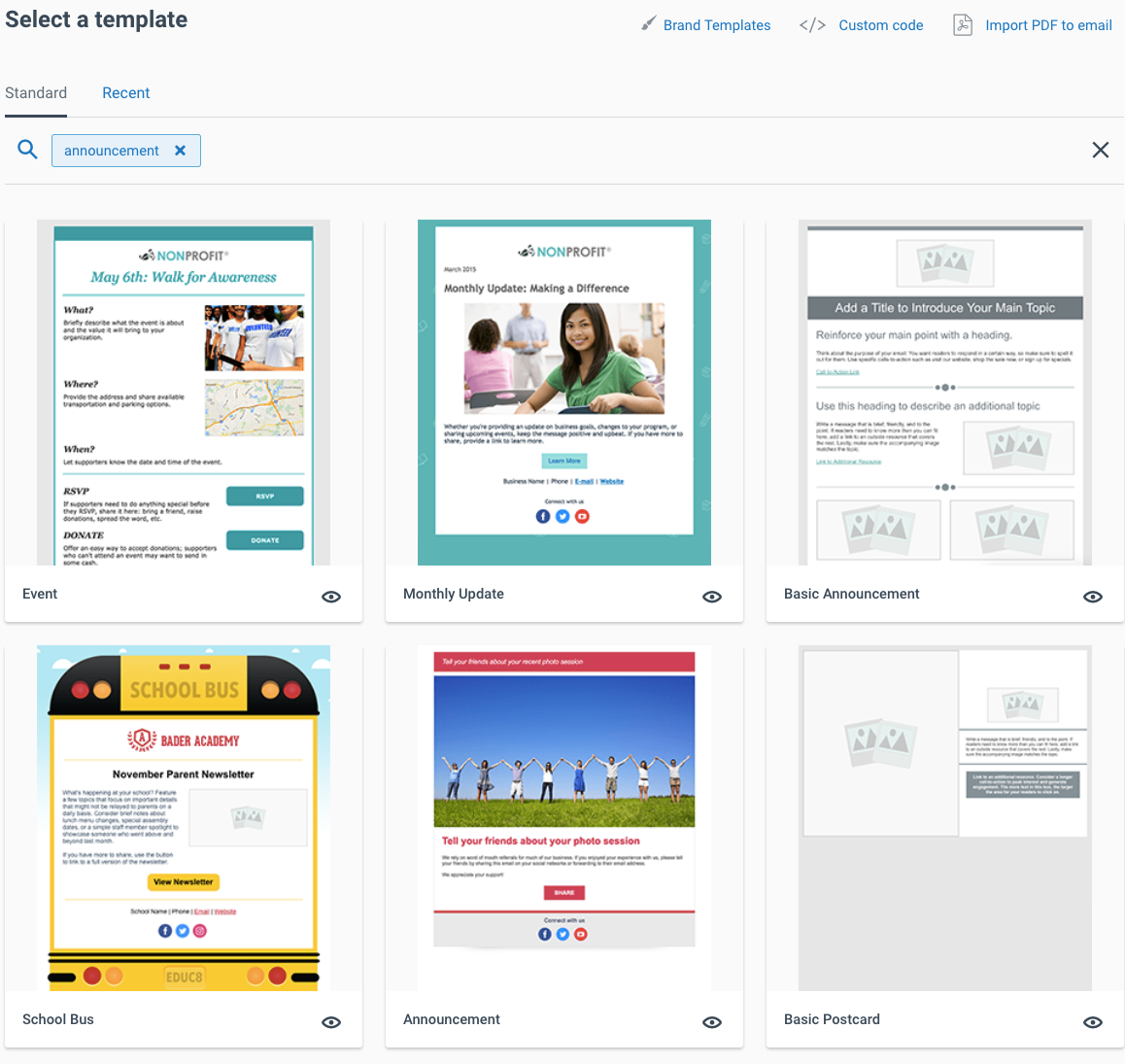 You can see that there are a variety of options from which to choose. Some include images and theming and others are more like a blank canvas from which to start. All you need to do is pick the template that most appeals to you and fulfills your needs, and start populating it. The basic framework is all set, you just need to fill in your branding and content.
How to build a professional email with a template
OK. Let's see how using templates works in practice.
Continuing with the example of an announcement email for your nonprofit, imagine you pick the "Basic Announcement" template from the template picker. It looks like this: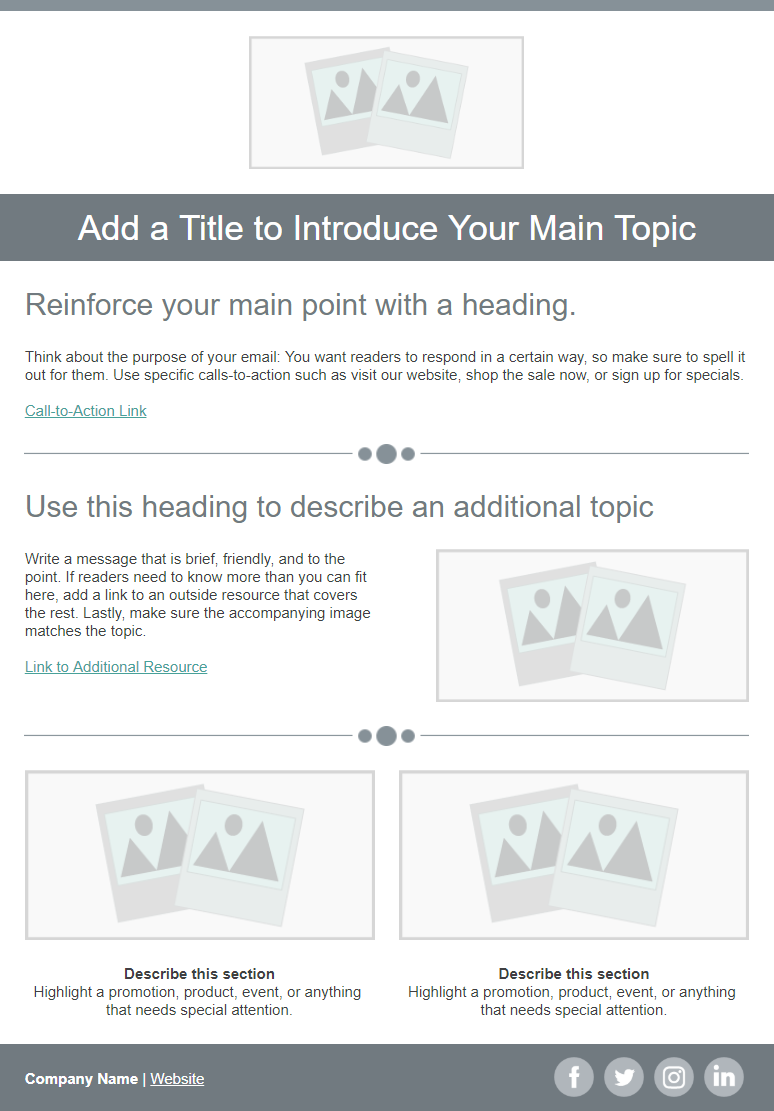 You now have a basic structure to build upon and are ready to start filling in the information within the template. The first things you need to add are your logo, your brand colors, contact information, and social channels.
Then you can move on to inserting content—your images and text. If you need to, you can add or delete text and image blocks within the template, depending on how much content you have.
See below what the announcement template looks like when it is completely filled in. It is clean and professional looking. It has a clear color scheme and brand identity as well as content that is easy to digest.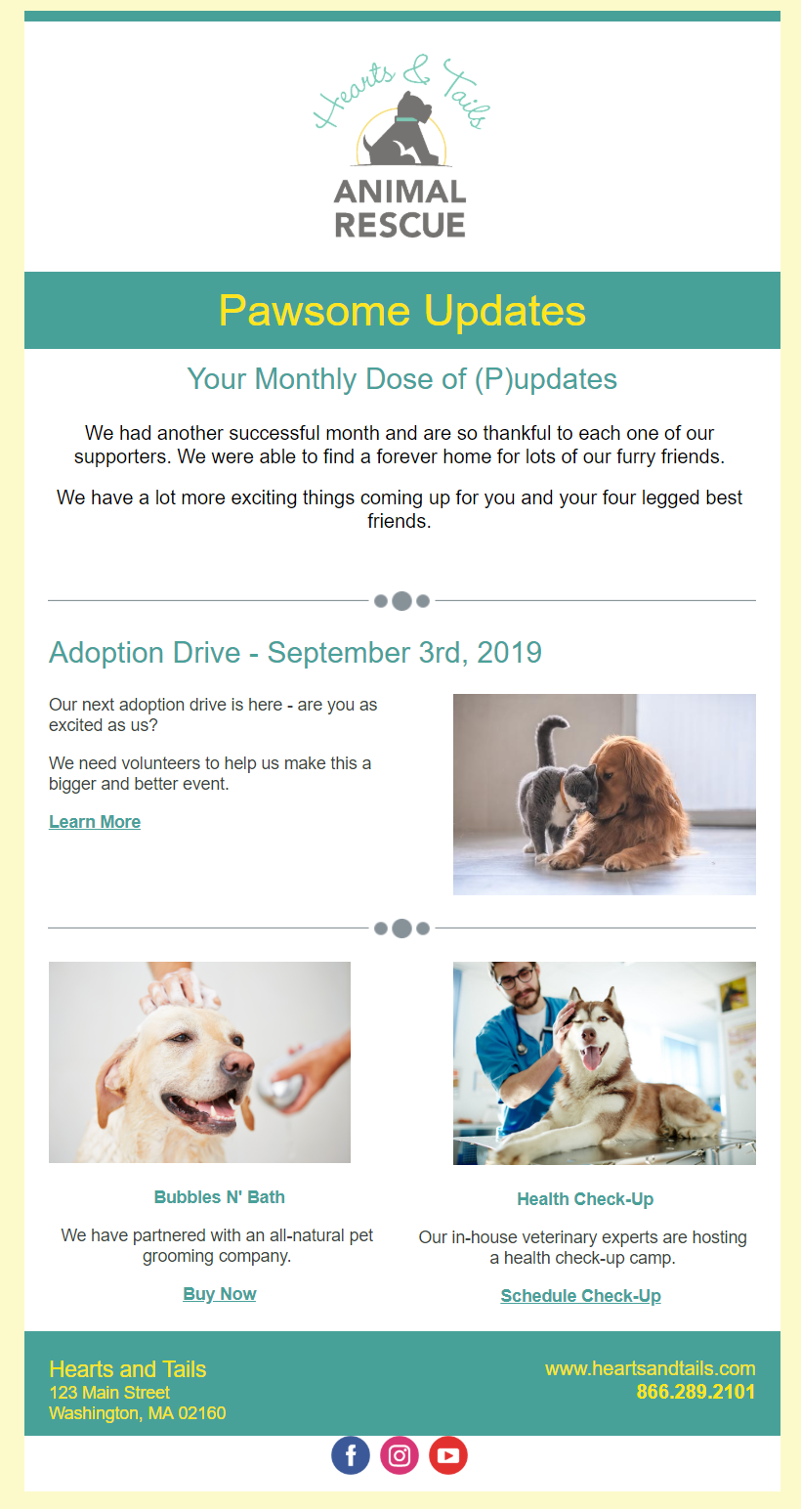 How can I make all of my emails look more professional?
Another way to make the process easier, faster and on-brand is to create a master template.
A master template is a reusable template that aligns with your brand personality. You customize a basic template once so that you don't have to start from scratch each time you want to send a campaign.
With a master template, when you are ready to send your next newsletter, all you have to do is fill in new content and relevant images. This helps you build brand familiarity and makes your email instantly recognizable to your subscribers.
Here's an example of a master template for a cycling shop:
A master template works best for regular communications like your transactional emails, newsletters, announcements, and your automated email series.
Some tips to keep in mind when creating your master template:
Pick a template that supports the theme and purpose of your email.
Put your logo right on top so your readers know who sent the email.
Choose the two or three colors that correspond with the colors of your website, social channels and brand logo.
Don't use more than two different fonts and keep the font size consistent to ensure it's easy to read.
Create space for 1-2 impactful images that will correspond to the message of your email
Always preview and send test emails to yourself, or someone in your team, to ensure it looks exactly the way you want it.
Want to create your master template even faster? Try Constant Contact's brand template builder. It's an easy way to just put your website link in, and the tool analyzes your website and creates an on-brand template for you, including the colors, logos, and images.
It's a simple one-step process to create professional email templates that build brand personality and maximize professional email communication.
Get professional with branded emails
Email templates are the easiest and quickest way to create professional emails that make an impact and drive action.

Using templates makes it easy for you to build brand identity, draw attention to all the valuable information within an email, and engage with your subscribers. Whether it's a heartfelt thank you email, an email confirming customers' transactions, a holiday greeting email, or an email announcing an upcoming event—email templates provide you a professional framework that you can build upon and get more from every email you send. Consider reading and finding out if changing your email template is the right move for your brand.

If this is your first time building professional email templates that resonate with your brand, use Constant Contact's branded template builder tool and get going.

Share with your network