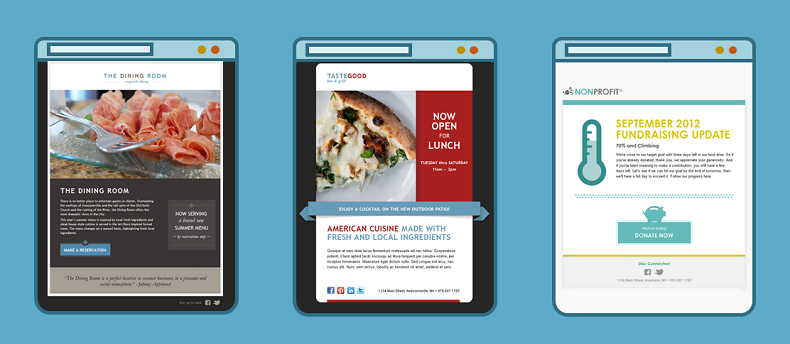 Being able to use a professional email template to communicate with your audience is one of the biggest benefits of using an online marketing tool like Constant Contact.
With an email template, you can easily insert content — including text, images, and video, customized to fit your brand — by choosing the right colors and fonts, and create a more professional look overall.
Choosing the perfect template starts with understanding what type of campaign you want to run.
A successful marketing strategy will include a mix of regularly scheduled communications, along with different campaigns that you'll send out throughout the year.
Here's a look at some of the different types of email campaigns you can try out:
Newsletter: A regularly scheduled email newsletter helps you stay top-of-mind with your audience, and keeps people informed about all the great stuff you have going on.
Announcements/Cards: Sometimes you'll just need to send a quick note to your audience letting them know about something you have coming up. Whether you're announcing a new product, reminding your audience about an upcoming deadline, or just need to get valuable information in front of customers — an announcement email can help.
Business Letter: Rather than sending general business emails — like follow ups, reminders, or transactional updates through a personal email account — you can choose a customizable template to create your business emails.
Press Release: A press release sent via email is a newsworthy update from your business or organization that has significance to a reporter and their readers, viewers, or listeners, or to other external stakeholders.
Promotional/Sales: Promote a specific product or service, or notify your audience of an upcoming sale, through email. This is a great way to get the word out about a store-wide sale, and also gives you the chance to reward email subscribers with an exclusive offer.
Events: Send email invitations or save-the-dates to an online or in-person event.
Feedback/Reviews: Email is one of the best ways to collect feedback from your audience. You can also create a campaign to encourage your most engaged readers to find you on review sites like Yelp or TripAdvisor.
Once you decide what type of campaign you want to run, you'll need to decide how to best communicate your message.
While email templates are customizable, they are also designed with certain content best-practices in mind.
For example, a newsletter template will be set up to include multiple articles, and can easily accommodate a mix of text and images.
For a promotional email, you may want to a simpler template that allows you to highlight your offer with larger text and add a visual to catch your audience's attention.
There are also messages — like business letters or press releases — that will be primarily text with a spot to add your logo and important contact details.
Plan your content ahead of time; it will help you choose the best possible template to fit your needs.
To help you choose the perfect template for your campaigns, we compiled a list of small businesses and organizations that have used email templates and have seen great results.
Here are five examples to consider:
Rescued Pets Movement: Event Announcement
Rescued Pets Movement sends a mix of newsletters, announcements, and event reminders to supporters to keep them informed and drive action for their organization.
With an email template they can add their logo and an image to engage readers, and easily add event details for their audience.
"Whether we're announcing a fundraiser or just trying to get the word out about an upcoming event, we like being able to log in and send out a professional email to our entire list."

-Laura Carlock, founder of Rescued Pets Movement
Ladimax Sports and Fitness: Announcement Email
Ladimax uses a simple email template to announce upcoming classes and send special offers to subscribers. Using an announcement template, they can easily insert their logo, choose colors that match their brand, and include links for people to connect with them outside of the inbox.
"Being able to get our message out there is important to us. It gives the members a feeling of being included. They know what's going on with the gym and know that they aren't just a number on a list."

-Nicole Sanders, owner of Ladimax Sports and Fitness
All Backyard Fun: Promotional Email
All Backyard Fun uses a variety of email templates to communicate with different groups of people. They send an email newsletter with updates for their entire list of contacts, and send targeted promotions to promote sales, events, and monthly specials.
"We are using Contact Contact as a way to touch base with new customers that we are trying to acquire. We also use it to stay in touch with our current customer database in hopes that they will be reminded to use us again for any future patio furniture needs. If we are doing a home and garden show in the local area, we'll send messages to the local customer lists. It's a way for us to target the customers and the message we are sharing at the time."

-Jolene Nielsen, owner of All Backyard Fun
Buccini/Pollin Group: Card Email
Buccini/Pollin Group uses an announcement/card template to communicate maintenance messages and keep residents informed about everything going on at their different properties.
"We've had people say that they've really noticed that there's more communication going on. It can be something small – maybe the garage doors aren't going up or down – we try to send out an email right away letting our residents know that's happening, and sometimes get an email right back saying thank you and that they appreciate it."

-Julia Mason, residential marketing manager for Buccini/Pollin Group
River Rock Climbing: Email Newsletter
For River Rock Climbing, an email newsletter is a valuable resource for building relationships with current customers and people who are new to their business. The newsletter lets them talk about events, activities, and promotions with a combination of text and images. They also send targeted campaigns to members throughout the month.
"For us, it's about growing people's awareness and making it worthwhile for them. Our goal is to have people open it because they feel it will be something valuable."

-Jared Rigby, operations manager at River Rock Climbing
Next steps…
Now that you've learned about choosing the perfect email template and how these templates can be used to promote your business, it's time to put your own marketing strategy into action.
Keep in mind that choosing the perfect template is only part of the process.
If you're using an email to promote an upcoming event, you can also create an event homepage and collect registrations online.
If you're promoting a special offer, you may want to create a landing page where people can redeem your offer and share it with their friends online.
Or if you're looking to get feedback to improve your marketing and your business, you may want to create an online survey so that people can share their ideas.
These tools offer a better experience for your readers, and will help you get more from your marketing efforts.
Ready to get started?