"We're finding Facebook to be less and less of interest to us because of the way they changed their algorithms for how our posts work…we found out that without paying for their marketing program, it doesn't work for us."
Like many small business owners, Chris Iousa is wondering if it's time to call it quits on Facebook.
Chris has put in the work to grow his Facebook following to over a thousand fans. He regularly posts updates about brunch specials, new craft beers, and open mic nights at his café.
But recently, his posts have been reaching fewer fans than ever before.
Is Facebook still worth his time?
Despite the decrease in organic reach, Facebook is one of the best ways to make a great first impression on potential customers.
When someone searches for Chris's café online, his Facebook Page serves as a visible online community, fully equipped with photos, business information, and a look at how the café communicates with its customer base.
But what about reaching existing customers?
When sites like Facebook make changes that limit your ability to reach your audience, you want to make sure you have another way to reach them directly.
That's why it's important to move your relationships and build your email list on social media.
Email marketing gives you the power to reach your contacts on your own terms. You can send a message to your contacts directly and track your results to see which contacts are engaging with your email content.
So, how do you get people to take the next step and join your email list?
Here are eight simple strategies to try out:
1. Make it the theme of your cover photo
Your cover photo is right at the top of your page and will often be the first thing people see. You can use this space to create an image that calls out your email newsletter.
Start with one of these ideas for your cover photo, and then add some text to let fans know they can stay in touch through email, as well.
2. Use the Facebook Call to Action Button
Facebook's call to action button appears above the "Like" and "message" buttons under your cover photo and is another great way to encourage email sign-ups.
Just click on Facebook's "Add a Button" call to action button and choose the "Sign Up" option. Then add the link to your lead generation landing page so your Facebook visitors can join your mailing list easily.
Here's how Constant Contact uses the call to action button to encourage people to sign up for a free 60-day trial:
If you're a Constant Contact customer, check out these tutorials for creating a lead generation landing page, and how to add a lead generation page to a Facebook Business page to get step-by-step instructions.
3. Run a contest
Give Facebook fans an incentive to share their email address by running a contest on Facebook.
Start by choosing a product, service, or opportunity you can give away — this could be anything from a coupon, gift basket, or free ticket to an upcoming event.
Then, make it easy for your fans to enter. You can simply collect names and email addresses to choose a winner at random or ask your fans to provide an entry relevant to your business.
For example, a pet shop could run a photo contest and ask for photo entries for the "cutest pup." You can even ask your audience to help you choose a winner by posting the photos and asking fans to cast their vote.
Here's a look at one of the many Facebook contests that Door County Coffee & Tea runs on a regular basis: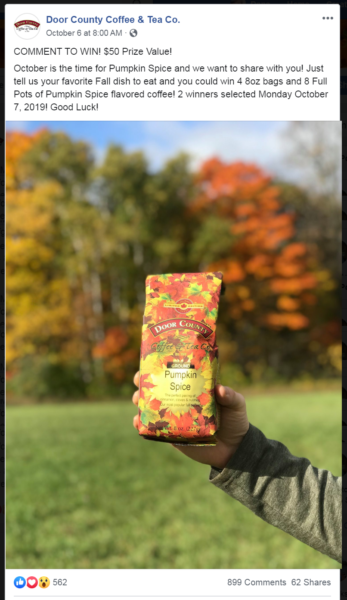 4. Offer exclusive content
If your business doesn't have a product to give away, think about what exclusive content you can offer instead.
Anything from a downloadable guide on cloud computing to a link to a top-secret recipe could be just the incentive your audience needs to give you their contact information.
5. Host an event
Whether you hold an event at your business or host an online webinar, an event is a great way to connect with your audience.
Make sure you're collecting email addresses during the registration process.
Here's how the Concord Cheese Shop promotes a month-long event through their Facebook Page.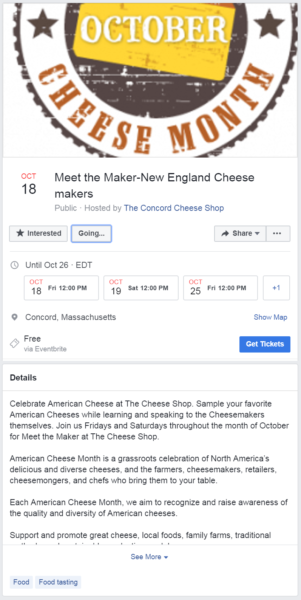 6. Share your newsletters
What better way to persuade your Facebook fans to sign up for your list than to show them what your mailings actually look like?
With Constant Contact's Social Share, you can share your email newsletters on your social media channels, including Facebook, Twitter, and LinkedIn. Be sure to customize the caption and provide a link to your sign-up page to encourage your fans to subscribe to receive all your future messages.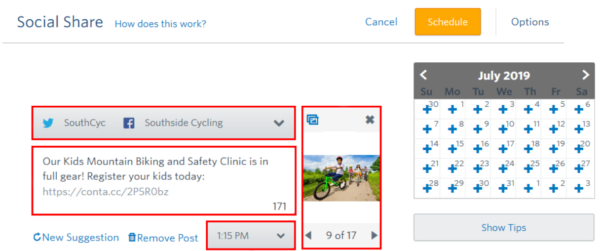 7. Promote SMS Text-to-Join
A large portion of your Facebook's user base will be accessing your page through a mobile device. While they're on their smartphones already, let them know how they can join your list by sending a quick text.
8. Run a Facebook ad
You don't have to pay to promote everything you share on Facebook, but if you're selective and promote posts that will drive action for your business you can see some great results.
Try promoting an email and including an easy way for fans to sign up — make sure you're taking advantage of the Facebook Ad targeting features so you know you're reaching the right audience.
Stop spinning your wheels on Facebook
If you're wondering how Facebook can have a bigger impact on your business, make sure you're giving your fans additional ways to connect with you through email marketing.

Pick two of these tips and try them out for your business today!

If you're already a Constant Contact customer, you can access our email sign-up tools within the Contacts section of your Constant Contact account.

Share with your network