When budgets are tight, online marketing might be the first expense you look to cut.
Let me stop you right there.
While traditional advertising methods are costly and hard to measure, there has never been greater access to cost-effective, trackable marketing tools for how to market your small business, like email marketing, for example. The best way to market your business might be a lot more accessible than you think.
While traditional advertising methods are costly and hard to measure, there has never been greater access to cost-effective, trackable marketing tools for how to market your small business, like email marketing, for example. The best way to market your business might be a lot more accessible than you think.
How can I advertise my business for free?
To get your business off the ground check out these free marketing tools and channels for advice on how to market your small business.
Social media marketing
Social media marketing is 100% free for advertising small business. Social media is also a great way to help your business compete and hopefully stand out amongst similar businesses. Create business accounts on social media channels like Facebook, Instagram, Linkedin, Twitter, etc. to foster brand engagement and loyalty through likes, comments, shares, website visits, and purchases. Showcase products and services, keep loyalists engaged, and to give followers a heads up about upcoming events, recaps of previous ones, and access to contests, freebies, valuable content.
If your budget allows, consider investing in a social media tools to help you craft and schedule content. Social scheduling software allows you to schedule content across social media platforms in advance, giving you back time and high-level visibility into your social media campaigns.
Email marketing and social media marketing stand to provide major benefits for your business. Is email better than social media? Is it the reverse? Try out both tactics and see what works for your business.
High-quality content
While you'll have to shell out a little bit of money upfront to purchase a domain and build a website, one of the most important marketing strategies your business can invest in is providing your audience with valuable content. Besides social media marketing and email marketing, a business' website should be treated as the centerpoint of how to market a small business online.
Showcase what your company has to offer by crafting website pages for products and services.
Blogs and gated content like ebooks and white papers allow you:
Build awareness for brand
Grow organic traffic
Show your industry expertise
Make sure to include calls to action throughout your website to encourage visitors to subscribe to your mailing list, to check out a blog, and to purchase products and services. Calls to action can be short pieces of directive text like "Learn more," "Subscribe," and "Purchase now" placed on buttons, banners, or hyperlinks. Check out this blog on How to Write Content for a Website to help you craft value-driven, engaging content to promote your business.
Online directories and review platforms
It is important to make sure people have the ability to easily find information about your business and see how your business compares to businesses in your niche and local area through customer reviews. Add your business to online lists like Yelp, TripAdvisor, Yellowpages, and Angi to group your business among competitor businesses and similar businesses in your area.
Create a Google Business Profile so people can see a quick overview of important information like address, operating hours, images, reviews, menu, identification badges like "LGBTQIA+ owned business", "woman-owned business", and "veteran-owned business". Your Google profile will also allow you to collect reviews for your business. Make sure to respond to reviews, especially negative ones, to build transparency and credibility for you business. You can learn more ways to harness reviews by reading our blog on How to Grow Positive Reviews on Google.
Craft an elevator pitch
You should be marketing all the time — wherever you are. Therefore, you need a compelling elevator pitch.
Research shows the average attention span of an adult is about six to eight seconds. That's all the time you have to grab someone's attention.
If you successfully engage them, then you only have a little over a minute to really sell them on your product or service. Invest the time to craft a killer elevator pitch. The return on your investment will pay huge dividends in terms of creating business opportunities.
Leverage your community
You don't have to think big when it comes to your marketing efforts. Think locally. What's going on in your community?
Sponsor a Little League team or a 5k charity walk/run. Print bookmarks and leave them at the local library. Get to know your ideal customer and think about how and where they spend their time.
Then search for opportunities to get in front of your customer with your marketing message.
Collaborate
Put together a group of synergistic, non-competitive businesses in your area and agree to cross-promote.
You can use coupons, fliers, reciprocal website links, bundled promotions or social media platforms. By collaborating with each other, you can expand your customer base because you'll be reaching new people.
Network
I'm a huge fan of networking. I don't think there is any better way to build a business than to get out there, shake some hands, and get to know people.
Networking requires a time commitment and it doesn't provide instant gratification, but a strong network is one of the greatest assets any business person can have.
Give a speech
A lot of people hate public speaking. However, there are many organizations looking for qualified, subject-matter experts who can present to their groups.
Take a deep breath and volunteer. You don't have to be a pro as long as the information you share is helpful to the audience. And the upside — the more you do it the easier it gets. Plus, it positions you as a credible authority in your field.
Create buzz
I started my corporate career in the field of public relations and the business has changed significantly because of technology.
Today, a small business owner can accomplish a lot without hiring a professional firm. Subscribe to Help a Reporter Out. You can respond to reporters' queries that are looking for story ideas and resources. Some are small media opportunities, but others are major media outlets that use this service too.
Ask for referrals
Don't be shy about asking for customer referrals. The majority of people say they are willing to provide a referral if asked, but very few take the initiative to do it on their own.
Referrals make it easier to get in the door with new customers. If you aren't asking for them, you are missing opportunities.
Relatively inexpensive ways to advertise your business
If you have room in your budget to your boost your marketing efforts through paid means, try these tactics and channels.
Paid advertising
While your business might not have a big enough marketing budget to use paid advertising regularly, it is worth it to allot a small portion of your budget to test out paid advertising through social media and search engines. Paid advertising allows you to target and segment your audience based on behaviors, interests, demographics, etc. ensuring that your content is seen by the right people.
Google ads (Formerly Google Adwords): Google ads uses a pay-per-click model which means you only pay for the amount of clicks your ad receives. The cost of your ad will vary depending on the popularity/competitiveness of your keyword. Bidding on a keyword will help place your URL at the top of the search engine results page (SERPs).
Ads manager (Facebook ads and Instagram ads): Similar to Google, Facebook and Instagram use a pay-per-click model for advertising. Create image, video, and carousel ads on Facebook and Instagram to reach your target audience. Use Facebook lead gen ads to generate interest for a particular product or service and to lead users to sign-up for your business' email list to learn more.
Email marketing campaigns
Email marketing is a cost-efficient and highly beneficial marketing channel to help you advertise your business. In fact, "Email is considered one of the most effective channels for marketing, with 79 percent of marketers placing it in their top 3." (Constant Contact) Begin by collecting email marketing contacts by placing a sign-up form on your website, social media, and through in-store forms (if applicable). Having a healthy list of consenting email subscribers lets you have greater control over your audience, making sure you are not limited by a third party platform – like social media – in order to reach subscribers and to communicate effectively.
Once you have a general list of subscribers, you can segment your lists to better target your audience based on their interactions with your business and information they have provided you in the their email sign-up form. Craft informative, stylized, and personalized marketing emails to send to your subscribers.
Create a welcome email series to introduce your business, products, and services to potential customers. Craft automated email triggers to send warm wishes to subscribers on their birthday or to remind shoppers of their abandoned carts. Send a regular newsletter to keep your audience informed. Not sure what to send? Here's a list of 30 email marketing ideas.
Consider investing in a top-tier email service provider (ESP), like Constant Contact, to give you greater control and visibility into the effectiveness of your email marketing efforts. View important reporting metrics like open and click-through rates, conversions, attrition rates, heat maps, and bounce rates to give you insight into campaign performance and to make data-driven improvements. In terms of return on investment (ROI), email marketing has an average return of $36 for every $1 spent. That's major.
Join business associations or apply for business awards
Increase credibility and name recognition for your business by joining local or national business associations and applying for local, national, and international business awards.
Joining a business association in your community or on a national/international scale can help you build positive relationships with business owners and the potential for partnerships and collaborations. Business associations can also provide your business with valuable resources and learning opportunities like workshops, lectures, and networking events. Business associations also have a hand in shaping policy, adding your voice to the conversation will help your business interests.
Business awards and recognition will help you stand out from your competition as a source of expertise and excellence in your field.
Offer coupons
Coupons are a good way for many businesses to attract new customers. Research shows that people will go out of their way to use a coupon, proving that this method is successful in expanding your customer base.
Coupons can also generate return visits. For example, if you give a customer a coupon for a discount to use on future business, there's a high probability they'll be back.
Give it away
If someone has the opportunity to experience your product or service, chances are they will want to purchase more.
Don't be afraid to give someone a free trial or a sample. In today's economy, people are more comfortable purchasing something they have been able to experience first.
These inexpensive marketing strategies will help you engage customers, build relationships, and ultimately keep your brand top-of-mind. It's not always about the money you have to spend on marketing, it's about the time and effort you put into it and above all, the relevance it has for your customers.
Looking for more ways to market your business?
Sign up for Hints & Tips, Constant Contact's bimonthly newsletter with practical, actionable small business marketing tips to help you build your brand, promote your business, and gain new customers.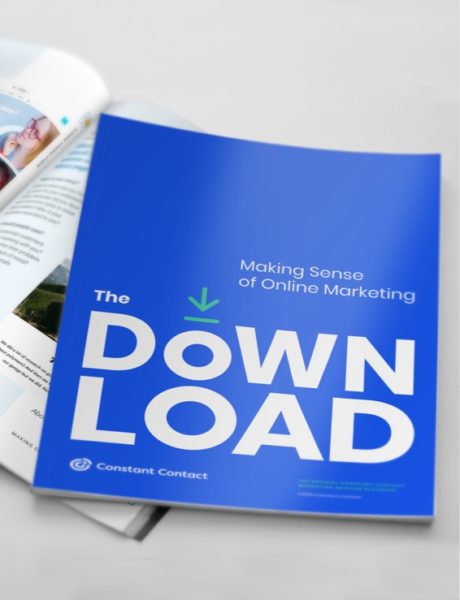 Not sure where to start with marketing? That's why we created The Download.

The Download is the ultimate practical, step-by-step guide to online marketing. In this free guide, we'll show you how people find you online and how to set yourself up for success to meet your business or nonprofit goals.

Share with your network