A smile spread over my face as I hung up the phone. I had just landed a meeting with a well-known franchisor for our tech startup after chasing them for weeks, and I felt like I was on top of the world. At that very moment, the vice president of sales strode over, slammed his hands on my desk, and said, "You haven't closed them yet, my friend. Now you have to nurture your prospect." Like that, my euphoria dissipated, as I realized I'd only just begun the sales process.
Getting a customer's attention is never easy, but now comes the hardest part — closing the deal.
Not every sale is a simple conversion. In fact, a typical customer journey can consist of five to 20 touch points, and 80% of new leads never lead to a sale. Needless to say, sales is an uphill battle.
So how do you keep a potential customer interested when they have so much time to lose interest in your product?
The answer is learning how to nurture leads.
What is a nurtured lead?
Think of nurturing leads like planting a new batch of cherry tomatoes. You would first prepare the soil and add fertilizer rich with nutrients (your content), then carefully sprinkle a handful of seeds in each spot where you want your veggies to grow (sales messaging). You might also pay careful attention to pests (competitors) and add in a trellis or vertical support (your expertise) while watering periodically (direct outreach) with the goal that one day, your crops will be ripe enough to pick and enjoy.
When someone expresses interest in your company, you never want to leave them hanging because their interest may wither away like a dried-out vine. Turning that lead into a nurtured lead means taking actions to make sure you are in contact with them from when they reach out to when they finally make that purchase — no matter how long it takes.
Why do you need to nurture your business's leads?
Research shows that lead nurturing can lead up to 50% more sales-ready leads at a 33% lower cost. In essence, the more effort you put in, the easier it will be to close new customers.
In our tomato garden of sales, think about how juicy and ripe those cherry tomatoes would be if we continued watering, pruning, and weeding around the plants. Conversely, if we watered every now and then and allowed weeds and other vines to overtake the garden, our tomato plants would probably yield nothing but inedible green pellets. Which would you want to eat in your salad?
But this question warrants more than just a garden metaphor, so I asked some fellow business owners for their thoughts on nurturing leads.
Chris LoPilato – Onics Energy Solutions
Because we provide a very technical solution with our OES-11 neutral harmonic filter, nurturing leads is the single most important aspect of our sales process. Once we've captured the attention of our leads, we nurture them with targeted content ranging from educational materials, industry papers, client case studies, and testimonials. Since each lead is different, our team segments the leads and personalizes the content we share.
Robert Natale – North Square Capital
For me, nurturing is a top priority in the real estate investing space because it allows me to qualify investors and make sure they're a good fit for our multifamily syndication model. I nurture leads via social media and email with the end goal of having them join our Investors Club. When a lead joins the Investors Club, I segment them based on their answers from the intake form and begin sending personalized (and relevant) content to them.
Jamie Cosgrove – Mi Vida Cafe
We're a local coffee shop in Manchester, NH, and we value our loyal customers. Much of our business is driven by word of mouth in the community and our digital marketing efforts. We encourage our customers to join the mailing list, so we can continue to entice them with emails spotlighting new flavors and tasty offerings that will bring them back into the cafe again and again.
So no matter what the industry — from next-level energy savings technology to real estate investing to a simple cup of coffee — successful business owners place an emphasis on nurturing leads.
What are the best ways to nurture your leads?
There are plenty of ways to nurture your leads, but what works for one business may not bear fruit in your own garden of sales leads.
Looking at the responses from above, each business has different types of customers or clients. Mi Vida Cafe is a fixture in the community and can sell to anyone who wants to re-energize with coffee or tea, so it makes sense that they develop an online community through their newsletter. On the other hand, Onics Energy Solutions is working with technical folks who probably wouldn't want to join an "Energy Savings Club" but may be open to direct email nurturing.
That's why it's important to define your audience and segment them appropriately.
Defining your audience
To nurture a lead, you need to understand who they are, what they want, and how you can help them. I'm a big fan of creating buyer personas because they help you define your lead by answering simple questions about their demographics, geographics, and psychographics. As you answer more questions, you'll better understand your customers. As your business evolves, your buyer persona will evolve, and you may even find yourself needing multiple buyer personas to cover all bases.
As you define your buyer personas, you'll find that you have a "group" of customers who share common characteristics, which is the foundation of customer segmentation.
What is customer segmentation?
Segmentation takes your big pool of potential customers and breaks it down into more specific chunks. Once you break down your potential customers, you can present specific messaging to them that will move them through the sales process. The more effort you put into segmenting your leads, the more effective and efficient your sales process will be.
For instance, when someone joins North Square Capital's Investor Club, the intake form asks them which investor segment they belong to:
Accredited Investor
Sophisticated Investor
I Don't Know
Accredited investors most likely have experience in investing, so they won't need as much hand-holding by the North Square Capital team. Sophisticated investors may have dabbled in the stock market or real estate, but they will probably need more nurturing to become active investors. Those who click "I Don't Know" have to be nurtured from the start, so they understand how it all works and how they can begin investing.
At Mi Vida Cafe, a customer can segment themself by simply choosing a beverage. Potential segments could be:
Coffee vs. tea
Iced vs. hot beverages
Flavored vs. unflavored
How do I nurture lead segments?
Once you have your segments defined, you're ready to nurture your leads. Although there are many ways to nurture leads, like reaching out on LinkedIn or creating targeted ad campaigns, today we'll focus on lead nurturing with email marketing.
Specifically, email automation is one of the most time-efficient lead nurturing techniques because it keeps your business top of mind with the potential customer.
Automating your lead management is a smart way to keep your leads warm and improve your bottom line while not costing you invaluable time and resources. The proof is in the pudding here: companies that automate lead management see a 10 percent or greater increase in revenue in only 6-9 months. [Source: Gartner Research]
Start off by welcoming your new lead with an automated welcome-email series. Crafting the perfect welcome message is key to starting this new relationship on the right foot.
From there, set up that new lead on a series of automated messages to supply them with the information they need to maintain the relationship in the weeks and months, maybe even years, ahead.
Learn how to craft an effective welcome message in my article, 'How to Write a Winning Welcome Email.'
What is an automated email series?
I always like to describe the automated email series as the Ron Popeil "Set It and Forget It" of email marketing. Of course, you don't really "forget it," but using an automated email series creates one less daily task for you as a small business marketer.
An automated series of email marketing campaigns are sent to your subscribers in the order and frequency that you decide.
The time savings you'll experience when implementing an automated email series are substantial, especially if you follow our advice to grow your email list.
To help you visualize, here's a sample schedule for an automated email series. It's important to note that the order and timing of these email campaigns can and should be changed depending on how your audience receives and reacts to your messaging:
Welcome Email (within 24 hours) – A winning welcome email greets your leads and makes them feel as if they are a part of something bigger, like a family or a team. My blog post on writing a winning welcome email provides all the tips and tricks you need to make a lasting first impression.
About Your Organization (Day 3) – Give your new lead a look behind the scenes of your organization. Are there certain people you want to highlight (like the sales team or the office admin who greets them when they call?) Does your organization have a great story that helps to convince these leads to do business with you? This is your time to show your cards and add some personality.
Features and Benefits (Day 10) – Now your lead needs to know what's in it for them. How will doing business with your organization add value to their life or job? This is where you include certain things you think they need to know about your product or service and paint a picture of why they should buy.
Client Testimonials and Press (Day 17) – Perception is key here! After greeting the lead and promoting the benefits of your product or service, you need to establish credibility. Incorporate some text or video testimonials into this email to demonstrate how other consumers, like them, have experienced your business. If you have some good press from a local news source, then include a snippet of the article with a link to the news site.
Ask For The Sale (Day 24) – Now that you've laid some groundwork in nurturing your lead, it's time to ask for the sale. In this email, you can offer a promotion or discount, or you can simply say, "Can we set up a meeting?" This is your chance to be direct and have a sole call to action: get them on the phone or in the office to close the sale.
Of course, there's no surefire way to build an automated email campaign, but at least this provides you with a basic idea of how email automation works to build your business. In the end, all the effort you put into your email automation development will undoubtedly pay out in spades.
Turn your prospects into paying customers.
Not every prospect is going to buy from you on Day 1, but that doesn't mean you should overlook the importance of developing relationships and inching them closer to a sale.
For instance, at BJC Digital Marketing, our team develops and shares free marketing content every month that can be used by any business in their social media, blog, or email marketing campaigns. Although it may seem counterintuitive for a marketing agency to give away our services, we see it as a way to develop a relationship with small business owners and be a marketing resource for them when they have a need.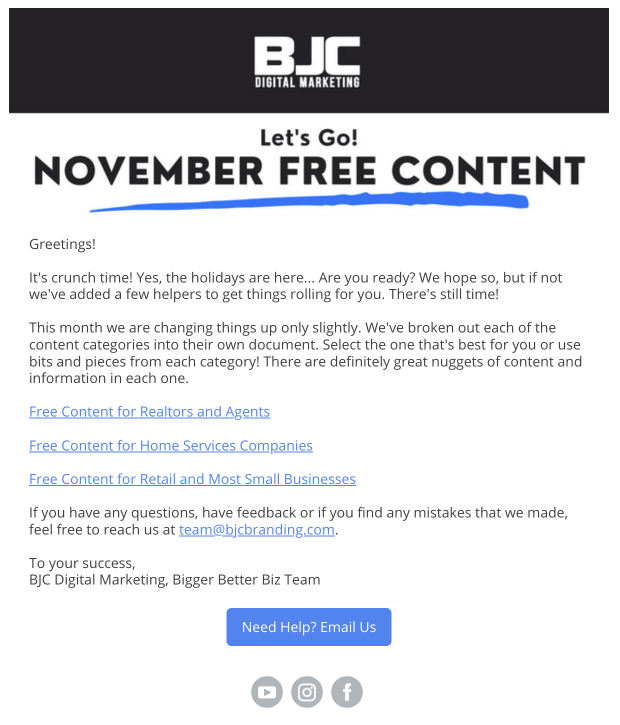 But how did we even come up with the idea to "give away the farm?" Simple: We asked! Start by asking your best customers why they decided to buy from you, and let this guide the messages you create for your automated email series.
Be sure to monitor your lead nurturing strategy
I mentioned the "set it and forget it" approach to email automation, but I want to be clear that you should always be monitoring and measuring your lead nurturing initiatives because an email campaign that worked last year may not be relevant (or even appropriate) this year. Smart marketers will always pay attention to email marketing reports and make adjustments when necessary.

Above all, have patience and know that new sales come to those who nurture.

Share with your network