Do you want to connect with clients more effectively? You can when a real estate newsletter is part of your online marketing strategy. Email newsletters offer a unique platform for connecting with potential leads, as well as current and former clients.
A robust email marketing strategy is an integral component of the five-part marketing toolkit we detail in our free guide to real estate marketing, The Download. Whether you're working to build up your client list or looking for ways to connect with your existing clients, email is invaluable.
This post will show you how to create a compelling real estate newsletter as part of a real estate marketing plan that will help you nurture leads, make more sales, and create repeat clients. We'll also show you how Constant Contact's real-estate specific email templates can make it fast and easy to create and send a newsletter your recipients will look forward to reading.
We make it easy for you to have a growing and connected client base with all the marketing tools you need, synced to the tools you're already using.
What to include in a real estate email newsletter
Your real estate newsletter should include five basic elements:
An eye-catching real estate subject line
An uncluttered, visually-appealing appearance
Contact information and relevant links
Let's take a look at how each of these components contributes to high-quality, impactful email newsletters.
Strong, compelling content
You're probably already crafting content for your website, blog, and social media posts as part of your marketing strategy. Newsletter content is similar but distinct in a few important ways. Here some tips on how you can enhance your marketing message in a newsletter format.
Create skimmable section headers
Ideally, your email newsletter should have the appearance and feel of a printed newsletter. Think about how you might look through a newsletter your local parks department sends out.
Chances are, you skim through the pages, scanning the section headers for an article or blurb that interests you. You're likely to stop if you notice a colorful graph or a striking photo, but you probably won't read every word.
Go beyond your sales strategy
While your email newsletter can help you generate leads and make sales, take care to avoid turning it into a lengthy advertisement. The idea here is to create content that provides value to your clients while helping you relate to future clients in a more personalized way.
Consider adjacent content
Besides sharing interesting tidbits from your local community and highlighting a few listings, consider sharing content that isn't focused on you or your business. If you're a commercial agent with a niche in office space, for example, you could summarize news about trends affecting office space design.
An eye-catching subject line
There's a fine art to creating a subject line that compels people to open your email. If you're like many people, you may get stuck trying to figure out the perfect wording. Not to worry — with a little practice, you'll soon be crafting enticing subject lines.
Here are a few best practices to bear in mind when writing subject lines:
Keep it short and scannable (four to seven words)
Aim for unique but relatable subject lines
Be clear what someone will get if they open your email
Did you know that including a deadline in the subject line can help increase clickthroughs? Our blog post, 12 Tips to Create a Good Email Subject Line, explains why this and other strategies work so well.
An uncluttered, visually-appealing appearance
Again, your email newsletter should resemble a printed newsletter. The overall appearance should make it easy to navigate, and it should make logical sense. It should also be concise. Don't fall into the temptation to cram a large amount of content into each newsletter installment. People read diefferently online so avoid creating large block of text that look intimidating to read.
It's also important to be consistent. Stick with the same template for each newsletter, with an occasional seasonal enhancement. You want your newsletter to seem like a natural extension of your real estate brand, so take care to use the same logo, color palette, and language here as you do on your website and across your social media.
One of the easiest ways to make sure you're staying consistent and creating a visually-appealing newsletter is to use real estate email templates. We'll explain more about the benefits of using a template for your newsletter later in this post.
Contact information and relevant links
It may seem obvious that your newsletter needs to include accurate contact information and links to your website and social networking profiles.
When you link to your social media accounts, you can embed an interesting post or simply share your handle or a linked icon. Be sure to regularly post quality content so your email newsletter readers will see you as an active, dedicated agent.
A call-to-action
Don't forget to close your newsletter with a call to action (CTA). Think about your goals for sending the real estate marketing email. Are you hoping to generate some referrals? Gear your CTA toward a single goal. If you include too many CTAs in your newsletter, readers may feel annoyed by what seems like a heavy-handed sales approach.
Keep things simple. You could try something like: "Have you heard about our client referral program? When you refer us to a new client who closes on a property within six months, we'll give you a cash reward! Learn more here."
Using a real estate newsletter template
As promised, let's dive into the value of using email templates to create your newsletter. Constant Contact offers a variety of real estate-specific templates that make the process fast and simple.
Using a Constant Contact real estate newsletter template is easy.
Choose a design.
Customize with a drag, drop, and click interface — choose colors and fonts to match your brand's look and feel.
Plug in your content.
Add stock images or your own photos.
Send!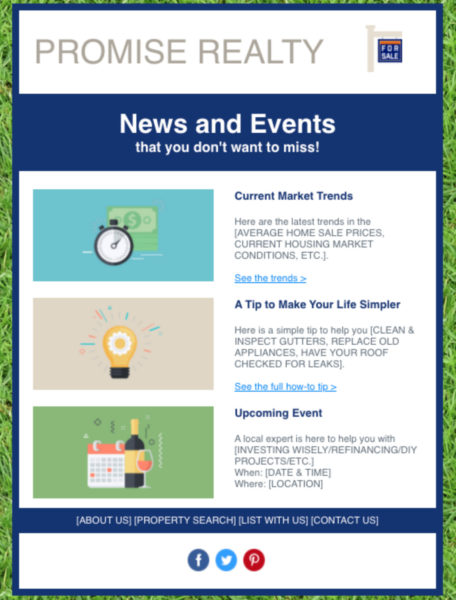 Constant Contact email templates are mobile-responsive, so you know you won't miss out on getting your message in front of today's buyers, who are more likely than ever to read your content on a smartphone.
After you send your newsletter to your client list, you'll be able to track how many people open it, which links they clicked, and which emails bounced back. This valuable information will help you decide how to focus your next marketing message.
When to send your real estate newsletter
Ultimately, it's up to you. The main goal here is consistency. Instead of sending one-off emails from time to time, create a schedule and stick to it. Typical schedules are weekly, bi-weekly, or monthly, but you could also consider seasonal newsletters or another schedule that fits your niche.
Ready to send your first real estate newsletter?
Sign up for a free Constant Contact account for access to our real estate-focused email templates. We'll show you how easy it is to create a newsletter that will inspire client loyalty, attract new clients, and grow your reputation as an engaged community business leader.

Share with your network