So, you've got an event and you want to send out email invitations, but you don't know where to start or what to say.
No worries. I've got plenty of ideas to help you out.
In this article, I'm going to share some of my favorite email invitation templates, explain why I like them, and give you some helpful advice as to what to include in them.
From a New Year's bash to a Friends-mas celebration (and even wedding invitations), we're going to explore a full year of email invitation templates together!
And by the time we're finished, you'll be able to confidently create, and edit, your own email invitation templates.
But before we get to all of that, let's start with the basics:
What should an email invitation include?
Every invitation, no matter the event, has to include certain information — who, what, where, when, how:
Who is hosting the event
What the event is
Where the event is at
When the event is happening
How the invitee is to respond
In addition to those basics, a good invitation also describes the event in a manner that entices its invitees to become attendees — through imagery and text; what we refer to as "content."
One of the main advantages of sending out party invitations via email is that your invitees can respond immediately, directly from the email invitation, via a link that you insert into your email invitation template.
If you're thinking about sending out an announcement instead of an invitation, take a look at our 1-2-3 Guide to Announcement Emails.
What are event invitation templates?
Event invitation templates are basically just another kind of email template. Most often, email providers like Constant Contact have a whole slew of invitation email templates to choose from. While I'll be sharing some of those templates in this article, what I'm sharing is just the tip of the iceberg, so-to-speak.
Besides having pre-made event templates to choose from, you can also create an invitation from a regular email template, or build your own from scratch, or have one made for you. Don't worry, I promise that I'll let you how, before we're done.
Don't have a Constant Contact account? Give our email templates a try with a free 60-day trial.
Now that we've got some basic information out of the way, let's take a look at some great invitation email templates.
Examples of invitation email templates
January – Happy New Year!
New Year's Eve is when we say goodbye to our past and look towards our future. We think about making resolutions (which we rarely keep), but most importantly we gather with friends and family whom we wish to spend the coming year with.
The passing of one year to the next can be heavily laden with sentiment (and subtext), but your invitation should be filled with anticipation, excitement, and exultation — just like your party.
And that's the key to an invitation:
An invitation should be a preview of the event it heralds. (Tweet this)
This template is my favorite for a New Year's soiree.
Now, before you start questioning my sanity, let me explain why.
The basis of this email template is classic. The image at the top has lovely, looping (yet crystal clear) writing. The exterior border has an eye-catching gold-shimmer, zig-zag pattern, which invokes both elegance and fun. And the layout (the configuration of building blocks that make up the email) of the template conforms to best practices — with one picture, less than 20 lines of text, and a company logo prominently displayed (without overshadowing the focus of the content).
What? This isn't an invitation?
With a little imagination, it is.
With a few color changes, some different text (what writer's call "copy") and a call to action, this email template is now an invitation to a fundraising event for a nonprofit, hosted by a real estate company. Yes, you can fit all of that into an invitation with less than 20 lines of copy too!
February – Valentine's Day
An event doesn't have to be a party. "Event" is basically synonymous with "occasion." It can be anything that's new or special with your business.
So, for Valentine's Day, your event could be a fundraiser for an animal shelter, an online sales event, or whatever else you can think of.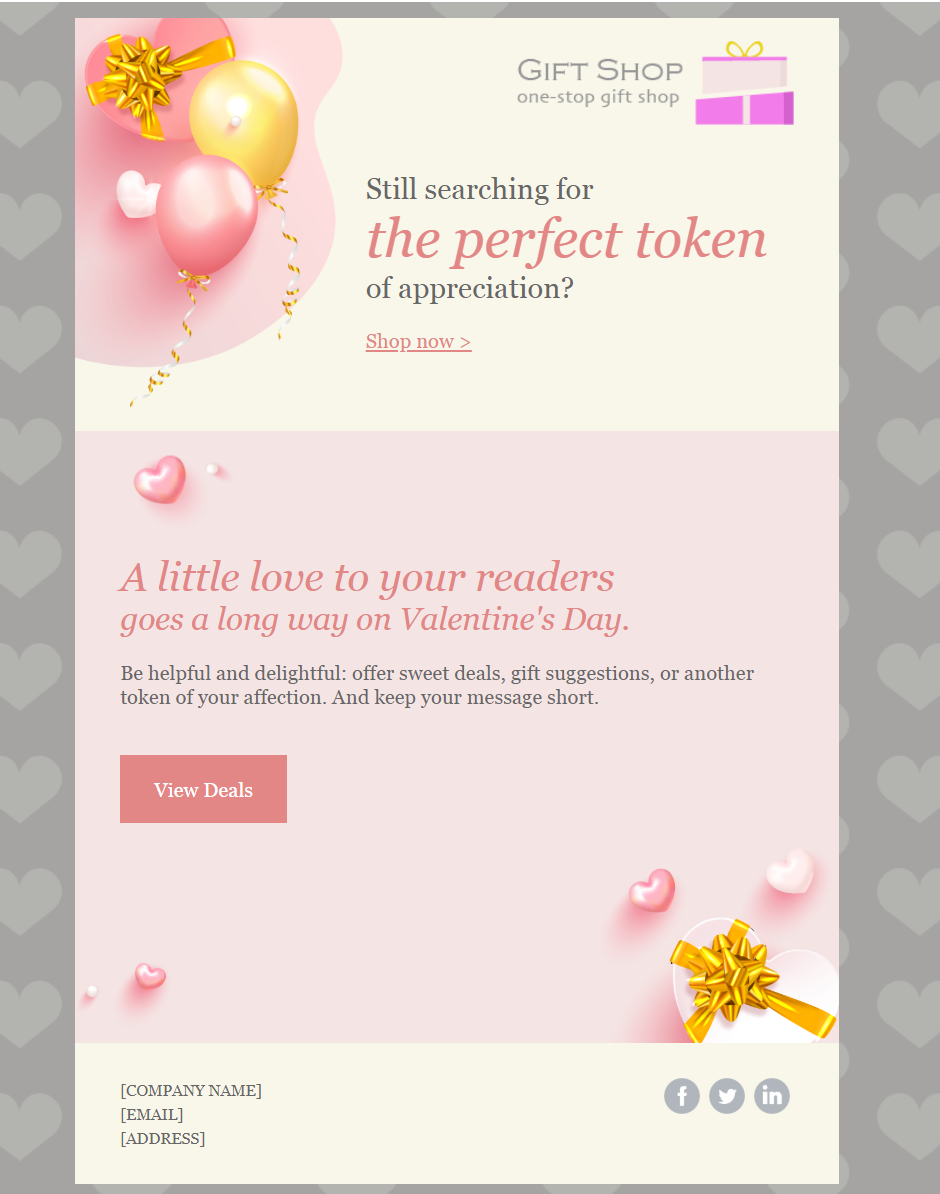 March – St. Patricks' Day
Ah! The luck of the Irish!
This holiday is so lucky, it has an invitation template that's perfect for a grille, pub, restaurant — any place that's serving green beer on the big day.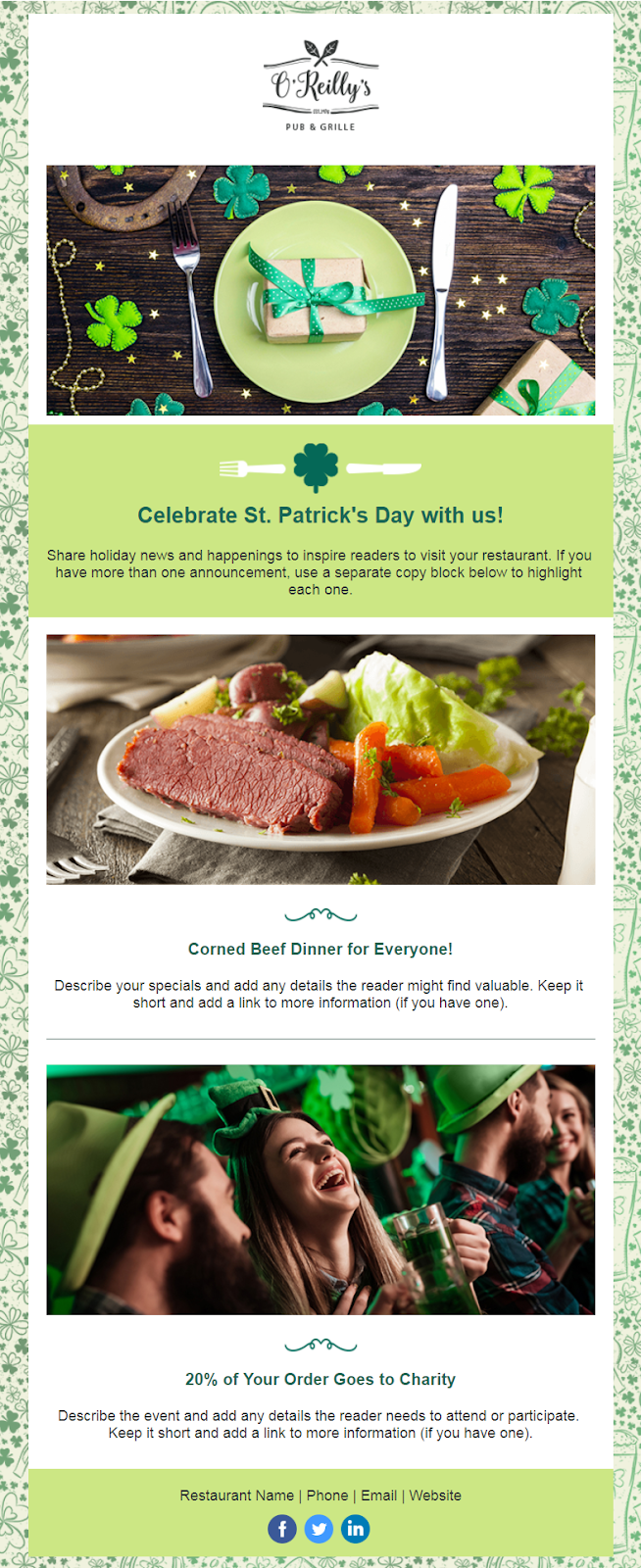 What makes this invitation template so great is that it has all of the pieces already in place: company logo at the top — so readers can instantly confirm who the email is from; an image to catch the eye; followed by the actual invitation; an enticing image and description of what's going to be at the event; finished off by an image of people attending the party (last year). This event invitation template also has space at the end for extra information to be added. In this case, charitable contribution information.
And my favorite part of this template? It looks brilliant on mobile!
With all of that already set up, all you have to do is type your copy over the placeholder text in the template.
April – Easter
I love this template because it's lively, simple, and straight to the point. There's no beating around the bush with this one. And very little copy that needs to be written by you.
To use this template as-is, just update the date and time, change the address, update the links, and "voila!" — done!
With that said, each component of the template is customizable.
Don't want the church icon? Put your logo in its place.
Not sure about the colors? Change them.
Have your own Easter image to use? Remove this one and add yours.
If all you want from this template is the adorable bunny outer background (which you can't get anywhere else), then you can strip the rest down to its core and rebuild it any way you like.

It's up to you.
Now, I know that not everyone celebrates Easter, but that doesn't mean you can't celebrate spring or Earth Day.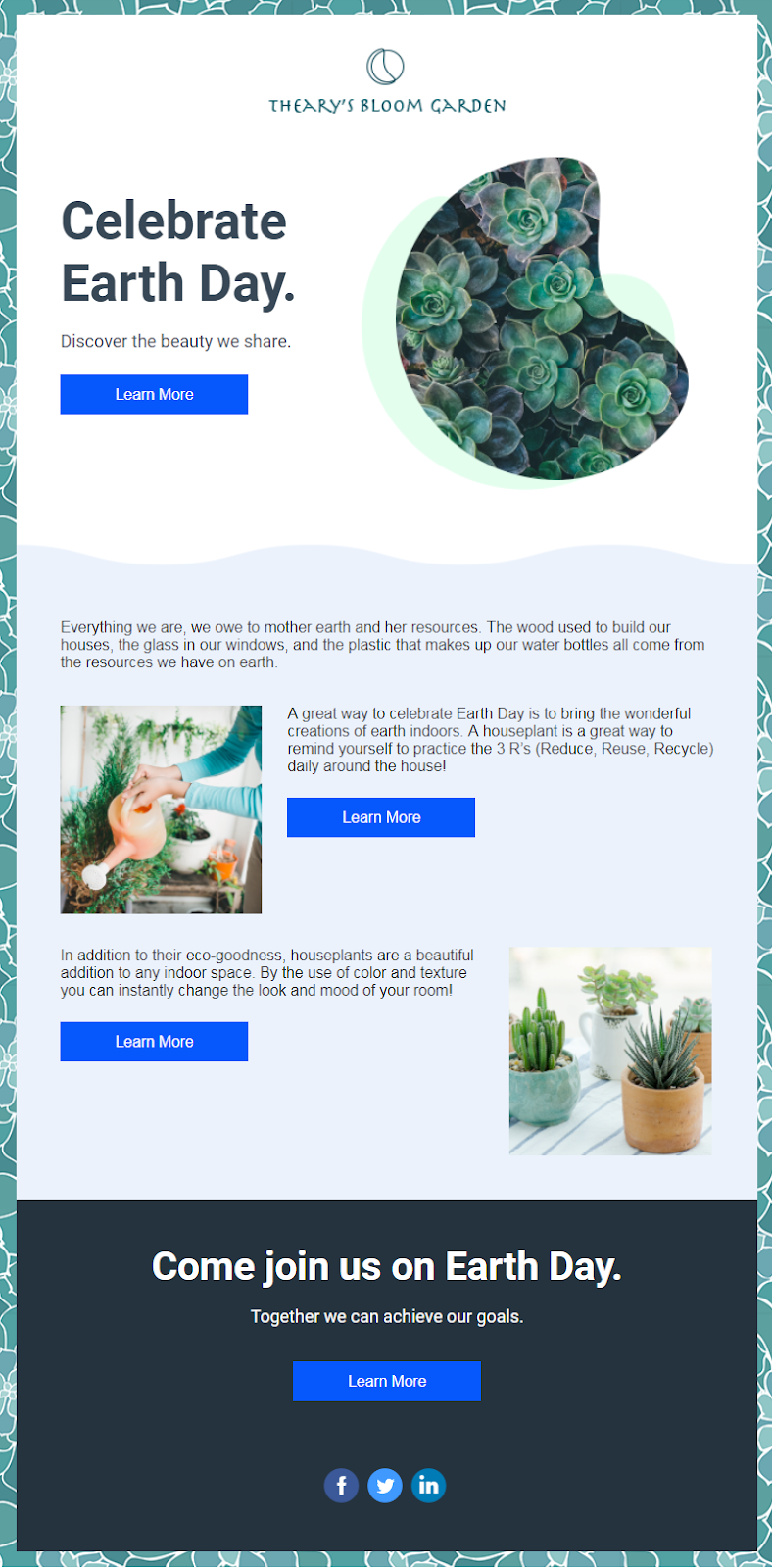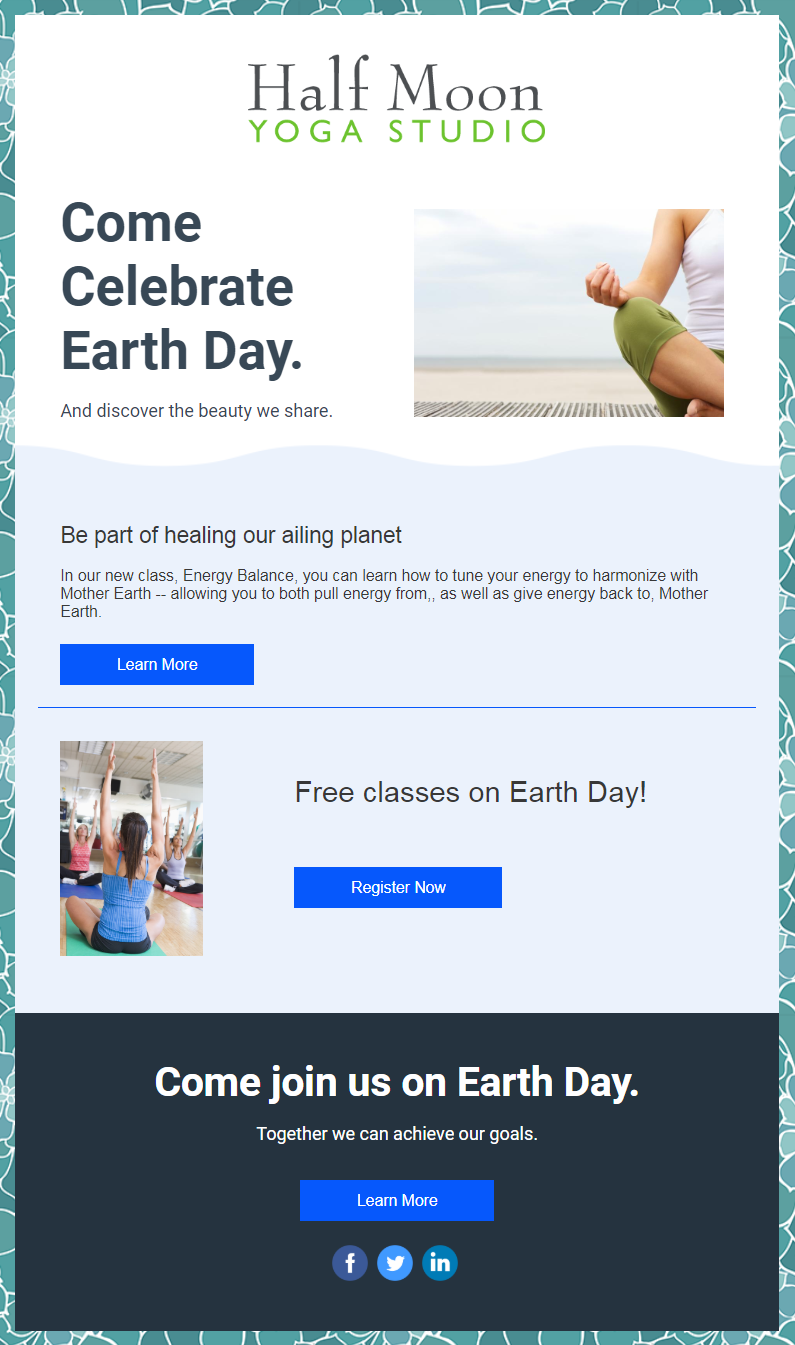 May – Cinco de Mayo
In the United States, Cinco de Mayo brings with it parties, margaritas, and tacos. And while Constant Contact's Cinco de Mayo invitation templates are geared for Mexican restaurants hosting parties, it's a breeze to customize them to your own company or organization.

June – Wedding Invitations
I know this was the one you couldn't wait to see. After all, sending out a wedding invitation via email is still considered unconventional, but it can be done — and beautifully.
Since it is so unconventional, you won't find a premade template under a search for "wedding". However, you will find some lovely templates to work with by searching under other categories.
For instance:
This one comes up under "Invitation," "Event," and "Save the Date" —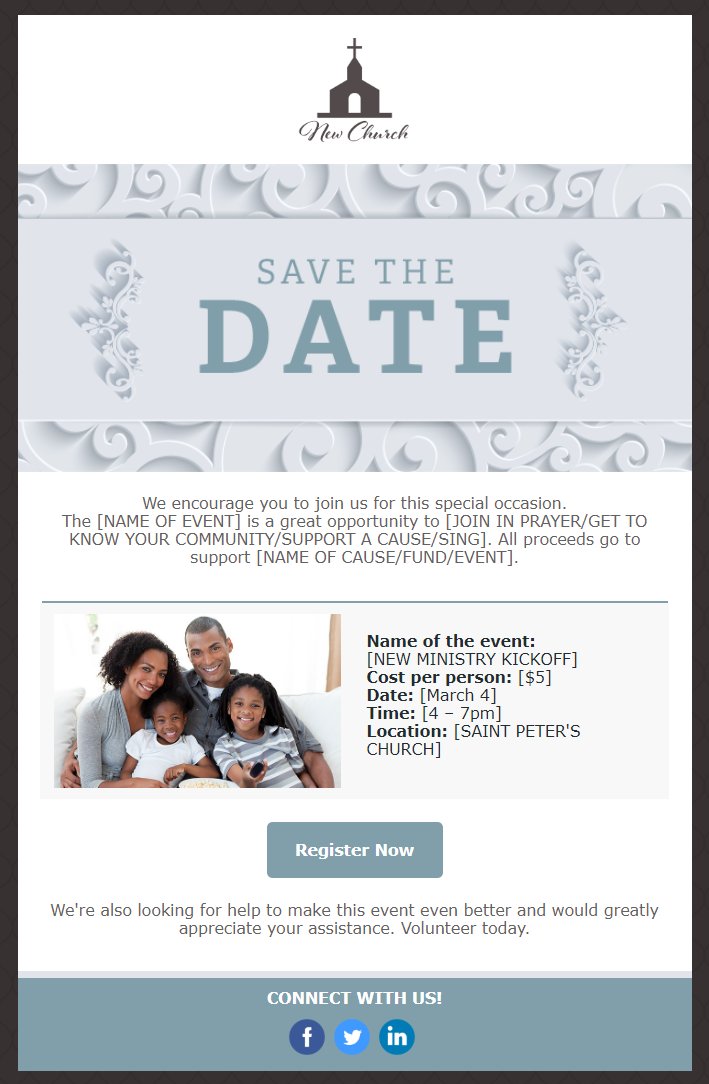 This one is marked for "Mother's Day." But, depending on your colors, this is a great option as well:
This is another template that I like for a summer wedding invitation: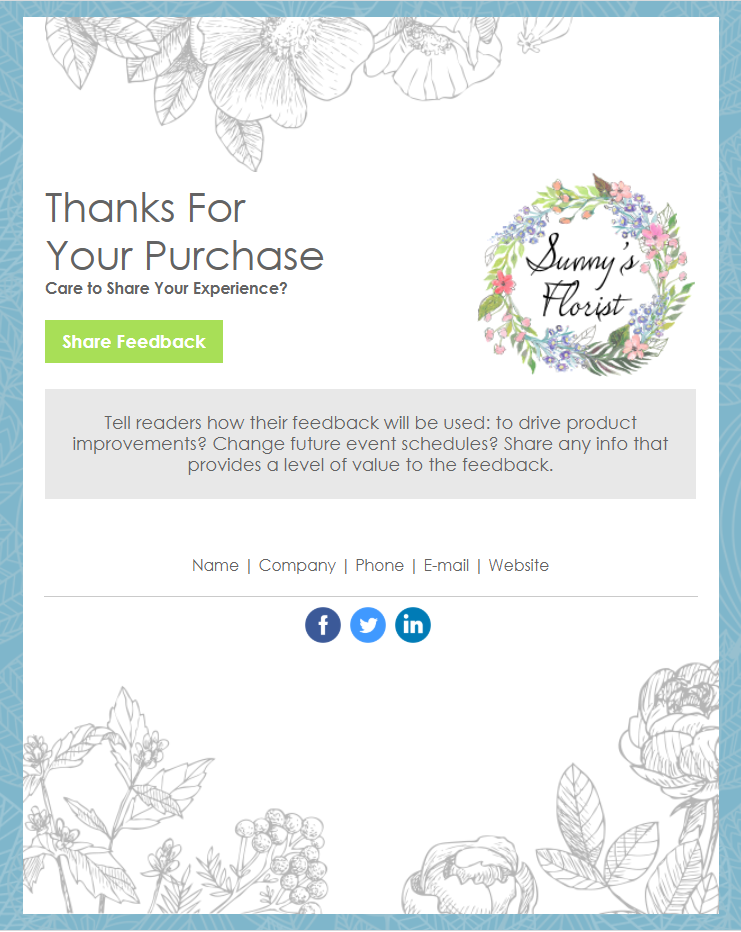 I like this one because of the soft, understated flowers that trim the top and bottom of the template. I can't get those on any other template. And although it doesn't look like a wedding invitation, it doesn't take long to change that.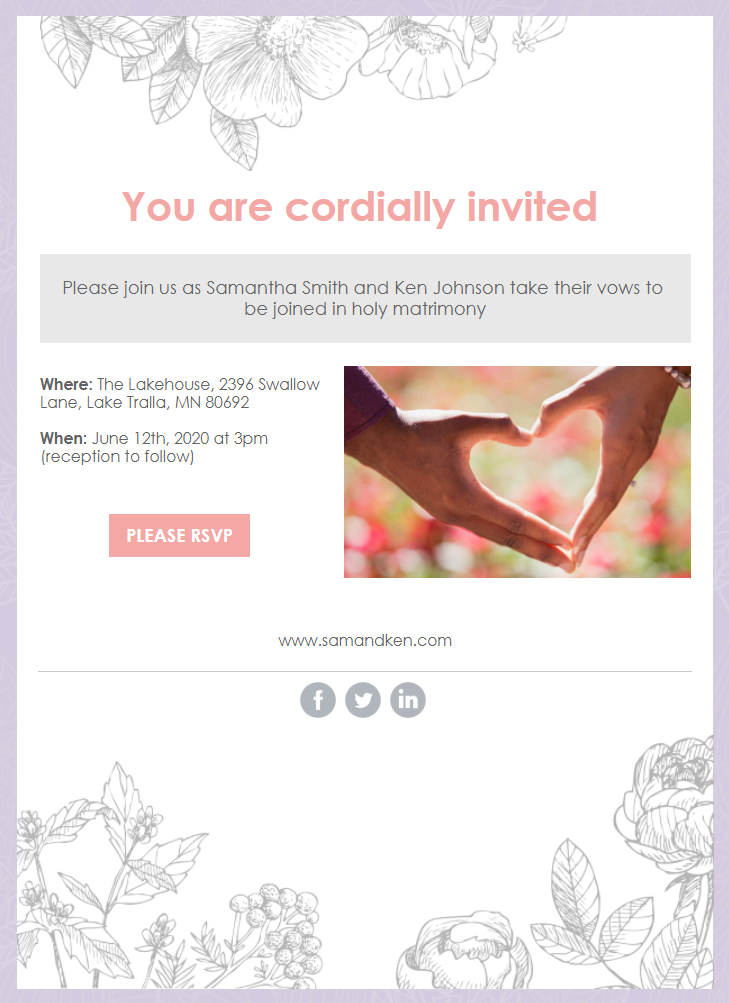 July – Fourth of July
Okay, this is where I confess. This template is probably my favorite because I love the main image.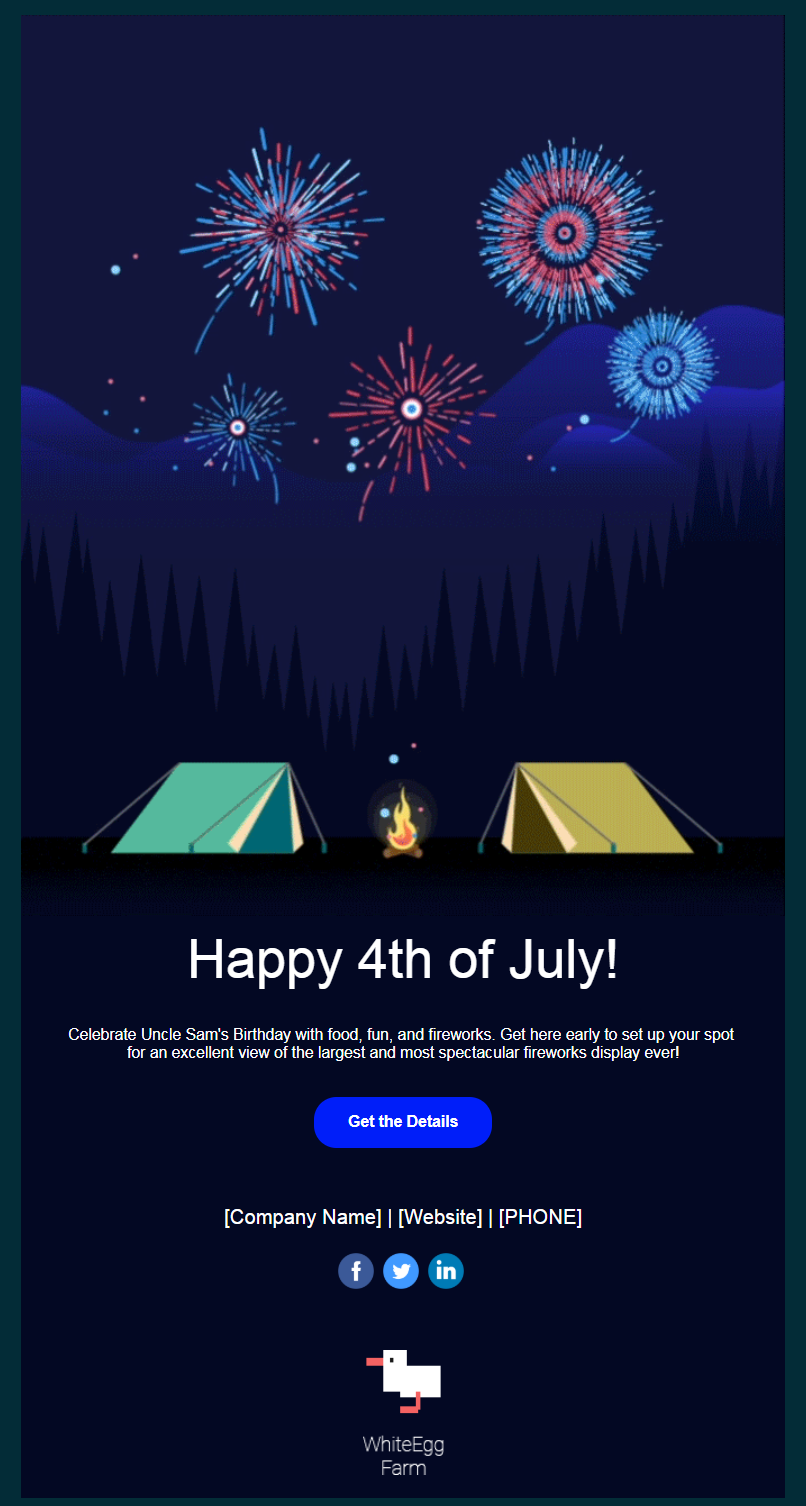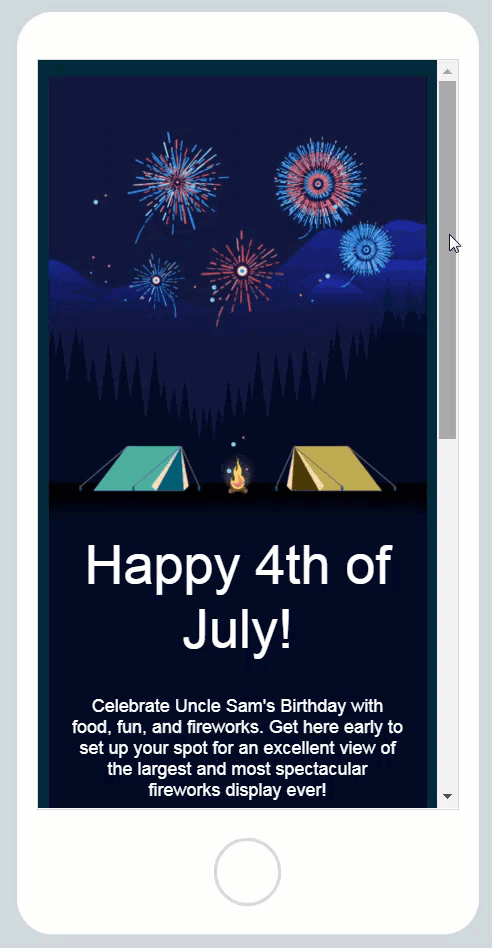 There are other, flashier Fourth of July templates out there, and I know this particular email invitation template doesn't fit everyone. As an avid camper, this email template evokes an emotional response in me — every time I look at it.
Your invitation should evoke an emotional response if possible, and appropriate.
If you ignore the main image, the rest of the invitation is pretty straight forward. However, I want to point out that this is an example of a very informal invitation. As such, even though the "what" is clear, the "where" is implied. As long as your readers are familiar with your business, location, and facilities, it's fine to not state the address in the body of the invitation. Also, the "when" is ambiguous — this particular invitation template gets away with that only because they're inviting attendees to "come early" to camp on the property.
August – Back to School
For those of us in the United States, the kids usually start heading back to school in late August. And while it may not seem like a time to celebrate, school fundraisers seem to start earlier and earlier in the year.
With that in mind, although the placeholder copy in this next example says September and October, using it in August isn't that far fetched.
If you're not a school that needs to get started on your fundraising right away, think about having a special event for parents to celebrate sending their kids back-to-school. Or host a sales event for your readers to spruce up their wardrobe for the coming weather change. Or make an occasion of the first PTA meeting of the year.
Check out this postcard-style invitation for the Grand Opening of a building: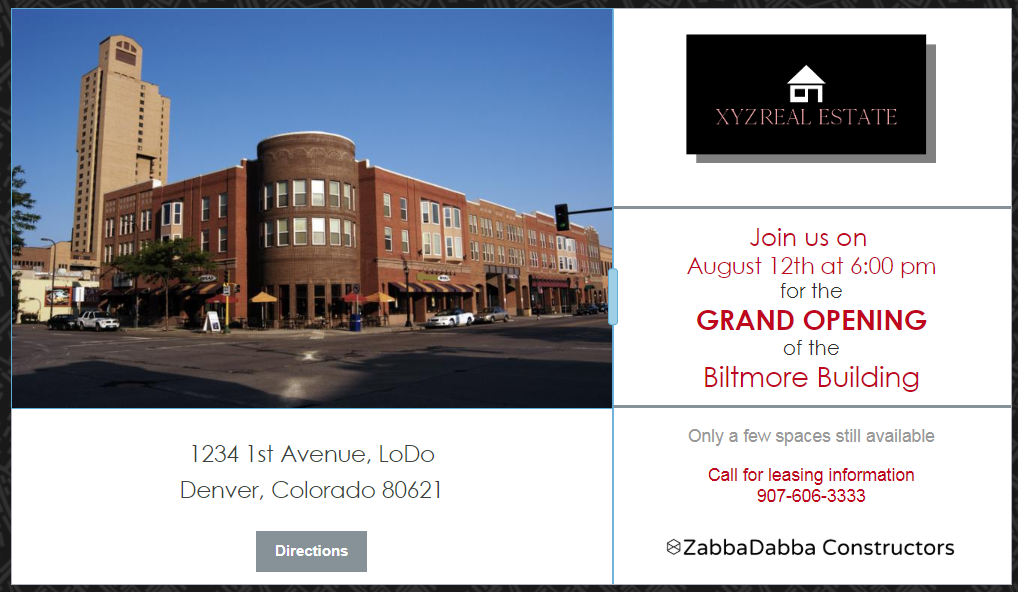 The possibilities for an event are endless — make one up!
September – Labor Day
The ideas I listed for August can work for September as well, but if you're looking to host something special for Labor Day, let me suggest this template: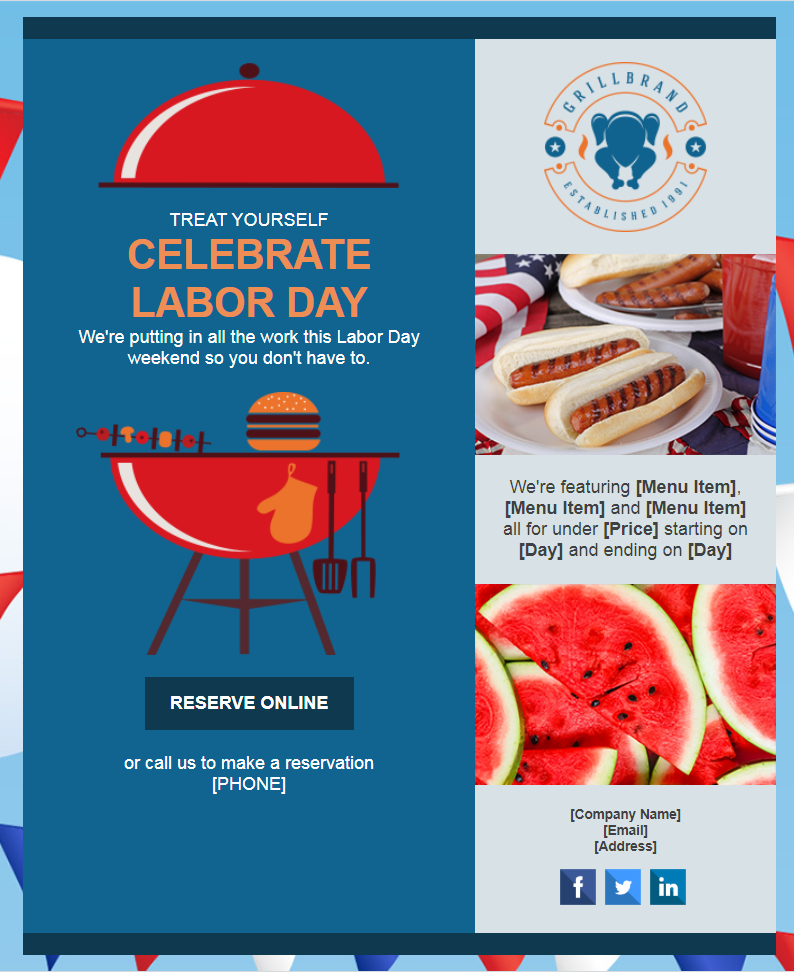 I like this particular template because it's reminiscent of a backyard bbq. It's also fun, bright (but not overwhelming), and it has all the important sections mapped out for you. Easy-peasy.
October – Halloween
I have a couple of favorite Halloween email templates.
This first one is set up for a sales event, but I love the layout and the fact that the entire template looks like one complete image, with text placed inside layers of dirt. Too fun!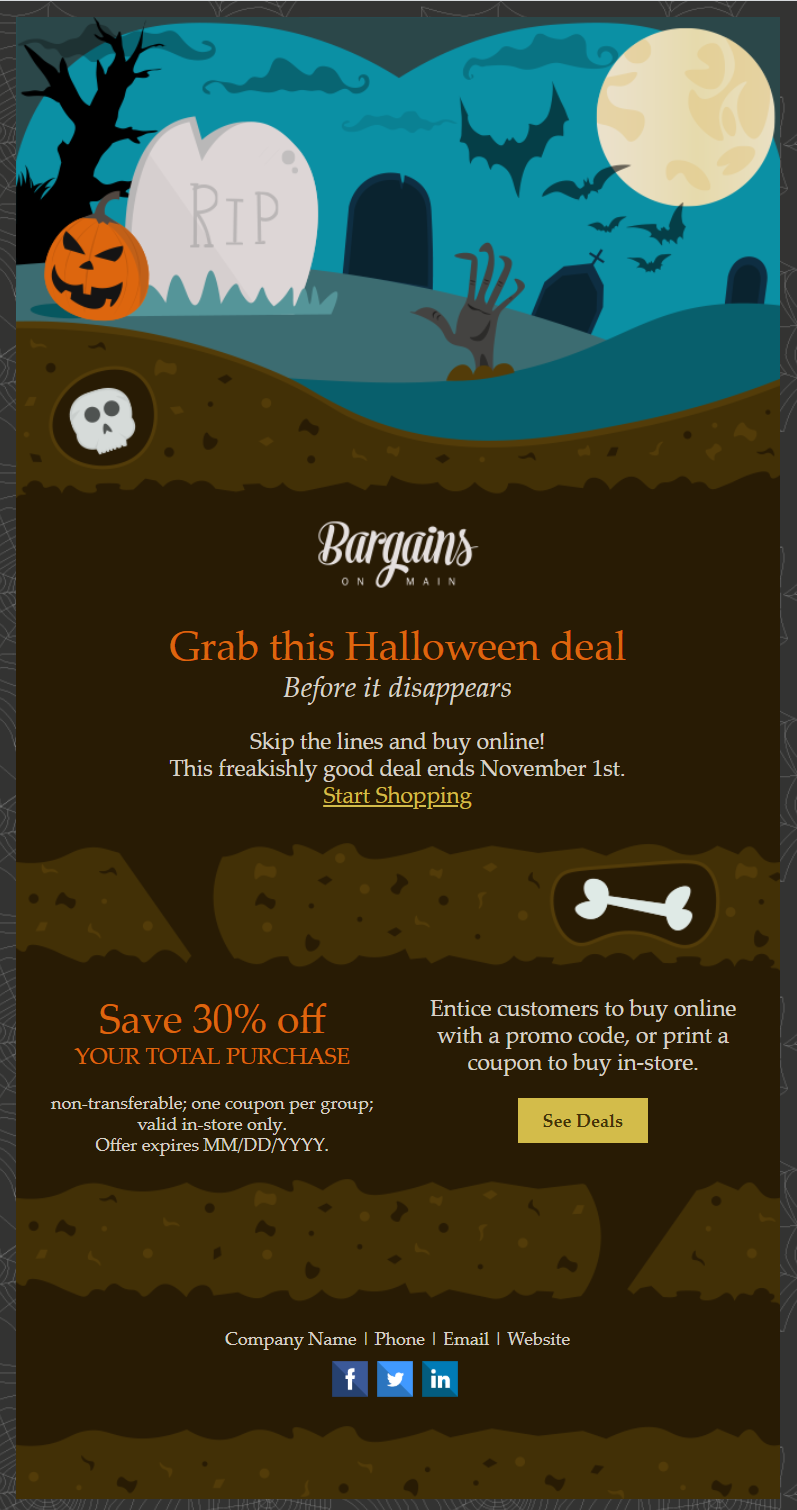 This second one contains a .gif, and although it's set up for a coupon, it doesn't take much to change it into an invitation.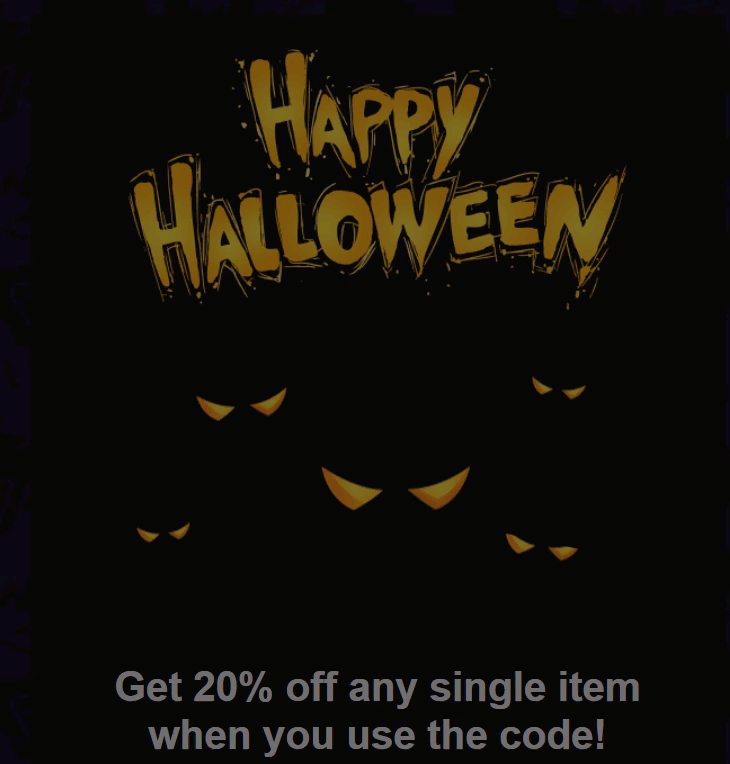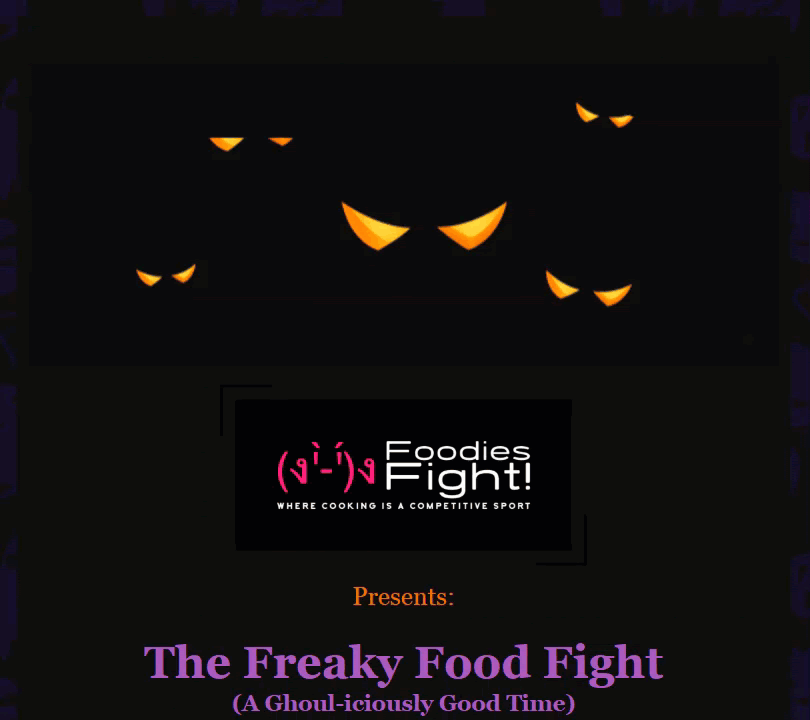 November – Thanksgiving, BlackFriday, Small Business Saturday, Cyber Monday, & Giving Tuesday
The month of November has a lot going on! And I'm not afraid to admit that it can be a little overwhelming.
Tip: Create and schedule your holiday season invitations early. That way you won't have to worry about them when things get hectic.
There are so many great templates to choose from for each of these special days, that I found it impossible to find just one or two to share. So, here's five: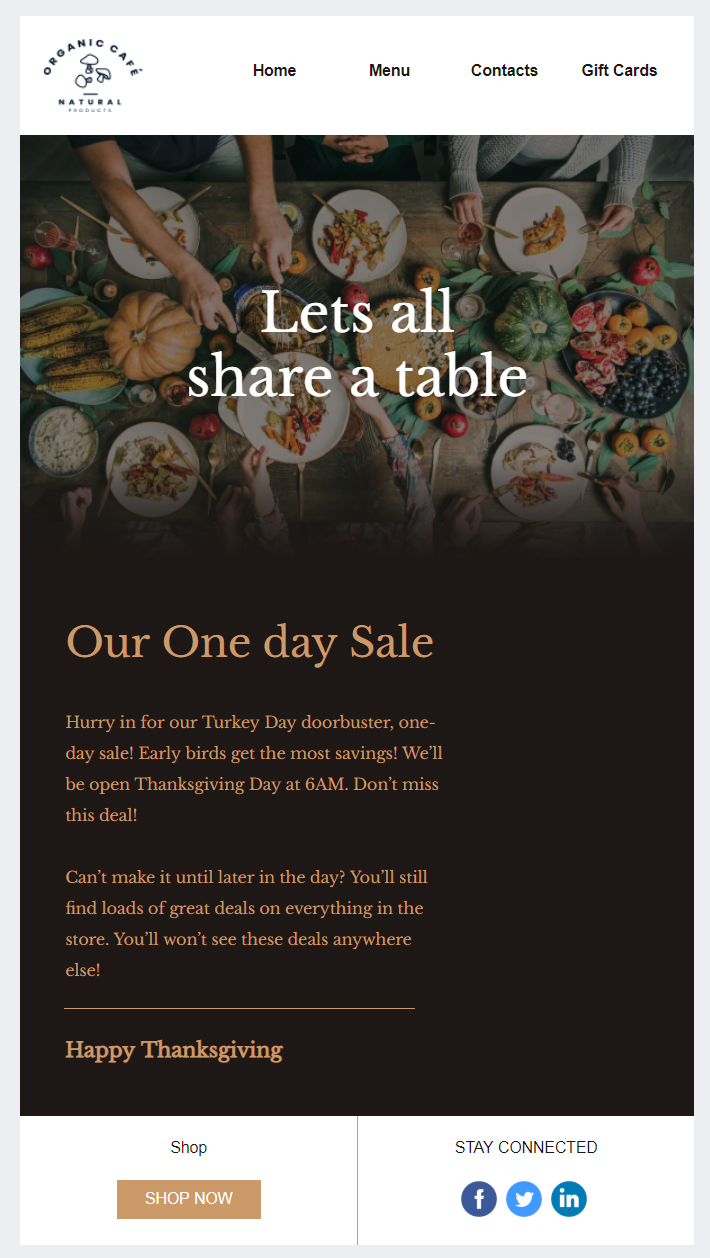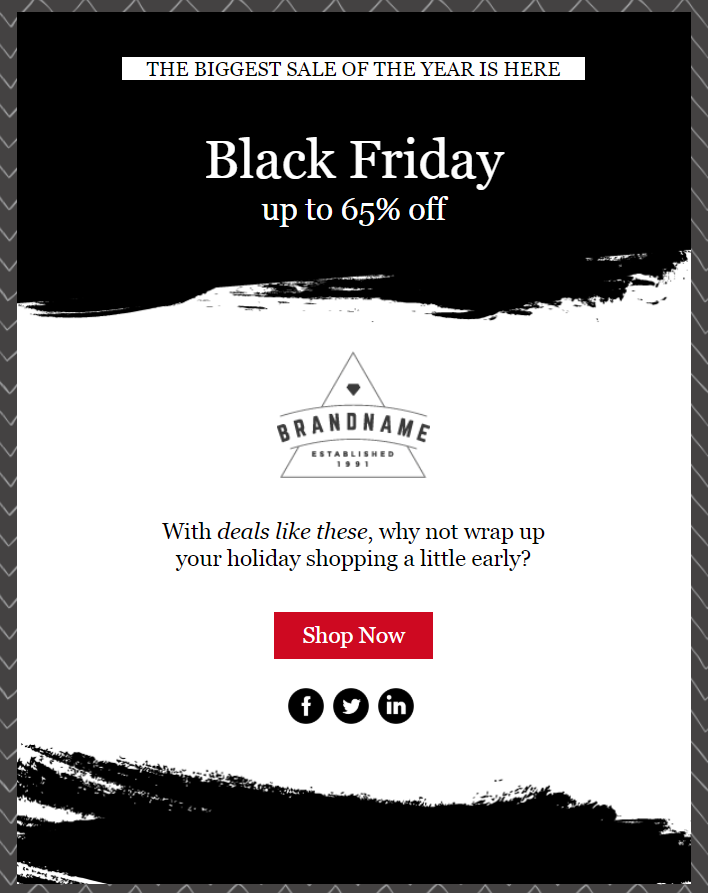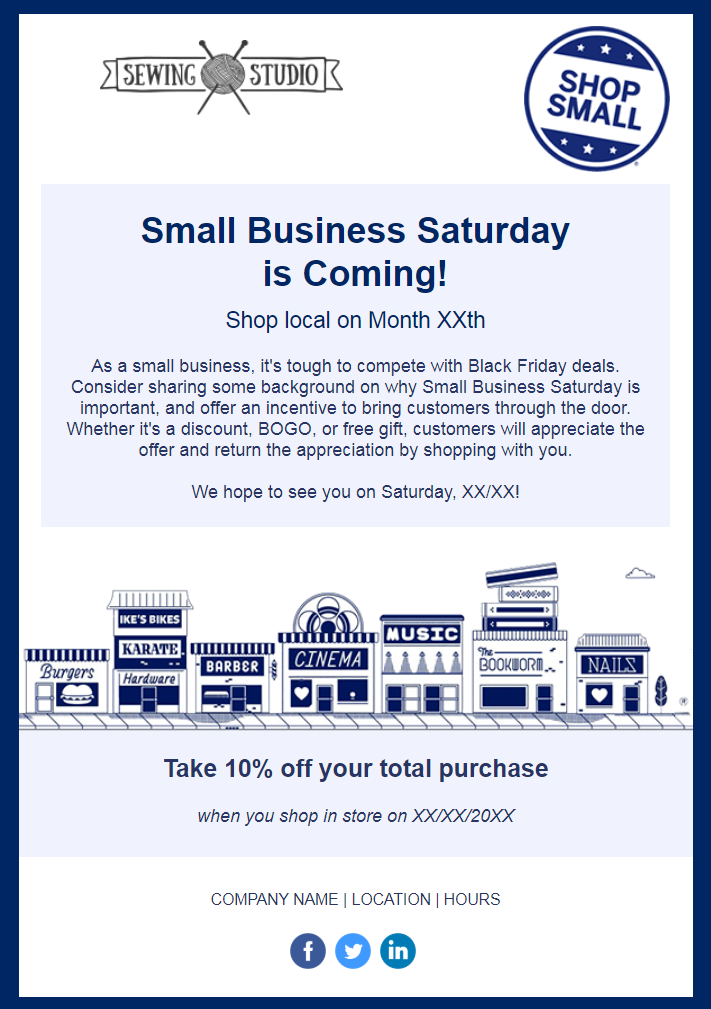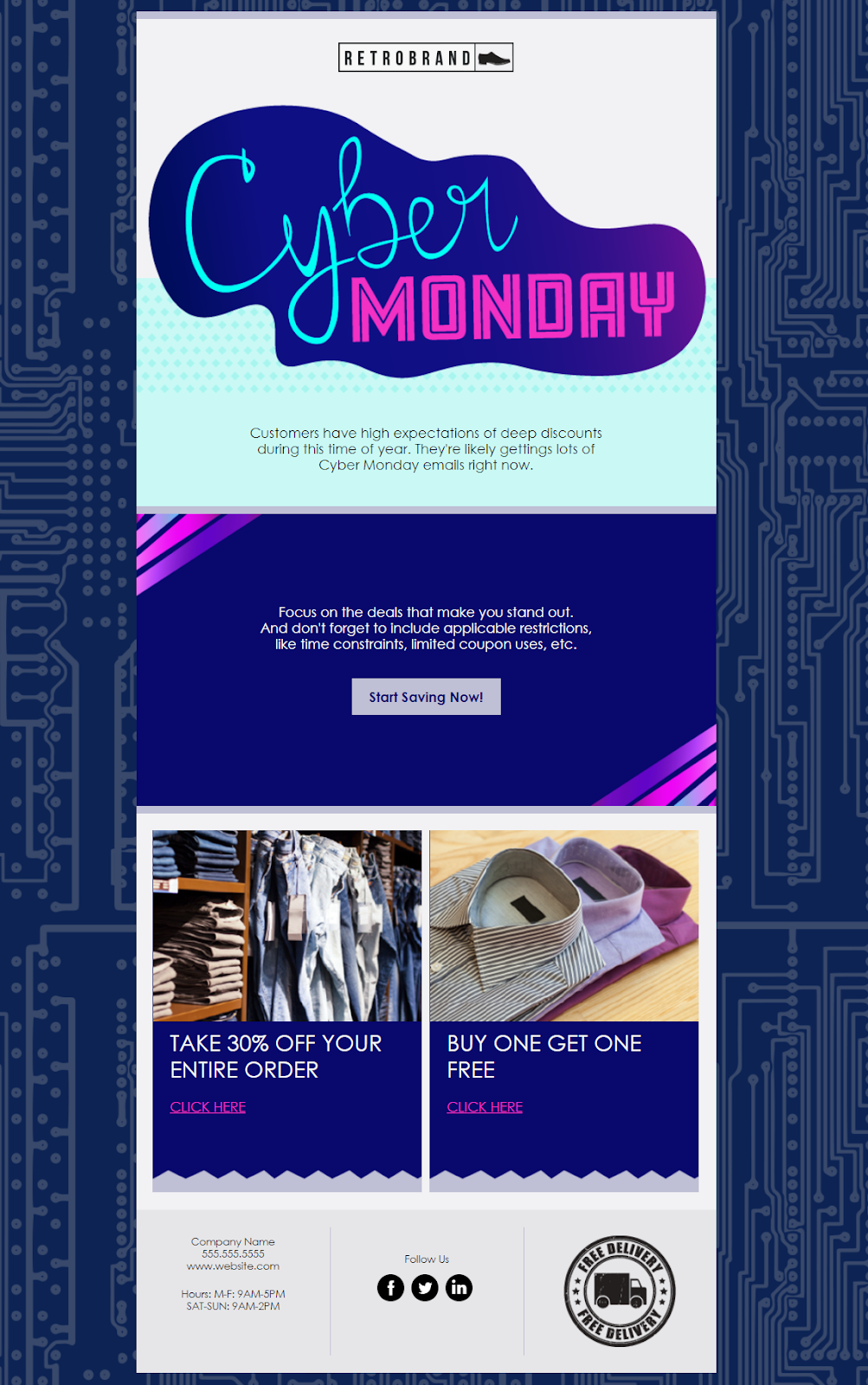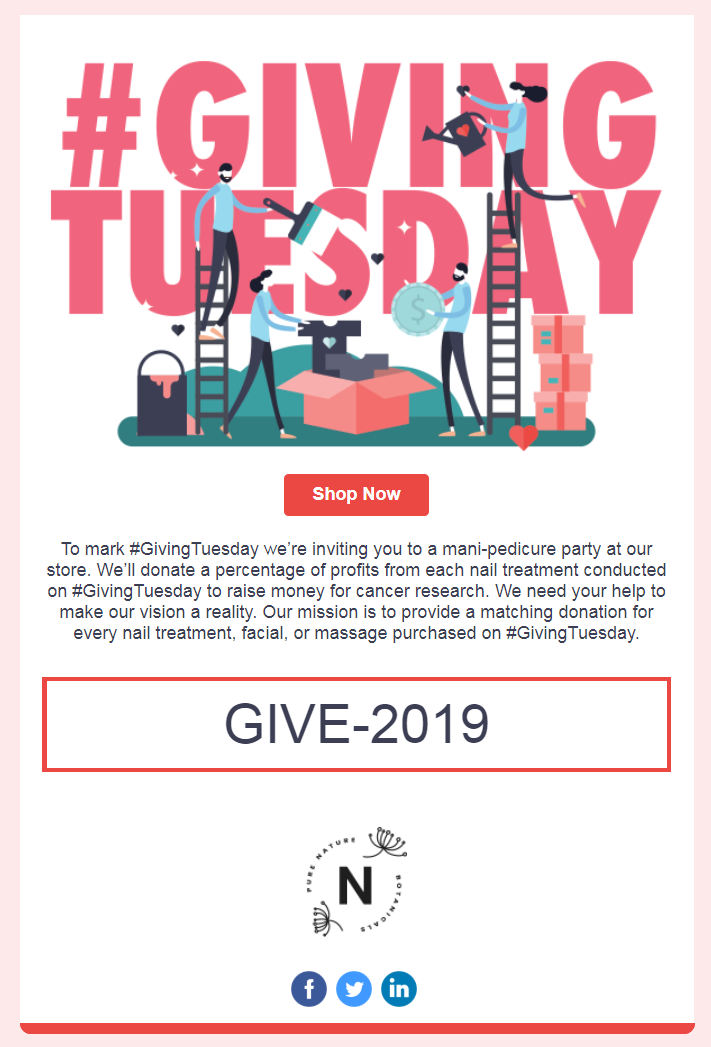 December – Christmas, Hanukkah, Kwanzaa, Chrismukkah, Friends-mas…
Whatever the occasion that you're celebrating, there's a template for that. Well, you might have to make your own for Christmukkah or Friends-mas, but by now you know exactly how to do that. But, just in case, here are a couple of templates to consider:
I love this template for Chrismukkah because it has a great Hanukkah background, as well as accents, and it's super easy to add Christmas elements to it.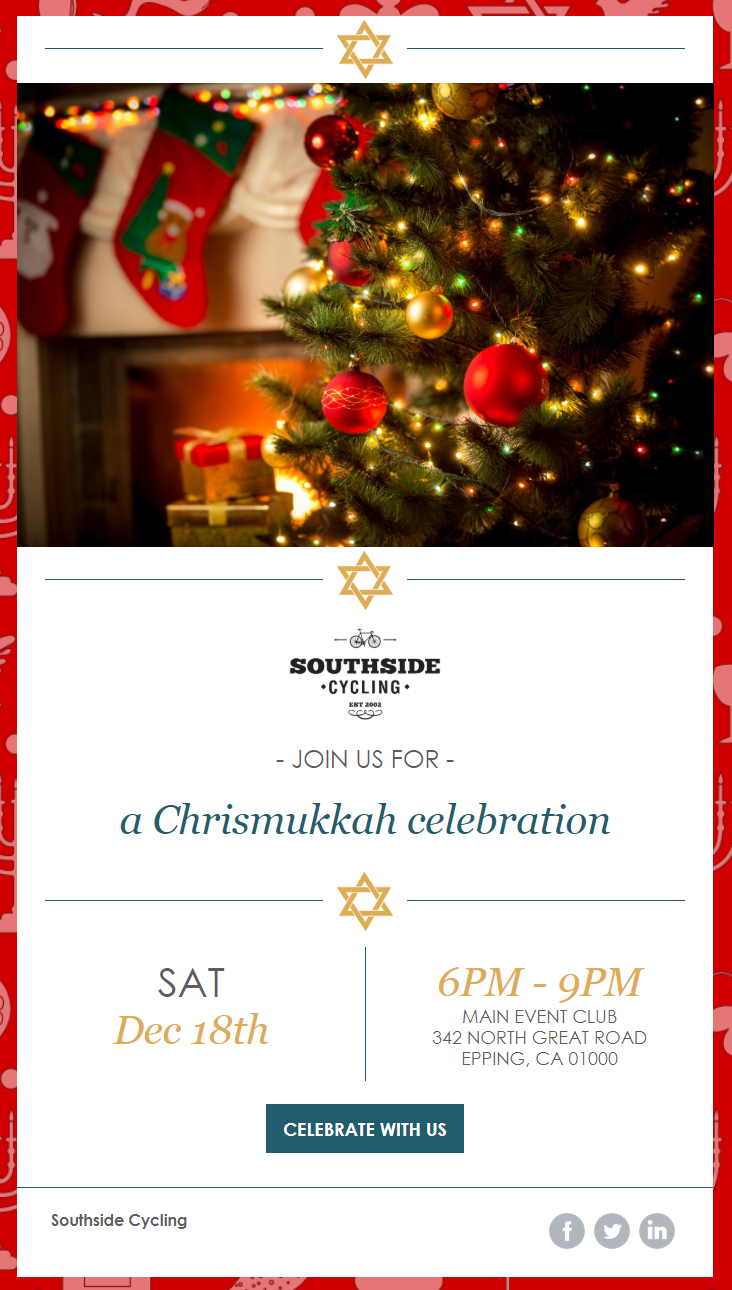 What about Friends-mas?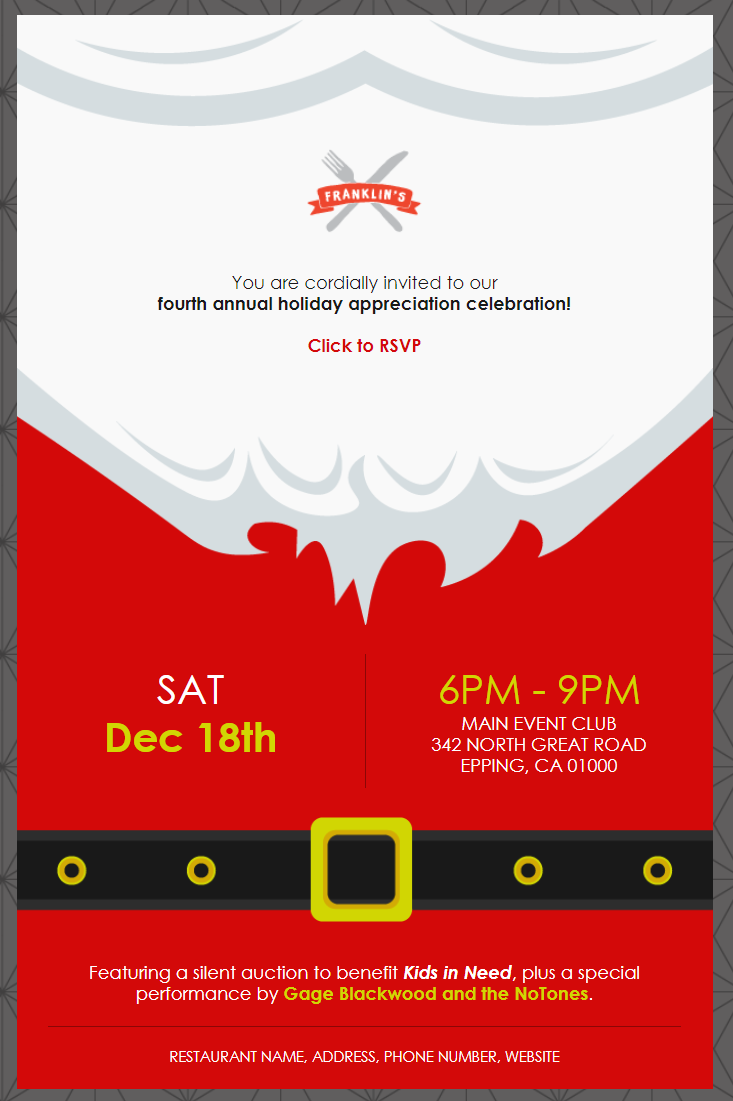 This template is just plain fun! And with some content changes, it's a Friends-mas invitation!
How to create a completely customized email invitation
So, maybe you've used all the templates, or you just didn't find anything that suited your needs. No problem. You can create an email invitation from scratch, or have one built for you.
Create an email invitation yourself
Creating your own template from scratch is much easier than it may sound. If you already have some pictures you're thinking about using and have a couple of colors (like your brand colors) in mind, you're ready to go!
Just start with a blank template.

Set your inner and outer backgrounds in the design tab and use the drag-and-drop blocks to build your template.
Once you have a layout that works for you, you can start inserting your images and writing your copy.
For more information on creating your own email template, check out our article: How to Create an HTML Template.
Have an email invitation template made for you
If you don't have the time or inclination to create an email invitation from scratch, but you want something different and unique to your event, reach out to Constant Contact's professional services team. The design team can create a unique email invitation template for you, where you can then insert the images and write the copy yourself. Or, you can have a member of the full-service team create the design and write the copy for you.
What to look for in an email invitation template
Whether you want something really simple and easy to put together, or you want an event invitation that is highly customized, there are a few things to pay attention to when looking for the right template for your event:
Outer background patterns. Not every background pattern is available for every template, so if you fall in love with a certain background, find a way to make that template work for you.
Back-drop images. These are what I call the images that have text block overlays (the main image of the Easter template is a prime example of this type of image). These images are only available in the template they're shown in, and they can't be replaced, only removed — by deleting the block that they are part of.
Accents. These are the little things that make each pre-made template unique. From the hearts on the Valentine's Day template to the curly little dividers in the St. Patrick's Day template, there are a plethora of little things like that which can't be found on other templates.
Exclusive imagery. These are images inside any given template. Each image is specific to that template, and while they can easily be replaced, resized, and removed, they can't be moved from one template to another. The mustache, beard, and belt of "Santa" in my last example are all exclusive images.
Annual Events and Consistency
If you're planning an annual event, use the same template every year (unless you have theme changes). That way, everyone who received an invitation last year, will instantly recognize the invitation again next year, and that alone can get people to click that "Register Now" button.
And this is something that I cannot emphasize enough:
When it comes to online marketing, consistency is key. (Tweet this)
So, if you have a branded template that you use now for your newsletters. Think about how you can keep some of the main components (e.g. logo placement, and brand colors), but jazz it up to make it into an invitation.
You can create a unique email invitation for your event
With a bit of creativity, any email template can be made into an invitation.

And now that you've seen a variety of email templates, and I've shown you how they can be made into invitations with just a few changes, you too can create your own email invitation template. So get out there and start getting your subscribers excited for an amazing event!

Share with your network