In most areas of the nation, the holiday season can be a struggle for selling and buying real estate. Most families want to be settled in their home before the rush of holiday parties and errands, and businesses also want to feel settled in time for the busy season. Snowstorms and blustery weather don't help sell homes either.
So how can real estate professionals continue to close deals and sign new contracts during November and December? The answer is by implementing proven holiday real estate marketing ideas that are targeted specifically to your local community.
By planning a marketing campaign that integrates both digital and non-digital opportunities for outreach, agents and brokers can continue to grow their businesses and increase their contacts to sell more during the holiday season.
Keep in mind that the holidays can be a tricky time with so many different traditions to honor. To get an in-depth look at how to do a better job of reaching your target audience this season, check out Constant Contact's free Holiday Marketing Quickstarter.
Then, it's time to get creative before things get busy with the frenzy of the holidays.
Seven holiday marketing ideas for real estate
1. Send real estate holiday emails
Sending holiday cards to loved ones may be a dying art, yet it's one of the best holiday marketing ideas for real estate agents. But who has time to buy paper cards, write them by hand, and send them? Instead, try email marketing in real estate and holiday email templates.
You can kick off the holiday season right by sending out Thanksgiving cards, which don't have to be segmented by culture or religion. This will provide an opportunity to express your gratitude for all the referrals and trust your current clients have given you. A few weeks later, you can schedule a second winter-themed email to wish them a joyous season of friendship and hope.
2. Host a home decorating contest
A fun way to get people in your community engaged in your real estate practice is to host a holiday home decorating contest on your social media page. You'll want to use your Facebook Business Page for your brokerage instead of your personal page.
Keep in mind that real estate is considered a "Special Ad Category" by Facebook, so there are added regulations if you plan to invest in paid ads for this contest.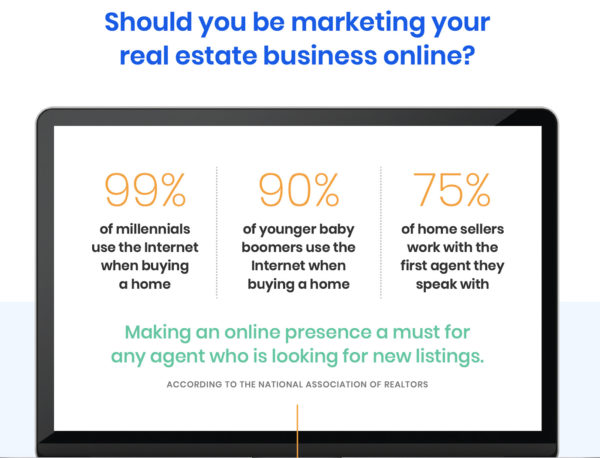 When announcing the contest, start with the prize incentive. You can partner with small businesses in the community to create a large gift basket, which can provide a joint advertising opportunity. Ask participants to submit five photos of their home decorations, and then encourage your Facebook fans to vote by a certain deadline.
Don't forget to post pictures of you presenting the prize to the winner! You can even submit the event to the local newspaper for added coverage.
3. Create holiday donation drop-offs
Food and toy donations are important ways to give back to your community during the holiday season. Charities are always looking for places willing to collect items, so why not volunteer to provide a donation/drop-off spot for a local charity?
Get a big box and wrap it in holiday paper with a festive bow, and place it on your front step. Don't forget to have brochures or flyers outlining the details of the listing and any others you have that aren't under contract yet. You can share the locations in an email to your contacts and through a social media campaign.
4. Add festive lights to listed homes
Unoccupied listings can look pretty gloomy during the holiday season, but it doesn't take much to add a little cheer. Invest in lights and spend the afternoon putting up decorations both in and outside the home to stage it for an open house — or even just for the listing's photos.
Since some home buyers may still feel uncomfortable about in-person viewings, you can create a "holiday lights tour" map of your listings and share it online. Another idea is to create high-resolution videos so people can take the tour using their mobile devices any time they wish.
5. Make your website festive for the holidays
If you're still using your brokerage's website for real estate marketing, it's time to create one of your own. It's surprisingly easy to build your own real estate website focused on your niche and geographic region. When you have control over your own site, you can easily update the hero banner on the homepage with one that's perfect for the holiday season.
If you already have your own site, now is the time to make sure it's mobile-optimized so your potential clients can view it on their smartphones while on the go this season.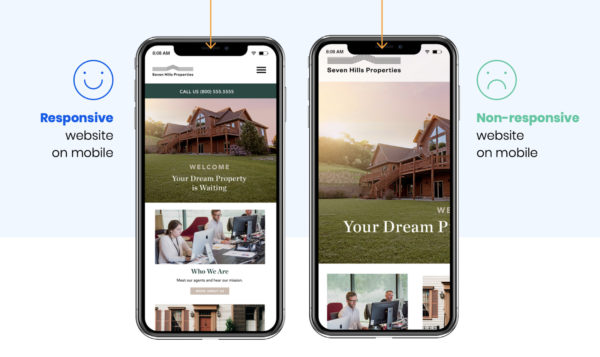 Think about what makes your communities special during this time. Maybe it's the snow-covered mountains that are perfect for skiing, or maybe you're in a beachy town that's warm during the winter. Have fun with photo ideas, like featuring a snowman made of sand or Santa on a snowboard. Let your site show (not just tell) people why they should buy right away.
6. Make charity gifts an incentive
Good news: Research on email marketing shows that less is more. For the best click-through rates, real estate professionals should have around 35 lines of text in their emails. For the holidays, use this space to provide an incentive for people to work with you.
Consider offering a percentage of your commission to a charity of your choice for all closings during the month of December. Your clients will feel good knowing that working with you will help the community they're choosing to live in, and you'll be able to use the donations as a tax write-off for this year.
7. Publish holiday-themed blogs
If you haven't started sharing your expertise through a blog on your website, this holiday season is the time to start. Real estate content marketing is a powerful tool that real estate agents can use to expand their reach to those who are looking for help buying or selling homes.

You can use your blog to offer tips ranging from guides on how to best prepare a home for sale to checklists for closings. And during the holidays, you can share useful information about local and seasonal events or simply provide an open forum for clients to ask questions.

Make your real estate marketing shine this season by showing off the holiday lights on your properties via TikTok.

Share with your network