Whether you run a small business or a real estate brokerage firm, it's become critical to connect with clients through digital engagement channels. Over the past decade, the rapid advancement of mobile technology has completely changed how people interact, and this trend is likely to continue into the foreseeable future.
For real estate brokers, this brave new world of immediate information presents a unique opportunity to cultivate prospects more efficiently and effectively than you could have even just a few years ago. With digital engagement strategies, real estate brokerage marketing has evolved substantially, and many firms who remain committed to analog interactions may find themselves left behind.
The truth is, over 50% of today's home buyers find their properties online, so it makes sense for real estate brokers to invest in digital marketing to broaden their client base and ultimately close more properties.
In short, digital marketing encompasses any method of connecting with prospects online, whether it's through social media marketing, content marketing, or pay-per-click (PPC) advertisements. If you're interested in gaining a better understanding of real estate brokerage marketing in today's fast-paced, wireless world, this guide will explain everything you need to know.
Benefits of digital marketing for real estate brokerages
Thanks to constantly improving innovative technologies, the way people search for homes today is vastly different than it was just a decade ago. Fortunately, many of these changes work to the benefit of homebuyers and brokerage firms alike. Here are some of the most prominent advantages of digital marketing for real estate brokerages.
Affordable and effective
Unlike conventional methods of acquiring prospects, many digital marketing strategies are relatively inexpensive and often produce better results. For instance, creating a social media account for your brokerage firm is a low-cost way to engage with potential clients without having to spend a significant amount of time on the phone or meeting in person.
Instead of investing in direct mail or business cards that prospects may end up discarding anyway, real estate brokers can focus on alternatives like email marketing to achieve higher conversion rates at a fraction of the cost.
It's easier to reach your target audience
Digital marketing allows you to create content catered to a specific demographic group or geographic area. This ability to carefully select a target audience based on age, sex, education, and other criteria ensures that your advertisements reach those who are most interested in buying properties managed by your brokerage.
The result is much lower ad spend and a drastically higher return on investment (ROI) in terms of generating interest from the most qualified prospects.
Track the performance of prospect engagement
With digital marketing, you can evaluate exactly how your content is performing in real-time. With web services like Google Analytics, you can gain invaluable insights into all aspects of your online presence and marketing efforts from one convenient location.
Discover where the lion's share of your web traffic originates, what keywords people are searching for, and which types of content are most effective at attracting prospects. Analytics tools can also reveal a lot of helpful information about how your preferred prospects interact with your content, such as average session time, bounce rate, and more.
Types of digital marketing for real estate brokers
There are numerous strategies for engaging prospects in the digital marketing sphere, each offering its distinct advantages. Ideally, modern real estate brokerage marketing should cover the entire gamut of options for reaching an audience online, from crafting relevant articles for your website to attracting followers on social media.
Email marketing
Unlike the one-size-fits-all approach of direct mail, email marketing engages prospects who have already expressed direct interest in your brokerage by signing up for newsletters, listings, and local real estate news.
To get started with email marketing, you'll need to search for an email marketing service provider to handle all the communication. Next, focus on building a subscriber list by encouraging prospects to sign up through your brokerage's website or social media accounts. After you've built a large list of prospects, you can begin crafting emails to help drive subscribers to select properties in their area. 
The great thing about email marketing for real estate brokers is that it's relatively easy to automate, and while direct mail can't be changed once it's sent, email campaigns may be adjusted at any time to improve engagement.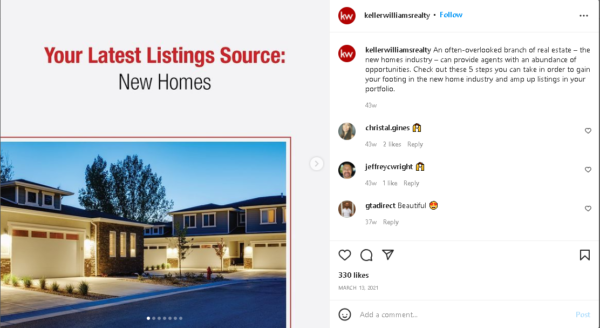 Social media
Considering that about 70% of Americans regularly spend time on social media, real estate brokerages can drastically widen their exposure by using platforms like Facebook, Twitter, YouTube, or Instagram. Best of all, users can easily share and comment on your content, helping to spread the word about your brokerage to prospects outside your primary audience.
This community aspect of social media marketing is a great way to generate referrals and ultimately build more trust with potential clients. The ability for your followers to comment on posts can also add a wealth of information into the mindset of prospects, giving your brokerage valuable feedback that can help shape future marketing efforts.
When setting up social media accounts for your brokerage, it's best to use consistent messaging, logos, and color schemes to keep your brand image on point. Be sure to include links to your main website and other social media profiles on each platform to maximize engagement as well.
Pay-per-click (PPC)
PPC advertising is a form of digital marketing that allows a brokerage to source more prospects from organic online searches. By bidding on popular keywords in Google Ads, you can position your website to show up closer to the top of search engine results pages when homebuyers type in a relevant search query.
Using PPC ads is becoming increasingly popular among real estate brokers due to its high ROI, often attracting prospects who are already far along in the buyer's journey. And overlooking PPC ads can cause your brokerage to miss out on a significant number of promising leads.
When shopping for properties, some 61% of prospective homeowners complete an organic search on Google before converting over the phone.
To get started with PPC advertising, you'll need to focus on targeting specific search phrases related to the properties you offer. Your PPC ad budget and the keywords you choose will depend on the objectives of your brokerage, its location, and the type of homes you're trying to sell. In addition, it's critical to make sure your ads are engaging and relevant and have a high-quality score on Google for your firm to attract the right audience.
Content marketing
When homebuyers use Google to find a property, the search engine will scour thousands of pages of information from various websites to find the most relevant results. With content marketing, you're essentially publishing blog posts and well-researched articles to your website or social media pages that contain the kind of information prospects want to read. 
The more relevant and informative content you create, the more likely your brokerage will appear at the top of search results. Content marketing is most successful when paired with search engine optimization practices, so always look for ways to incorporate specific, localized keywords in your content that people are most likely to type into search engines.
Mobile marketing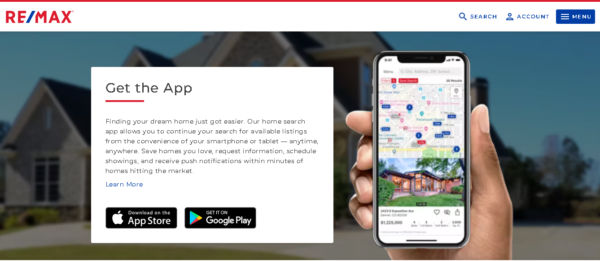 It's important to remember that not all prospects will search for your brokerage from a home computer. Many will use their smartphones or tablets to find the information they need. Mobile marketing is all about connecting with prospects via these devices, either through text messages, chatbot conversations, or a mobile app.
For example, consider creating a mobile application that puts all your listings on a map for prospects to easily review while they're on the go. Make sure your website loads properly on mobile devices, as pages that aren't optimized for a phone may be difficult to navigate or contain text that's too small to read.
It's also a good idea to add a one-touch contact button to your homepage so that mobile users can quickly get in touch without having to scroll through your entire website.
Tips for real estate brokerage marketing
It can take time to learn the intricacies of digital marketing for real estate brokers, but it doesn't need to be complicated. Don't feel discouraged if it takes some trial and error to achieve the results your firm wants. Here are a few simple yet powerful tips that can make your real estate brokerage marketing a much easier task.
Do your research
The more you can learn about what your prospects need, the better. Use analytics to gain a deeper understanding of how potential homeowners discover your content and what forms of engagement work best to pique their interest.
Look for patterns in commonly searched keywords, demographic information, and the primary source of your website traffic to develop a digital marketing strategy that works best for your firm. It may also help to spend some time reviewing competitor websites and social media accounts for ideas on how you can better engage with prospects.
Keep things fresh
Try to consistently update your website and social media feeds to keep visitors interested in what your brokerage is doing. Keep all listings as up-to-date as possible, and be sure to share any changes across all of your digital marketing channels. 
If you're looking for new ideas, consider asking email subscribers for feedback or invite followers on social media to share their thoughts in the comment section.
Keywords are king
The type of search phrases you deploy throughout your content will have a huge impact on the overall success of your digital marketing strategy. If your keywords are too vague, you'll end up attracting a tremendous amount of traffic from prospects who will never end up converting. Keywords that are far too specific may stifle prospect generation and cause your firm to miss out on potential clients.
Equally important are the geographic keywords found on your website and social media feeds. If you're trying to cultivate interest around your properties in Tallahassee, make sure Google can easily correlate communities in that area to your digital marketing channels. In this case, "buy a home in Tallahassee" will likely produce more qualified leads than "Florida real estate" or another open-ended search term.
Get started with your real estate brokerage marketing
While digital marketing for real estate brokers involves many moving parts, following this guide can help your firm hit the ground running with all prospect engagement efforts. If you haven't already, start by creating social media accounts to drive traffic to your website and encourage followers to join your email list for frequent updates on your brokerage.
After establishing a strong online presence for your firm, the other aspects of digital marketing will begin to fall into place on their own.
Did you know? Constant Contact offers a corporate account option designed for real estate brokers/owners, so you can provide agents with all the digital marketing tools they need, in one place. Benefits of a corporate account include a discounted rate for your agents, locked branded templates to keep brand consistency across all users, tools to track results (opens, clicks, etc), and more. For more information, fill out this quick form, and we'll reach out with more information on how you can make your marketing easier and more consistent throughout your brokerage.