A hot housing market is a boon for realtors, and TikTok for real estate agents has the power to turn the tide of that never-ending competition for leads in your favor.
Think back to the glory days of open houses, when the promise of free food and a walking tour through a local home was enough to bring the community together and focus the attention of every potential homebuyer on the properties you were selling.
Nowadays, as a result of the Covid-19 pandemic, virtual home tours are all the rage and when it comes to social media marketing for real estate, platforms like Facebook and Twitter are all too often your first stop when trying to generate new leads. Around 36% of people surveyed in a recent Zillow poll say that they'd be willing to purchase a home they've never seen in person entirely online.
As a result of this growing need for online presence, real estate agents need to be savvier with their marketing than in years past to generate leads in their community.
Understanding how TikTok works and using it effectively shows your clients that you're one step ahead of your competition. With TikTok, you have the power to give your clients valuable information without spending hours generating the content.
The real power of using TikTok comes from its simplicity. With a few clicks and the knowledge you already possess, you can create lead-generating content that demonstrates your authority on the subject and helps position you as the go-to real estate agent in your area.
We make it easy for you to have a growing and connected client base with all the marketing tools you need, synced to the tools you're already using.
What, exactly, is TikTok?
Averaging around 1 billion monthly users, TikTok is described by its developers as "the leading destination for short-form mobile video." And when these developers say the platform curates short-form content, they mean it. When TikTok was in its infancy, videos could only be 15 seconds long. Even though developers expanded the maximum video length to three minutes back in 2021, concise videos are still the bread and butter of this social media platform.
Although only the seventh most popular social media platform, TikTok is considered the most engaging one due to the amount of time people spend on it. An average TikTok session lasts around 10.82 minutes, which is more than double the average engagement with runner-up Pinterest marketing in real estate.
Why is TikTok for real estate agents a good idea?
As a realtor, you may find yourself wondering what you have to contribute to a platform used mainly by millennials and Gen Z looking to kill time. You may be surprised to learn that some real estate agents have reported huge success after using TikTok, with one agent claiming to have received hundreds of inquiries for a single listing through the platform.
As a social media platform, TikTok is unique in that users go there looking to engage with content from all sorts of people, not just their friends. For that reason, it may be easier for your content to gain traction on TikTok than on other social media platforms, and it can be an invaluable business marketing tool.
It's also easier for content to go viral on TikTok than on other social media platforms. The default page for users is the "for you" page, which displays content based on a user's previous engagement with the site. Because TikTok's algorithm always looks for new content to show users, people may find your videos promoted in their feeds, especially if you can get your tagging right and create engaging real estate content.
While TikTok can be used for organic lead generation, it can also be monetized in its own right, generating a secondary income source for your agency.
What are some practical ways to use TikTok for real estate agents?
The key to using TikTok successfully is to create short-form video content that engages users in some way. Some ideas include:
Real estate tips and tricks
Property tours
Information about prepping a house to be sold
Do's and don'ts in the industry
It's also a good idea to let your personality shine through in your videos. As you generate leads, you want to give people a good idea of the real person they'll be working with if they reach out to you.
How can you get started with TikTok?
It only takes a few minutes to set up your TikTok account, which is free to use like most social media platforms. All you have to do is download the TikTok app onto your mobile phone and sign up for an account. The key to getting started with TikTok for real estate agents happens after that when you're setting up your TikTok profile and deciding how to curate your content.
How to optimize your TikTok profile
When people visit your TikTok profile, you want them to instantly know who you are, what services you offer, and how to contact you. Optimizing your TikTok profile makes this information front-and-center on your page and enables your success.
Start by choosing a username and display name that clearly states who you are — the name of your real estate agency is typically your best bet.
The next step is to optimize your bio. Here's what you should include:
The area you service
A link to your real estate website
A brief blurb about who you are and what you do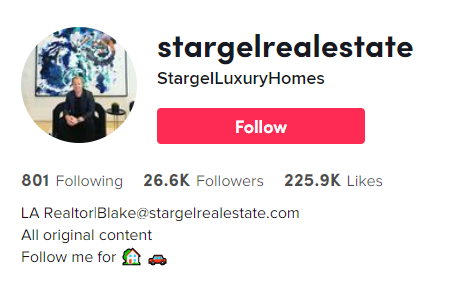 Next, use a professional headshot or your company's logo, if that makes more sense for your brand. Finally, link to your other social media accounts.
How to create content and develop your style
The hardest part of setting up your TikTok account is posting your first video. Although the TikTok app makes it easy to create content, walking you step-by-step through the recording and editing process as soon as you hit the "create" button, it can be nerve-wracking to decide on the content to post and develop a style that feels right for you.
The best way to create content on TikTok is to be genuine and let yourself have a little bit of fun. TikTok videos aren't formalized seminars, so don't be afraid to bring a little bit of energy to the table.
When deciding what to post, look through any materials you have, from hand-outs you give clients to old PowerPoint presentations you've given. Ask yourself:
What's the most important takeaway from this?
How can I capture that in just 15 seconds?
This will help you generate a plethora of valuable content your audience will appreciate. As you become more familiar with TikTok, you can weave in personal stories and TikTok trends that you enjoy.
What are the top tips for using TikTok for real estate agents?
As with any social media platform, there are best practices you need to know when you're first getting started. Here are the four top tips on using TikTok for real estate agents.
1. Follow trends
From offering real estate tips and tricks to uncovering hidden rooms, there are several real estate trends you can make your own. While it's always a good idea for a large portion of your content to be as original as possible, peppering it with trending content has many benefits.
Mainly, when a particular topic is trending, people find it engaging. Creating content that follows trends also increases your likelihood of winding up on someone's "for you" page. If a user has liked content from that trend before, the algorithm can push more of that content at them.
2. Use both organic posts and ads
One great thing about TikTok is that you can curate a variety of organic posts and paid advertisements. However, the company stresses that using TikTok for business should be organic and avoid overt pitches, even in paid ads.
A winning strategy uses organic posts to test your audience and see what content drives the most engagement. You can then use top-performing posts as paid advertisements for your brand or develop paid ads based on the type of content your viewers get most excited to see.
3. Have a consistent posting schedule
Posting consistency is a key factor in TikTok success, with experts agreeing that the "Golden Rule" of TikTok is to post at least once per day, and as many as three times a day if you're just growing your audience.
This number can feel overwhelming on top of your already-busy real estate schedule. However, keep in mind that TikTok is designed for ultra-short-form content, and with the in-app editing software, you can have a 15-second video ready to post in just a few minutes. There are also a variety of TikTok schedulers available if you want to create a bunch of content at once and then schedule it to post at a future date.
4. Use hashtags to reach your audience
Using hashtags allows you to organize your posts and teach algorithms what your content is about. Hashtags are clickable, which means that if a user clicks on a hashtag, they're brought to a list of posts that contain that hashtag. As a result, it's important to use popular hashtags that make sense for your content.
Search for trending real estate hashtags, or look at what your top competitors use as hashtags to get started.
Start your real estate TikTok adventure today
The great thing about using TikTok for real estate agents is there's almost no barrier to entry. As long as you have a smartphone and information to impart to your audience, you can start a TikTok account that focuses on real estate.

Start today by downloading the TikTok app, watching videos other realtors have posted, and getting a feel for the platform. When you're ready, you can hit the big plus button in the corner and create your first official TikTok. Consider exploring the 10 commandments for millennial marketing to inspire your marketing initiatives. If you run a mortgage business, you can also dive into marketing ideas for lead generation, as well as check out our guide to real estate email marketing. And if you're looking for ways to effectively incorporate your brand identity into your real estate business card check out our blog post!

Share with your network