Top-of-mind is a key term in real estate marketing, and for good reason. Repeat business and referrals are crucial in this competitive industry. Remaining top-of-mind is more likely when previous clients receive regular reminders of the important role your services have played in building their current way of life.
A variety of strategies allow you to stay relevant to key real estate clients, but two stand out as especially effective: real estate client appreciation events and gifts. Each serves a distinct purpose and must be handled with care, as we explain below:
We make it easy for you to have a growing and connected client base with all the marketing tools you need, synced to the tools you're already using.
Why real estate client appreciation events matter
Today's most effective branding strategies center around the concept of community. Clients want to be part of something greater. Your appreciation events can promote this feeling of connection, especially if you cater to a particular neighborhood or type of client.
This is also a great opportunity to show clients that you care. They will be flattered that you went out of your way to throw an event they find appealing.
Types of real estate client appreciation events
Think of any type of event you might like to attend with friends, family members, or colleagues. This can probably be tailored for the real estate crowd. You are only limited by your budget and your creativity.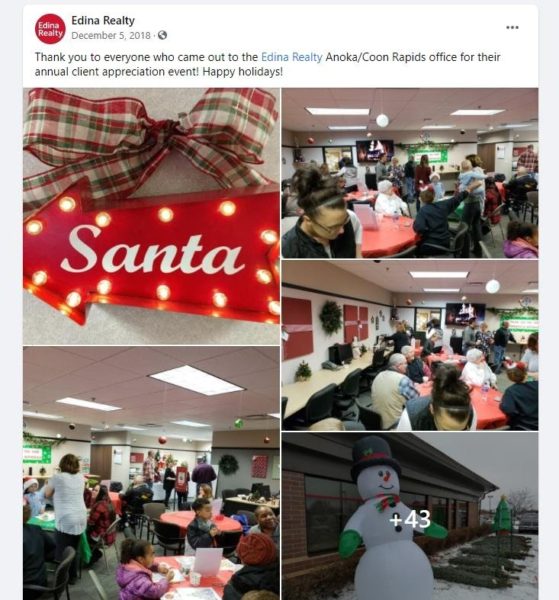 Try these ideas to get clients talking:
Visit to a brewery or wine bar
Happy hour during a football game
Ice cream social
Sunset river cruise
Brunch party or meetup at a local coffee shop
Holiday events, such as meeting Santa
Charitable or volunteer event such as a 5k race
Virtual events such as Zoom paint nights or concerts on Facebook Live
How to level up your event
No matter which type of real estate client appreciation event you host, it's crucial that you plan every detail to make attendees feel valued. This begins with the invite and extends to personal greetings and the quality of the event itself.
Plan an event that reflects your unique brand image. This should be evident in the venue, the decor, and the music selection. For example, a real estate business that primarily caters to sophisticated, urban retirees might hold a wine tasting with elegant decor and jazz music in the background.
Meanwhile, suburban homebuyers in their 30s and 40s may prefer a casual event that encourages them to bring their children — a pool party, for example, with cheery music and colorful decorations.
Promoting your event
While your event provides an excellent opportunity to show that you care, your ROI will largely stem from your efforts to promote this special occasion. This can take many forms, such as personalized invites, email newsletter features, or social media updates.
Promotion should occur not only before the big day, but also during and after the event. In the context of social media, this could mean:
Sharing reminders for a real estate client appreciation party with Facebook invites.
Encouraging attendees to use a hashtag when posting images of your event
Highlighting photos and videos of guests enjoying themselves on Instagram Stories
Real estate client appreciation gifts
Not all clients can attend appreciation events. Many, however, will be thrilled to receive thoughtful gifts. Like events, these fulfill your ongoing goal of remaining top-of-mind while demonstrating gratitude. They also provide great opportunities for personalization.
Examples of gifts that appeal to real estate clients might include:
A thank you basket with wine and snacks for pairing
Decor or artwork that reflects the client's preferred aesthetic
A donation to a charity of the client's choosing
Pet toys for clients with cats or dogs
A painting or framed photo of the client's new home
A gift card to a local restaurant or coffee shop
‌For continued reminders of your appreciation, sign your clients up for a subscription service. This could provide up to twelve months of surprises, such as candles, lotions, or snacks.
When to send gifts
The timing of your real estate client appreciation gift can be just as impactful as the item you choose. Closing, in particular, represents an excellent opportunity to thank clients for their business.
The right gift creates a positive final impression of the transaction and could even help smooth over any challenges you and the client faced along the way. Clients will recall your thoughtfulness long after the handover of keys and the iconic photo with the "SOLD" sign.
In addition to providing gifts at closing, consider building in small tokens to recognize major real estate anniversaries. For example, a one-year gift can recognize a successful first year of homeownership. You might also consider giving five-year gifts, which arrive just as previous clients are starting to think of upgrading.
Holiday marketing represents another excellent opportunity for remaining top-of-mind. Survey results from Inman suggest that nearly half of all agents currently rely on this strategy. The most popular options were food or beverage-based gifts, such as snacks, bottles of wine, or gift cards to restaurants.
Finally, as mentioned above, gifts can be provided to all those who attend client appreciation events. These won't have the same personal feel as closing gifts, but they will be appreciated nonetheless.
Legal considerations
Legal and ethical concerns may come into play as you cultivate a client appreciation strategy. Cover your bases by examining the Real Estate Settlement Procedures Act (RESPA).
Section 8(a) warrants special attention. It mandates that no person give or accept "any fee, kickback, or thing of value" related to a real estate transaction based on the promise of a referral.
Essentially, RESPA forbids real estate agents from providing rewards in direct exchange for referrals. Gifts of appreciation may be acceptable in hopes that they could encourage eventual referrals, but there should be no strings attached.
Civil penalties imposed by the Consumer Protection Financial Bureau can be considerable, so it's crucial that you emphasize gifts' status as tokens of appreciation. There should be no implication that you expect referrals in return.
Client appreciation emails
Real estate clients love to receive gifts and event invites, but many simply want you to take the time to express your gratitude. As such, a heartfelt thank you message can often leave an even stronger impression than any gift or event.
Handwritten notes work wonders upon closing, but real estate emails can further convey your appreciation. They also indicate your eagerness to continue nurturing your relationships with your clients. These individuals can one day provide repeat business or new referrals.
Streamline email interactions by setting up automated annual messages. Sent every year on closing anniversaries, these should convey that you're as grateful as ever for your clients — and that you wish them well. Simple and genuine, such messages will promote top-of-mind awareness. This, in turn, will encourage repeat business.
Improve your client appreciation strategy with Constant Contact
As you continue to interact with clients in order to stay as relevant as possible, look to Constant Contact for help. We have tools that can help you set up automated appreciation emails or show your gratitude through email newsletters for real estate.

If you'd like more insight into real estate marketing through emails and marketing in general, check out The Download. There, you'll find comprehensive marketing assistance tailored to address the chief concerns in the real estate industry. This resource could be what you need to take your marketing strategy to the next level.

Share with your network