Your social media presence is a huge asset to your online real estate marketing efforts. Knowing a few simple tips, like using relevant realtor hashtags and the importance behind them, can quickly grow your business via social media.
This guide will walk you through the best real estate agent hashtags and how to use these hashtags to increase organic traffic to your website for real estate and improve lead generation for your real estate business.
What are real estate hashtags?
Think of hashtags as a filing system for social media content. Anything you put after a # (without a space) is a hashtag. Social media platforms use hashtags to group similar content together, recommend new content for users based on their previous engagement, and show relevant search results.
Real estate hashtags pertain directly to the real estate industry. People may search for these hashtags when looking for listings in their area or searching for a new real estate agent.
We make it easy for you to have a growing and connected client base with all the marketing tools you need, synced to the tools you're already using.
What are the benefits of using hashtags as a realtor?
Hashtags can be an effective marketing tool for your real estate agency. When you use popular hashtags in your industry, you'll improve the reach of your social media posts and increase your organic traffic.
Using hashtags on Twitter can increase a post's engagement by 50%, while Instagram posts with at least one hashtag receive 29% more engagement.
The best part: using hashtags is one of the quickest and easiest ways to boost your social media presence in the real estate world.
How do you use hashtags for real estate?
When creating a post, make sure you're following hashtag best practices.
1. Use hashtags that are relevant to the content you are posting. Don't just use the same hashtags for each of your posts. Every hashtag you choose should be tailored to the specific post you are writing.
2. Don't forget the extra space. Remember that hashtags end when you put a space after a word. Using capital letters at the start of new words can help make a longer tag more readable. For example, #FirstTimeHomeBuyer is much easier to read than #firsttimehomebuyer. Social media platforms will index both forms of hashtags the same way, but your readers will appreciate the ease of reading your content.
3. Figure out how many hashtags to use per post. While there's no exact science, the number of hashtags you should use will vary based on the platform you're on.
Since Twitter specializes in shorter posts and limits the number of characters you use, it's best to stick to one or two hashtags per post. Integrate these hashtags directly into your content when possible. For example, you might Tweet something like, "Check out this gorgeous 2BR/2BA house, which was #JustListed and is looking for its new owners."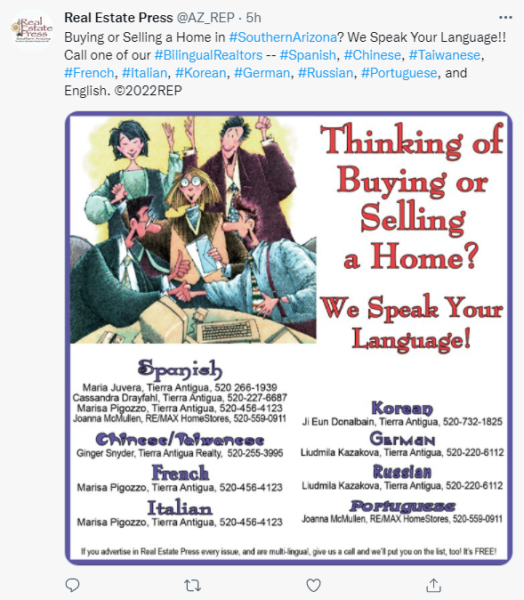 With Instagram marketing for real estate, you'll still want to limit the number of hashtags you use, but you can use more since there is no character limit. That said, Instagram posts with approximately 11 hashtags have been shown to receive the most engagement.
For best readability, it helps to use just one or two hashtags organically in the post itself. Then, add a series of hashtags after your content to help Instagram index your post. If you don't want to clog up your content, you can also comment on the post with your hashtags and the post will be indexed in the same way.
What are some current realtor hashtags worth using?
As a real estate agent, you offer a variety of services. Your social media content likely highlights this mix. Some posts might promote who you are as a realtor, some might advertise new listings or open houses, while others might provide upkeep tips and tricks for your previous clients who are settling into their new homes.
The point is, you should use an array of realtor hashtags that are as varied as the content you produce.
Best realtor hashtags when advertising your services
When showcasing yourself as a realtor and trying to direct more people to your services, these hashtags can be useful:
#RealEstate
#Realtor
#RealEstateAgent
#RealtorLife
#RealEstateLife
#RealtorsofInstagram
#PropertyManagement
Best realtor hashtags when listing new properties
Any time you list a new property or host an open house, you can refer to this list of hashtags.
#Home
#Property
#ForSale
#NewHome
#LuxuryRealEstate
#HomesforSale
#JustListed
#NewListing
#InvestmentProperty
#OpenHouse
Best realtor hashtags when providing quality content
When you're giving your previous clients information about preparing their homes to be sold, protecting their investments, or enjoying their forever homes, these hashtags may be most relevant:
#Investment
#HouseHunting
#DreamHome
#InteriorDesign
#HomeSweetHome
#FirstTimeHomeBuyer
#RealEstateTips
How to choose the right real estate hashtags?
The number one rule to choosing the right real estate hashtags is simple: use hashtags that are relevant to the content you are posting. Misusing hashtags can cause clients to lose trust in you and your services.
For example, don't use the hashtag #LuxuryRealEstate if you're listing a foreclosure property.
It's also a good idea to track your hashtag performance. Create a list of your hashtags and document the engagement (likes, comments, follows) associated with them. This can help you determine which hashtags to reuse in future posts and which hashtags to retire.
How do you find new realtor hashtags?
Hashtags are continually changing. Ones that are trending today may lose popularity in a month or a year. That's why, in addition to having a list of hashtags to use during content creation, it's also important to understand how to find the best real estate hashtags in the future.
There are many tools you can use to find hashtags for your industry. These tools include:
In addition to using these hashtag location tools, you can follow your competitors' social media pages. Seeing what they use for hashtags can help you ensure you're reaching the same audiences.
You don't want to copy their hashtags every time, but if they use a hashtag you haven't seen before, it may be worth investigating whether that hashtag has traction and should be part of your hashtag toolkit.
Improve your social media game by using realtor hashtags like a pro
Having a strong grasp of realtor hashtags keeps your real estate content looking fresh and ensures your social media posts receive the most possible views. Get started today by creating a list of hashtags you want to use in the next couple of weeks. Keep this list next to your computer or tucked into the back of your phone so you can rely on it any time you create a social media post.

Over time, you can also incorporate hashtags into your social media calendar. This allows you to be proactive and generate content around trending real estate agent hashtags, which can further boost your engagement.

Before long, using real estate hashtags will become second nature and you'll enjoy the increase in organic traffic you receive as a result. If you are interested in other ways to generate organic traffic, check out our guide for real estate email marketing.

Share with your network