Our mission at Constant Contact has always been to help small businesses succeed however we can – and the creativity and resilience our customers have shown since the onset of COVID-19 has been nothing short of incredible. When we think about the best ways we can support them during this time, two things stand out to us the most – share more knowledge and offer more guidance.
That's why, when it became clear that the effects of COVID-19 would be sticking around for a while, we began a large-scale research initiative aimed at helping small businesses understand how their customers are changing and how businesses should adjust to meet those expectations. We believe that small business owners who use these insights can evolve their business to become even stronger — no matter what comes next.  
Today, we're announcing our latest report to help small businesses find big opportunities. "Small Business Now" contains valuable insights from over 1,000 American small business leaders and 1,000 U.S. consumers. It provides a granular look at what trends we are observing in the world of small business, paired with guidance from our own marketing experts on how business leaders can turn that knowledge into action.
The data, and the trends we're seeing from our own customers, show a disconnect between what small businesses think their customers want and what consumers are actually looking for. This report outlines the four main areas where that gap is most prominent, and ways small businesses can alter their marketing strategies to start driving more results.
Small businesses are relying heavily on social media to drive financial results, but consumers don't shop there very often
When we started our research, we first sought to understand how and where small businesses were marketing themselves online. Examining the typical marketing mix provided us with a baseline understanding for what they feel is the best fit for their unique business needs. Their initial responses matched up with what we expected.
Most are using some combination of email, social media, and a website. Some have active ecommerce stores and search engine marketing campaigns while others mix in direct mail or text messaging. When we probed a little deeper, though, one thing stood out to us – almost half of small businesses feel social media is the most effective channel for driving business results.
Here's where small businesses said they were most likely to promote: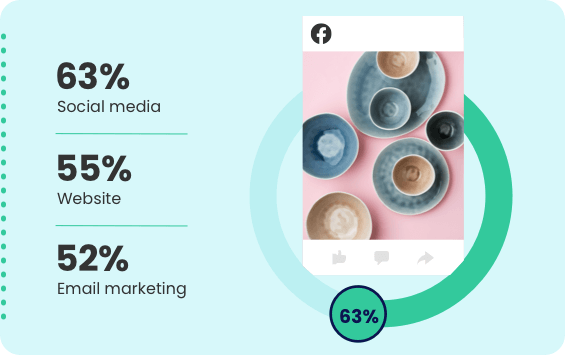 Small businesses are most likely to use social media (63 percent), websites (55 percent) and email marketing (52 percent) to promote themselves online
24 percent of small businesses said social media was their most critical marketing channel for driving business during the pandemic
Small businesses who started selling online during the pandemic are 3x more likely to feel social media is the best marketing tactic for securing sales, compared to email marketing
The ability to quickly reach users with relevant content on social media makes it a terrific option for brand awareness and building a following online. It's also an extremely cost-effective way to market to customers and maintain an online presence. But, it's not without its problems. Despite the low barrier to entry and near-instant feedback loop marketers enjoy on social media, the reality is that it's become a pay-to-play channel that doesn't reach all followers without a financial investment. It's also rare for businesses to be able to attribute any bump in revenue to this form of marketing alone. After all, how many "likes" or "shares" can you definitively say result in a sale? Additionally, what you know about those who like or share your page is often obscured, decreasing the value of those followers.
To explore more about this trend, we looked at how consumers feel about being marketed to on social media, and whether a post, pin, ad or story simply makes them stop scrolling, or spurs them to make a purchase. As it turns out, consumers are much more likely to buy after receiving an email or a text message from a brand than seeing them through social media.
Consumers are likeliest to buy from: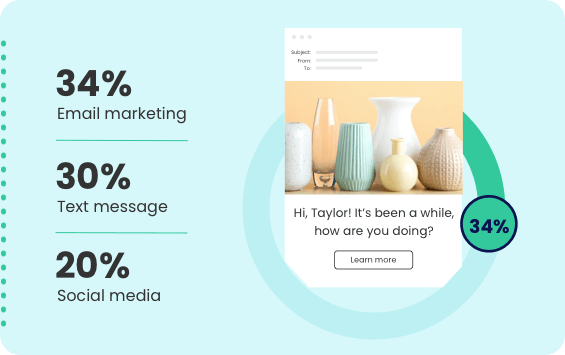 34 percent of consumers say email is the most helpful method of communication to receive from a small business when they are considering a purchase
30 percent are looking for SMS messages to help them along in their buying decision
To put these findings in perspective, about half of small businesses are expecting revenue from a channel that consumers aren't using to buy. While it's possible to use social media to hook their attention (45 percent of shoppers said social was effective at doing this), other marketing channels are much more likely to drive sales.
This could change in the near future as we are starting to see social commerce come to market with new features like livestream social shopping, but so far, the majority of consumers aren't prompted to buy via social. Expecting a significant financial return from social media alone is a potentially costly disconnect, and small businesses are likely leaving revenue on the table by focusing solely on a single channel.
The truth: Social media is most valuable when combined with other marketing efforts
The bottom line
Social media is undoubtedly an effective tool for promoting or starting a business, engaging with customers, and building an audience online. However, it should be one component of a business's larger marketing mix, not their only priority. The best way for a small business to get the most out of its social media presence is to combine it with other marketing methods to create personalized experiences for customers, nurture them over time, and ultimately drive repeat business.
Consumers with an intent to buy are looking for more than just a thumb-stopping image in their feeds — they want a curated experience that's personalized to them and delivered in a format they can return to when they're ready to purchase. Only email marketing can provide that type of interaction, and we've seen small businesses have a lot of success when they get creative with their email campaigns. After all, even with the extreme popularity of social media, email marketing still has the highest return on investment of all forms of marketing, with an average return of $36 for every $1 spent.
It's also important for small businesses to consider the likelihood that their platform of choice will eventually make changes that spurn access to a business' own followers. For example, Instagram recently announced its intentions to start prioritizing recommended video content in a user's feed, signaling a departure from its heritage as an image-sharing platform. As a result, small businesses who aren't sharing videos will likely see their reach decline and may even lose followers.
Instead of building a following on a separate platform and trying to convince users to buy somewhere they'd prefer not to, why not use email marketing in tandem with your social media efforts to activate that following? This allows you to pull those followers into an environment where you can deliver the right message to the right people at the right time — every time. Doing so not only inspires trust from the recipient, it also tends to increase the lifetime value of each customer.
As you're planning your social media strategy, consider the goals you hope to achieve before hitting "send" on that next post. Most consumers won't buy when they see a social media post, and small businesses don't own their audience if it's housed on a third-party platform. To have more control over your followers' experience and turn them into repeat customers, consider layering in email marketing as well.
Ask the expert
"The pandemic gave marketers a noticeable bump in the performance of their social media campaigns, but it was likely a temporary and artificial one. While it was certainly a valuable channel for engaging followers and amplifying brand awareness during the pandemic, you're unlikely to see that type of growth and engagement over time once things normalize again – which is something we're already beginning to see.

Social media platforms are always going to optimize toward driving their own revenue, and that could mean introducing new features or restricting access to audiences that a business has spent time and perhaps money cultivating. There's no way around it – you're renting whatever audience you've built on social media, and rent is going up. Today is the best time to start building your email list – tomorrow is too late."

Patrick Gillooly, Marketing Director at Constant Contact
Small businesses are confident that they know their customers' needs, but most are not communicating the information consumers want, or using the channels they prefer
Beyond how small businesses are marketing themselves, it was also important to us to understand what types of content they feel helps them win a customer's favor, and when it is typically shared. So, we dug into the flow of information, specifically looking at the role another common tactic — email marketing — plays in the consumer-business relationship. Our research revealed that small business leaders aren't as in-tune with the needs of their customers as they might think.
The small businesses that we polled made it clear — 84 percent are "very" or "extremely confident" that they know what their customers are looking for. This includes assumptions around the right types of emails to send, the cadence of communication, and how to measure the success of a campaign. Let's start by looking at what kinds of emails these businesses feel consumers are interested in receiving:
Half (50 percent) of SMBs have given subscribers an update on their business (including operational changes, policy updates, etc) in the last 4 months
The majority of small businesses believe the emails most likely to result in a purchase are emails checking in on a customer's well-being (47 percent have sent one in the last 4 months), and emails about a sale (38 percent have sent these in the last 4 months)
73 percent feel "very" or "extremely confident" that their online marketing strategy will help them achieve their business goals through the rest of 2021
It's likely that the desire to check in on a customer's well-being directly resulted from the first few months of the COVID-19 pandemic, when community bonds between consumers and their small business neighbors significantly strengthened. It's also encouraging to see that even with all the pivots small businesses have been forced to make as the pandemic continues, most feel confident that they are hitting the mark and providing consumers with information that will help earn their business.
However, when we asked consumers the same question about what they're looking for from small businesses, another clear disconnect emerged: consumers much prefer coupons.
When asked what types of emails are most likely to encourage a purchase, here's what consumers said: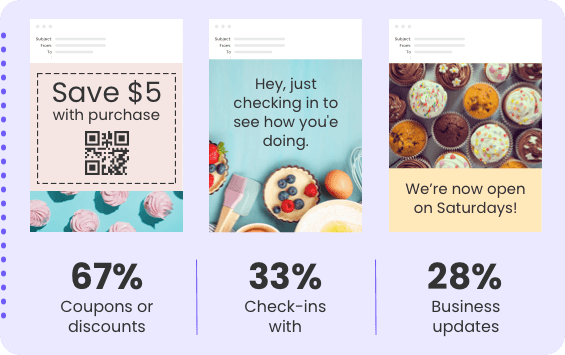 Emails with a clear discount code or coupon are more likely to be opened (77 percent of consumers open these), AND more likely to lead to a purchase (67 percent buy from these) than any other type of email a small business could send.
40 percent of consumers said well-being emails won't influence their purchase decision
Emails with coupons are least likely to be deleted, or push someone to unsubscribe
To put this another way, let's compare the demand for coupons to other types of emails businesses typically send. Consumers say emails with a coupon are 83 percent more likely to be opened than an email newsletter, 67 percent more likely to be opened than an abandoned cart email, and 64 percent more likely to be opened than a well-being checkup email.
Small businesses who aren't sharing coupons or discounts are clearly missing out on the opportunity to not only improve the performance of their campaigns, but also generate more sales. With this in mind, they may want to spend time rethinking their email strategies, as campaigns with coupons and discounts convert at a much higher rate than other content.
It's critical to take time to really understand what your customers want
The bottom line
There's a lot to unpack here, but what's most important is that small businesses certainly have room for improvement when it comes to the content they communicate to consumers, particularly if their goal is to generate sales. It's absolutely crucial to spend time understanding what your target audience is looking for, then do everything you can to deliver that experience to them. Getting this wrong can mean the difference between a sale, and a one-way trip to the trash can.
The fact that shopping content is so highly sought after by consumers speaks to the evolution of email marketing into more than just a way for brands to show up in a customer's inbox. Today's consumers are not just open to receiving coupons, discounts and sales from small businesses — they are actively looking for those emails, and they want to buy. So, give them more of what they want! Infusing email marketing campaigns with ecommerce elements allows each of those tools to work together, which helps small businesses deliver more valuable content to subscribers while generating more revenue in the process.
Another suggestion — if you haven't considered SMS as another way to complement your email marketing strategy, you might want to give it a try. We found that 81 percent of consumers have received at least one SMS from a small business, and about half (45 percent) say they enjoy getting these messages. According to consumers, the SMS messages most likely to result in a purchase feature a promotion or sale, new or seasonal items, or inventory alerts for new products. Pairing these instant alerts with a more robust email campaign with an option to purchase enables businesses to extract value from multiple channels and offer a more cohesive branded experience for their customers.
Lastly, one important thing for small business leaders to keep in mind is the frequency with which they are communicating with customers. It's easy to fall into the trap of sending too much, and inbox fatigue is a slippery slope to an unsubscribe. Our research shows that 33 percent of consumers feel overwhelmed by the amount of communication they receive from a brand, so pay close attention to your email reporting to see what your customers respond well to and try your best to prioritize content that will be most helpful to them.
Ask the expert
"The key to creating an effective email marketing strategy is finding the right mix of content that provides value to your audience and also generates the best outcome for your business. It's a delicate balance, and an important piece of that is having the awareness to understand that what your customer wants may not always match up with what you had planned to send them. This study confirms that small businesses still have some room for improvement in that area.

Only you have access to your customers and what their unique behavior is – so, use that to your advantage. Instead of planning campaigns around what you think is going to work best, set up indicators that can help you evaluate how your customers are really behaving and what is truly driving a business result. Then, let the data be your guide. When you know what your audience enjoys, you can start testing new ways to activate that interest to drive even more results."

Dave Charest, Director of Content Marketing at Constant Contact
Small businesses are starting to optimize their email marketing, but there's more they could be doing to cut down on manual effort, improve personalization, and retain customers
Looking at our research, it was clear that email marketing had quite a bit of untapped potential for small businesses to take advantage of. The next logical question was to think about their workflow and determine where there may be opportunities to streamline the process. If there's one thing we know about small business leaders, it's that they are extremely busy. The last thing marketing should be doing is holding them back from working on their next great idea.
Modern marketing technologies currently being used by small businesses:
Our findings support this, as small businesses recognize they can optimize their email strategy by using modern marketing technologies. When we asked what they are currently using, automation was the most popular response, with 35 percent saying they incorporate some form of marketing automation. Examples of those could include a reminder to a customer about something they left in their cart, to a special message with a discount code on their birthday each year. Of those who haven't tried automation, 35 percent are planning to implement in the next 6-12 months:
Here's how small businesses rank the benefits of modern marketing technologies: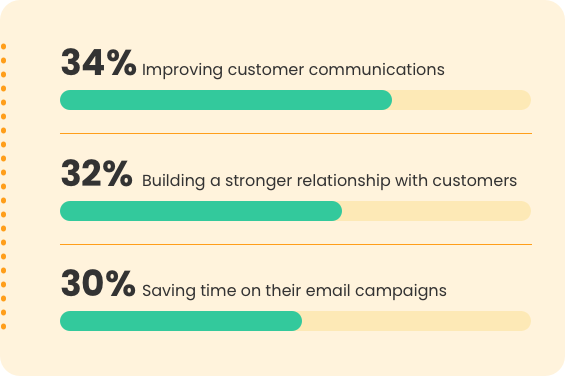 Small businesses feel the biggest benefits of modern marketing technologies are improving customer communications (34 percent), building a stronger relationship with customers (32 percent), and saving time on their email campaigns (30 percent)
Beyond automation of manual tasks 34 percent are currently using Artificial Intelligence (AI) to take things a step further
Of the businesses who aren't using modern marketing technologies, 53 percent don't see the business benefit, and 22 percent feel it's too expensive
In the past, words like automation and AI have felt a little far-fetched and undefined. However, we've reached a point where the mystique has dissipated and there is a very real business case for implementing these tools. Though online marketing may seem complex (and it certainly can be), a modern strategy that makes use of new technologies is an extremely simple and reliable way for small businesses to improve marketing results without adding extra effort. We've heard this feedback from our customers as well, some of whom have seen a big difference in everything from email engagement to online sales.
Although they are moving in the right direction, there are still opportunities for small businesses to enjoy even greater business benefits by enhancing their existing campaigns. Small business leaders don't have a moment to spare in their routines, but we discovered that most are spending almost half a day manually managing email campaigns:
72 percent of small businesses said it takes between 1-4 hours to create an email campaign.
More than half (56 percent) say it takes them over 3 hours
Optimizing your email marketing strategy with cutting-edge technology can save small businesses significant time and help them market more effectively
The bottom line
Our earlier findings prove that sharing high-quality content that consumers are looking for is the best way to see a return on your email marketing efforts. When you couple that with powerful, yet approachable, data science that can help you make real-time decisions, you supercharge your campaigns and improve the way you communicate with customers. We are excited to see that small businesses now understand and trust this benefit and usage is becoming more widespread.
With so much on their plates, small business leaders are always looking for more time in the day, and fortunately, automation can help them find it. Instead of spending hours creating emails, managing customer lists, reviewing rounds of copy and trying to remember birthdays, automating this work unlocks that precious time and puts it back in the hands of small business leaders. It really is that simple.
There's also an element of consistency that these technologies can bring to a brand's communications, which can help earn a customer's loyalty. Many small businesses send newsletters or welcome emails to new subscribers, but an even better way to engage those users is to take things a step further and create an automated welcome series. It would give subscribers multiple touchpoints with the brand, and help establish a consistent voice and tone that they should expect in future emails.
People want to buy from businesses who understand what they like, communicate well, and make it easy for them to find what they're looking for. Combining the speed and consistency that email automation enables with the personalization that AI can deliver is a fast-track for small businesses to see better results from their campaigns — and ultimately, more business.
A modern email marketing strategy is one that saves small business leaders time, gives them peace of mind, and helps them achieve their goals faster. By infusing their campaigns with the latest technologies, small businesses can optimize manual tasks like managing email drip campaigns and A/B testing, and have confidence that their campaigns will generate engagement from subscribers.
Ask the expert
"The most important thing for any business is to know its audience. Yet, consumer behavior is changing so rapidly that it's increasingly difficult for small businesses to keep up on their own — especially as the pandemic progresses. It takes too long to manually analyze all the data they are collecting about their customers, and even longer to translate that data into an effective email or text message campaign. Fortunately, the secret weapon that can help them optimize their approach already exists.

Marketing enhancements like automation and AI are simple to start using, and they are extremely reliable. Not only will you become more knowledgeable about where your customers are in their purchasing journey, you'll also be able to predict when they are most likely to engage with your messages so you can optimize your sends. From there, it's a lot simpler and faster to build a campaign you know will be successful."

Jerry Jao, SVP of Advanced Marketing and Ecommerce at Constant Contact
Brick-and-Mortar stores are currently "in" for shoppers, but ecommerce is their new baseline
Ultimately, the purpose of marketing is to help create awareness that will translate into revenue for the business. We've examined how businesses are attracting consumers, how they nurture them, and ways they can take their efforts to the next level. But what about converting those users into customers? COVID-19 dramatically changed the retail landscape, instilling new expectations in the minds of consumers and forcing businesses to get creative in the ways they enabled buying. Understanding these factors allows us to evaluate their progress and make recommendations based on real data about where they can improve even more.
Unsurprisingly, as small businesses were forced to close their physical stores in 2020, ecommerce took over as their saving grace during the pandemic. In fact, 58 percent of SMBs we polled started selling online for the first time after COVID-19 hit. Evidently, this was a major differentiator for consumers because when asked if they shop at small businesses more today than before the pandemic, 41 percent said yes.
Nearly half (48 percent) of small businesses who currently sell online generate a majority of their revenue from ecommerce sales
Of those who don't have an online store, 61 percent plan to open one within the next year
While ecommerce has undoubtedly played a starring role thus far in the pandemic, we also wanted to understand whether the appetite for online shopping has changed now that most restrictions have been dropped and stores have reopened — and whether small businesses should readjust any of their strategies. We discovered that retail therapy is still alive and well. Consumers are flocking back to physical stores, and they are ready to spend.
Consumers say 60 percent of their shopping is currently done at physical stores, with 40 percent happening online
Over half (53 percent) of consumers currently prefer to shop at small businesses in physical stores
Budgets for in-person shopping are larger than online, with 61 percent of consumers saying they spend over $100 at physical stores each month
It's likely that this boomerang back to stores is a result of being cooped up for over a year due to the pandemic. Though there are still hot spots around the nation where COVID-19 is spreading, the majority of consumers are happy to be out of their homes and treating themselves to a shopping experience that doesn't start and end on their mobile devices. There's also a valuable lesson here for small businesses who went all-in on ecommerce over the past 16 months — there's still value in having a physical location where consumers can come shop in-person.
Still, when we asked about online buying specifically, there was no question that ecommerce isn't losing any steam in the eyes of shoppers. The consumers we polled were quick to point out that they still shop online frequently, and if a small business doesn't offer that ability, they would turn their attention elsewhere. Interestingly, we discovered that some small businesses still lag behind in enabling this type of purchase behavior:
86 percent of consumers have bought something online in the last month, and 61 percent have ordered in the last week
35 percent said an issue with an SMB's website, or an inability to buy online would discourage them from being a patron of that business
Almost half (45 percent) of small businesses still don't have a website for their business, and 43 percent of those with a physical store are not currently selling online
Once again, we see a disconnect between what small businesses believe consumers are looking for, and what the behavior of their customers reflects. A study by eMarketer estimates that although brick-and-mortar retail sales are projected to reach levels not seen since 2011, ecommerce is still growing exponentially faster — and consumer behavior appears to confirm this. While in-store shopping might be the "in" trend right now, ecommerce should remain a priority for small businesses who want to see their online sales grow.
It's time for every small business to do business online
The bottom line
First things first. Unless you are not interested in growing your small business, you need to have a website. Not only are business websites easy and cost-effective to build (almost no code knowledge is required these days), they are essentially a prerequisite for your customers to consider giving you their business. Having a well-designed, engaging, responsive website is a terrific way to do things like inform visitors about how to contact you, share more about what products or services you offer, and improve the way you show up in search results.
Adding an online store to your website takes this a step further and enables consumers to buy from you at any time, which is something they are absolutely interested in doing. Given how big of a difference ecommerce made for small businesses during the pandemic, simply starting an online store could lead to a significant boost in sales.
While the rush back to physical stores is certainly something to adjust for at this moment, ecommerce is the only way to turn that foot traffic into sales once a customer leaves the store. Taking the time to invest in ecommerce today ensures that when a potential customer wants to buy, they are able to place their order, no matter what.
When you pair an ecommerce enabled website with other tools like email marketing to amplify your products, the potential gains increase even more. Owning the entire purchasing process from awareness to fulfillment gives small businesses complete control over what a shopper experiences when engaging with their brand, and it allows them to tailor that experience in a way other online platforms don't allow.
Many marketing tactics are aimed at attracting customers and encouraging them to buy, but nobody is going to actually make a purchase if it's too difficult for them to place an order. Setting up an online store and infusing ecommerce into your existing strategies is easier than you might think.
Ask the expert
"We've always known shoppers would return to stores because ecommerce growth had to stabilize eventually from the COVID surge. We've seemingly reached that point, and I think we'll see those trips become much more purposeful since consumers now have so many choices in where, and how, to buy. The challenge for small businesses is learning how they can make their online and offline channels work cohesively to drive more sales. Expanding on effective pandemic-driven tactics like curbside pickup, buy online & pick-up in store and mobile payments is something they should certainly consider going forward.

The biggest thing we've learned during the pandemic is how important convenience is to shoppers. Offering a variety of products and multiple options for them to get what they're looking for is the standard they expect. So, if you haven't set up a website or an online store, and you aren't using email and other methods to encourage them to buy, you're already behind. The small businesses who recognize this and understand the value in investing in those areas will continue to see tremendous growth over the next few years."

Nick Maglosky, VP of Product Strategy & Strategic Partnerships at Constant Contact
What we've learned
Our goal when we began this study was to provide guidance to small businesses about how well they are marketing themselves and meeting the needs of their customers. While we intend to continue collecting more data and insights over time, our biggest takeaway right now is that small businesses and consumers are not on the same page when it comes to what marketing tactics drive results.
The pandemic may have upended life as we know it, but it didn't dampen any interest from consumers in supporting small businesses. One of the best ways brands can meet this demand is to marry their email marketing and ecommerce efforts to help not only deliver the types of communications that consumers prefer, but also provide them with an easy path to purchase. When used in tandem, email marketing and ecommerce are essential marketing functions that can not only help save small businesses time, but also result in more sales and long-term customer loyalty.
While nobody has a crystal ball that can describe exactly what every potential customer wants, the trends we uncovered can help inform small businesses about what the majority of consumers care about. From an overreliance on social media alone to not embracing ecommerce, there are some clear, realistic marketing areas that business leaders can improve upon to more effectively and efficiently reach customers.
Learn more about how you can start combining ecommerce with a modern email marketing strategy to develop better relationships with customers and drive more business.