Did you know that in today's market, the people most likely to buy a home are also most likely to be on social media?
In 2019, the largest share of home buyers was between 22 and 39 years old. According to Pew Research, 90% of adults under 30 and 82% of those in their 30s are on social media.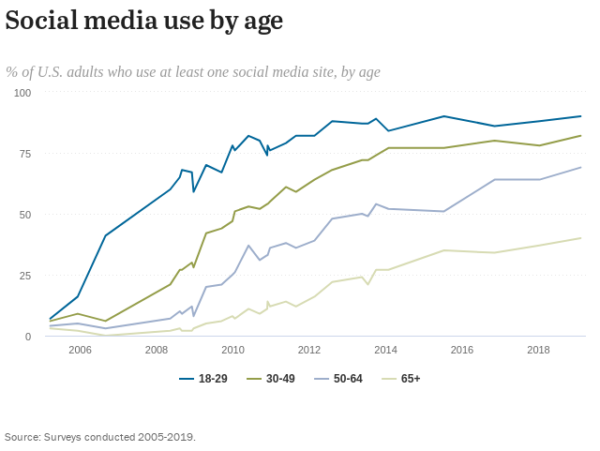 Of course, knowing that you need to be on social media doesn't make it easy. When you're busy doing real estate work, trying to keep up with your social posting can feel like treading water.
Don't worry — you can handle it! First of all, you don't have to be everywhere all at once. Create profiles on each of the major channels — Facebook, Instagram, YouTube, Twitter, and LinkedIn — then choose one channel to start with.
We make it easy for you to have a growing and connected client base with all the marketing tools you need, synced to the tools you're already using.
Real estate social media posts generally work best on Facebook or Instagram, but YouTube has been making a bid for dominance lately. In the end, it all depends on your brand and audience. Let's take a look at some ideas for each of those social platforms.
Ideas for real estate Facebook posts
Facebook is a front-runner in terms of sheer user numbers, but it really shines in its ability to generate conversations and build relationships.
1. Invite people to an event or seminar
You can use Facebook to create any kind of event, from a meet-and-greet at your office to a webinar for first-time home buyers.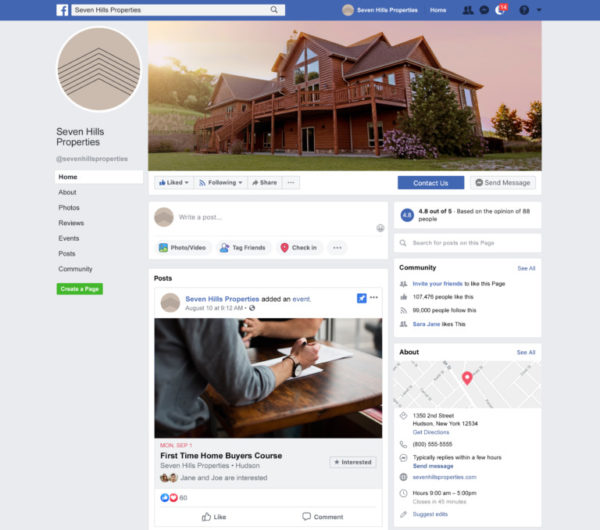 Once you've created an event, you can invite people and post updates, including content teasers. For example, if you host a homebuyer seminar like the one listed above, you might post about some tips you plan to discuss or share statistics about first-time home buying to get people interested.
You can also sponsor a local event and share the event invitation to your Facebook page. It's a great way of showing that you care about your community without coming across as braggy.
2. Host a holiday or seasonal decorating contest
Social media is great for getting people in the seasonal spirit. That goes for the traditional winter holidays as well as other times of the year with good decorating potential. Who doesn't love some bunnies and flowers in springtime or some pumpkins and cornstalks in the fall?
Bring your followers together and have some fun by using your Facebook Business page to host a seasonal decorating contest. Find out if any area businesses would be willing to donate toward a gift basket or gift card package as the prize. Post the rules of the contest and invite people to send you pictures of their decked-out homes. Remember to set a deadline!
Once you've chosen the winner, make the prize delivery into a photo opportunity. If you can't deliver the prize in person, that's okay — the winner can always send you a selfie!
A note on Facebook ads
Because of how Facebook's algorithm works, paid ads are more likely to reach new audiences than social posts. Be aware, though, that paid real estate social media posts count as a "special ad category." That means there are certain restrictions on the criteria you can use to target your ads. If you decide to use paid ads, familiarize yourself with the rules.
Ideas for Instagram posts
For real estate agents, Instagram posts are all about making a great visual impression. This is the channel for you if you have great property photos and love taking pictures around the office.
3. Share new listings
If you have a beautiful new listing on the market, Instagram is a great place to share it. Post the best pictures you have of the property, and make sure people know exactly how to find the listing itself.
Instagram only lets you share a clickable link in your bio, and even there, you're limited to one. The easiest strategy is to share the link to your website or listings page. Make sure that page is easily navigable so people can find what they're looking for.
Your other option is to use a link sharing service, which connects your bio URL to a list of other links that readers can click on. You can use this technique to share individual listing pages, but only go that route if you know you can keep your links updated. You don't want someone to see a photo of their dream home and then not be able to find the listing.
4. Introduce your team
You want your listing photos to be as polished and attractive as possible, but that doesn't mean you can't use Instagram to "keep it real" and be relatable.
Use your Instagram account to offer a behind-the-scenes view of your office and team. Every week, or even every few days, feature a different member of your team. Invite them to share pictures of their workspaces, families, and favorite properties on the market.
Ideas for YouTube videos
If someone asked you to list the most important social media networks, you might not immediately think of YouTube. But did you know that it had more active users than Facebook in 2019?
Video is informative and engaging on a person-to-person level, and it's a great way to share important information. Research shows that people will stop in their tracks to watch a YouTube video they like, and, best of all, 92% of mobile users share videos with others.
5. "A day in the life" of your real estate business
People love feeling like insiders, so give them a glimpse into what you do as real estate professionals. You can share stories like how you and your team prepare for open houses, or what you do to prepare for your day.
6. How-to videos
According to Google, "how-to" content gets more engagement than any other video type, and you have plenty of expertise to share. Social Media Today reports that "how-to" searches increase by 70% every year. Luckily, you have plenty of advice to offer.
Start by thinking in terms of categories and come up with playlist ideas. Examples include:
Increasing your home's curb appeal
What features/signs to look for when you visit a property
The most important repairs for home sellers
Each playlist can include short videos with individual tips. Videos that are seven to 15 minutes long tend to do best, so aim for 10, but feel free to go longer or shorter if necessary.
Go get social!
Now that you have a few ideas for Facebook, Instagram, and YouTube posts, you can start letting your creative juices flow. Which kinds of posts do you think your audiences will respond to best? What ideas excite you?

For more inspiration, check out The Download, our comprehensive online marketing guide for real estate. It's full of tips that will help you choose a channel and come up with the right ideas for your market.

Share with your network