Working as a real estate agent is a unique area of sales. Unlike many other sales positions, you can spend weeks, months, or even years working with the same client. As you help clients find their perfect family home or the building that will one day become their dream business, you often develop genuine relationships with them.
So, when the time comes to ask for a referral, it can feel awkward. The last thing you want is to alienate your client — or dissuade them from coming to you in the future — by turning from a confidante into a pushy salesperson.
But knowing how to ask for real estate referrals can be crucial to developing your business. Having strong recommendations on your website's homepage or social media accounts can build trust with new clients and help them feel good about choosing to work with your agency.
This guide will teach you how to receive quality real estate referrals that you can post on social media accounts and websites to generate new leads and help your business thrive — all without your clients thinking you're being pushy.
We make it easy for you to have a growing and connected client base with all the marketing tools you need, synced to the tools you're already using.
3 keys to non-pushy marketing
Knowing how to ask for real estate referrals requires balancing persistence with tact. After all, your clients are busy and may genuinely forget that you've asked for a referral. But if you push too hard, you risk alienating your clients or — worse — prompting them to write a negative referral out of a feeling of malicious compliance.
So how do you ask in a respectful, honest way? Here are three key tips on how to ask for real estate referrals.
1. Provide a quality service
Before you can ask for referrals from your clients, you have to provide them with a valuable service.
This means more than finding some listings for your clients. It means going above and beyond their expectations, reducing their stress levels, and meeting their unique needs.
You can offer additional value to your clients when you:
Take the time to explain the real estate process to them in detail
Answer their questions promptly
Get to know them on a personal level
Focus your social media presence on providing value rather than promoting your services
Have a strong online presence, answering frequently asked questions in your real estate blog
2. Be polite
When it's time to ask for a referral, be polite. A referral is a favor from your client to you, and it's important to treat it that way. Even saying the words "I have a favor to ask" can help the conversation flow more comfortably.
When you ask for a favor, rather than phrasing a referral as a need or an expectation, your clients understand that they have the option of saying no. While this may seem counterintuitive, the result is that the referrals you receive will generally be of higher quality and come from clients who enjoyed working with you.
3. Be genuine
Honesty and integrity are the antitheses of pushy salesperson behavior. When you're genuine with your clients, you explain why you're asking for a referral.
Don't just say, "Do you mind filling out this questionnaire?" Or, "Can I post this picture on my Facebook page?" Instead, explain why you want a referral. Say something like, "Referrals really help my business." Or, "Posting this picture on my social media page would help me out, especially if you had a kind word or two to share about my services."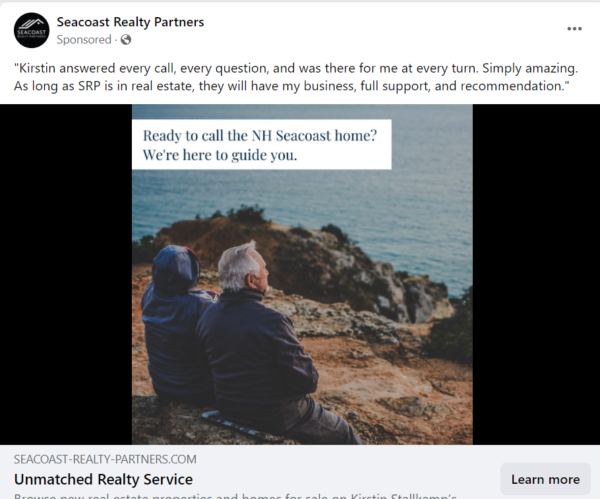 While it may feel uncomfortable to talk about business with someone who feels like a friend, make no mistake — your client knows that you run a business. Being honest about that and asking for their help through a referral makes them more likely to want to help you.
How to ask for real estate referrals
If a client enjoyed working with you, they're often happy to refer your services. But if you don't ask for the referrals you need, they're unlikely to take the initiative on their own.
Master the timing
Asking for real estate referrals when you first start working with a client can come across as pushy because they don't know you well enough to recommend you. Instead, wait until you've built a relationship with your client.
In fact, waiting until after you've made your first sale with a client can be a good choice. At that point, you know that you've provided value to your customer, and they have something good to say in their referral.
Ask once in person
When you're communicating with a client face-to-face, you convey more emotion and meaning than you can on the phone or by email alone. Studies show that the small touches — like handshakes — that often occur in person can make people more cooperative.
One way to use this information to your advantage is to ask for referrals once, in person, at the closing.
Consider offering a small housewarming gift to your clients at their closing. You can hand them a gift bag, shake their hand warmly, and say something polite and genuine. Having a ready-to-go script can help make this interaction more comfortable. Here's one example you can use for inspiration:
"Congratulations on your new home. I've loved getting to know you on this journey. Here's a small gift as a thank-you for working with my agency. There's a card in there with my social media information on it. If you've enjoyed working with me, I'd love it if you could leave a review on my Facebook page. Positive referrals really help me out."
You don't have to say any more than that. A small gift and a warm smile serve as one last reminder to your clients of the thoughtful care you've given them while also putting them in a generous spirit.
Follow up with an email
If you asked for a referral and didn't receive it, don't automatically assume that you shouldn't ask again. Although you shouldn't pester a client relentlessly, a follow-up email is a good idea.
There are many reasons your client may not have written a referral the first time you asked. For example, they may have had a time commitment that prevented them from writing a review right then. Or, they may have had a stressor in their life that made the task seem too daunting at the time. Following up by email at a later date provides your clients with another opportunity to help.
Stay in touch
Clients are more likely to give referrals if you stay in touch. This can be as simple as sending cards out to previous clients as part of your holiday marketing routine. Clients you keep in touch with are more likely to remember your service when asked for a referral by a friend or family.
And while you may not want to directly ask for referrals in every follow-up communication, you can include your website, social media information, and phone number. That way, if someone asks about your services, your clients don't have to look hard to find the information they'd need.
Improve your real estate referral marketing today
Real estate reviews and referrals can be leveraged to improve your social media presence and generate new leads.Get started with this marketing technique by practicing a referral request script in the mirror until the words come out naturally. Then, put together a list of previous clients you enjoyed working with. These can be good clients to reach out to via email and to stay in touch with going forward.

Share with your network