The photos you choose when you build a website have a larger impact than you think, sometimes even outweighing the site's design.
Poor website photos paired with even the best design will give your website an unprofessional feel. In contrast, the simplest of business website designs with amazing photos can make your business stand out and look more professional.
According to HighTail, visual marketing is 94% more effective than text, because the human mind can understand images so much faster. The more quickly you can convey information, the more likely a website visitor will make a purchase and become a customer.
If a picture says a 1,000 words, what do you think the photos on your website are saying about your business? Do they make you look professional? Do they clearly define that you can solve a customer's problem? It's time to learn how to choose photos that convey your business' message, where to find good images, and how to make images stand out.
Define your message
Gorgeous imagery on your website won't help your business unless it's actually saying something about your business. Think about the product(s) you're selling, the main problems you're solving for your customers, and exactly what you want visitors to think when they land on the page. Once you can clearly define what you want your images to say, then you can find a photo to match that message.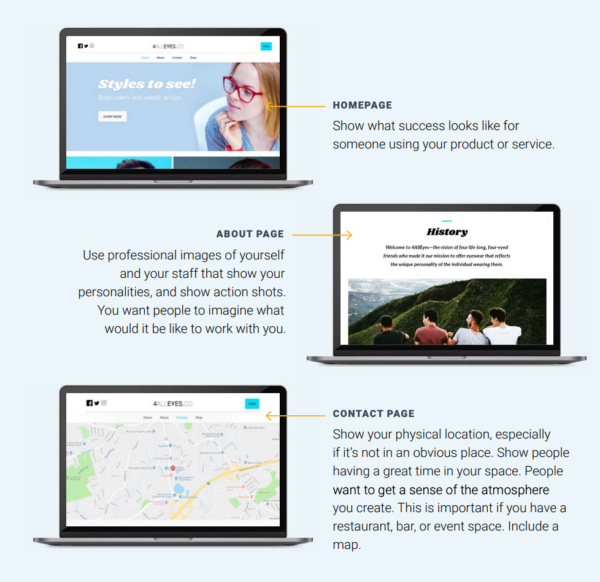 A breathtaking landscape doesn't mean anything to a visitor of a barber's website. A coffee shop needs a photo of coffee somewhere on the homepage, or visitors may not know exactly what the business does. If a consulting firm wants to convey professionalism, then featuring photos of people in suits shaking hands and making deals makes sense, but a group of college kids in tee shirts on the beach having fun does not. Whatever your message, there's a photo, even a stock photo, that can turn website visitors into happy customers.
Where to find good website photos
There are so many images available to the average small business owner, but finding high-quality images may be a little harder. The better your images, the better your website will be at converting visitors, so weigh your resources to decide what level of images you want for your business. Throwing money at photography isn't necessary, especially since modern cameras take such high-quality photos, but you may still be missing that extra eye-catching pop you would get from a professional image.
Hiring a professional photographer to take photos of your business, your products, and your employees at work can be well worth it. Not only will this give you content for your website, but those photos may also be useful in ads, drawing in more revenue directly. If you do bring in a professional, make sure you know exactly what images you want so you don't waste time and money on images you don't need.
The other option for many businesses is to use free stock photos from resources like Unsplash or Shutterstock. These resources let you fill out your website with interesting, professional images, without the professional price tag.
Make images stand out
Once you have great images that work for your business, make sure they fit onto your website and help to push customers to purchase, instead of distracting them. If the colors in your images clash with your logo or branded colors, there will be dissonance on the page and visitors will want to click away. If your images cover a call-to-action or shop now button, website visitors will just become frustrated.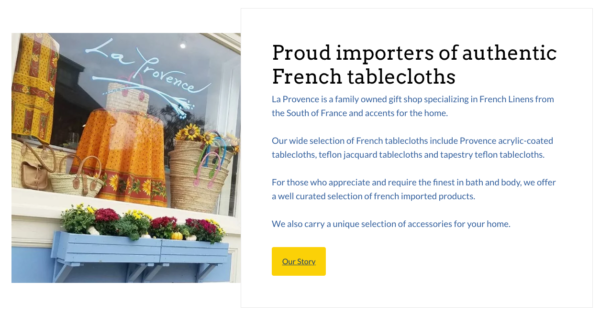 It is possible to have too many images, and it goes both ways for text: you can have too much, or too little. The key is to find a balance in the number of images that will make your website beautiful and contain just enough text to make your message clear.
If you're a landscaper, for example, you'll want an image displaying a beautiful landscape you've constructed with only a word or two of text over it, with a call-to-action button to convey the next step. Anything more and you may start to detract from the landscape itself, which is the feature on the page that will push customers to contact you.
How many images is too many?
If you find a good source for photography you may be tempted to put all of your favorite images onto your website. Too many photos, no matter the quality, and a visitor will feel overwhelmed and hit the back button. Just remember that simpler is better. It may take some tweaking and editing over time, but the more time you spend perfecting the look of your website, the better the chances of converting visitors into customers.
If you can convey your message with a single photo, then only use one photo. If you think you need two, try it with one first and use two if you still absolutely need them both. If you load your page and there are fifteen photos before you start scrolling, you probably have too many.
If you're a photographer or business that wants to show off as many previous projects as possible, link to a gallery that will allow visitors to scroll through on their own. The simpler you can present photos on your website, the bigger the impact they will have on the viewer of the page.
Look closely at your website photos
If your website is up and running, take a look at the photos already there. Make sure that they follow the clearly defined message of your business, standing out on the page without muddying your goal of getting visitors to become customers. If your photos don't stand up to careful inspection, then know where to find new images that will.

Show your website to a friend who hasn't seen it before, if you can. Take careful notes of their comments, then adjust the photos or layout to make sure everything is clear and all their questions are addressed.

Another trick is to turn off all of the text on your website (and save it so you can turn it back on afterward), and see if someone can figure out what your business does with only the images. You'd be surprised how much photos can convey on their own and how little text you need to explain what your business does. Only put back text to fill in the gaps and nothing else.

By using a few high-quality message-driven images on your website, visitors will better understand what your business is about, what you want them to do next, and why they should purchase or book with you.

Share with your network