Communications as professional as your organization
Looking to keep your members, donors, and volunteers active and involved?
It's simple, fast, and affordable with Constant Contact.
Email Marketing lets you create and send emails and e-newsletters, fundraising appeals, membership renewals, and event updates,—for far less than direct mail.
Use Online Survey to take the pulse of member satisfaction or get feedback on programs and events.
EventSpot lets you set up, promote, manage, and track successful meetings, conferences, and fundraisers, for all participants!
---
In minutes, you can:
Inform members of your latest news and information
Generate low-cost, high-impact fundraising appeals
Promote conferences and events
Email templates for Associations: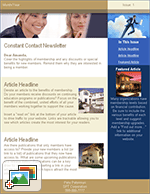 You'll get a wide selection of email templates—including membership newsletters and event invitations.
Customer Examples