When it comes to marketing your business or organization online, planning ahead can often make the difference between a good year and a tough one. And while we all know how important it is to plan ahead, sometimes it can be a struggle to plan for tomorrow when you're in the thick of today.
We want to help.
That's why we've created this 2022 online marketing calendar. We've even compiled a quick list of 2022 marketing holidays by month, included some helpful links to articles and helpful tips for marketing on those holidays, and provided some additional information on how to use the 2022 online marketing calendar template itself.
So start at the beginning or skip ahead. Regardless of where you start planning, what's most important is that you start planning your 2022 marketing now.
Download the free 2022 marketing calendar template
Click the image above to download our printable marketing calendar template, which includes all the major holidays you should be thinking about when planning your marketing campaigns. You'll find the big ones in there for sure, but you'll also see some days you might not have thought about, like Book Lovers Day, National Hot Dog Day, and National Mom & Pop Business Owners Day.
2022 marketing holidays by month
January 2022
January 1 – New Year's Day
January 10 – Houseplant Appreciation Day
January 14 – National Dress Up Your Pet Day
January 17 – Martin Luther King Jr Day
January 24 – National Compliment Day
January 29 – National Puzzle Day
Monthly themes
New year, a fresh start
Building healthy habits
National Mentoring Month
Get started with our January Holidays and Newsletter Ideas.
February 2022
February 1 – Lunar New Year
February 2 – Groundhog Day
February 14 – Valentine,s Day
February 15 – Singles Awareness Day
February 21 – Presidents' Day
Monthly themes
For more holidays, and newsletter and subject line ideas, read our February Holidays and Newsletter Ideas.
March 2022
March 1 – Mardi Gras
March 2 – Ash Wednesday
March 8 — International Women's Day
March 13 — Daylight Savings Begins at 2:00 a.m.
March 14 — Pi Day
March 16 – Purim begins at sundown
March 17 — St. Patrick's Day
March 19 — Let's Laugh Day
March 29 — National Mom and Pop Business Owners Day
Monthly themes
Check out our March Holidays and Newsletter Ideas.
April 2022
April 1 — April Fool's Day
April 2 — World Autism Awareness Day
April 10 — Siblings Day
April 15 — Tax Day
April 17 — Easter
April 20 — "420", A day celebrating cannabis businesses and culture
April 22 — Earth Day
Monthly themes
Looking for great April subject line ideas? April Holidays and Newsletter Ideas has them!
May 2022
May 3 — Teachers' Day
May 4 — Star Wars Day — May the 4th be with you!
May 5 — Cinco de Mayo
May 8 — Mother's Day
May 13 — Friday the 13th
May 30 — Memorial Day
Monthly themes
Asian American and Pacific Islander Heritage Month
Jewish American Heritage Month
Mental Health Awareness Month
Want some more creative and inspiring ideas? You'll love our May Holidays and Newsletter Ideas post!
June 2022
June 6 — Drive-In Movie Day
June 8 — Best Friends Day
June 14 — Flag Day
June 19 — Juneteenth Independence Day
June 19 — Father's Day
June 21 — June Solstice / First Day of Summer
Monthly themes
Kick off the summer with these June Holidays and Newsletter Ideas and fun subject lines!
July 2022
July 1 — International Joke Day
July 4 — 4th of July AKA Independence Day
July 17 — World Emoji Day
July 17 — Ice Cream Day
July 20 — National Hot Dog Day
Monthly themes
Assert your independence by choosing one of these July Holidays and Newsletter Ideas to celebrate this year.
August 2022
August 5 — International Beer Day
August 9 — Book Lovers Day
August 13 — Left-Handers Day
August 21 — Senior Citizen's Day
August 30 — National Marshmallow Toasting Day
Monthly themes
National Black Business Month
American Artists Appreciation Month
Elevate this month's newsletter with these August Holidays and Newsletter Ideas.
September 2022
September 5 — Labor Day
September 11 — Grandparents Day
September 21 — International Day of Peace
September 22 — September Equinox / First Day of Autumn
September 25 — Rosh Hashanah begins at sundown
Monthly themes
National Latinx/Hispanic Heritage Month (runs from September 15 to October 15)
Take a look at our September Holidays and Newsletter Ideas.
October 2022
October 4 — Yom Kippur begins at sundown
October 10 — Indigenous Peoples' Day
October 24 — Diwali
October 29 — National Cat Day
October 31 — Halloween
Monthly themes
Breast Cancer Awareness Month
Don't let marketing scare you. Brainstorm your marketing this month with our October Holidays and Newsletter Ideas.
November 2022
November 6 — Daylight Savings Time ends at 2:00 am
November 11 — Veterans Day
November 24 — Thanksgiving
November 25 — Black Friday
November 26 — Small Business Saturday
November 27 — Artists Sunday
November 28 — Cyber Monday
November 29 — Giving Tuesday
Monthly themes
"Movember" — Raising awareness for men's health issues
Height of holiday preparations and shopping
Looking for more? Our November Holidays and Newsletter Ideas can help.
December 2022
December 18 — Hanukkah begins
December 21 — Winter Solstice (shortest day of the year)
December 24 — Christmas Eve
December 25 — Christmas Day
December 26 — Hanukkah ends
December 26 — Boxing Day
December 26 — Kwanzaa begins
December 31 — New Year's Eve
Monthly themes
Check out our December Holidays and Newsletter Ideas.
How to use our marketing calendar template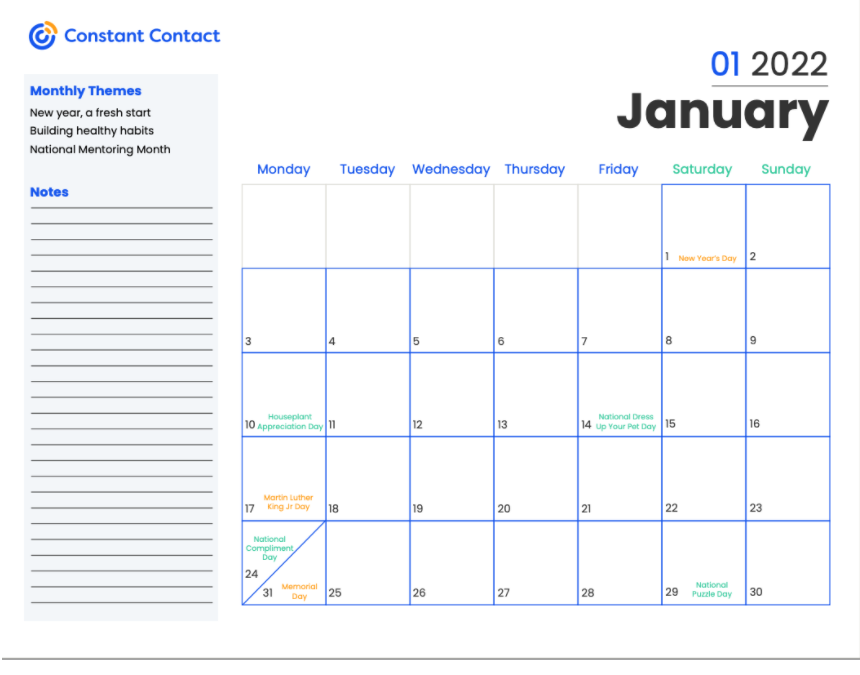 There are a lot of ways to utilize this free online marketing calendar template, whether you decide to print it off and hang it near your work area or save it to your desktop for quick reference on your computer. We hope it can be a useful reference for you to use in orchestrating your emails, social media posts, website content, and more.
Plan your known marketing campaigns
The first thing I recommend doing is printing the calendar and going through each month and adding in any dates that might be important to your organization specifically. Maybe you want to make note of your organization's annual gala, or your business's annual community event.
Write these dates into the marketing calendar and use the note section on each page to highlight additional information you want to keep in mind for that month. Having all of your important dates in one place allows you to more effectively plan your email, social media, and other online marketing campaigns.
It's important to be aware of everything happening in a given month so that you can optimize the timing of your campaigns. Be sure to be mindful of days that might compete with your message. For example, you probably don't want to send your first end-of-year fundraising email on Cyber Monday, when inboxes will be flooded with deals and promotions from businesses.
Find inspiration for new campaigns
Once you have all of your known marketing campaigns laid out in the holiday marketing calendar, see if any of the other holidays can inspire new campaigns.
Maybe your nonprofit can raise funds on International Women's Day, or your business can structure a sale around National Cat Day. See what inspires you and don't be afraid to think outside the box!
Use the Marketing Calendar tool in Constant Contact to easily plan, visualize, and share your marketing campaigns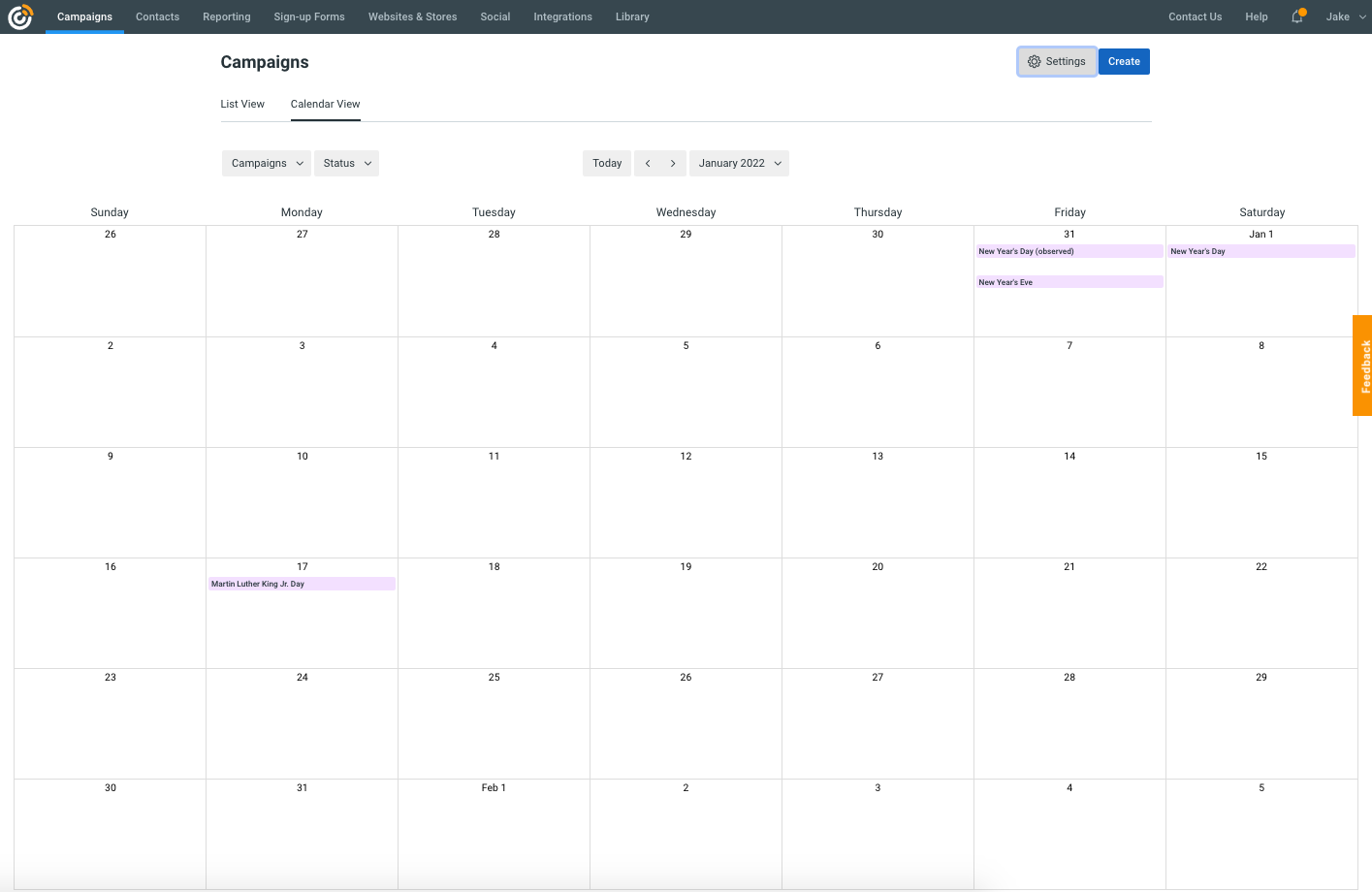 Our Marketing Calendar makes it easy for you to know what you need to do and when you need to do it. It also provides quick access to your upcoming and past marketing activities with additional details and reporting statistics for your review. Map out and view a full marketing plan by inserting campaigns into specific dates by month including emails, social ads, google ads, landing pages and social posts. Marketing Calendar is about more than just organization, it's about efficiency – now with calendar sharing to save you time and help you reach your marketing goals.
With the new Calendar Sharing feature, you now have the ability to sync your Constant Contact campaigns to Google, Apple, Outlook and more for one holistic view of your business and everyday activities.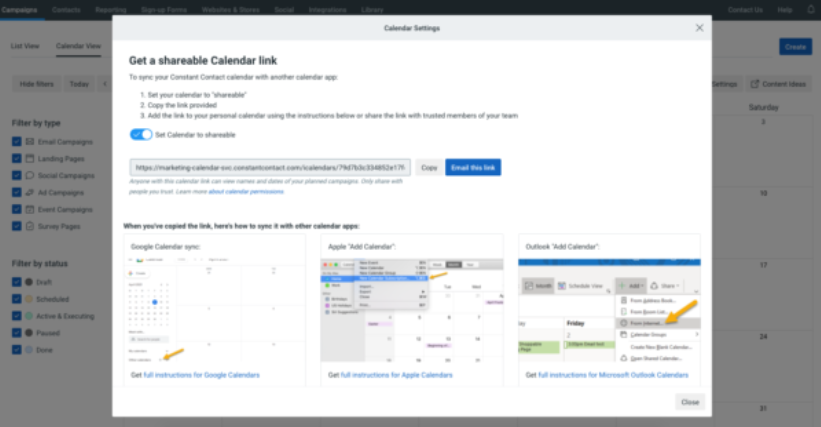 Constant Contact campaigns will show up in your calendar as free appointments with a few details such as the title, campaign type, and link, making this one more way to stay organized and reminded of the hard work you've planned in advance, and to anticipate any email responses or website traffic.
Get to planning!
Now that you know how to use the 2022 holiday marketing calendar, it's time to start mapping out a successful year. Whether you're trying to solicit donations, increase revenue, or grow your customer base, planning ahead will allow you to be strategic with your time and resources.
And after your campaigns, you'll have a better idea of what strategies are working for you (and what aren't). Use that information to inform your next set of campaigns and make online marketing work harder for you!
Need a little help getting started? We've got you! Constant Contact's Marketing Advisors can help you take the first step.