Black Friday is when the holiday insanity truly begins. But with that shopping frenzy comes an incredible opportunity for your small business to drum up a lot of holiday sales.
To take advantage of one of the biggest shopping holidays of the year, you want to plan your Black Friday email campaign ahead of time, and rather than wait for the day to arrive, you should start sending emails early.
Once your customers know to expect your email on Black Friday, you can use your next email to present a unique offer, and then make sure the best deals go to your best customers. We'll show you how.
Read on for our tips to make this your most successful Black Friday email campaign yet, along with templates and real-life examples that will inspire you to sell more this holiday season.
When to start your Black Friday email marketing
As shoppers descend on stores (online and in-person) around the country at the crack of dawn, you don't want to be up at the same time creating emails. Instead, schedule your Black Friday campaign to start at least a week early.
Your email series should have three emails:
One that teases your deals
Another that presents the offer
A third that closes with a last-chance reminder.
An email series like this is more effective than a single message and will help you stay top of mind with your customers, even as they receive a slew of other Black Friday emails.
When is Black Friday?
Black Friday falls on the first Friday after Thanksgiving.
The best day to send a Black Friday email campaign
You should start your Black Friday email campaign one week before Black Friday itself, with a teaser email.
The teaser email that holds back the full surprise gives customers a taste of what to expect while building excitement. It also helps your second email stand out in a crowded inbox because customers are expecting an email from your business.
The best time to send a Black Friday email offer
The best time to send your Black Friday offer is early on the morning of Black Friday. This second email of your Black Friday campaign presents the actual offer and provides a timeline for how long the offer is valid.
Then, send out a last-chance reminder with your Black Friday offer in the afternoon, when shopping starts to slow down, to provide a gentle reminder, create some FOMO (fear of missing out), and give your customers a few hours to take advantage before the offer ends.
3 tips for a successful Black Friday email campaign
Now that you know why and when to send out a Black Friday offer to your email list, let's look at tips to make sure your email campaigns are successful and actually drive sales for your business.
1. Make sure to send pre Black Friday emails
I know it might be tempting to forgo the pre Black Friday email and the follow-up offer on the afternoon of the holiday, but it's really worth it to send an email series instead of just a single email.
By sending a pre Black Friday email with a teaser of your offer, you're building excitement with your email subscribers. You're also setting them up to anticipate your email, which is important because otherwise, you could easily get lost in the inbox when every company sends their Black Friday email on the morning of. Giving your customers a heads-up about your offer will let them know to look for your email on the holiday, so they don't miss out on your special offer.
2. Offer your customers something unexpected
The standard discount offer can be effective, but when every other company is using the same tactic, it can be hard to stand out. Instead of discounting your products, consider offering a different kind of value they don't expect, like exclusivity. Everyone likes to feel like a VIP, so create a special collection of products reserved for the customers who repeatedly support your business.
If you run a brand built on a subscription model, the VIP collection could be reserved for subscribers. Including a teaser about the VIP product line in the first email of the series could provide a boost in subscriptions before Black Friday even arrives. If your business uses a different model, you could keep the products and offers a secret, but let customers refer a friend to expand your audience at the same time.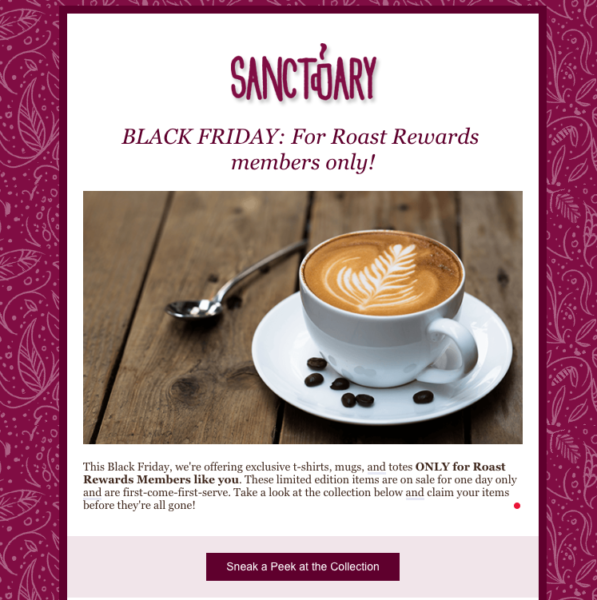 3. Get the right deals to the right people
If you do offer a discount to customers, make sure they receive it. Segment your email list into different groups of customers. Then you can send each segment a different holiday offer, such as the VIP product collection to your most valuable customers, and a simple 10% discount to newer customers.
Segmentation also keeps you from sending too many emails, or the wrong one. If the email sent on the morning of Black Friday convinces a customer to buy a product, you don't want to send them another sales reminder email at the end of the day. Instead, send a thank you email, an incentive to refer a friend, or a special piece of holiday content.
Black Friday email templates
The easiest way to make your Black Friday email look professional and engaging is to start with one of our Black Friday email templates! Check out just a few of them below, available to use in Constant Contact.
Black Friday tag sale template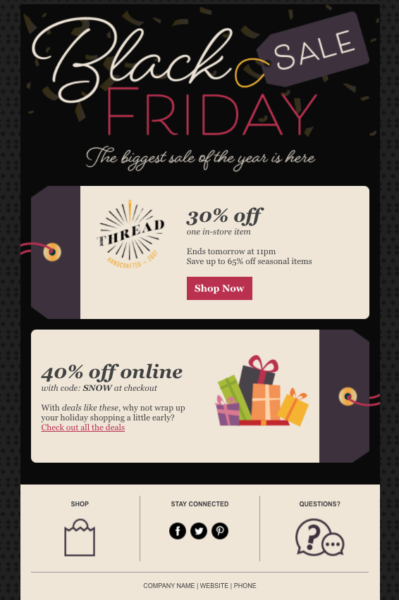 Animated Black Friday template
Deals template
Limited-time ecommerce template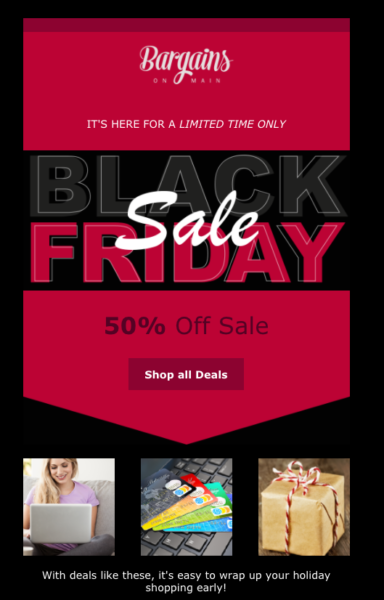 Black Friday email marketing examples
Now let's take a look at some of our favorite real-world examples of Black Friday emails!
Plaid Friday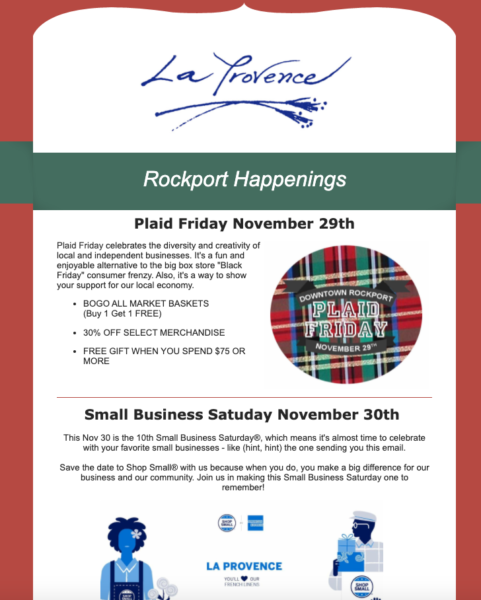 This email from La Provence highlighted a local alternative to Black Friday called "Plaid Friday", encouraging people to shop at their store or at other small businesses in the town of Rockport. We love the shoutout to small businesses and that they included a mention of Small Business Saturday as well!
Scratch-off
We love this interactive email from BOSE, which encourages readers to "scratch off" to unveil a unique savings code. When users click the scratch-off image, they're taken to a landing page that details the savings available to them. This is a great way to turn Black Friday into a game and motivate readers to click through to your website.
Animated product feature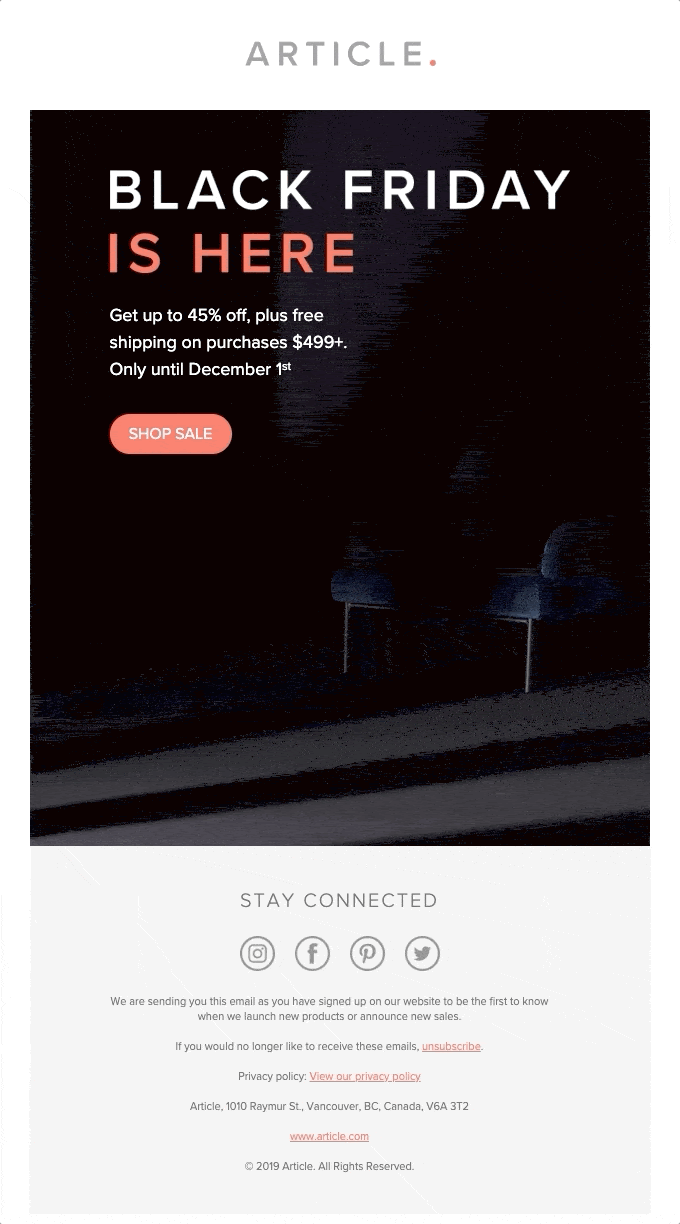 Isn't this email from Article striking? We love this use of an embedded email GIF to showcase their product, with overlaid text highlighting their offer.
There's still time to make an impact
Luckily, you don't need to reinvent the wheel to get your holiday marketing off the ground, even if you haven't planned a thing just yet. Look back at your email marketing metrics. Major trends, like the time of day with the most opens, or the most popular subject lines, can help you shape future campaigns. Think of how you could improve on your past success, and avoid the tactics that didn't work.
Once you have a game plan, write a subject line that gets customers to open your email, include an eye-catching headline, add the right photo, and present a clear call to action. Double-check that the call to action button at the bottom of the email properly links to the right page of your website. After reading your email, customers should know exactly what to do next.
Use Black Friday to power your holiday marketing
I haven't started my holiday shopping, and I still don't know how to wrap a present with only three pieces of tape (Lies!), but I'm scheduling my Black Friday email series a week early.

Start this year's marketing off right by making a list of holiday campaign ideas for your audience, check it twice, and then start scheduling. Better yet, implement email automation, and when the tryptophan starts to lull you to sleep on Thanksgiving day, you'll be able to rest easy, knowing your holiday marketing has already started.

Share with your network