Using an email GIF is a great way to make your email stand out and catch the eye of your subscribers.
When you insert a GIF into an email (the right way), your emails become more interesting, more engaging, and ultimately more effective at helping you meet your goals. An email GIF can be purely decorative, it can demonstrate an idea, or even preview a video you're featuring in your email.
In this article, I'll show you how to insert a GIF into an email the right way, plus some examples of the best ways to use animated GIFs in emails and some email GIF templates you can use to get started. Let's dive into the world of email GIFs!
What is an email GIF?
Simply put, a GIF is an animated image. It can be anything from a 2D illustration to a piece of video that's been converted into a GIF or a 3D animation.
What's important to know about GIFs is that they can be directly embedded into emails, adding motion right into your email's design. This is different from videos, which can only be attached to emails (where the user needs to download the video file to view it) or linked from an email to an outside source like Youtube or Vimeo.
In short, if you want to have something in-motion in your email, the only way to do that is with a GIF. Let's take a look at a a few different examples of GIFs in emails
Example of Email GIFs
The role of animated GIFs in marketing
Nowadays, the animated GIF is wildly popular, and has become an emblem of pop culture for marketers, social media aficionados and millennials alike. Heck, even your mother and grandmother probably know what GIFs are.
Unlike the clunky, slow-to-load GIFs of the past, today's​ GIFs are now reasonably sized for modern wireless connections. Designers have also largely developed an understanding of how to incorporate the animation into website and email design, making them a great addition to your marketing emails.​
Types of email GIFs
Email GIFs can be separated mostly into two types: Foreground GIFS and background GIFs. F​oreground GIFs are embedded into the body of the email, as in the example below from asana.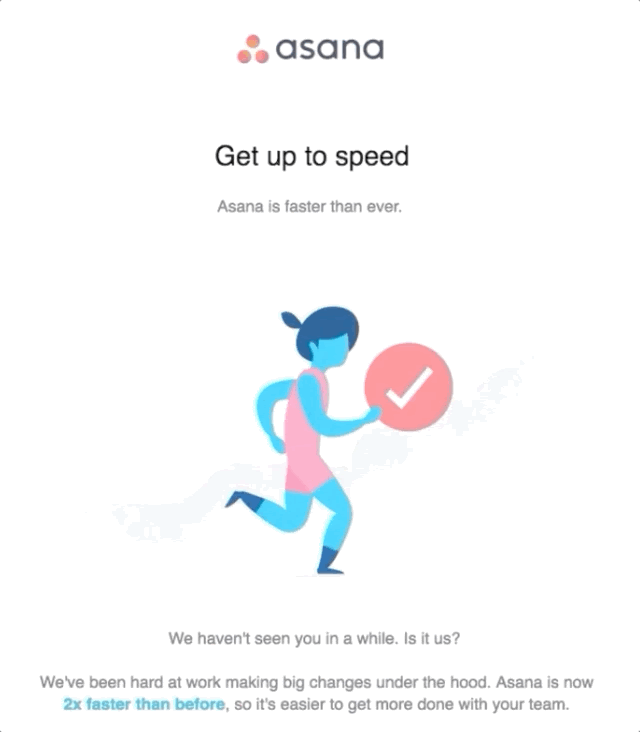 Background GIFs are an animated GIF file that exists in the background, overlayed by content.​ B​ackground GIFs​ provide a dynamic look to a static email. Check out the below example of how UBER used a background GIF to make their email more festive.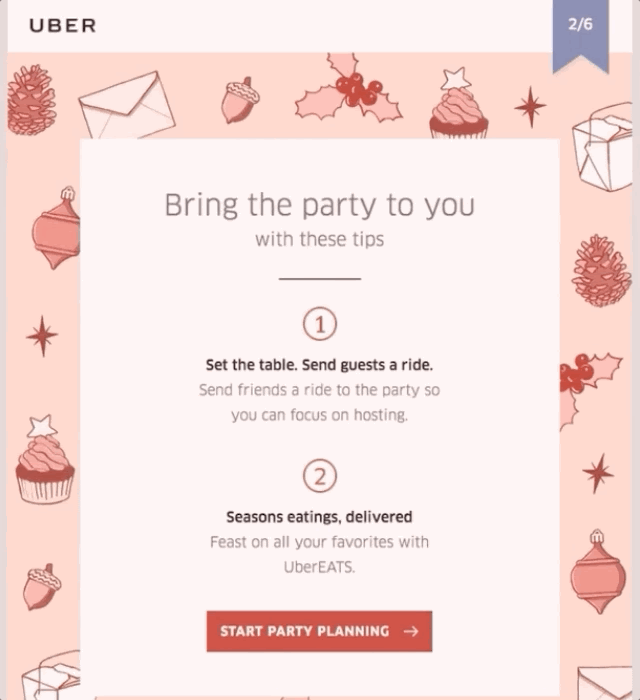 When to use GIFs in your emails
Whether you're using a GIF in the foreground or background of your email marketing campaign, it's important to know when is the right time to use an email GIF and how to do so effectively
Even though adding an animated GIF in email can add value, it can also be burdensome if used excessively or unnecessarily. Here are some excellent opportunities to incorporate GIFs into your next marketing campaign to ensure it's a major success.
1. Add a reaction GIF
Use GIFs within your email body to entertain your readers, provide relevant humor or​ express how you feel about something. Tumblr and Twitter are rife with these moving memes, and even Facebook has bowed to the pressure to allow them.
Reaction GIFs can be a little cheeky and a fun way to spruce up an email. For instance, if your pizza place makes an update to its menu:
2. Provide a preview of a video
You can also use a GIF to preview a video or piece of content that you're linking to, like in the example email GIF below: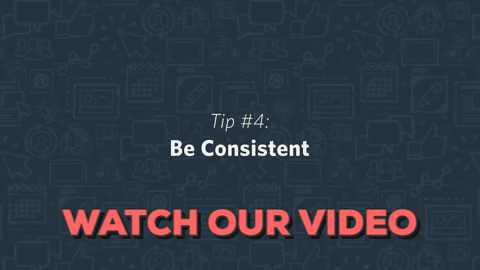 3. Show subscribers how to do something step-by-step
Or, add a GIF to illustrate how to use your product. Forego the long, boring content block of instructions and give your readers a straightforward video explanation. In fact, I'll be using GIFs throughout this post to show you how to insert a GIF into an email.
How to make an animated GIF
The GIFs in the examples above were made using GIPHY Capture, a free tool that allows you to capture anything on your computer screen. Once it's captured, you can download the GIF, upload it to be hosted at GIPHY, insert the GIF into your email campaigns, and much more.
You can also use GIPHY Create to make a GIF from a YouTube video, just copy the video URL and paste it into the tool. Choose the starting point, the length (3 to 5 seconds is recommended), and add a caption.
After your GIF processes, you can right click on the GIF and save it to your desktop.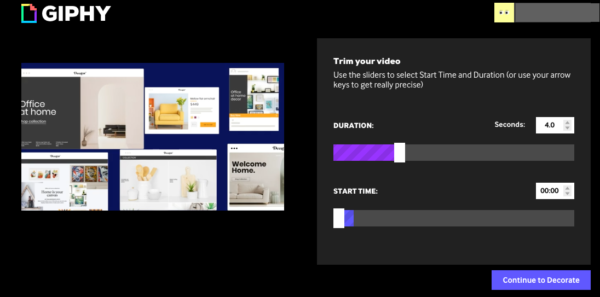 Once saved, you can insert the GIF into your email, just as you would with other image formats. More on how to add a GIF to an email below.
How to embed a GIF in an email
Adding animated GIFs to email is surprisingly simple. In fact, email GIFs essentially have the same file format as any other type of image.
Here's how to add a GIF to an email step-by-step:
Download the GIF you made or wish to use and save it somewhere you'll remember.
Create a new email.
Drag and drop the file into your email (or click insert > image if you need to browse for it on your computer).
If you're using a pre-existing GIF from GIPHY, simply right-click to copy it, then go to your email and right-click to paste the GIF into your email.
Make sure your GIF is appearing in your email as intended.
Send your email with your GIF!
To see how to easily add an image, including an animated GIF, into your Constant Contact email campaigns, check out this detailed tutorial.
How to add a background GIF to your email
Now let's dive deeper into using background email GIFs to add some animated decor to your email campaigns.
1. Create a new email
In your Constant Contact account, click "Create" to start a new email. Not using Constant Contact? No worries! You can start a free trial for 60 days.
2. Choose a template that has a background image on it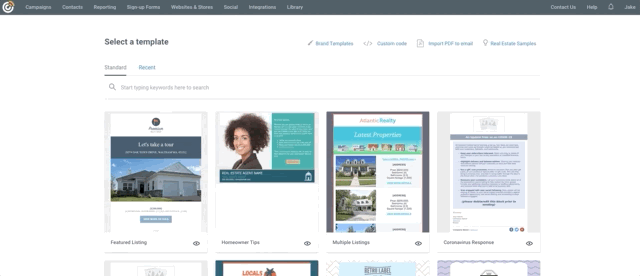 3. Change the background image of your email to an animated GIF
In your email's Design tab, click on the image box under "Outer Background Color", select the image from your library (or paste the URL of the GIF if you're using one from GIPHY), and insert the GIF into your email.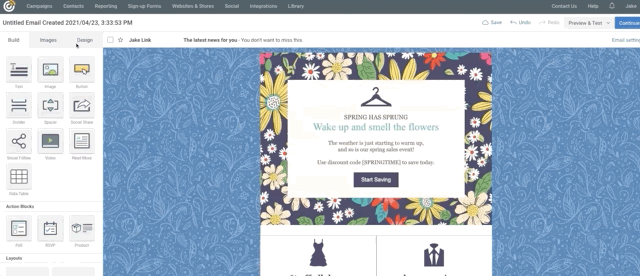 And that's it! You've embedded a GIF into the background of your email. You can play around with different GIFs and color combinations until you find a design that works for you. Just be careful not to make your email too busy. You want your email GIFs to help gain the attention of your audience, but not to overwhelm them.
Email GIF templates
The easiest way to include an animated GIF in your next email is with a pre-built template. Using an email GIF template takes all the work and technical know-how out of the equation, so you can focus on your email's message.
To find email GIF templates, you can simply search "animated" in Constant Contact's template selector. The animated emails are the ones marked with "GIF."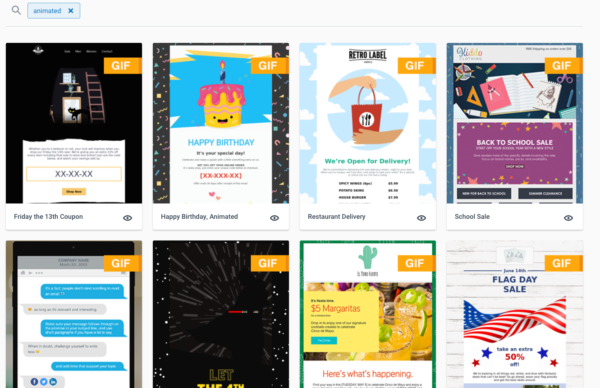 Here are a few of my favorite GIF templates from Constant Contact:
Text message GIF
This simple email GIF template lets you recreate the look and feel of iPhone messaging.
Hello Summer GIF
Martin Luther King Day event GIF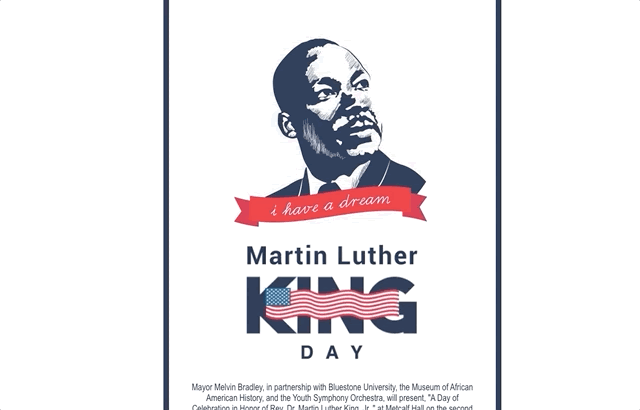 March Madness GIF
This March Madness template is one of my favorites. And as you can see below, it looks great on a mobile device!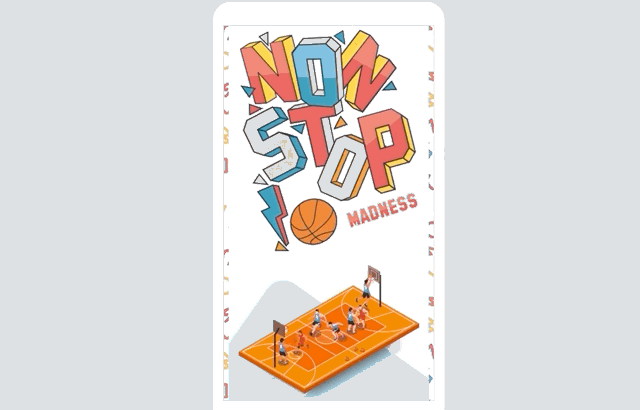 Inspired to add an animated GIF to your emails?
A little animation can go a long way in making your next email stand out. Now that you now how to insert and send an animated GIF into an email, try it out in your next email campaign and see what your subscribers think!

Share with your network