I am Batman!
Okay, not really, but May 1st is Batman Day. While not an official May holiday, Batman Day is just one of many fun and zany reasons to celebrate this month. With holidays like Intergalactic Star Wars Day (May 4th), Eat What You Want Day (May 11th), and Frog Jumping Day (May 13th) there's no reason to feel jumpy about your marketing this month.
May has a plethora of occasions to share with your customers — from public holidays like International Workers' Day (May 1st), VE Day (May 8th), and Memorial Day (May 30th) to "weird" holidays like National Cellophane Tape Day (the 27th). Yep, that's a thing.
Seriously though, May is definitely a month to celebrate.
From May Day (May 1st) to National Smile Day (May 31st), May is a month about… well, creation, fresh starts, and new beginnings. The transition from dark to light, from winter to summer, from nothing to something.
As a matter of fact, the month of May is National Creative Beginnings Month and National Inventors Month. So, now is the time to be creative and inventive in your marketing.
Get started by taking a look at some May holidays, newsletter ideas, and subject lines that you can use to share the hope, excitement, and promise of the month of May.
May holidays — 2023
Of course, there are a lot more holidays in May but let's move on to some May newsletter ideas.
May newsletter ideas
With all the holidays there are to celebrate in May, it seems that Mother's Day always seems to dominate. So let's start there.
Mother's Day newsletter ideas
Mother's Day is a time to appreciate all kinds of mothers — from birth mothers to foster mothers, from godmothers to grandmothers, and even mothers whose only children are covered in fur and walk on paws (or fly, or swim…).
To me, Mother's Day is a celebration of unconditional love, incredible strength and fortitude, and seemingly endless patience.
This Mother's Day, create an email campaign that makes a positive impact on you and your subscribers with these newsletter ideas:
Make sales. It doesn't matter if your demographic is filled with moms or single men. Share a discount code or special offer your readers can use or share with the moms in their lives.
Build relationships. Tell a story about something great your mom did for you. Then share it on Facebook and encourage your readers and followers to do the same.
Build trust. If it fits your brand and your audience, share some "mom hacks" that you've learned or seen used over the years. *Bonus if you saw a mom use it when visiting your business and you tell the story.
Be a reliable resource. If you're a mom, share an article, website, or social media channel that you've found particularly helpful over the years. Be sure to let your readers know why you like it and why you're sharing it with them, then link to the source.
Remember, any of these ideas are good for both moms of human children and moms with furbabies. So do what's right for your brand.
Tip: Make your Mother's Day newsletters really count by segmenting your audience and personalizing your newsletters and offers to fit the segment. Start with segmenting by gender, parental and pet ownership status, and even age. If you haven't done a demographic survey of your subscribers yet, get a jump on it now.
May newsletters for fun and fantasy
While they may seem a little niche, holidays like Batman Day, International Harry Potter Day, and Star Wars Day can be a lot of fun while still being effective.
Movie-themed newsletter ideas
Build relationships by entertaining your readers. If your brand allows, create a themed newsletter. Think image overlays, trivia that you can take to social media, and quotes or sentence structure to match the theme. Do it you can.
Drive traffic to your website. Ask your team members their thoughts on Star Wars (or Batman, or Harry Potter…) and share a quick snippet of a "get to know the team" story with the full story posted on your website blog or landing page.
Gather more information. Use a themed survey to obtain more information about your subscribers for better segmentation. For example, if I wanted to do a Batman theme, I might ask a basic demographic question using a multiple-choice, single-answer question like: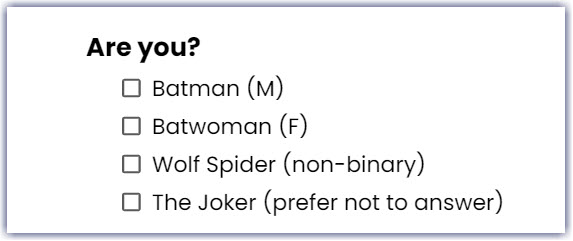 Okay, I know that Wolf Spider is really associated with Batwoman, but unless you're in the comic business, odds are your subscribers probably won't know that. And here's a bonus: If several readers reach out to correct you on one of your themed questions, add them to a new segment for niche targeting fans of that theme.
National Limerick Day newsletter ideas
If you're feeling creative and bold

And your goal is for more than just gold

Then give it a try

And if you are spry

Your readers' attention you'll hold

River Cartie
Create a buzz. Create a limerick challenge by starting the limerick in your email campaign and then challenging your readers to add a line or finish it on your preferred social media channel
Engage your readers while making sales. Offer an exclusive discount to readers who come into your business and recite a limerick at checkout.
Bring in donations. A month-long variant of the aforementioned limerick challenge. The challenge is to write an original limerick and submit it with an entry fee. The winner(s) will receive a prize and be featured in your next newsletter and on your social media pages. Proceeds go to your nonprofit.
As always, if you run a contest or challenge where money and/or prizes will change hands, make sure you follow all local and state regulations.
TIP: Whatever holiday you highlight in your newsletter this month, whether you issue a challenge, offer advice, or ask your readers to share, include a branded hashtag and a custom hashtag — along with a corresponding post on social media — so you can easily find and like what they post!
May newsletter subject lines
"Fresh Squeezed… " – National Lemonade Day (May 1st) Tack on whatever matches your newsletter content.
"Orange you glad to hear from us?" – Preheader: "You will be!" National Orange Juice Day (May 4th). This one is great for sharing good news or sales and discounts.
"May the fourth be with you" – Star Wars Day (May 4th). It's the required greeting for the day.
"Here's your password for savings" – World Password Day (May 5th). This is perfect for sharing a discount code.
"Eat what you want" – International No Diet Day (May 6th) and National Eat What You Want Day (May 11th). If you run a restaurant or cafe, don't miss out on this.
"Embrace your inner glutton" – International No Diet Day (May 6th) and National Eat What You Want Day (May 11th). If you own a bakery, this is a great opportunity to make some extra sales by offering a "baker's dozen" deal.
"In remembrance of all lost socks🧦" – National Lost Sock Memorial Day (May 9th). This may be fairly niche but it could be a lot of fun.
"How many times do I have to tell you?" – National Clean Your Room Day (May 10th). Create your preheader based on your business. This would be great for cleaning services or supply stores, professional organizers, or parent bloggers.
"Feeling jumpy?" – National Frog Jumping Day (May 13th). This is a good start of a subject line for any business that specializes in relaxing its customers.
"Jump on in" – National Frog Jumping Day (May 13th). Perfect for a newsletter that wants to encourage customers to come into a brick-and-mortar location OR for suggesting your readers start something new.
"Let's get this 🍕 party started!" – National Pizza Party Day (May 20th). Whether you own a pizza shop or want to invite your readers to a pizza party this line will definitely get your email opened.
"Open this you will. " – National Talk Like Yoda Day (May 21st). Use the force to create your subject line.
"You won't have to hunt for these savings" – National Scavenger Hunt Day (May 24th). Perfect for offering a discount or announcing a sale.
"There's a hole in our bucket🎵" – Preheader: "Help us plug the leaks!" National Hole In My Bucket Day (May 30th). Use this to explain where your money is going and to solicit donations.
For more May holidays and ideas on what you can do to share them with your customers, download the graphic below. Or, plan out the rest of your year with our Online Marketing Calendar, complete with a free template and a list of holidays you can use to plan a successful year.
May 2023 Marketing and Holiday Planning infographic