Position yourself as an
industry expert
Advise and educate your clients. Keep them at the top of their game—and your services on the top of their minds—with Constant Contact.
With Email Marketing, you can build affordable, professional-looking email newsletters and announcements.
Online Survey helps you gain insights into your clients' preferences and needs.
Use EventSpot to set up, promote, manage, and track the success of events, seminars, or webinars.
---
In minutes, you can:
Educate your clients and prospects with email newsletters
Update and inform with the latest industry know-how
Invite clients to seminars and events
Track email results and follow up on active prospects
Email templates for Consultants: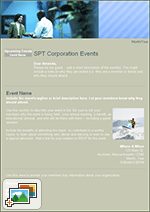 You'll get a wide selection of email templates—including newsletters and event invitations.