Boost your curb appeal
Looking for a low-cost way to show off your listings? Let Constant Contact help you succeed.
Email Marketing lets you send emails and newsletters filled with high-impact photos of your properties.
Online Survey helps you get to know your clients better, get feedback on open houses, and measure customer satisfaction.
EventSpot lets you set up, promote, manage, and track the success of events and open houses that increase sales.
---
In minutes, you can:
Promote open houses to brokers and key clients
Update loyal customers on housing trends and stats
Showcase key properties or rentals with an online brochure
Generate word-of-mouth referrals from your current clients.
Email templates for Real Estate: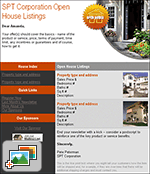 You'll get a wide selection of email template—designed exclusively for brokers, including new listings and open house promotions.