Grow your sales with
repeat customers
Looking for a great way to showcase
your products?
Build customer loyalty and repeat business with easy-to-use online marketing products by Constant Contact.
Email Marketing lets you keep your customers up-to-date on new arrivals and upcoming sales.
Online Survey gives you feedback on customers' buying experience and product satisfaction.
EventSpot lets you set up, promote, manage, and track the success of special events or private sales at your store.
---
In minutes, you can:
Offer exclusive savings to loyal customers
Promote special events, promotions, and themes
Track email results to gauge success and shape new promos
Email templates for Retailers: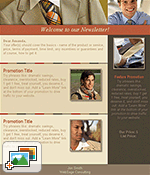 You'll get a wide selection of newsletter templates, including membership newsletters and event invitations.
---
Watch how this retailer succeeds with Constant Contact.
Playing this video requires
Adobe Flash player 9

Our online sales soared as a result of using Constant Contact.

Megan Murphy
Owner, Bella of Cape Cod