Book to capacity—even
off season
Want to keep seats filled, tee times booked, and tickets sold out?
Keep your events at full capacity with Constant Contact.
With Email Marketing, you can build low-cost, professional email newsletters and announcements about shows, events, competitions, and more!
Online Survey can tell you which venues, programs, and events customers like and dislike, and measure customer satisfaction.
EventSpot lets you set up, promote, manage, and track the success of special events—in any season.
---
In minutes, you can:
Promote exclusive subscriber deals and promotions
Update loyal customers on new programs and events
Offer discounts on advance ticket sales off season
Track email results to gauge success and shape future programs
Email templates for Sports and Recreation: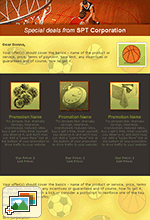 You'll get a wide selection of newsletter templates, including newsletters and event promotions.