Admittedly, LinkedIn might not be the most fun of all the social platforms out there.
It is, however, one of the most useful.
I learned to love LinkedIn while I was working at a startup and put in charge of researching leads before sending them to our sales team.
Since then, I made it my mission to attain that coveted 500+ connections status, and to learn all there is to know about what LinkedIn has to offer.
As it turns out, LinkedIn encompasses a lot of different features that can help you build professional authority in your field. The problem is, LinkedIn can be a little intimidating.
Lucky for you, I've tested the waters and figured out how to make the most off all the good stuff LinkedIn has to offer.
Now you can reap the benefits of my research by reading this one, condensed list of LinkedIn features that help you build authority:
1. Who has viewed your profile
This is one of my favorite features. Not only does it have the potential to provide reassurance that people are interested in what you do, but it also has the ability to help you optimize your profile for the right audience.
LinkedIn provides you with basic data about the people perusing your profile — such as name, headline, location, and industry, as well as how these people found you, what keywords they were using, their title, and more. It even supplies you with a nice little line graph to see how many views you have by date, and how they change over time (LinkedIn will give you data for the past 90 days).
These stats can help you decide what to highlight on your profile, and help determine who your audience is.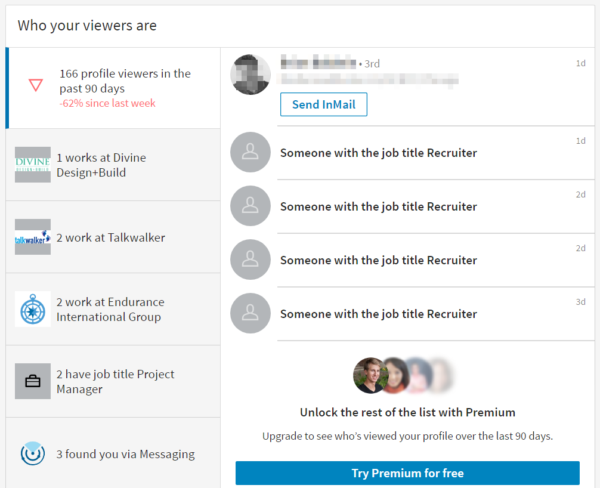 2. Your Portfolio
Make your profile and expertise stand out by linking to visual examples of your work in your LinkedIn profile summary and job experience sections. Add a document, photo, link, video, or presentation. LinkedIn will create an image from the site and link directly to where your work can be found online. This is a great way to show your work to other professionals or people searching for someone with expertise in your industry.
3. Your Headline
This is the little blurb that goes right under your name on your profile and in searches. Your headline is also a great way to connect you with your business and industry.
This space allows you to be a little creative and highlight what's unique about you. Do what feels right, whether that means calling out your expertise or vocalizing your passions.
It's the first thing people will see next to your name and photo, so take this chance to really own your first impression.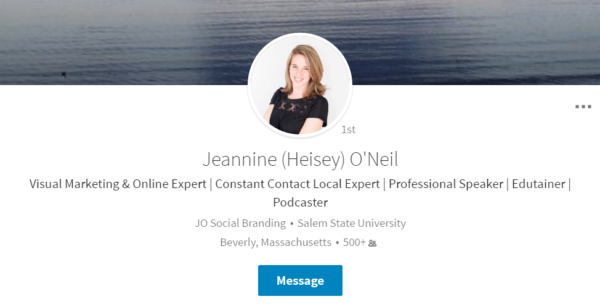 4. Recent activity of your connections
LinkedIn makes it easy to see what your connections are up to right on their profile. You can see what they've written, what they've shared, and their recent engagement.
This tool can help you find the perfect conversation starter, or give you insight into the ideas and needs of a client. Going into meetings or calls, you can have a better sense of people's personalities, interests, needs, and concerns.
This can help you focus a conversation around topics that are interesting and relevant to whomever you're talking to.
5. Groups
LinkedIn Groups can open the door to new people, ideas, and resources for your business. They give you a platform to discuss industry trends and news, post jobs openings, ask other opinions, and share expertise.
With Groups, you can easily communicate with people you aren't connected to. Regardless of what your message is, Groups allow you to share that message with a special subset of relevant LinkedIn users.
6. Publisher
This feature used to be exclusive, but has opened up to all members.
Publisher lets you share your thoughts and expertise with your connections and followers in a long-form format, rather than a short post on your profile that can be looked at and forgotten very quickly.
Publisher provides you with a venue to get more in-depth with your "professional" thoughts, and because it is searchable, on and off LinkedIn, it can help you expand your network. People who aren't connected with you can choose to follow you and be updated whenever you publish again.
On top of all of that, Publisher offers the ability to manage comments, edit and delete posts, view stats, and tag. There are lots of features to take advantage of here.
7. LinkedIn App
We're living in a world where there is an app for everything, so why not make use of LinkedIn's app?

The app is a good way to take LinkedIn on the go — you can look at news, jobs, information about colleagues and clients, and even work anniversaries… you never know when that might be useful!

Share with your network