Earlier today, we talked about how click-throughs can help determine the effectiveness of your email marketing.
In case you missed it, here's what Content Developer Blaise Lucey had to say:
The click-through rate shows how many people take action by clicking the links you provide in your email.

This allows you to see the content, products, and services your contacts are most interested in, which in turn can help you create engaging email content for future emails.

The more click-throughs you see, the more likely it is that your contacts are going to take the actions you want them to take, whether you want them to download a presentation, buy a product, or donate to a cause.
For many small businesses, click-through rate is an unfamiliar metric. With so much weight being put on opens, many just haven't thought about how to optimize to get more clicks.
If you are interested in getting started, it's important that you don't just jam-pack your emails with links every chance you get. That may get you more clicks, but won't help you with determining what those clicks are worth.
Here's a few things you can do to optimize your emails for more meaningful click-through results:
1. Add links to your header and footer
Your customers should be able to find a link to your website whether they are at the top or bottom of any email.
Your header and footer are the places people will often go when looking for more information. They are also the places customers will look when trying to share their feedback or connect with your directly.
Make it easy for customers to do both by adding links to the top and bottom of each email.
What you can learn: These links provide a helpful gauge for the engagement of your readership. Most of these clicks will be unsolicited—meaning you won't ask people to click your header or footer—they'll do it on their own. This helps you determine how people are viewing your content and whether not your readers are hungry for more.
2. Get to your most important links early
Within the first few seconds of reading any email, your reader should understand which links are most important. One way of doing that is by introducing these links earlier in your email.
Take this example from La Provence, a French gift boutique located in Rockport, Massachusetts.
While the shop had plenty to talk about in its November email newsletter, the number one item it needed to promote was its special "50 Under $50" holiday promotion. By providing a link in the introduction, they were able to get that promotion in front of their audience early and set it up as the hottest topic in that month's newsletter.
When creating your next email, pick one topic you know you want your customers to pay attention to and look for ways to get to it sooner.
What you can learn: Getting your most important links into your email early won't only improve your chances of getting more clicks; it will also help you determine whether or not readers care about your "hottest" topics. If you're putting those links upfront and people still aren't clicking, that should indicate people are seeing your stuff and just aren't compelled to click.
3. Make sure links are as direct as possible
No matter where you put your links in your email, you want to make sure they are providing a direct path for your reader.
If you're talking about a particular product or an upcoming event, don't simply link to your website and assume your reader will do the rest. Instead, link directly to the product or event page.
What you can learn: Eliminating any extra steps will improve the likelihood of your reader acting on your links and will give you a better understanding of what type of traffic you're actually driving to your website. Direct links mean a better experience for your customer and more meaningful results for your marketing.
4. Tease your content to gauge interest
If you want readers to click-through to your website, blog, or Facebook Page then you need to give them a compelling reason to do so.
Chances are you're already using exclusive content to get people to sign up to receive your emails. Whether it's to receive specials, get helpful advice, or to be kept-up-date, most of your customers signed up for your emails because they expected to receive something that was exclusive to your list.
Which is great … but how do you see if that content is actually working?
One way, is by making that content even more exclusive and providing a link to "Read more…" This is something we do with our Hints & Tips newsletter, where we provide a sample of our content—the first few paragraphs—and then link to a post on our blog.
What you can learn: For us, using a link to read more isn't just an opportunity to drive more traffic to our blog, it's our way to tracking which type of content people find most compelling. If you're providing educational content like How-to articles, you can use a "Read more…" tag to determine if readers are finding your content useful. You can add these tags to different types of content to see which format readers are most responsive to.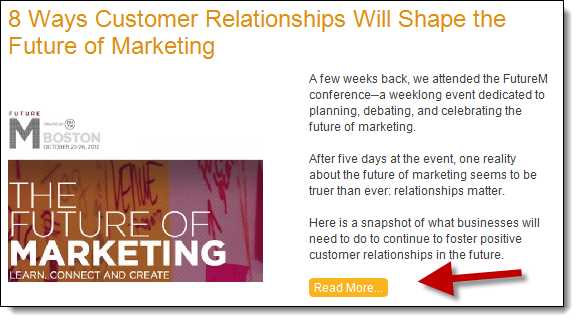 5. Use buttons, images, and pictures
Chances are you're already using images to make your emails more engaging and enjoyable for your readers.
But did you also know images can be used to get more clicks?
You can use tools like PicMoney to superimpose helpful tips onto images and link that image back to a full blog post or a helpful article. Or, if you have some sort of downloadable content like a white paper or guide, you can take a screenshot of the cover and turn it into a clickable button.
If you're a Constant Contact customer, you can pick from a wide variety of buttons ready to be inserted into your next email.
What you can learn: Providing a variety of text links, button links, and images links will help you establish which types of links are actually working with your customer base.
6. Use links to make your emails scannable
Like you, your customers are busy and won't always have the time to read each and every article you write. And with more readers checking their emails via a mobile device, it's never been more important to make emails that meet the demands of an ultra-busy customer base.
Links can go a long way in doing just that. By adding links to your articles headers, within your text, and at the bottom of each article you'll make your emails more scannable and thus, improve your chances of catching the attention of a reader who may be quickly swiping through your email on a smartphone or scrolling through on their desktop.
What you can learn: Sometimes, a lack of clicks won't have anything to do with whether or not your content is compelling but instead, could indicate that folks just aren't seeing your links. Take the time to look at your emails on all your devices to get a better idea of how readers are experiencing your links. Improve the visibility on your links to help eliminate factors that can undermine your click-through results.
7. Answer the most important question: Why?
No question can do more to boost your click-through rates than: Why?
People don't click links just for the thrill of it. They click links because they're interested on what they'll find on the other side.
Whether it's clicking through to buy, clicking through to read more, clicking through to register for an event or clicking through to take advantage of an exclusive offer—there's a number of reasons why someone decides to click a link.
Make sure to give your contacts a reason why they should click for more.
What you can learn: By clearly establishing the why behind your links, you'll be able to develop a better understanding of what customers are thinking when they click-through to see your content. This will allow you to track your results and test different calls-to-action in your emails. Overtime, you should have a clear understand of which type of language gets readers to click and how you can better present links in the future.
Optimize your emails for meaningful results
Before you create your next email, take some time to figure out what it is you hope to learn.
Click-throughs are a powerful coaching tool for any small business. In addition to helping you determine the effectiveness of your emails, it can help you develop a better understanding of your readership and which type of messages are resonating.
Use these lessons to improve your email marketing and help grow your business—that's the most meaningful result of all!
You can't generate meaningful click-through results without encouraging readers to take action.