If you're using social media to promote your business or nonprofit, I have a question for you: is your business's content on Pinterest?
If you've been pinning it yourself, then of course it is.
If not, you could be in store for a surprise.
People might already be pinning things from your site without you even knowing!
Luckily, Pinterest makes it very easy to tell. Open up your Internet browser and type in pinterest.com/source/your website.
For example: pinterest.com/source/www.constantcontact.com/blog.
See some pins there? Great! This means people already like what's on our website and are pinning your product images, photos, blog posts and other visual content.
To take advantage of this, the next thing you should do – if you haven't already – is to create a Pinterest business page for your organization. Then, connect it to your website.
Once you know people are pinning from your website, what else should you do?
After you connect your website with your Pinterest page, you can find out more details with Pinterest's analytics tools.
To find Pinterest analytics, go to your Pinterest account and click Analytics on the top left of the page.
What you'll find in Pinterest analytics
Pinterest analytics gives you access to the following information:
Overview

When you click on Overview, you'll see a summary of your profile, your followers, and pinning activity from your website, as well as the top pins from the last month. Click on More next to each category to view detailed information – you can select time periods of the last 7 days, 14 days, or 30 days in each category.
Profile
The profile metrics will show you impressions of your pins, which is how many times your pins appeared in the feeds of Pinterest users, as well as the average daily impressions, and average daily viewers. Click on Repins to view the number of average daily repins and the average daily number of people saving your pins. The Clicks shares the average daily clicks and average daily visitors of your pins. The All-time section displays metrics for all of your Pinterest pins, including your most shared pins, the pins that rank highest in Pinterest searches, and your "Power Pins," which are pins with a high mix of saves, clicks, and engagement.
People you reach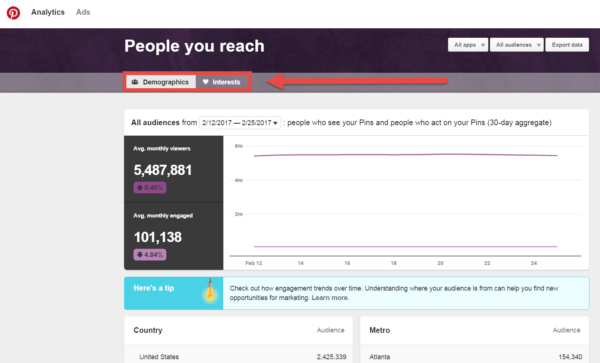 This category gives you information on the people who engage with your Pinterest content. The demographics show you the average viewers and engaged pinners who interact with your pins. You can also see the top countries, cities, languages, and gender of the people who engage with your content. Click on Interests to view topics that your audience engages with the most on Pinterest. From here you can also click on the top 20 boards that have a lot of your pins, and the top 10 brands your audience engages with on Pinterest.
Website
If you've confirmed your website with Pinterest, you'll have access to analytics that track what images people are pinning from your site to Pinterest. The impressions metrics display the average daily impressions and viewers that pins created from your site received. Click on Repins to view the average daily saves and average number of people saving repins created from your website. The Clicks share the average daily clicks and average daily visitors of content pinned from your website. The Original Pins section displays the average number of pins created daily from your website, and the average number of people creating pins. All-time will show you your most shared pins, pins that rank the highest in search, and pins that have the most engagement.
What should you do with this information?
Pinterest analytics will show you the most popular products, topics and information people are interested in from your website. Use that information to come up with content about the things they like. If you are providing your audience with what they want, they will continue to engage with you, pin your content, endorse you, visit your website and buy from you.
Make it easy for your audience to pin from your website by installing the Pin It button.
Then, start pinning from your website. Create boards with themes relevant to your business and pin your content. Get your content found by using large images, adding the right keywords, pinning content people are interested in, and engaging with other Pinterest users.
It's also important to strike a balance of content on Pinterest – don't just talk about yourself all the time. Make sure to balance your content with related curated content.
And keep learning about Pinterest! Follow Constant Contact's Pinterest Tips on Pinterest board for more information on using Pinterest to promote your business.
Have questions about using Pinterest Analytics? Post them in the comments below!