When it comes to getting started on Pinterest, people tend to fall into one of these three categories:
1. I've heard of Pinterest but I don't know what it is and I would like to learn more…
2. I understand what Pinterest is but I don't know how to get started…
3. I joined Pinterest because someone told me I should but I haven't really done anything with it…
If you find yourself in any of these categories, this post was written for you.
Before you get started…
Before you even open your Pinterest account, there are a few questions you need to answer first:
Do you really know what Pinterest is? Take a few minutes to read this post. It's a good introduction to what Pinterest is all about.
Do you know why you're getting started on Pinterest? You should always have a set goal in mind when getting started on any social network. I'm not saying you need to have a report with projections for future growth, but you should at least have an answer when someone asks you why you're signing up.
Do you know how to get around on Pinterest? It's a good idea — before you start using Pinterest to market your business — to create a personal profile to help learn the ropes. Get familiar with the language (pin, repin, boards, sections, etc.) and explore the different pages and features that Pinterest offers.
After you've answered those very important questions, you're ready to get started building your presence on Pinterest.
Here are 10 things you need to do to get started…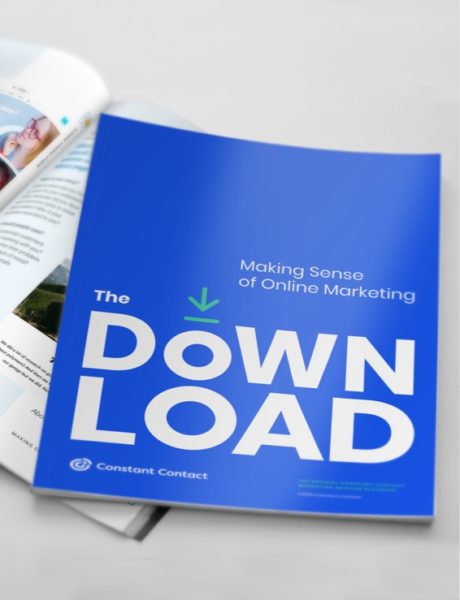 Not sure where to start with marketing? That's why we created The Download.
The Download is the ultimate practical, step-by-step guide to online marketing. In this free guide, we'll show you how people find you online and how to set yourself up for success to meet your business or nonprofit goals.
1. Get your names straightened out
On Pinterest, there are two names you need to be aware of: your username and your display name. Your username is what will be used in the URL of your Pinterest page (www.pinterest.com/username), but will not be the name that is displayed on your profile.
The name that will be displayed on your Pinterest page (and will be the name that people use to search for you on Pinterest) is your display name. So if you're setting up a page for your business, start by visiting the Pinterest Business website and clicking the "Sign up" button. Create your account by filling in your business name and username in the signup process.
2. Upload a profile picture that's Pinterest-worthy
Let me clarify by saying your profile picture does not need to be a work of art. But you do want it to be something that catches people's attention, clearly demonstrates who you are, and stands out in the visual realm that is Pinterest. For businesses, company logos with solid colors tend to stand out better on Pinterest's all-white background. (Keep in mind that the dimensions of your Profile picture are 165 x 165 pixels—photos smaller than that will look stretched.)
3. Create a profile that captures your business
The focus of Pinterest as a site for content curation—where people are constantly looking to find content they love and want to share—makes it a place where a lot of new people are going to be exposed to your business.
Here's how it works:
You're a bakery and you pin a picture of a fresh batch of muffins.
My friend, who's already a customer and follows your "Muffins" board, sees the picture … LOVES IT! and repins it to her "Muffin Madness" board.
I, a lover of muffins, but not currently a customer of yours, see the picture … LOVE IT!, repin it to my "MMMuffin" board and click on your name to find out who you are…
So who are you? Tell me, or any customer: who you are, what you do, and why I should want to follow you or your boards.
4. Find businesses similar to yours on Pinterest
Guess what? You're not the only business that's in the beginner stages of Pinterest. In fact, with a lifespan of just over two years, the vast majority of Pinterest users would probably tell you they still have more to learn.
For that reason, and because Pinterest in its very nature is a site based on collaboration—you shouldn't be afraid to look to other businesses for help when you're getting started. Reach out to other local businesses, search for bigger businesses in your industry, ask your customers, or click on Pinterest's "discover" icon to explore categories and trends to find inspiration.
5. Use Pinterest's tools
Like with anything else, if you don't have the right tools for the job—it's tough to be successful.
Lucky for you, there are a couple of free tools you can access right from day one that will improve your chances of success on Pinterest.
Install the pin it button to your browser: Pinterest offers a free integration with all online browsers that will let you pin content to your page directly from any website. The "pin it" button not only makes it easy for you to curate content, but it will also link that content directly to the website it's sourced from, helping you avoid any possible problems.
Download the Pinterest app: If you're an iPhone or Android user, the Pinterest app lets you manage your page on-the-go, directly from your phone.
Use Pinterest's built-in analytics tool: You can find Pinterest's analytics features by going to analytics.pinterest.com, or by clicking on the Analytics link in the top of your profile.This tool tracks the growth of your profile, who is engaging with your pins, and what people are pinning from your website. Check your analytics on a regular basis to get a sense of what pins people are most interested in.
6. Create your first 3 boards
Believe it or not, you're now ready to start creating your own boards.
I recommend creating at least three boards with a few pins on each, before you really start promoting your page. You don't want to tell people you're on Pinterest, until you're actually on Pinterest.
Here are three ideas you can use to get started…
A board about your products or services: This board can be a great way to start contributing to the Pinterest community and to showcase your business. Be careful not to be too promotional, even when you're just starting off. Make sure to give your board a better name than "Services" (maybe try… "What We Do") and make sure your pins all have descriptions and link to your website.
A board designed to help: A key to not being too promotional on Pinterest is creating boards that your customers can actually use. If you're a clothing store or boutique, that could be a board about fashion tips for the upcoming season, or if you're a marketing company, that could be a board with infographics or pictures that link to blog posts—anything that will showcase your expertise and get people involved.
A board that's just fun: I know getting started can be a little stressful, but try to lighten up. The beauty of Pinterest is that you can showcase your business and have fun while you do it. Think of something you love and that your customers will find entertaining. Don't be afraid to think outside the box.
7. Use the right keywords
When you're creating your boards and pins, be strategic about the words you use in the board titles and pin descriptions. Many people use Pinterest as a visual search engine to find the products or topics they're interested in, so make sure your boards and pins show up in search results related to the keywords you use. For example, a board of seasonal treats called "Fall Favorites" won't be as visible in a search as a board called "Best Fall Dessert Recipes." Take the keywords you're using on your website, and in your email marketing, and social media marketing, and apply them to your Pinterest content.
8. Tell your network
Pinterest users LOVE finding out that their favorite business or organization is on Pinterest. Use the networks that you already have to spread the word. You can use Facebook and Twitter to tell people to find you on Pinterest.
If someone has already joined your email list, they most likely would love to connect with you on Pinterest too.
Send out an email to your contact list, inviting people to follow your boards or business. It's easy to do with Constant Contact's email templates.
9. Connect your touch points
Pinners are shoppers. In fact, 89% of Pinterest users have bought something they found on Pinterest. So let them know that your business is there by linking to your Pinterest account on your website. Not connecting your website to your social networks is a bad practice for all social networks, but especially for Pinterest. Adding a Pinterest logo to your website will not only help drive traffic to your page, but will act as a reminder to people who visit your website to pin your content. You'll also want to make sure you're inserting a link in your email newsletter with a strong call to action.
10. Keep pinning!
You've set up your profile, you've created a foundation, and you've begun spreading the word—don't stop there! Continue to explore and find new and creative ways to market your business on Pinterest.
It won't be long before you're the one that other businesses look to for advice on getting started.
Learn more
For more tips on Pinterest and other social media marketing tools, sign up to receive our Hints & Tips newsletter.

Share with your network