Social media has allowed artists worldwide to connect with new audiences. Visual artists, in particular, have found on Instagram a way to build their following and hopefully find new collectors for their art.
According to Statista, Instagram has a whopping one billion users worldwide, with 120 million of them in the U.S. That's a vast audience of people waiting to connect with your art. But you need to know how to reach them first.
Here, we'll give you actionable tips you can use when learning how to promote your art on Instagram.
Read on for some tips on how to promote your art gallery on Instagram.
Promoting your art on Instagram‌
‌From photography to oil painting, there are opportunities to promote your art and your gallery on Instagram. The platform makes it easy to create visually compelling posts that draw attention, then upload them from anywhere.
But with so many pieces of art posted daily, how do you differentiate yourself from all the noise? You can start by being a little more flexible about what you post.
1. Done is better than perfect‌
People who follow you for your art want to see the process. They like the polished, finished product, sure, but they also like to see the work behind it.
So, even if you don't feel something is absolutely perfect, post it. A progress sketch. Outtakes from a shoot. A wireframe for a character you're working on, or a speed-drawing video.
Posting multiple aspects of your work will help you form a closer relationship with your audience, who in turn may feel more invested in that work. People love to see the bones of something becoming art.
Artist Gu Zheng Wei, for example, regularly posts reworks of old pieces to show progress and encourages people just starting out. It shows that art is a journey and artists are constantly evolving.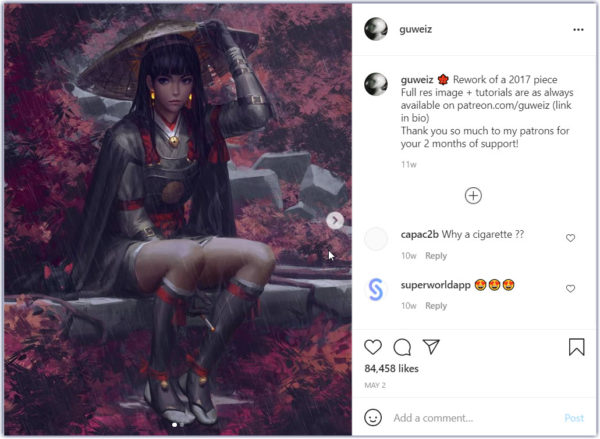 2. Use Stories to your advantage‌
Another way to show your followers the artist behind the art is with Instagram's Stories feature. They're a simple thing — short content that vanishes in a day — but they've got a lot of utility.
You can share sneak peeks of your latest project or renovations to your gallery space with photo carousels. Short videos that feel like an informal chat let you speak directly to your followers so they can get a sense of your personality.
Features like polls and countdowns let you get even more interactive. Got an event coming up? Let your followers know, start a countdown timer, and give them the option to set a reminder when it's finished. Selling prints? Ask your followers which pieces of art they most want to hang on their wall.
Since they're so easy to record and post, you can even use stories to broadcast short clips from events as they're happening. Or, you can stream live, and your icon will change to let your followers know.
Story live streams allow you to invite others to collaborate, so if you aren't streaming an event you can host a Q&A session or hold a live charity auction. If you have the budget, you can run ads in Stories as well.
Get as creative with Story features as you like and keep an eye out — Instagram is always adding new features and widgets. You do have to have a certain number of followers to use some of them (like the "swipe up" feature), but others are available to everyone.
3. Keep track of your engagement‌
Instagram's analytics provide a detailed snapshot of how your followers interact with every post. The number of accounts reached, how many new followers, how many saves your posts get, and more are all easily accessible.
Pay attention to that information and see what's getting engagement on your profile. What posts have higher numbers of comments, saves, likes, and shares? See if you can figure out what makes those posts special, and use that information in your marketing efforts.
That's not to say your posts should all be the same, highly polished type of thing (see tip number one), but it is worth it to see what your followers respond to.
Engage with your followers on your posts — learn firsthand from them how to promote your art on Instagram. Respond to insightful comments and start discussions where you can.
Or, just express appreciation that they like your work. You probably won't be able to respond to every comment if your account is large, but having some interaction with your audience can help.
Also, engage with other artists. Tell them you appreciate their work. Share pieces of art that inspire you, or content from your followers, to your Stories. They may do the same for you in return, and it can introduce your followers to people they might like.
All of this will make your account more active, which will favor it with Instagram's algorithm and hopefully get your work in front of more people.
4. Try working with video
Video is a powerful engagement tool that more and more people are using. Being a visual medium, Instagram lends itself very well to the use of video. Take advantage of that to market your gallery.
Say you do an hour-long Instagram Live session that your followers might have missed. Save it and upload it to IGTV so everyone can watch. The Reels feature lets you post short, TikTok-like videos with ease, which is perfect for process videos like speed painting.
You can shake up your feed a little with a video post. If you're an animator, for example, post a quick time-lapse video of a character study and see what people think.
Instagram recently rolled out analytics for Reels and live videos, so you have even more information at your fingertips about what your followers are engaging with. Try out different iterations of video to see what your followers like, and what you like to make.
5. Make your feed reflect your gallery‌
In addition to sketches and works-in-progress, curate a selection of your best art to show in your feed. Experiment with different color palettes and patterns that give your page a cohesive, aesthetically interesting look.
Try out different apps that can make your feed look more interesting as a whole. Giant Square, for example, lets you make a big collage out of several squares in your feed. Unfold provides beautiful templates you can use to make Story and feed posts look amazing.
Not only does this show off your best work, it gives your gallery an air of professionalism. And you can pair that with well-written captions that give an insight into your work.
6. Use tags and hashtags‌
Ungainly as they can be, hashtags are still relevant across social media. Using relevant hashtags when you post a new piece of art to Instagram can help promote your gallery so new people can discover it.
Make sure the hashtags you use are relevant to your art. If you post random ones you think might be popular but have nothing to do with your brand or the kind of art you make, the algorithm will pick up on that and you might not get as much engagement.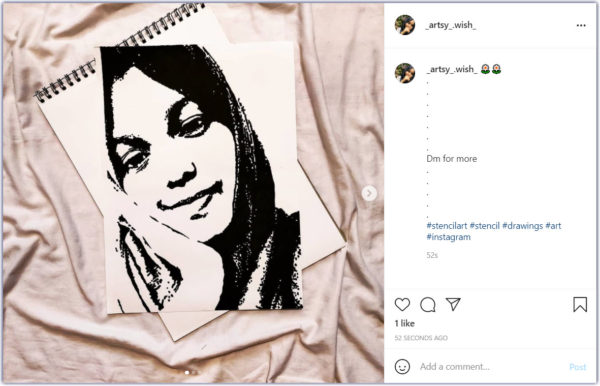 Study other artists and galleries with a large following to see what kinds of hashtags they're using, and what accounts they're tagging. Odds are a lot of them will apply to your art as well, and you can incorporate them into your strategy.
Another way to find popular hashtags when researching how to promote your art on Instagram is to use the Explore page. You can enter a tag and look at the top posts for it, then see what other hashtags those people are using.
You may want to have a few groups of hashtags saved to your clipboard or notes app that you can copy/paste to new posts. As long as they're relevant, that should be fine to do, and it saves you a little time and effort.
7. Collaborate‌
If you can, collaborate with other artists and influencers you know in the art space to create something new. That can be a joint Instagram live session, a piece of art you both work on, or a video you both make.
Collaborating with others gains you access to their following once they share the project on their account, and vice versa.
8. Use ads‌
If you've got the budget for it, Instagram has a huge reach for paid advertising. They offer Story ads, in-feed ads, and since Facebook now owns the platform, your ads are seen by users there as well.
You can even turn any of your posts into an ad just by clicking the Promote button. Instagram's ad platform lets you target your ads to specific audiences, and adjust how long the ad will run according to your budget.
Get your art out there‌
The art scene is a noisy place these days. But if you understand how to promote your art on Instagram the right way and stay consistent, you may be able to break through.

Share a variety of content, across your feed, Stories, Reels, and IGTV, in order to reach a wider audience. Engage with that audience, and track your analytics to see what's working in your favor.

Work with and promote other artists, because it's always a good feeling to lift other people up, and they might do the same for you down the line.

If you have it in your budget, paid ads can be a serious boost to your visibility across both Instagram and Facebook. If you've got limited funds, try a couple as a dry run, then go from there.

Promoting your gallery on Instagram and elsewhere is an ever-evolving thing. Keep researching tips and best practices, and don't let things get stale.

Want more marketing tips? Check out the Constant Contact blog and handy downloadable guide.

‌

Share with your network