You've likely heard all the reasons why Instagram is a great tool for small businesses. Maybe you've even signed up for Instagram for personal use.
But how does Instagram work and do you know what it takes to set up an Instagram for your business?
Here are 10 things you need to do first:
1. Download the app
Instagram is different from other social networks in that it is primarily a mobile platform.
Once your account is set up, you will have a page that can be viewed on desktop, but the majority of your activity will take place within the mobile app.
Click here to download the app on your phone's app store.
2. Choose a recognizable username
You can sign up for Instagram with an email address or a personal Facebook account.
Once you sign up, you'll be asked to choose a username.
Your username will display publicly and will be what people see when they find you on Instagram. Make sure the username you choose is recognizable and is as close to your business or organization's name as possible.
When signing up, Instagram will also ask for your full name. Here, you can put your full business name which will make it easier for people to find you through Instagram's search function.
3. Update your profile
Instagram lets you fill out a 150 character bio about your business. Because of the text limitations, you'll want to be clear and concise about who you are as a brand and what you offer. If you serve a local customer base, you'll also want to add your location.
Constant Contact uses the bio to share our mission, and let people know what types of photos we share from our Instagram account: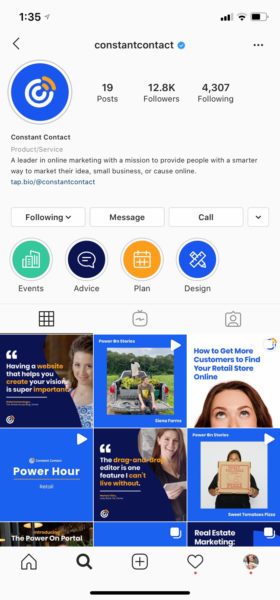 You can also add your business's website, which users will be able to click to visit right from their mobile device.
4. Add a recognizable profile picture
The perfect Instagram profile photo will be 400×400 pixels.
But what's most important is that the photo you choose is recognizable to people who know your business. In most cases, the best choice will be your business's logo.
Your profile photo can only be updated on a mobile device. If you don't have your logo saved to your smartphone or tablet, Instagram has the option to import it from Facebook or Twitter.
You can also take a new photo with Instagram.
5. Research
It might not sound fun, but without having a good understanding of the type of pictures others are posting, you won't know what content tends to do well. And lucky for you, Instagram research is less staring-at-piles-of-data-wearing-a-lab-coat kind of research, and more look-at-pretty-pictures kind of research.
Start by finding a business in your industry who has a hefty Instagram following, similar target audience, and high levels of engagement. What do they tend to send, and when do they tend to send it?
Even if you want to differentiate yourself from the competition, it's essential that you know what others are doing.
6. Post your first photo
Okay, now that your profile is set up, it's time to take your first photo.
Here's a quick run-through of how Instagram works:
First, click the icon on the bottom in the middle of the screen.
You can either take a photo by pressing the circle in the middle of the screen, or click "library" on the bottom left to upload a photo of your own.
Note: "Video" on the right enables you to take a video up to a minute.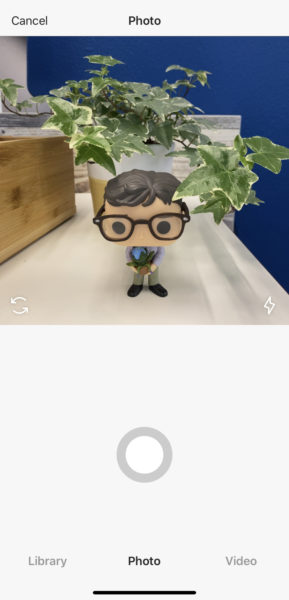 If you're uploading a photo, you will have the option to crop it first. After that, you'll have options for different enhancements.
You can choose from a number of filters that scroll across the bottom of the app. (Double-tap the filter to add a border or alter the strength of the filter.)
You can also click "edit" to access a number of other photo editing features.
Once you're happy with your photo, hit "Next" in the top right of the screen. Here, you'll be able to add a caption and hashtags.
You can also tag people and name the location.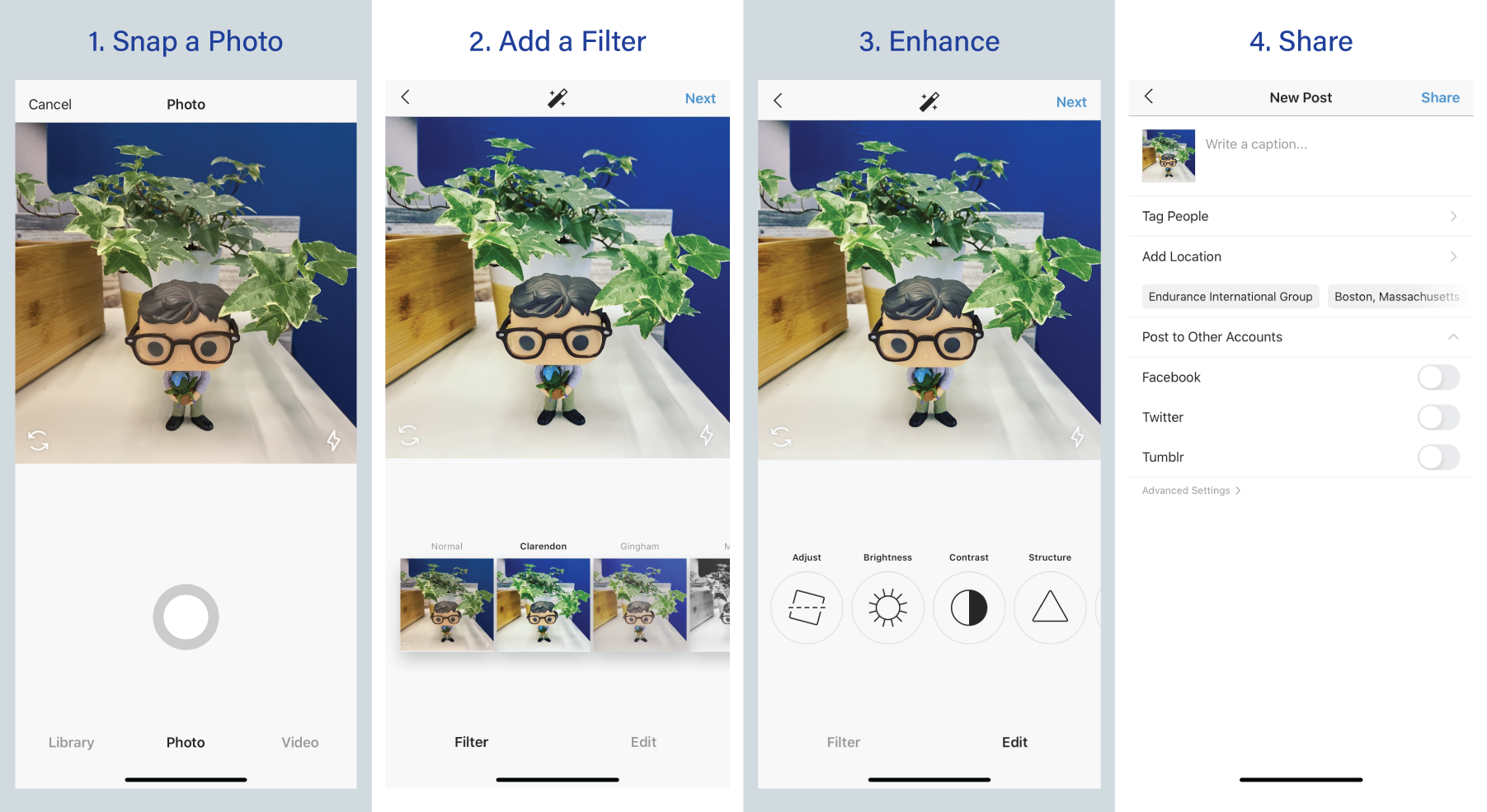 7. Setting up your location
When you click, Add Location you will see a list of previously used locations in your general area.
If you have a brick and mortar location, you may see that someone has already named your location. If your store, restaurant, or office hasn't been named, you can name it yourself.
After your photo is posted, you will see the location name in blue. When you click on your location name, you'll be able to see every photo that has been tagged there. This can be a great resource for seeing what people like and want to share about your business.
8. Tell people you're on Instagram
Leverage your existing channels to let people know your business is on Instagram.
If you have an email list, you can send out an announcement and ask readers to follow you. Constant Contact integrates with Instagram, so you can easily upload your Instagram images to your email marketing account.
Also make sure when you build a website that you include links to your social media profiles, including your Instagram!
9. Follow others
Instagram's search function makes it easy to find people and brands to follow.
You can search by username, or choose relevant hashtags for your business.
Following more people and businesses is a great way to make new connections and can also provide inspiration for your Instagram account.
10. Get social
You've set up your account, learned the basics, and found the right people to follow; now you're ready to start building a presence for your business on Instagram.
A key component of building an audience on Instagram is engaging with the people who follow you. When someone likes or comments on your photo, you will receive a notification.
You can respond within the comments of a photo by including the "@" symbol, followed by their username.
You will also receive notifications when someone tags you in a photo. You can view all of the photos you've been tagged in, on your Instagram profile.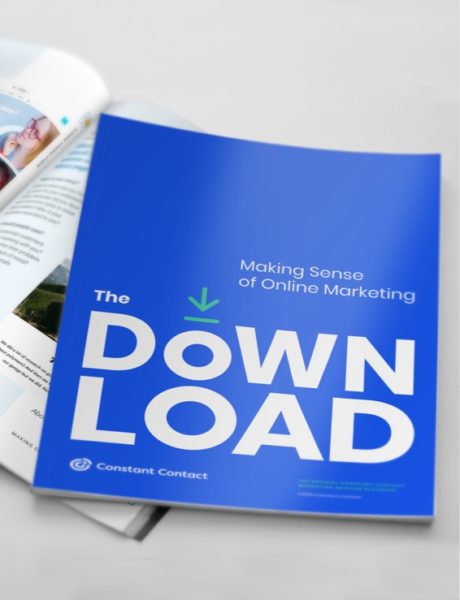 Not sure where to start with marketing? That's why we created The Download.

The Download is the ultimate practical, step-by-step guide to online marketing. In this free guide, we'll show you how people find you online and how to set yourself up for success to meet your business or nonprofit goals.

Share with your network