While platforms like Twitter and Facebook have shown signs of slowing down, Instagram is still growing. The stats around Instagram usage are already staggering. More than one billion people log onto the platform each month!
Using Instagram as part of your nonprofit social media marketing strategy is an effective way to get your message in front of specific audiences and build your nonprofit brand in a highly visual medium. Instagram posts, stories, and ads are bright, crisp, clean and clickable.
In addition to using the platform for effective brand-building, many nonprofits find Instagram especially well-suited for fundraising versus other social platforms.
These tips will show you how to get the most out of your Instagram account as a nonprofit organization, whether your goal is increased engagement, donation generation, or both.
Keep your organization growing with expert advice and all the tools you need, all in one place.
Use Instagram Stories
The majority of Instagram's users visit the platform to view Instagram Stories. Between 2018 and 2019, the daily user count for Instagram Stories grew from 400 million to 500 million. In other words, more than half of Instagram's one billion monthly visitors consume or create Instagram Stories every single day.
Instagram parent company Facebook recently introduced the ability for 501(c)(3) nonprofits to capture donations inside Instagram Stories posts. Instagram Donation Stickers make it simple for users to donate without leaving the Instagram platform.
Before you can use Donation Stickers, you'll need to sign up for Facebook's charitable giving tools — if you're registered with Facebook Payments already, you can skip this step. You'll also need to either sign up for an Instagram Business Account or convert your existing account.
Here are a few best practices you can follow to get the most from Instagram Stories:
Post regularly to ramp up engagement and to get your Stories in front of Instagram users.
Run Instagram Stories ads. Use the Facebook Ads Manager to create an Instagram Story ad campaign.
Integrate Instagram Live videos into your stories to drive interest.
Encourage supporters to share your Donation Sticker on their Instagram Stories.
Beyond these practices, you'll want to follow the same overarching guidelines for Instagram Stories that you likely adhere to when creating other ads and appeals:
Use data to underscore the urgency of your donation appeal.
Use colorful, engaging visuals.
Share personal stories that show how donations can help.
Create Instagram ads
You can create Instagram ads that appear across the entire platform as well. As with Instagram Donation Stickers, you'll start with your Facebook business page. You don't have to have an Instagram account to create Instagram ads, but it's easier to engage with your supporters if you have one.
Instagram ads can be very effective at driving in donations. For example, the British Heart Foundation launched an Instagram ad campaign to attract younger female runners to help fundraise for its MyMarathon campaign. The campaign drove in almost 13% of its total sign-ups.
Use the tagging function
When you run an event with another organization or work with a sponsor, be sure to tag them in your Instagram posts about the event. This will alert them to your post and may encourage them to share it. You'll also increase engagement when the post shows up in other user feeds.
Other ideas for useful tags include:
Volunteer or donor of the week
Your national parent organization
A different chapter of your organization or a similar nonprofit
Local or national media outlets
Tagging your Instagram content is essentially free advertising. You don't want to go overboard, but don't shy away from tagging on Instagram. Tagging is one of the tools that help the community connect.
Maintain your Instagram profile
It's not enough to simply have an Instagram account. Your profile must always be up to date. After all, it's essentially your Instagram homepage. Set up your Instagram Contact (Call-to-Action) Button so visitors can get in touch with a single tap or click.
Take an omnichannel approach when you update your Instagram and other social media platforms you use. This means that your contact and other pertinent information should be kept up to date, but your brand tone and messaging should be consistent across all your channels.
Be sure you use the same brand design and tone in emails, on your website, in printed materials, television or radio ads, and across all your social media platforms.
Spend time on photo and video captions
Don't forget about one of the best ways to advertise on Instagram — your everyday posts. In addition to an eye-catching photo or video, you can add a 2,200 character caption across three lines of text.
Captions are a great way to engage with your audience. You can explain the background of your post, make an appeal for donations, or just share something you feel your audience would find valuable.
Posts show up in Instagram users' feeds and become a part of your Instagram page.
Reach new followers with hashtags
Hashtags are an integral part of Instagram culture, but if you aren't used to using them, you may feel a bit intimidated about how they work.
Hashtags are clickable links that you can add to Instagram posts, ads, and Stories. They help to determine your social media reach and increase the discoverability of your Instagram content.
When people click on a hashtag, their feeds will fill with posts that include the same hashtag. Hopefully, some of them will notice your post and become followers.
Examples of popular Instagram hashtags include #GivingTuesday, #followme, #happy, and #photooftheday. A good strategy is to spend a few minutes searching trending hashtags through the Instagram search function. If you can find one that fits your post or mission, this can be an effective way to earn new followers.
Include Instagram in your content strategy
Instagram is an ideal spot to post ads and donation appeals, but it's just one element of your overall content strategy. Ideally, your content strategy should consist of an interconnected approach to your overall messaging.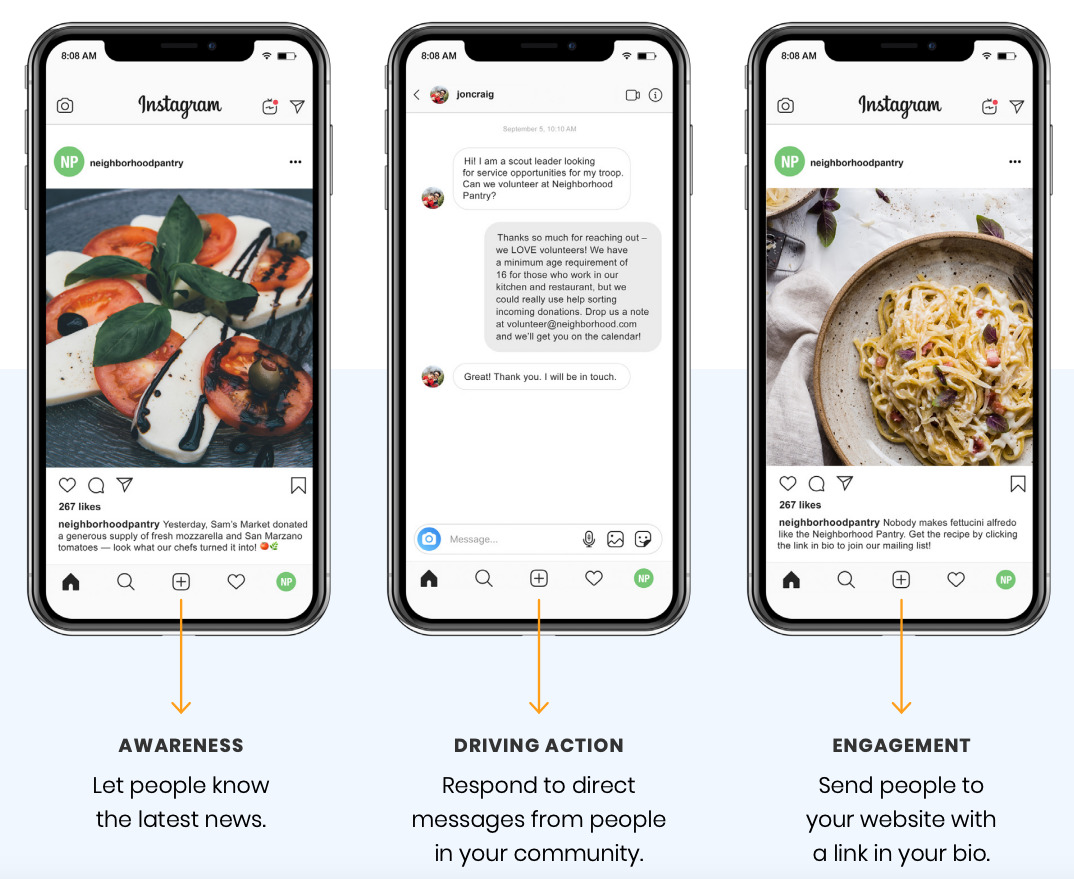 Content strategies help you target the right audience, determine your goals for different campaigns, and guide you toward the best outlets for your content.
If you aren't sure where to start, download Constant Contact's media advisor playbook for nonprofits, The Download. This easy-to-follow guide to making sense of online marketing explains how to drive your philanthropic goals through social media and other online touchpoints.
Nurturing your nonprofit through Instagram
When you engage with your audience on Instagram and other online platforms, remember to keep your tone and style consistent. This helps to foster the perception that your nonprofit is professional and responsive. To ensure consistency, you may want to assign a single person to handle all your social media interactions or handle them yourself.

If you follow these tips for engaging your audience on Instagram, you'll find that it's not as tricky as you might have previously thought. As you become more comfortable creating content for Instagram and interacting with the Instagram community, you'll start growing an active — and interactive — community in no time.

Share with your network