To explain the importance of nonprofit storytelling, let's begin with a story about a boy growing up in a gang-ridden community within an immigrant farming town in western Florida.
His name was Jonathan, and he attended the after-school program where I worked. I had the pleasure of getting to know him while I was organizing a project to build a playground in his community. Jonathan was a handsome 15-year-old, with a shaggy haircut and a shy smile. He was at a crossroads in his life.
Although Jonathan was passionate about music, he wasn't able to join the school band. Why? The school had already loaned out his instrument of choice — the trombone — to an older student. His Guatemalan parents, who didn't speak any English, certainly couldn't afford one.
When I shared Jonathan's story with the local media, not only did he receive a trombone through a donation, but the after-school program also benefited. New supporters got to learn how the nonprofit helped local teenagers develop healthy, life-enriching habits instead of getting scooped up by gangs.
For any nonprofit, storytelling is the secret to nonprofit email marketing. It helps you to maintain and gain more supporters, volunteers, grants, donations, and media attention.
Relatable stories about real people can truly touch people's hearts and strengthen your organization's mission.
What is nonprofit storytelling?
You know the work you're doing is important, and it's making a difference. However, you aren't alone if you're struggling to explain exactly how.
There are two methods, and you should have a stockpile of information for both. They are:
Measurable statistics, or cold-hard facts
Impact stories, or heartwarming tales
First, it's crucial to collect measurable statistics that support your work. For example, I could share that Jonathan's grades improved during his years at the after-school program, but what if he's an anomaly?
Instead, I got permission from parents and the school district to collect report cards from all of the nonprofit's members. I was able to quickly share the percentage of students who maintained or improved their math and reading grades. This was measurable proof that demonstrated the academic focus of the program.
You should dovetail statistics like these with nonprofit storytelling in the form of impact stories. This means interviewing people who directly benefit from your programs to shed light on how their lives would be without your services.
The goal of these stories is to highlight the impact that you're having on your community, but on a micro-level that others can relate to.
Tips for effective impact stories
Everyone has a story, but few people are comfortable talking about their struggles. As a newspaper reporter for a decade, I was trained to talk with Jonathan and others. Here are some tips for crafting impactful stories:
Be patient and thorough
It can take time for people to relax when first sharing their personal stories. Start with the basic goal of helping them feel comfortable.
If they're anxious, talk to them about how their story will help support the program that has supported them. Schedule an adequate amount of time to interview them. Leave out last names if that's appropriate.
Focus on the details
Think about Jonathan's story again. You probably remember what instrument he wanted to play (the trombone) and where his parents were from (Guatemala). You probably even have an idea of what he looks like.
The more details you provide, the more others can relate to the subject of the story — and most importantly, the more they'll care. If you're like me, you wanted Jonathan to succeed and appreciate a program that fostered his success.
That's one way to get donors inspired.
Connect it back to your mission
Jonathan wasn't the only success story that I had ready to share.
I could tell you stories about Destiny, the chubby young girl with a lazy eye who would greet me with a hug every day. Her single mother worked multiple jobs to support the family. Destiny needed positive adult role models, and I was proud to be one.
I talked about Jonathan as a way of sharing the enriching programs at the nonprofit. I talked about Destiny to share the value of adult role models. With her story, I could integrate statistics about how children and teenagers grow into productive citizens by avoiding risk factors, like not having caring adults in their lives.
Always connect any nonprofit storytelling to the work that you do.
It's less about Jonathan or Destiny than it is about how they individually benefited from the mission of the after-school program.
Where to share your stories
There's no place where a nonprofit impact story shouldn't be. You can share your stories through:
A page on your website simply titled "Impact"
Email newsletters, which could feature a different story every month
Social media pages, including Facebook and Instagram
Videos, which you can include on your website homepage or as part of community presentations or virtual events
Consider this one step beyond a testimonial: Rather than having someone describe how they benefited directly, you can show your community how you helped.
You may discover that the people who have come to rely on your nonprofit will be more than happy to share their success if you've truly helped.
Whenever it's appropriate, include a photo of the person with the story. Of course, this isn't something you should do for sensitive situations. Create a photo release form that the person (or parent/guardian) can sign, so it's clear that you plan to use their likeness in your marketing efforts.
Examples of great nonprofit impact stories
Most national or international nonprofits have examples of impact stories on their website. If your agency does similar work to that of a larger nonprofit, check out how the organization does it. Then, focus on the people you're helping and see if you can create stories as well as these groups do:
Feeding America
If you care about children and hunger, you'll learn a lot from the nonprofit Feeding America.
Its website shares that a shocking 25% of children in households at risk for hunger must rely on hunger relief charities — before sharing the video story of Emily from Magna, Utah.
The story: Emily spends every afternoon at her local library, where she can benefit from a healthy snack. Emily's school lunch and her snack at the library comprise the only food she may eat on certain days.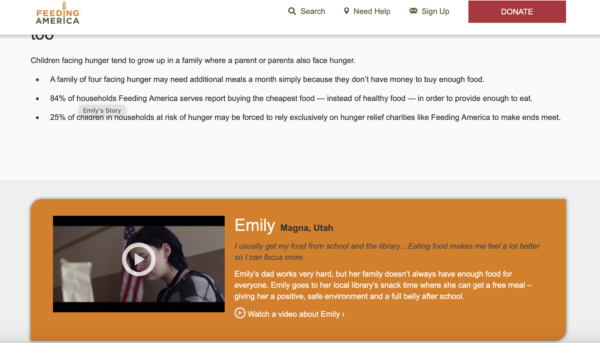 ASPCA
The American Society for the Prevention of Cruelty to Animals, or the ASPCA, works to get animals adopted, spayed, and neutered.
The story: The organization would like you to meet Tony the American pit bull-terrier mix. This 5-year-old cutie is smart and eager to please. He loves playing tug-of-war and enjoys being around people. As a recent pet of the week, he's ready for a forever home.
By sharing his story, the ASPCA team just might help him find it.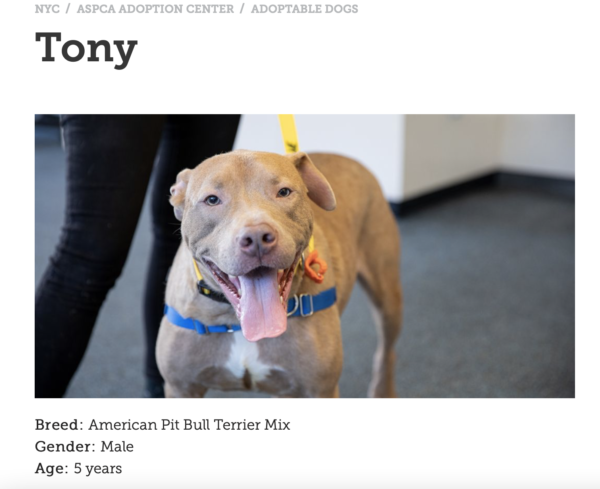 Integrate stories with your marketing
Impact stories are important tools to integrate into your comprehensive marketing campaign. Ensure that you're implementing everything you can in order to increase donations to, and support for, your nonprofit.

Share with your network